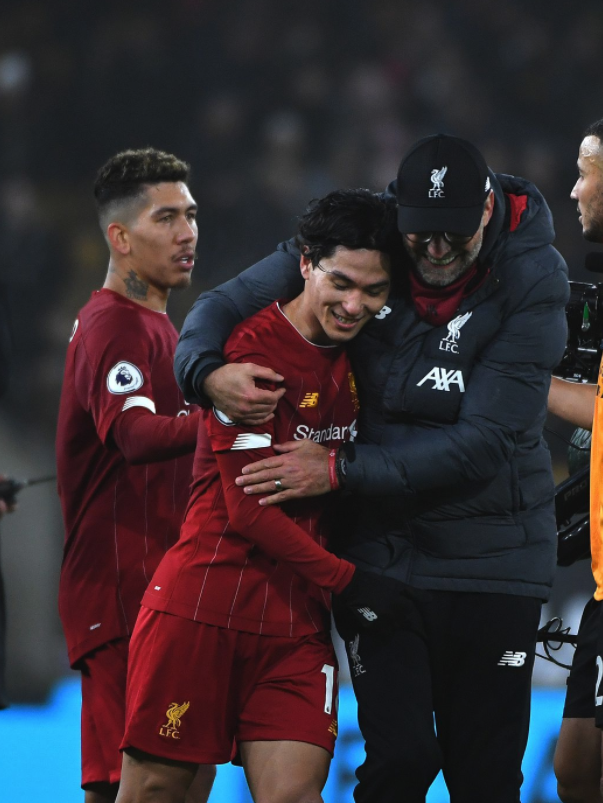 Best posts of the week, as chosen by Chris Rowland and Daniel Rhodes:
Here are some comments we've picked out this week, about football as well as coronavirus!:
1 – Graeme Riley's suggestion on how we might structure next season's Champions League and Europa League:
A plan for Europe….
The first qualifying round (actually, a tournament in its own right) usually takes place in late June and early July. Clearly this is unlikely to be possible given that some of the seasons are likely to run into July and possibly even August, with the UEFA competitions themselves not due to finish until late August, so any start to the new 2020-2021 UEFA campaign is possibly delayed until September.
There are 55 nations within UEFA and only 32nd placed Liechtenstein (above Hungary amongst others!) do not provide any participants in the Champions League, so we have 54 potentially represented countries to consider. One of the key factors consistently mentioned by UEFA is integrity, so it would seem that all of those countries need to be represented – there should be no cutting places for the lower ranked countries, this would be grossly unfair.
So how do UEFA cram all of the games into the calendar. Well, working backwards, there are a minimum of 13 match days needed from the group stages onwards. Currently the Round of 16 is split over 4 weeks, so this can certainly be shortened, meaning that the current schedule could be kept with 2 rounds of group games played in early 2021 and 4 in late 2020, say in October to early December. This assumes that 32 teams will take part and so we need to whittle down the qualifiers during September.
This is not possible mathematically with a full complement, so it becomes necessary to cut down the number of entrants from the start, as we can have a maximum of 2 rounds of qualifying under this schedule rather than the 4 we currently have. Logically therefore we would need to cut back in the lowest ranked teams who are not champions. If we take one month out of the calendar (ie July) we need to lose the second ranked teams of countries who have two entrants (11 in the non-champions route) and the last qualifier of those who have more than two (a further four clubs) regardless of whether they are in the non-champions route or directly in the group stages. This will however only save about one round of qualifiers.
If we take out a second month (ie August), given that integrity demands that we keep all of the 54 champions as a minimum, this means we need to take out the other non-champions and direct group stage entrants, a further 10 teams. (Can you see where I am going with this?).
Again, to maintain the integrity, the champions are the only teams allowed into the competition, either in qualifying or in group stages. We need to reduce 54 teams to 32, this can be done over the two available rounds in September after the 2019-2020 competitions have finished – say the top 24 countries directly qualified leaving 16 teams to fight for 8 places in the second qualifying round and 30 teams to fight for 16 places in the first qualifying round (two gaining byes).
A similar thought process would need to be used for the Europa League.
This seems to me to a completely fair method as all countries are treated equally and the clubs have time to plan their participation. So for England, the result would be that Liverpool would be the only remaining team in the Champions League and Leicester (assuming Man City's appeal fails) would be the entrants in the Europa League. The others can go and organise their own Screen Sports Super Cup or something in the meantime – many fans would be happy to "null and void" their participation in this, I am sure.
Now, where have I put UEFA's email address…..
2 – This post came in response to Troy Deeney's latest comments on not returning to training as the league gears up for restart:
My eldest daughter has a rare genetic condition which she has also passed on to her 6 year old daughter. This manifests itself primarily in learning difficulties, dyslexia and dyspraxia – she is also the one who I mentioned in a previous post who had a tumour at age 7. Her daughter is the apple of this granddad's eye, not least because so far in her life she has had a bilateral hernia repair, adenoids and tonsils out and heart surgery at the magnificent Alder Hey hospital. To date, she has also had about 50 courses of antibiotics for chest infections, so she is at increased risk from Covid-19. Despite this they live independently close to us and she works as a cleaner for 16 hours a week at a local hotel. I've mentioned the hotel on here before – it's the St Ives in St Annes as they have treated all their staff very well during this lockdown. She is on minimum wage and with the help of some benefits, and the bank of mum and dad, they are able to manage. However, in wake of Troy Deeney's comments, I did some calculations. She will need to work for 5 years! to earn as much as he earns in a week. He may have a kid with health issues, but it is as nothing compared to what these two have had to put up with, without any of the resources that he can throw at the problem. Quite frankly he makes me sick to the pit of my stomach. I've bitten my tongue a bit on this one because of the apparent increased risk to those from a BAME background, but the latest thinking is that this has less to do with ethnicity and more to do with poverty – so I doubt that Troy has too much to fucking well worry about!
3 – Paul Tomkins on the news that Timo Werner appears to be signing for Chelsea:
He'll be a good buy for Chelsea, who obviously can suddenly use Abramovich's largesse again, with FFP temporarily halted (albeit I don't know the details of how FFP now works and when it will resume).
Obviously we were first choice and favourites before Covid-19, but I'm not sure he'd have gone straight into our side. Firmino would have to be moved into midfield to make way.
But I really can't be bothered about transfers until this season is concluded. I don't want to worry about next season until we are crowned champions of this season. We need to plan ahead, and the delay in paying back the TV money eases cashflow issues, but we're still not likely to spend much this summer, if at all. We can't rely on 3 late-20s strikers for too long, but the financial stability of the club, and the unity of the existing squad, is more important right now.
4 – El Indio with a brilliant business and football world mash-up:
For the last few days I've been listening, and watching a lot of Warren Buffet, and Charlie Munger interviews.
They range from annual investor meeting to TV interviews to college grad addresses.
And while listening to them my world has just changed. Yes in the space of 7-8 days.
There are obvious rules, like don't lose money, and never forgetting that rule. There are other rules which are not much in your face. Like looking at the facts. If someone tells you, you are wrong – go back, and look at the facts.
There is also a hammering point that you don't need a great IQ of 200+ to be successful in business. You just need to disconnect yourself emotionally while you conduct business. Only facts, no emotional bullshit.
It is also a tale of disappointment and humility to accept mistakes. It is the nature of world that there will be setbacks.
But the biggest most important deal over is to find hidden value which no one is looking at. No one, literally no one.
Except if you are a thief. (A thief uses the same investment skills of business. Analysing the risk involved to pull off a robbery with minimum damage. The greatest thieves are the ones that never get caught. But they are also aware of the risk-reward conundrum. Make mistake, and you are probably behind bars for the rest of your life.)
If you watched RB Leipzig, you would realize they are managed by the wonderful Nagelsmann, and have a great pool of players.
Jeff has also been watching, and has been calling Olmo quite a talent. He really has a good vision, and great set of feet. Apart from him, there's Nkunku, Poulsen who does donkey's work for the frontline, Sabitzer, and even Schick who is revitalizing his career on a loan move.
If you looked at the Bundesliga there are plethora of attacking players who will not only improve LFC but will fit the system that we play. Will they cost £50m? No, they will cost even lesser than the £15-20m valuation before the pandemic.
Remember this is the same recruitment team that factored the risks of bringing in Salah, Mané, and Firmino. The pre-pandemic times of where £20-30m for a hidden gem was a steal. And I would definitely bet you £100 that the team has factored the pandemic correction in their models, ran their simulations, and understood to wait for the right deal to appear. This is the ethos of successful businesses. This is the business ethos for the people running Berkshire Hathaway, who are sitting on $140B worth of cash, and not making any deals because they are waiting for the right value of businesses to appear.
No one can look into the future, and say that Werner will be a rip roaring success.
I'll say there are £50m reasons why he could be a failure. Panic buying is the worse thing you can do during these uncertain times. And a fool, and his money always part ways.
Until we win the Premier League, I'm not even going to look at transfer news. I would rather be interested in what values are Liverpool looking at.
5 – Mobykidz also on the non-Werner deal, and what it means within the Reds' current context:
Timo Werner is an exceptional young striker who will now go to one of our PL rivals. Is he a striker that Liverpool looked at? Definitely. As an upgrade on Origi then yes. But to spend over 50m plus big wages on a Origi replacement for the next two seasons feels substantial.  But as a possible replacement for Bobby then that's an investment maybe worth making. If Werner was deemed the right calibre.
But the decision to not (at this moment) pursue a transfer will have been taken by the club, including Jurgen Klopp, over the past month. The idea that our transfer group, including FSG, were merely twiddling thumbs over Zoom belies the fact that more time will have been spent covering off topics like Timo Werner.
Klopp is used to Bayern Munich picking off players like Werner in his Dortmund days. Chelsea have merely increased the amount of money they owe The Russian. Lampard has merely confirmed his desperation to spend his way out than focus on his "yoof" with £70m being mentioned for a left back too. That is not to criticise Lampard but to reflect Chelsea as a creature of habit.
We are a creature of habit too. Our squad has been assembled with Nick Fury like flair. Mane, Salah and Firmino are flair players with a touch of the outrageous in their locker paired with terrific work rate and character.  If Werner wants Chelsea then good luck to him – but Liverpool will ruthlessly move to the next person on their list.  And as others have pointed out our No2 or even No3 picks have become bigger transfer success stories.
Werner could have been good for us.  But I think Liverpool would have been terrific for him.  And there's plenty of talent out there Michael Edward's & co. will know about where the risk reward might be greater.  In the end we will be a Championship winning squad with or without Timo Werner because we have stuck to a long term strategy.
I'm comfortable with whatever happens next. We should save our (Edit) bread until we find someone butter… like paying big bucks for Koi Havertz
Articles published since last Friday, with excerpts:
Monday June 1st:
How Liverpool Became The Best Pressing Team In The Premier League, by Andrew Beasley.
A couple of teams have had better individual campaigns for pressing success than Liverpool, but nobody has been as consistent over the longer term. Here are the top 15 team seasons.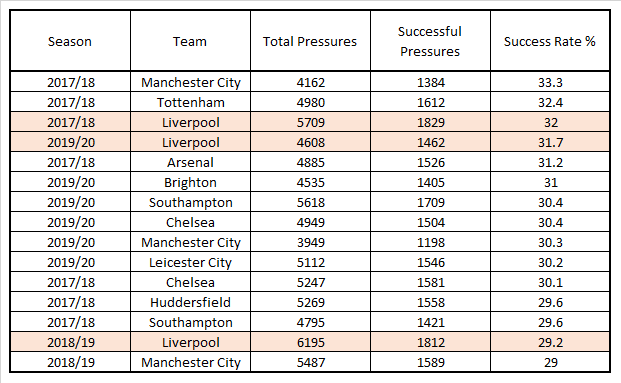 Tuesday June 2nd:
Liverpool's Secret Weapons To Wrap Up The League Title, by Paul Tomkins.
I'm still not entirely sure the league will resume as planned, or if it does, that it will proceed as planned. Pretty much everything about England's response to Covid-19 seems concerning, and for football to take place there probably cannot be a sharp escalation of the virus. 
Germany, whose league is well underway again, controlled its outbreak in a far superior manner, and the people of that country seems to respect the wishes of its leaders, which are clearly explained; whereas in England (unlike Scotland and Wales) there has been a total self-undermining of the government at every stage, now including the impression that lockdown is optional if you're rich or well-connected. England feels locked in some warped superiority complex, with its people taking to the beaches like its country's national football fans take to foreign cities, trashing the place and acting as if they own the whole world.
TTT Podcast: Episode #4