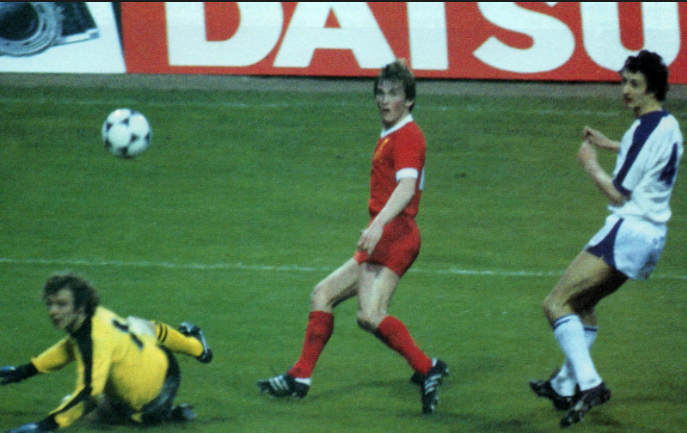 Written by Jonathan Naylor.
Origins – 22 March 1978, League Cup Final Replay, Liverpool 0 Nottingham Forest 1
So why Liverpool? I was 6 years old when it was all settled. We had recently moved "down South", and my Dad and his side of the family had instilled in me a suspicion of all things Southern. Any mispronunciation of "bath" or "grass" was ruthlessly pounced on. All London teams were dismissed as "Southern softies", all style with no substance. So, I was hardly likely to come home from school and announce myself as an Arsenal supporter.
While my Dad didn't really support anyone (well perhaps Lincoln, his and my birthplace), he had a soft spot for two teams. Nottingham Forest – the closest Division 1 side to Lincoln, managed by Brian Clough. And Liverpool, where he had sailed from on numerous occasions when he had been in the merchant navy. Both played football the right way.
For a few months, I quite liked both teams without really being fanatical about either. Then the teams met in the League Cup final, and again in the replay. I don't remember anything about the game except feeling sad when I heard that Liverpool had lost. And that was that – any thoughts of Forest were gone. From that point on, I was a Liverpool supporter.
The choice, such as it was, didn't pay immediate dividends. Forest won the league that year, then knocked us out the European Cup the following season (on their way to winning it twice in succession). But overall, it has not turned out too badly. Almost exactly 10 years on, revenge was fully exacted as Liverpool demolished Forest 5-0 in an attacking masterclass, which probably represents the peak performance of the finest Liverpool team of all time (current team possibly excepted).
First Trophy: 10 May 1978, European Cup Final, Liverpool 1 Bruges 0
The rest of this article is for Subscribers only. You can sign up using the tab at the foot of the page.
[ttt-subscribe-article]