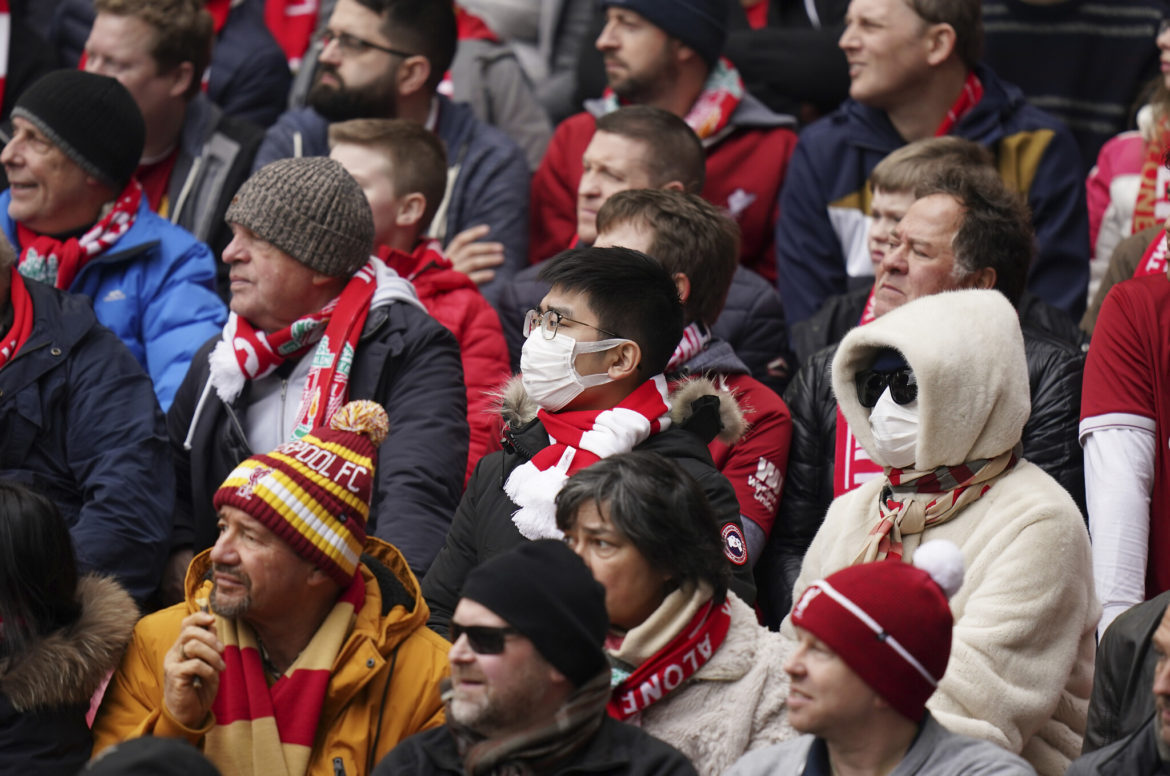 On the day Princess Diana died, Liverpool were due to play Newcastle. I remember this well, as I spent 10 hours on the motorway that day (in bank holiday traffic, if memory serves), travelling to and from a game that was postponed. At the very moment, four years later, when the second plane struck the Twin Towers I was in Chester, at a friend's house as we stopped off on the way to the game against Boavista, and sat, dumbstruck, watching the news.
That game wasn't particularly memorable, but right now Liverpool stand – or at least, were standing – on the brink of a remarkable achievement, to be attained by an incredibly memorable team, when suddenly (which, in truth, was quite slowly) the world's most normality-shattering contagion since 1918-19 broke free, and derailed – or delayed – what was due to be a record-breaking and decades-ending title bid.
Mnemonics don't get much bigger than Covid-19. Imagine Brazil '70, except an asteroid hits the Earth five minutes before the end of the World Cup final.
The relevancy of football itself is being debated, and it remains, quite obviously, less important than life and death, but is still something that brings communities together, and gives people something to look forward to. (At the very least, it would give us something to watch on TV, as we all go stir crazy.) On this site, people are still free to discuss the football, but obviously Covid-19 is a massive talking point, as the knowledgable within these ranks share their wisdom. (And we are trying to share some of these comments in free pieces.)
But whatever happens, no one is going to forget the Liverpool team of 2020. In a strange way, they are already immortals. Circumstances have decided that; more than anything else, we all seek to be remembered, after all.
There had already been no season like it, when Liverpool won 25 of their first 26 league games; and, scaling things up by a thousand, no season like it, when the entire world ground to a halt. Any time from now – 20 years, 50 years, even 100 years – they will talk about 2019/20. They will talk about Jürgen Klopp, Sadio Mané, Mo Salah, Virgil van Dijk, Trent Alexander-Arnold, and how Roberto Firmino scoring a goal at Anfield crashed the globe.
And, it turns out, "You'll Never Walk Alone" has become a kind of anthem for the times.
Uncertain
The uncertainty surrounding the football is just one more aspect of the uncertainty surrounding pretty much everything right now. And uncertainty is one of the trickiest things in life. For decades now I've watched a lot of true crime documentaries, and it's common for the parents of missing children to state they'd rather have their bodies to bury than to exist in the eternal not-knowing.
In my first novel, "The Girl On The Pier", I tried to have the narrator sum up this phenomenon. (As I may not be leaving the house for another six months, I may finally finish writing my second novel; we must all try and make lemonade from this mountain of lemons.)
"Knowledge > grief. That is the key equation. People would much rather hear bad news than no news. They can just about handle the concept of a murdered son or daughter, parent or spouse, if they can eventually lay him or her to rest. The alternatives the mind throws up, in the lack of knowledge – in the dark of cluelessness – are often too disturbing to dwell upon. No one wants to think of their child lying in a ditch in a forest, cold and alone (not that the dead feel cold, or alone, but the thought still haunts the minds of the living). It's all just earth – bones in earth – but the difference could not be more pronounced. Closure means everything. Closure is the lid of a casket. Closure is a vicar's scattering of dirt. Closure is a gravedigger's shovel. It doesn't mean forgiving, or forgetting. And closure is such a trite word. It just means an answer. As long as someone remains missing, the story never ends."
It is a common failure of mountaineers to get close to the summit of Everest and, as the weather moves in and daylight ebbs away, to make a move and risk death, rather than setting up camp for the night. They rush to their demise.
Pilots crash planes because of "get-there-itis", the official term where the urge to continue in bad weather, or to take off before safety checks are complete, overpowers the need for caution. Sitting still, simply being, it turns out, is god-damned hard.
Of course, there are other forms of cognitive dissonance at work in the world right now, as it became clear that people are unlikely to take evasive action until the feel the threat within touching distance; the illusion that it's not real only collapses when, indeed, shit gets real. They wake to feel the warmth, and think it must be a nice day. They smell the smoke, and think the neighbour must be having a bonfire. They hear crackling, and wonder who is cooking bacon. It'll be fine…
We all have to balance between concern and panic, and to not ignore a burning house.
This is different with hurricane warnings: people know, from experience, to batten down the hatches if one is due through in a day or two. But you can't really see a virus. You can see a town ripped to shreds by a tornado, but you can see the tornado too. You can only see the coronavirus itself under a microscope. However, you just had to look at China in January, and then the early stages in Italy, to know a storm was ripping through, and only gonna get bigger.
I asked on this site in January, based on the early signs in China, what the protocol was for postponing the league, and no one knew. Turns out, there wasn't one.
So, what next? – for football, for Liverpool, for life?
The second half of this article, which tries to look philosophically at life and football – and the resumption of the season – is for subscribers only.
[ttt-subscribe-article]