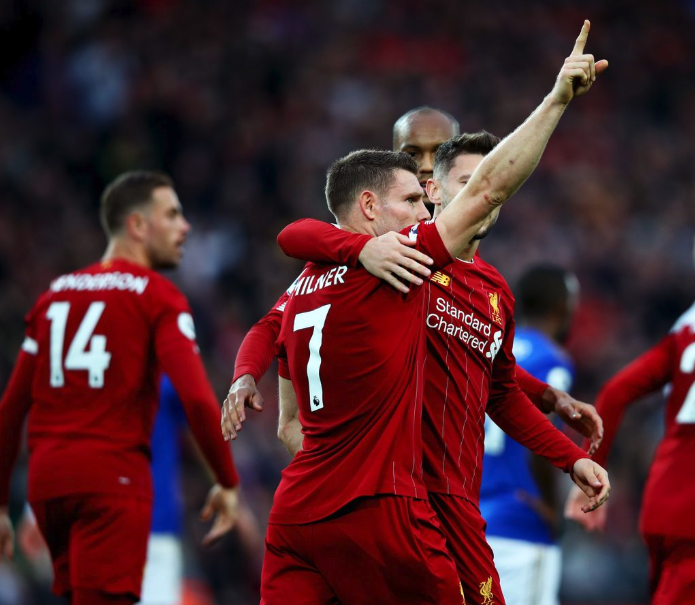 While Liverpool have not looked their best since the midseason break, Jürgen Klopp's team went straight from the Premier League/Champions League treadmill (which also included the European Super Cup game that went to extra-time in Istanbul) to the Club World Cup, then straight back to face Leicester, Wolves and Sheffield United: three of the best teams in the league this season, followed swiftly by Spurs and Man United in January.
Everyone kept expecting Liverpool to hit a wall. But they didn't. Yes, some results were ground out, but Leicester and Manchester United were played right off the park, and for 70 minutes the Reds utterly controlled the game at Spurs.
Had Liverpool not had the break they may have crashed a bit anyway. After all, what team has no kind of slump through the entire season? (And this isn't yet a slump, more a mere blip.)
Yes, it may have looked to some like Liverpool could just steamroller everyone, but how often does that happen? As it was, it still remains 26 wins, one draw and one defeat in the league. A defeat in a tough domestic away cup tie with a half-strength team is not relevant here.
So, this isn't a slump. That doesn't mean it can't become one, but right now it's just one unexpected result (Watford), and two hardly remarkable away defeats to Champions League teams.
There's definitely been a bit of lost rhythm for the Reds, as there was last winter after the club took two breaks, but with those breaks there was also an illness outbreak in Dubai, and there have been storms pretty much every weekend Liverpool have played lately (a bit like the mini slump last season, which included a blizzard at kickoff against Leicester, then the game played on an icy pitch, while Liverpool were "levelled" by the wind at Goodison Park).
But losing narrowly at Atletico Madrid and losing against the run of big chances at fellow Big Six club Chelsea (with Klopp resting a load key men ahead of the big competitions), are not really newsworthy.
Losing 3-0 at Watford was newsworthy, quite clearly. Liverpool had a stinker, but it was the first true stinker of the season, and everyone is allowed a stinker now and then.
Liverpool haven't always played at their best this season, but no team ever does; however, Watford was the only game where no one really came out with any credit, and everything that could go wrong went wrong. But at Chelsea in the FA Cup, Liverpool were unlucky to not go in at half-time 2-1 up. They just happened to be playing against a goalkeeper who suddenly remembered why he cost £72m.
The game only really got away from the Reds after Chelsea scored their second, with another long-range effort that Adrian should have saved, just like the first; but where he'd already made one great save, then made two more at 2-0 as Chelsea played on the counterattack later in the game. So it's hard to be too critical. But at the same time, based purely on the probabilities inherent in their varying levels of quality, Alisson would probably have saved at least four of the efforts, rather than three.
So there's not really a pattern, a slump or a wobble, given that Liverpool have never before and will never again field a midfield of Adam Lallana (ageing and exit-bound), Curtis Jones (gifted but just 18) and Fabinho (world-class but generally off form since injury). There cannot easily be midfield cohesion when it's an untested midfield.
Liverpool will not willingly start key games with Adrian in goal and the hugely talented – but massively inexperienced – Nico Williams in the defensive unit.
Indeed, Williams was yet again impressive for 70 minutes, before he mentally and physically tired (as you might expect) and ended the game hitting in a succession of poor crosses when, like the man he was deputising for, his quality delivery is usually a key asset.
Go back 2-3 years and Liverpool were not winning a ton of games with the young Trent Alexander-Arnold in the team, because he was not the player he is now when he was just 18; and was learning on the job, with all the mistakes that comes with. (Which isn't to say if you just play a load of talented kids they will all end up like Alexander-Arnold.) The young Scouser has improved massively, as you would expect, but it has been part of a team that has also improved massively.
Had Williams not been just 18 years old, and playing in his first Big Six away game, it might have been disappointing; but he was playing for a reason, and that reason was to wrap Alexander-Arnold up in cotton wool. And as such, it's a good experience for Williams, just like Alexander-Arnold having a torrid time at Old Trafford a few seasons ago was part of his process of learning the game. Williams didn't do a lot wrong, he just ran out of steam.
Klopp will not seek to win many games with the reserve Divock Origi and the still-adapting Takumi Minamino as the spearheads of the attack for the rest of this season, although last season the Reds did of course beat Barcelona with Origi and Xherdan Shaqiri – but that was with a full-strength midfield, defence and goalkeeper, and the backing of a fervent home crowd. It wasn't away, with a half-strength team, in a competition that was a low priority, in a season when Liverpool have already had the additional strain of Qatar.
Indeed, if Pep Guardiola is allowed to call the friendly-rated Community Shield as a trophy, Liverpool look like ending the season with a minimum of three proper trophies, albeit two of those are still not what I'd call major silverware. Or is all the effort in Qatar now irrelevant? The European Super Cup and the Club World Cup are at least recognised as competitive fixtures.
The Key To Togetherness
The reason a team like Sheffield United have been so effective this season – without dumping the players that got them promoted – is because of team consistency, allied to a ferocious work ethic that mirrors what Klopp looks for. Teams gel, and know each other's preferences. They bond as players, but they know about patterns, shape, covering for each other. But togetherness doesn't just mean getting along, being a band of brothers, pulling in the same direction. It means also the time spent together, over an extended during; of keeping a team together, so that it thinks "as one".
Before the season I made it clear that Liverpool's key strength was team familiarity, with no first-team signings (so no one in need of time to settle, adjust and adapt), and the side at a good age, with no rookies who will be inconsistent and no key men on the verge of melting. I discussed the social sciences behind team-work, and the way the effectiveness of a tight-knit unit improves up to 3-4 years together. As such, I felt that Liverpool were right to not make any additions.
Unity and cohesion within a team is more vital in all walks of life than a lot of people realise, and is why expensively assembled teams that are just thrown together can often falter; new signings and youngsters often just disrupt this cohesion, either for an initial period or, if they are ill-fitting, for longer.
But of course, all teams need to add players from one or both of those categories at certain times, and in a transitional phase a club may look to add half a dozen players. But this is a Liverpool team geared towards peaking together; and the season as a whole remains one of unprecedented success.
Last season was the best in Manchester City's history (two fewer league points than the season before but more trophies overall), and was the best overall season for Spurs since 1960/61 (top four in the league, and their best-ever European season). Between them they added just one player: the non-regular City starter, Riyad Mahrez. This season has seen Liverpool post the best ever league record in a major European league, and win the Club World Cup, without adding a single first-team player in the summer of 2019.
Spurs made three major first-team signings in the summer (one more in January), and City also made three first-team signings, two of whom cost over £60m. Both clubs had massive falloffs from where they were last season.
Whilst it's too simplistic to say that no signings = good and signings = bad, there has to be at least some acknowledgement of the fact that Spurs and City last season, and Liverpool this season, were/are teams at a great age, where continuity and understanding proved more important than signings.
Equally, if a team has an average age of 26.5, like Liverpool's in the Premier League this season, then the same team will start to look potentially past its peak in a year's time, at 27.5. Last season, both City and Spurs' sides averaged over 27 years old across the 38 games, and so some refreshment and evolution was required, lest they average over 28 (and only two teams in the Premier League era have won the the title with an average age above 28.1).
But that can bring short-term pain even if done correctly; and long-term pain if not.
Across the Premier League era, the champions between 1992 and 2019 average out at 26.9, which is a tad older than Liverpool right now, but younger than Spurs and City were last season.
While Minamino may struggle to make an impact this season (he arrived after a month of inactivity, which wasn't ideal), he is already learning for next season. I was lucky enough to be at Anfield for the Salzburg game, and he was outstanding. But he was in a familiar team, and not in a brand new environment.
Domestic
In cup domestic competitions, managers like Klopp, and Rafa Benítez before him, will field makeshift sides, as the focus is on doing as well as possible in the Premier League and going deep in the Champions League. So you'll get some first-XI players, but a reserve keeper, a few older reserves and a smattering of kids. The aim is never to lose the game, but it's about the bigger picture. They hope to win, but aren't betting the bank on it.
Win a 5th round FA Cup tie, but lose two red-zone players to injuries that take them out of the tightly-balanced game against Atletico Madrid? Or have them miss the still-vital league games, to get those four more Premier League wins? (Without being arrogant enough to suggest that it is a fait accompli.)
Klopp wasn't picking a team at Chelsea to win the game at costs; he was trying to get some players into a rhythm, such as Fabinho, who missed two months with an injury, and Mané, who missed the recent games against West Ham and Southampton, and was taken off at half-time in Madrid due to the Spaniards trying to get him sent off.
Yes, Liverpool are 99% nailed-on to win the league, but why gamble that (until it is secured) over the FA Cup, when even winning the FA Cup outright would not compensate, in any fraction of a way, for the devastation that would be felt from throwing away a 22-point lead in the competition everyone desperately wants to win? If Liverpool don't win the league there will be parties up and down the country, based on the rival fans that message me on Twitter. If Liverpool win the FA Cup there will be shrugs from neutrals. After all, it's not 1965 or 1986 anymore. While we could still look to enjoy lifting the FA Cup, it's not even remotely as important as the league title. Again, we've had that thrown at us for 30 years.
And of course, had Klopp gone full-strength at Chelsea and fielded a half-strength team against Bournemouth at the weekend (given the game against Atletico days later) he'd be accused of being an arrogant foreigner, coming over here disrespecting the football institution that is our football league. How dare he not play all his best players! What about Bournemouth's rivals who had to play a full-strength Liverpool in the league? Etc, etc.
One of the reasons I've grown to dislike the domestic cups is because there is little glory (in the modern age) in winning them, and a ton of schadenfreude if you don't. They also get thrown into the "run" of form when they are not part of the same continuum. Just as the Community Shield isn't a proper competition (it's not even listed as a competitive fixture), winning domestic cups is not what managers are judged on.
Spurs fans will remember Mauricio Pochettino far more fondly than they do Juande Ramos, who won the League Cup. Arsene Wenger wasn't hounded out of Arsenal over their cup form. Liverpool do not revere managers who won only the domestic cups.
For a smaller club (bar Leicester City!), winning a domestic cup may still be the best they can wish for, and fair play to those clubs if they experience such a success; teams like Wigan and Birmingham, who got relegated from the Premier League in the past decade whilst winning the FA Cup and League Cup respectively (never to return, thus far, to the top flight), may never want to trade that glory for 10 years of battling relegation. That's their right. They are unlikely to do much even when they reach the top flight. Maybe Newcastle fans really would be overjoyed with relegation upon finally winning a cup, should the two outside-bets converge.
But those aren't the rules for the Big Six. The Big Six may still win the domestic cups, but they are often exercises in squad rotation. If Pep Guardiola wins just the League Cup this season, and doesn't add the Champions League, he will have failed this season. (And arguably failed overall in terms of being tasked with taking City to European glory, albeit having still been a hugely positive influence on English football; less so the club's owners.)
Even so, most smaller clubs – in any division – have prioritised their league form over the cups for a good decade, with the aim to move up their division, and/or up the pyramid, to get to the riches of the Premier League.
And if teams in all divisions are fielding weakened cup teams, the cup loses its cachet. Yes, Chelsea beat Liverpool; but they didn't beat the Liverpool that won the Champions League, nor the one that has set a domestic points record so far this season. They beat the Liverpool of Adrian, Williams, Jones, Minamino and Lallana.
Chelsea played one kid, but otherwise it was a team that had an average age a full two years older than Liverpool's, having spent far longer at the clu. (So much for "Chelsea's kids"!) Five of Chelsea's front six were used to playing together, whereas only two of Liverpool's were clear regulars.
The second half of this 'long read' is for subscribers only. See details below on how to sign up to become part of a respectful, intelligent community and to support the work we produce.
[ttt-subscribe-article]