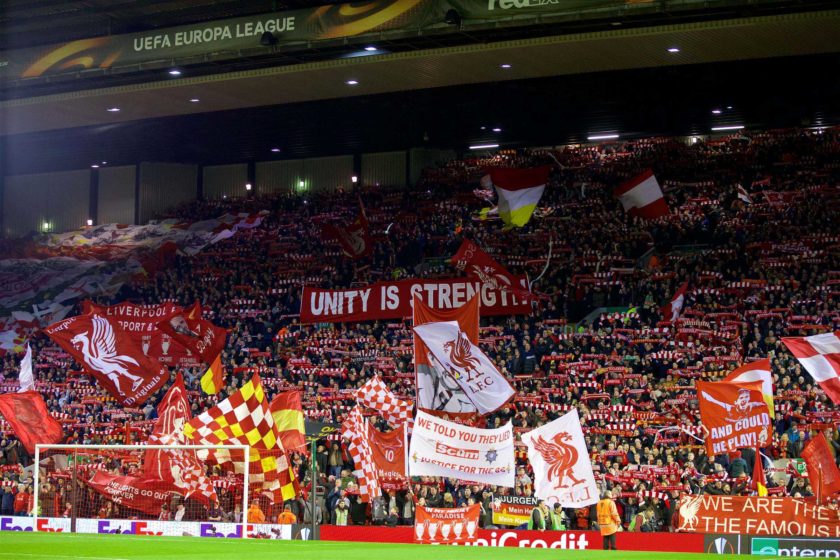 Written by Amy Gaeta.
By sheer chance, I was allocated Kop end tickets for the January 2nd 2-0 win against Sheffield United. I was terrified, intimidated. I did not "deserve" these seats, my inner voice projected. For those outside the UK, it is difficult to get Anfield tickets, let alone get seats in its most sought-after stand, one dominated by season ticket holders.
Anfield's Spion Kop is legendary. Perhaps no other stand in English, or even world, football has garnered such fame. "Fame" is perhaps the wrong word as the Kop is more sacred.  Liverpool players and managers, as well as opposition clubs, have described the Kop as an amazing, terrifying force. Bill Shankly called the Kop the twelfth man. If Anfield is church, then the Kop is the altar where we worship the goals, miracle comebacks, and even the losses.
As such, leading up to the match, I was more nervous about the status of sitting in the Kop than the result, not to discount Sheffield United as a fair opponent. My nerves made me reflect on what exactly is the Kop end, why does it hold such legendary status, and what purpose the Kop holds within Anfield.
My seat was in block 306, right at the back, that is famous for three things: its singing, its loyalty, and its intimacy. By this, I mean that I did not stop singing for the entire match, nobody left early or sat there restless, and we were all so packed together, standing side by side like familiar strangers, that we made our own little heater within open winter air.
During the match, Shankly's words kept ringing in my head: If the Kop is the twelfth man, then what position does it play? What does this section do that's so critical to the club?
The rest of this article is for Subscribers only.
[ttt-subscribe-article]