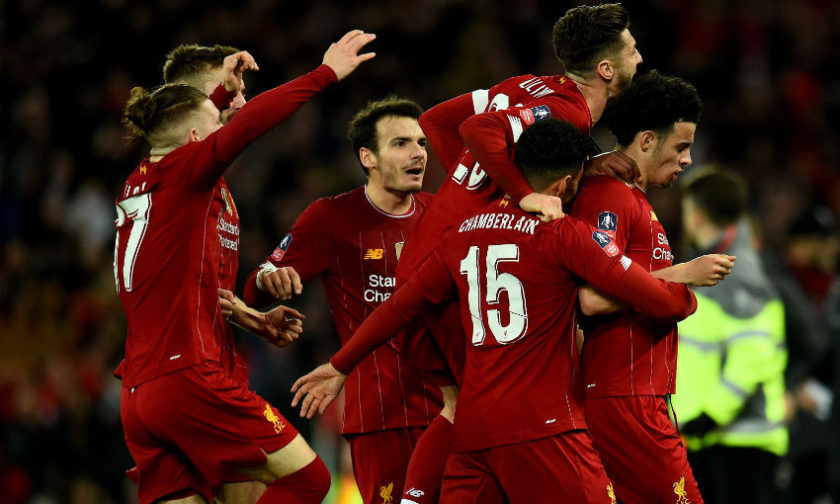 Well going into this year's FA Cup competition with a 13-point lead in the Premier League and a place in the last 16 of the Champions League to defend as holders, the FA Cup trophy seems very much the junior partner in the months ahead. With eight out injured and another half a dozen key players in need of a rest, to be honest many of us could take being knocked out as soon as possible – if it wasn't for the opposition. But the draw has been unkind to us again, pitching us against our local rivals, a derby which is a watchword for physical, high-tempo, frenzied aggression, especially from them. And the prospect of 8,000 celebrating gloating Evertonians inside Anfield is enough to turn the stomach of any self-respecting Red, most emphatically for those who reside in Merseyside.
It got me thinking about which PL teams do care about winning the FA Cup – and in fact it's most of them. Teams who haven't won a trophy in ages and need to get that trophyless monkey off their backs – Newcastle, Spurs (although they are still in the CL), and of course Everton. Teams who are not realistic contenders for winning anything more serious – Wolves, Leicester, West Ham, Southampton, Villa, though Wolves are still i the EL, and Leicester and Villa meet in the semi finals of the League Cup. Teams for whom winning an FA Cup would be a new modern-day high – Palace, Brighton, Bournemouth, Norwich, Watford, Burnley, Sheffield United.
Even Utd, Arsenal and Chelsea could make their own cases for the significance of winning it this year.
Really, it's only us and City who have bigger fish to fry. Mostly us. And teams whose priority is staving off relegation, which can be expected to field weakened sides.
So we must understand if other fans can't quite grasp why we are not so bothered – after all they'll be looking at it through their prism, not ours.
But a derby day with 8,000 Evertonians in town makes it a different matter entirely. Once I'm in Liverpool, I know the sense of occasion  will engulf all.
Meanwhile, the local news has just said that the Transport Minister is seriously considering stripping the twin culprits in many a miserable match day journey, as regular readers will know, Transpennine Express and Northern Rail, of their franchises. Well having provided a service that's bordered on scandalous for the last two years, then had the gall to jack their prices up yet again on January 1st, I have no sympathy. If you don't know how to run a service, fine , just don't become a train company. But if you do, you must.
The rest of this article is for Subscribers only.
[ttt-subscribe-article]
So it remains for me to find out how they perform this Sunday. It starts well, an on-time new train from Northern, with a poster bearing the slogan 'check out our new wheels' on the platform. Loads of room too, seats to spare. Luxury.
It's into Manchester on time, and then I'm onto another new, on-time train, this time from the other partners in crime, Transpennine Express, and there's virtually a carriage to myself. And by 11.30am I'm in Lime Street, Time for a coffee, where I bump into the daughter of one of my old match-going mates. She's waiting to meet her brother off a Midlands train, and he's travelling with four of the others, so I decide to wait for them before we all march off to our appointed meeting place, which today is the Lion at Moorfields.
Over a pint or two of White Rat, we discuss the game today. It's noticeable how anti-Everton, or rather anti- Evertonians, the Liverpool-based contingent are.
"I have to work with them, you wouldn't believe the shit they come out with, they're a horrible bunch."
"Give them fuck all".
Though there is a consensus that we should take some of our top players out of the firing line, there seems confusion over the reason; some think it's tiredness, in which case there's a six-day break before the next match so no excuses, but others realise it's more the risk of injury.
"So would you leave players out at Spurs next week in case they get injured? Players can get injured in any match".
I patiently explain that the last point is the crucial one, yes they can get injured in any match, or even in training or pre-match warm-ups a la Naby, so that's the case for omitting them from non-vital matches. Spurs is vital so nobody gets a rest from that one, nobody would even argue that they should, it's today that's non-essential.
Graeme then proclaims that the title is done, anyone else feel the same way? Why is nobody saying it?
Nobody else feels the same way, apparently. It's bubbling away within us all, just below the surface, but we won't, daren't, let it out yet. But when it does …. We speculate on the elation of winning it at the Etihad, or Goodison. Meanwhile, we agree the time to speculate is when no one can catch us, not before.
Gradually the conversation turns. I notice an old chart of the Liverpool/Bootle/Seaforth docks on the wall, and ask where Everton's proposed new home at Bramley Moore dock would be. They say it's not on the map, further north, and hope rising seas levels will flood it as soon as they move in! 😉
Then I ask where it's likely the ship would have docked in November 1957 when my year-old feet first arrived in the UK from Hong Kong where I was born. Mum and dad weren't too sure and they're no longer here to ask.
Paul used to work in the dock offices and knows Liverpool's maritime history as well as anyone. He reckons if it was a militarily vessel carrying family of serving Royal Navy people then it would probably have been the Princes Landing Stage. Then they look at the map again, and point. "Actually, it was probably here, Alfred Dock in  Birkenhead."
I realise the wind-up – "ah, so you think I'm a woollyback then do you? Better go and get me a 3-star jumper off the market!"
We all have a laugh about it, and move next door to the Railway, then the Vernon Arms, before taxis to the ground. 11 of us is an awkward number for taxis, so we need three. But we're at the ground by 3.45, and I'm in my Kop seat as YNWA starts. At the other end, they respond to "You haven't won a trophy since 1995" with "You haven't killed an Italian since 1985", and some are visibly doing the pushing and squashing thing from Hillsborough. Vile bastards, what happened to them? Where and why did they change so much?
Liverpool's youngsters play most of the football, neat and intricate inter-passing and transitions, but Everton make the clear chances and are thwarted by our reserve keeper. There's something about the underdog that suits our crowd – after all we don;t get much experience of it theses days, domestic cups excepted. It feels like a free hit, except nobody wants these fans at the Anfield Road end to be rewarded with victory, or a goal, or anything other than continued despair and misery, because it feels that's what they deserve. And before anyone says you can'r tar them all with the same brush, yes I know that. But that song, and those actions, were not carried out by a small unsavoury minority but the vast majority. "Murderers" rang out loud and clear too.
The Kop responded with "We're going to have a party when Tottenham win the Cup", which Everton sang before the CL final in Madrid, followed by 'we are the champions, champions of Europe" and "Allez Allez." It was feisty alright.
And then that goal, and the explosion of noise and jubilation that followed in its wake. A truly exultant moment.
As was the final whistle. Smiling faces, fixed grins, and 'fuckin' 'ell I enjoyed that". And no replay either, nobody wanted that. We all agree that Milner's injury is the one blight on the day.
Taxis back into town and we catch a pint in the Dispensary before I get back to Lime Street, always apprehensive as I approach the departures board to see if I'm delayed or cancelled. But no, it's on time, so just time for a swift meal deal from WH Smith and I'm on to yet another sparkly new Transpennine train, bound for Scarborough. Coach A is, unfortunately, a noisy, spiky football chant of a carriage, with  two tables of gobby Evertonians bound for Leeds amidst a carriage-load of Reds. The Evertonians start it with a chorus of 'red and white shite'. That's enough to light the fuse. "Blue and white shite" drowns it out, and the Liverpool songs thunder down the train. It's all too much for one young Evertonian who stands up and threatens to turn nasty, and plenty of Reds reciprocate. It's his fellow Evertonians who tell him in forthright terms to sit down and shut up. Then someone starts playing a horn of some sort, I can't see, it's behind me, football songs, and the chorus bellows out again. The chanting spreads into Coach B. Then a portable music player, deafeningly loud, and they all sing along tunelessly.
I get talking to one of the Evertonians, an exiled scouser on his way to Leeds. "Where are you heading for?" he asks. "Manchester" I say. "I wasn't going to, but next stop will do fine!"
He laughs. "I just let it all go over my head" he says. "Miserable days at Anfield are nothing new for us are they?"
I laugh and say we've had good days out spoilt by the match in the middle too, and cite Kiev. He observes that just being in a CL final would be enough, thanks very much!
I'm glad to get off the train from hell at Manchester Victoria, where the last brand new, on-time, three-quarters empty train is ready to take me back for the final leg of the journey. My wife's waiting at the station for a lift home and watch it again on MOTD, where despite the misleading suggestion of Everton dominance in the first half – which the stats suggest wasn't true – our scratch young side get plenty of due congrats, topped by Curtis Jones' sumptuous strike.
Yeas, another good day out alright, enjoyed that one. Now, a nice easy City-esque draw in Round 4 please …