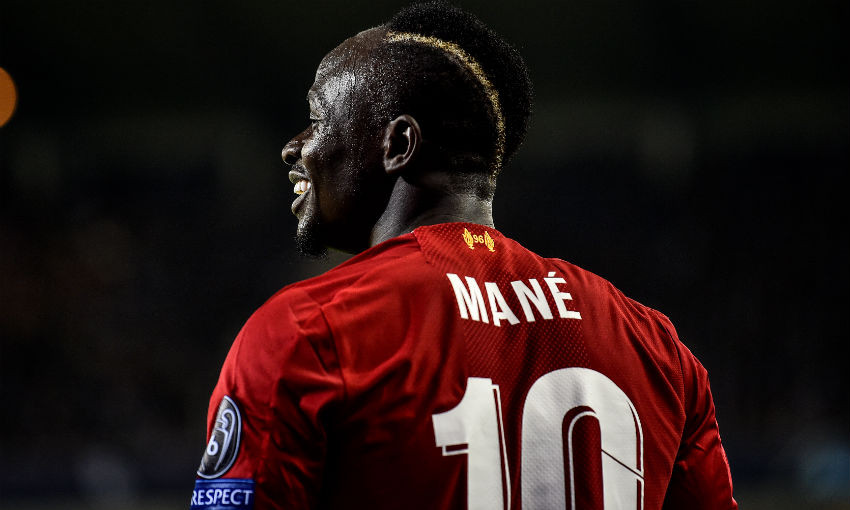 You know it might be Liverpool's season when they win their 2nd Kop-end penalty (in the Premier League) since May 2017, when James Milner saw his spot-kick saved – which also made it a day to remember.
Yes, two Kop-end penalties for Liverpool in two-and-a-half years. Indeed, with some symmetry, Liverpool are now level with Spurs for Kop-end penalties won since May 2017. (Liverpool in almost 50 halves of football attacking the famous stand; Spurs from just three visits to Anfield. And Harry Kane has the gall to say Liverpool are getting all the breaks!)
Sadio Mané – denied so often by referees – is now finally winning them, for being kicked in the box, although he's still miles behind the clutch of British born or British-raised players who win them at a staggering rate; and Anthony Taylor still allowed some clear fouls on Mané.
By contrast, twice Kane was twice fouled – slight contact, so free-kicks – but he screamed, rolled around and got players booked, to not a peep from the three English commentators on Sky. Yet when Mo Salah was held around the neck in the box – as he so often is – Martin Tyler and Gary Neville talked about Salah's willingness to go over; even though he didn't. I'm not sure when tackling someone by grabbing their neck became legal, but as I frequently note, it seems to be on Salah most weeks. And the bias against foreign players is as clear in the Sky box, just as it is from referees overall (based on the data for 600+ Premier League penalties, 2012-2019: British players win more than they should, pro rata, and concede far fewer than they should, pro rata – based on minutes played. I'll keep raising this point, because we can all see how players like Kane are treated differently to players like Salah – although rather than a race issue, it seems more closely linked to "foreigness").
But at least Mancunian Anthony Taylor gave one penalty – Liverpool's third of the season, which is half Man United's scarcely believable six, with United also winning almost twice as many last season, to take them to 19 in just 15 months. (United also won another handball penalty today. Liverpool's last league handball penalty was also the aforementioned one in May 2017, although there was a rather clear one against Spurs in Madrid, for which we should all be grateful.)
This was an absolutely superb performance from the Reds as, just as against Leicester, they absolutely battered the visitors for most of the game, although in this instance Spurs did at least have more than one proper attack, and missed a couple of good chances they created on the break. Indeed, this was the best the Reds have played against Spurs in a fair few years, and a draw, let alone a defeat, would have been a travesty.
This looked like being a record-breaking game for a goalkeeper as Paulo Gazzaniga made save after save, but in the end the Reds – in the face of some hysterical play-acting from Kane – deservedly rolled Spurs off the pitch, albeit after a slightly nervy last few minutes. Spurs even had a massive slice of luck when their goal rebounded off the post straight to Kane; how's that for getting all the breaks?
Six Points
When Liverpool had an eight point lead a few weeks ago it was with games against Man United and Spurs awaiting, to make the fixture list even unfairer to Liverpool than it already had been.
In just over a quarter of a season (ten games), Liverpool have already played Arsenal, Chelsea, Manchester United, Spurs and high-flying Leicester in the league; Man City have faced … Spurs.
The highest-placed team City have faced is the mighty Crystal Palace, in addition to their measly one Big Six encounter. In the Champions League, Liverpool have gone away to Napoli (one of the most intimidating places in Europe), plus had to face a gruelling away Super Cup match in Istanbul, complete with extra-time, against another Big Six rival, Chelsea. City have played Italian new-boys Atalanta, at home. Liverpool have already travelled to Turkey, Italy and Belgium this season; City have travelled overseas just once. These things can affect your league performance in the aftermath.
As autumn sets in, Liverpool have played a total of eight – EIGHT! – games against teams ranked 1-21 in Europe on the Club ELO Index this season already; City just one. (Shakhtar Donetsk, City's highest-ranked Champions League opponents, rank a few places below 21st-placed Salzburg.)
If this all sounds a bit familiar, we showed on TTT last season that it was impossible to find a tougher set of opening all-competition fixtures for any club in the Premier League era. And the season before that was only a fraction easier; Jürgen Klopp having now overseen the three toughest all-competitions 10-game starts to a season by any Liverpool manager in the post-1992 era. While you expect some Big Six games during the Champions League group stages, Liverpool are getting them stuffed into the early calendar.
This season, it was Liverpool's 2nd-toughest ever start to a season across all competitions after 10 games, and that included facing MK Dons in the League Cup – which in itself sets a weird exception as the only non-Premier League side Liverpool have faced in the domestic cups in years, with all early rounds seeming to throw up top-level opposition; which isn't to say the draw is fixed, but it's shitty luck.
Since facing the MK Dons the Reds have played Man United and Spurs, to make it even harder on paper. And indeed, it now ranks as the Reds' toughest first 16 games of a season since at least 1992.
Who do City play in their 11th league game of the season? Southampton, fresh from the worst home performance in English football history.
While the fixture list from game 12 onwards obviously turns tougher for City, in finally giving them their 2nd Big Six encounter of the season, it comes in the form of Liverpool's fifth, when Pep Guardiola's men travel to Anfield.
(And City arriving in a fortnight will be Liverpool's TENTH game of the season against teams ranked in the top 21 of the ELO – in just 19 games in all competitions – with a cup match against Arsenal being the 9th; albeit one that neither club will take too seriously, and play shadow sides.)
And while it's a relatively small point, City will arrive at Anfield after six home games, to five away; Liverpool will have played five at home, and six away.
So, when looking at the fixture list in advance, you'd have thought that if Liverpool could even be equal with City going into the Anfield clash, after such a disparity in fixture difficulty, that would be remarkable. And yet at worst it could be three point advantage to the Reds, and if both teams win their next game, it'll still be six. City will then have eight Big Six games left, to Liverpool's five.
A lot has been made of City's injuries, with some validity, but prior to today Liverpool hadn't had Alisson Becker (bar 30 minutes against Norwich) or Naby Keita for most of this season. While all those City injuries are partly bad luck, you also have to wonder if they look after their players properly. (That said, if there's any karma, then this is it, for their players singing about how Vincent Kompany took out Mo Salah in one of the worst tackles you'll ever see. Fans can be excused singing shitty songs; players cannot.)
And as I will show, City's team – based purely on the players they have fielded this season – still absolutely dwarfs Liverpool's in financial terms; and indeed, right now, every other club in England.
Good News For Man United and Chelsea
Before this weekend's round of fixtures I was looking at a couple of indexes we use on TTT to get a better idea of what the incomplete league table is saying. Are Liverpool as good as the table suggests? Expected Goals (xG) might suggest City are better, but as already noted, City have had by far the easier run of fixtures, in which to run up big scores. They've almost exclusively played cannon fodder this season.
Since devising the Transfer Price Index with Graeme Riley in 2009-2010 we've been accused of creating a method to jealously downplay the success of Man United (up to 2013, at least) and Chelsea. Well, the system is utterly objective, and now it bodes well for both of those clubs.
(Of course, now I suppose our method is used by Man City fans to show how bitter and jealous Liverpool fans are, and was created to downplay their success, even though it was devised before they had any real investment.)
For the past few years Man United and Man City had been neck-and-neck around the £600m-£700m-mark on £XI – with £XI being the average cost of the starting eleven in all league games played, with fees adjusted to current-day money with Premier League inflation – which since 1993 has run at over 20x the rate of economic inflation in the UK.
(The £XI is not what players are now worth, but what they cost, converted to 2019 prices – so it puts every purchase into the same financial context. So players like Kevin de Bruyne, Sergio Aguero and Raheem Sterling are shown to be massively expensive buys, which is what they were when they were signed for a lot of money in a less-inflated market. Also, the £XI doesn't allow for lame arguments about who did or didn't spend the most "this season" as it is based on the wealth of talent accumulated and deployed. And yes, that's still my position despite City having spent the most this season.)
For the first time since Roman Abramovic arrived in 2003, Liverpool's £XI is above Chelsea's, although as this was up to including game 9, it was before Christian Pulisic got much of a look-in. Equally, Liverpool hadn't had £66m Becker between games 2-9, and £52m Keita was also injured. But even so, with the "kids" – albeit mostly 21 or 22-years-old – getting a good run under Frank Lampard it seems set to be the first season the Reds will usurp the Blues on the £XI front since the days of Gérard Houllier.
Based on games 1-9, Liverpool have risen to 3rd in the £XI rankings for the first time since well before Man City exploded onto the scene; with Chelsea and United the previous teams that the Reds ranked behind when, under Rafa Benítez, they previously rose as high as 3rd in the rankings (although some seasons under the Spaniard the Reds ranked behind Arsenal). Chelsea, like United, are now relying on plenty of "free" homegrown players.
Whilst £XI is at least as good as wage bill analysis for predicting final table position, it can admittedly lose its power if a team has half a dozen youth players who skew the figures beyond what you would normally see in a team. By contrast, wage bill analysis can fall down in that it counts players who may spend the entire season injured, and is also often a year out of date as it uses the published financial data from the season before. (Plus, wage bills can be manipulated by secret payments to players or managers, of which City have been accused in the past, as well as some clubs not including all the additional staff members – when the mega-clubs have backroom staffs that cost a fortune. None of which is to say that all transfer fees are crystal clear.)
United have fallen massively in terms of their £XI – but it should only be temporary, to some degree, with their most expensive player after inflation, Paul Pogba, having missed half the season so far, and the very expensive Anthony Martial also largely absent until this weekend; but of course, Romelu Lukaku was sold, and costly players like Fred and the ageing Juan Mata won't start a lot of games if everyone else is fit. That said, Harry Maguire has played every game.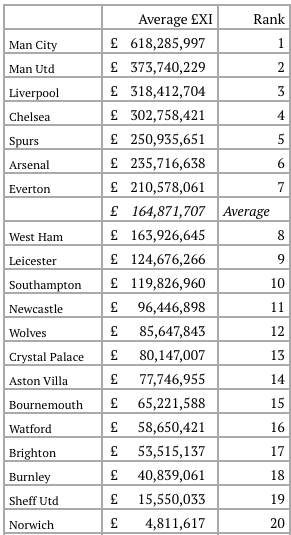 For the first time in the rebranded era – retroactively applying £XI all the way back to 1992/93 – there is an absolute chasm at the top; even when Chelsea blew Man United out of the water in the mid-2000s (with what remains the most expensive side and squad in 2019 money), the gap wasn't as big as this, as United retaliated with purchases of their own to respond to Chelsea's financial might.
Again, the 2019/20 £XIs are from only a quarter of the season, whereas those old comparisons rely on completed seasons. (Liverpool's £XI will rise if key players stay fit, now that Alisson is back, but Man City's should rise too, especially with the new additions from the summer.)
Prior to this season, the biggest financial gap from first to second was in 2007, when Man United's £XI was only 68% as costly as Chelsea's. But right now, United's £XI, in 2nd place, costs only 60% of City's; and Liverpool's, in 3rd, stands at just 51% of City's.
Basically, City's team has on average cost twice as much as the Reds' this season.
Therefore, the financial gap between Man City and Liverpool, in terms of £XI, is greater than the gap between Liverpool and Everton (Marco Silva's lineups have cost 66% as much as Jürgen Klopp's).
Indeed, to compare £XIs so far, in terms of financial relationships, Man City's is to Liverpool's what Liverpool's is to West Ham's, and no one will call West Ham bottlers if they finish below Liverpool.
City's squad and £XI was already far more expensive than Liverpool's last season, but a gap of the Reds being at 65% of City's £XI has risen, to now only being at 49% of their £XI.
This is partly due to Liverpool choosing not to spend any money this summer, when already possessing a younger team than City, but City added two £60m players in the close-season; so their injury crisis, while to some degree unfortunate, still meant that, until the last few weeks, they weren't really starting yet another £50m+ full-back (João Cancelo, £60m).
Indeed, City have spent more on full-backs than the cost of most Premier League teams' whole £XIs. (Cancelo, Kyle Walker, Benjamin Mendy – and Danilo, although he was offloaded as part-payment for Cancelo). City are an absolutely amazing team, and have an incredible manager who will go down as one of the game's greats, but a decade of massive spending shows in their £XI – even with expensive players out injured. As noted before, this is currently the biggest gulf in £XI in the Premier League era. City are in a financial class of their own right now, in terms of £XI.
With reference to Everton, they are the worst performers against the £XI metric (at the time of writing) – a full nine places below their financial ranking. The biggest overachievers, by some distance, are Sheffield United: 12 spots higher than their measly ranking position of 19th, although their £XI, at just £15.5m, is still more than three times that of Norwich, who appear to have been assembled from spare change: £4.8m for the whole team!
(As Man United have now beaten Norwich, Sheffield United fall a place in the table.)
Going into the Norwich game, Ole Gunnar Solksjaer's men were 13 places below where they should have been – so even allowing for injuries, they still ranked 2nd on £XI, and therefore should be doing much better.
That said, another factor in United's favour – which suggested their position near the bottom was false – is that they have faced more in-form teams this season than anyone else – bar Norwich. Obviously once United faced Norwich then Norwich became even more rooted to the foot of the "toughest games played" table.
For this we annually use the Ratings Performance Index (RPI) at this stage of the season – as it's been shown to be a better predictor of final table position than the actual league table after game 9 of a season.
TTT and LFCHistory.net scribe Terry Dolan has set up a website that tracks the RPI, although I wrote this article before it was updated after the 10th round of matches.
And anyway, we traditionally look at it a quarter of the season in as it seems to be the best time; RPI becomes less effective once everyone has played everyone else, as it was designed for American college sports where teams do not all play each other (so, a bit like the season after nine games – everyone has faced different opposition, rather than everyone playing everyone twice).
Easy Games For City
Who has faced the easiest games in terms of opposition form (the points taken by opponents)?
Man City, who rank top in terms of the least-testing games faced by any team in the top division. This means more tough games later on, but it did seem to be set up nicely for City to rack up a huge lead in the early months of the season, and demoralise everyone else in the process. Not only have Liverpool played bigger clubs "on paper", they have faced teams in far better form. And this was based up to Matchweek 9, with the Reds facing Spurs and City facing the more lowly ranked Aston Villa in game 10.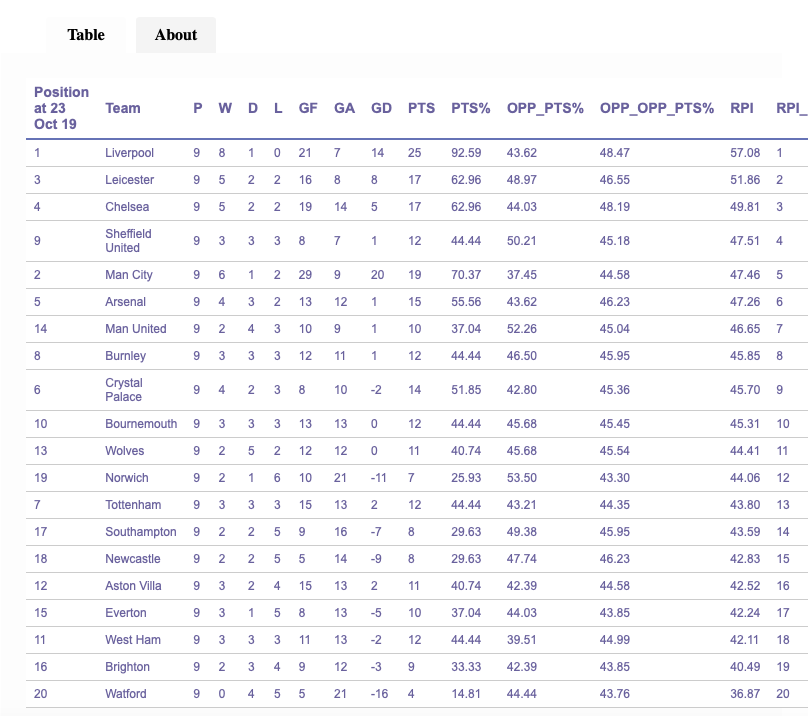 Despite playing a ton of Big Six games, Liverpool rank 8th in terms of "easiness" – facing teams just a bit easier than the average in terms of opposition form. Of course, Man United away – for example – is never an easy game, but in the Performance Ratings Index it goes down as an "easier" fixture due to United's hitherto incompetence (albeit United's own form was affected by injuries, and by them facing teams in good form. Again, none of these models are perfect, but they are all handy measuring tools).
And this was before Liverpool played yet another Big Six team in Spurs, albeit themselves not in the best overall form – although still full of stellar names, and replete with a ton of experience. Spurs at home is never an easy game; at least, not in recent times.
All of this suggests that Liverpool have been dealt the toughest of hands this season in the title race; and yet still sit six points clear of the doubly-expensive, easier-fixture-facing Man City.
But Liverpool also soon have the Club World Cup to deal with, in Dubai in December, and City obviously have a ton of incredible players who can swing the title race back in their favour; plus some injured players to return in the new year. The head-to-head in November will surely massively affect the title race, as a win for City would narrow the gap, and a win for the Reds would make it a chasm.
And yet either way, Liverpool will – on paper – have the easier fixtures remaining. That could be one of the deciding factors. However, the fact remains that, after four Big Six games already, to City's lowly one, Klopp's men are in the driving seat.