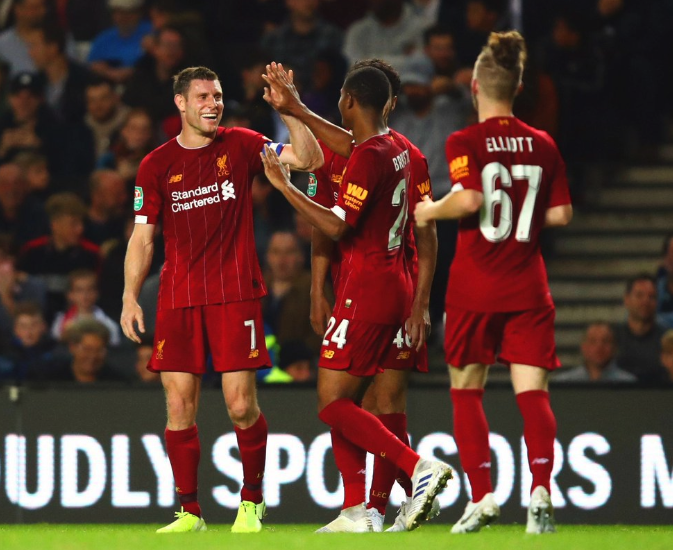 Best posts of the week, selected by Chris Rowland and Daniel Rhodes:
1 – Anthony O'Brien on problems caused by unfamiliarity with a new goalkeeper, Monday 23rd:
Something I noticed yesterday that I have seen in some of the other matches – Virgil had a shout at Adrian for not coming to get a ball that he expected the keeper to come and get. While there could be several reasons for the increase in clear cut chances conceded, one of the that are being generated, it appears that the lack of familiarity at the back is at least partially to blame.
When looking at the defensive stats we have to bear in mind that:
While Alisson only had had a two-week preseason for 2018/19, the transfer was agreed a few weeks before so he had time (if he wished) to study his new team mates.
Adrian was only signed the week the season started so had almost no preseason. This was seven weeks ago, so he's still "getting to know" the people on front of him.
He came in knowing he's the backup, so all going well he would have expected hist first match to be The League cup this week, rather than having played in all eight matches since he joined.
He's conceded five goals (three more than last year) – this is still six better off than 20178/18 & three better than 2016/17.
Is it a concern that we are "letting" teams in – yes of course it is, however we must bear in mind that the supreme quality of the defence last year was an aberration in that we outperformed the (understat) xG model by seven goals (24.5%), a regression is not only likely but to be expected. However this year after six games we are still outperforming the model by 24.1%, so maybe we're being slightly harsh on the defence.
With Alisson expected to be out until after the next international break, (a potential return at Old Trafford) Adrian will be the #1 for at least the next three League & CL matches. There are two lessons that to be learned to to help reduce the CCCs. The defence have to learn what the goalkeeper is comfortable doing, he doesn't seem to be comfortable with the Alisson/Reina type sweeper keeper role so they need to learn how to help mitigate that and help him with it. Adrian also has to get to grips with the new system, in West Ham he will not have been expected (or expecting) to leave the box more than maybe once or twice a game to come for a ball, that is not what our defense have come to be familiar with.
2 – Chris Rowland on Liverpool's current stature, Sept. 24th:
I think opinion of Liverpool's merits would come higher if it wasn't for the shadow cast by Man City's freakish current manifestation. When you play the way they play, the style they play, it inevitably encourages adverse comparison with anybody else. If we lived in normal times, there would be wider and greater appreciation of Liverpool's current merits than there is is – outside of our own fanbase, of course. Our 97 points last season eclipsed only twice in top flight history – the last 2 seasons by City.
I've been watching Liverpool long enough to know a great team when I see one. As someone who went to his first match in 1968 and had a Kop season ticket through the 70s and 80s, there's never been a better time in the club's history to have been a Liverpool supporter. I've seen a few great sides and players in that time, but at no time during our reign at the pinnacle of the game did we have an adversary quite like this City side. That we are keeping pace with them, stride for stride, albeit in our different ways, is comment enough.
3 – Red Mick responding to news that Klopp has advocated Steven Gerrard as the man to succeed him as Liverpool manager, Sept. 25th:
Can't understand why Klopp would say that. The last successful manager to designate a successor gave Manchester United David Moyes. That went well!
I don't think Gerrard is a deep thinker about the game. His entire career was based on his awesome talent and will to win rather than tactical or strategic nous. When Rafa tried to instil some tactical discipline, he took against him and seems to base his view of Rafa as a coach on his somewhat detached personality. It's perhaps why he prefers the bullshitter Rodgers. Gerrard also appears to have been instrumental in the hiring of Hodgson. Enough said. Look elsewhere than Gerrard, Reds.
4 – Paul T commenting on Joe Gomez's quotes after the victory over MK Dons:
"I want to be playing, every football player wants to be playing, but at the same time, I understand that we're European champions, I am at a top club and the lads are doing very well at the minute. All I can do is keep my head down, working hard in training and wait for the right time but I've just got to keep it up right now.
Perfect!
I thought he was sensational last night, bar one error where he got dragged out to the touchline, lost the physical battle and ended up on the deck.
By 25 I think he's gonna be one of the best centre-backs the world has ever seen if he can stay fit, as he has everything bar a little bit more experience and wily nous – but until then he has to get past Matip, whose form is better than I ever expected to see. Gomez is just such a level-headed young man.
And if he ever has to play at right-back in the non-Big 6 games then what we lose from TAA's quality can perhaps be countered with a more attacking midfielder in the three. The way we play now makes Gomez a poor deputy in terms of on the ball quality but his defending and pace are so good that we'd just need to tweak the balance of the side a bit. At the moment we play three non-explosive midfielders to allow both full-backs and the front 3 to essentially play as a front 5, but with Gomez at right-back it'd need someone from the midfield to drift wide. He can still overlap with his incredible speed but his delivery is obviously not in TAA's class (whose is?!).
5 – David's thoughts on the unique atmosphere of the match, who stood out, and why:
What a strange game last night. I thought it was a bit dreamlike. There was the surreal shiny MK stadium with their 'fans', that seemed like a hoard of extras on a film shoot. The sound in the stadium was weird – the LFC away support were their normal self, but I don't think I've ever heard such a polite and wimpy effort from the home fans.
Then there was the strangely muted atmosphere from the TV coverage and press reaction. No one seemed to pick up on our making ELEVEN changes. The press were off harassing the Manures and Tottenhams, who made fewer changes, but for some reason we got a free pass. I don't know if it was the general naffness of the event (i.e. nobody cared much about it – something that the photo at the beginning of this article brilliantly illustrates – it has about as much excitement as the badly sold lie of an energy drink!)or just that it never developed into a story because it went to a predictable script. To be fair though, we were a whisker away from being rolled over from some of the chances or gifts we gave them.
I've just watched a bit of the match again and in retrospect, I think we also contributed to the weird atmosphere with what was for 90% of the time, an extremely competent performance. However, it was laced with quite a few blip like errors which made it seem worse than it actually was. The thing was, we made the Dons look really bad with our possession football, to the point at which, when they did get chances to score or even make routine saves, they were completely phased.
So what did we learn from it?
For me, the best thing was that the game revealed that we do in fact have 2 really good back up full backs. I wasn't just impressed by Milner's immaculate display, but also by his willingness to take on the role without a shred of cynicism or the moody broodys. He was entirely able to effect the game in each third of the pitch, playing very much in the same way our regular full backs play, which is also a complement to the way the midfielders and defenders are playing with tactical discipline. Tbh, I think the narrative that he wants to play midfield is out of date – or he has gone way beyond the stereotypical notion of what a fullback does and embraced the LfC version of it. It just made me very confident that he is the man to step in for Robertson if needed. And if ever our players or even those Dons players needed a role model for how important mentality is they should look no further than Milner. (You feel that poor goalie is going to be learning that lesson for the rest of his life!)
And then, with Hoever on the right, I found myself being more convinced than ever, that he is the one to back up TAA. He's better suited than Gomez. He's not the same as TAA, but he has similar levels of raw talent, especially in the final third, to pull a team out of shape and mean they can't afford to forget about him. I don't think we saw how good he is at crossing either in this match or dribbling. But he looked after the ball really well and of course, scored a brilliant goal, showing his intelligent movement and awareness as well as his physical attributes of size, speed and technique. He also showed glimpses of his occasional lapses in concentration and brain fart defending, but he's very much in a similar place to where TAA was at the same age and that can be coached out of him.
What else? We have a stock of really impressive, experienced mobile and versatile midfielders and defenders in Ox, Keita, Lallana, Gomez and Lovren. They basically just did their thing and that's why we ruled the match. I was really pleased to see Gomez again. The contrast with him and Lovren, with the former's pace is revealing. Lovren, in what was otherwise a good performance, got done a couple of times and I'm sure everybody was suffering flashbacks. That recovery speed is absolutely crucial to this LFC team and players that can do that are really hard to find.
Then there's the new boys.
It was really good to hear Klopp enthusing about Kelleher. He's such an unusual looking chap, body shape wise and with his undemonstrative demeanour, but you can tell from JK's comments that he got a really strong personality and presence. Laid back for sure, but really in the game somehow. I found it interesting that JK talked about him getting bigger physically.
I'm interested to know what people thought about Brewster's performance. It was typical of how he's been playing so far this season. Even though it wasn't too spectacular, I don't feel remotely worried myself about where he's at. The movement looks really silky and his awareness is there. Just easing his way back – by order of the medical team! I think it's really important for people to also take into account that he really has had a shortage of actual minutes. That's only the 2nd or 3rd full game he's played so far.
As for Curtis Jones, I was glad to see him as left forward. I think he's making that position his own and I also think it's important for him to find his shooting boots, even if it means being wasteful or selfish. If he's ever going to make it as an LFC player it's his audacity that's going to win it for him. He's got a long way to go in terms of picking his moments, but in my view, he's made a lot of progress in the last month. The coaches and commentators are always talking about how 'he needs to take more responsibility' or 'the captaincy has been good for him' (at u23 level). This may be true. For me, the point is he needs to adapt his game and I think he is – so we'll see where it leads, but it's a good direction he's headed in.
Last, there's Elliot. I don't think there's really anything to add about him. Everyone can see it! He's just got it. And he's 16! I suppose it's the one thing that you need to say about all 16 year olds. Will they be able to keep it?
6 – SteveM, who went to the league cup victory:
Just back from the game tonight, and so haven't read all the comments. I'm looking forward to seeing the game back, but in the stadium it looked like the Dons could have had 2-3 and maybe we should have had 4-5. Kelleher looked great in goal, some top saves and good distribution with both feet, Elliot looked creative and sharp, Hoever looked pretty good. Brewster was anonymous, Lovren looked like he couldn't be arsed, Gomez made one or two errors, particularly positional. Keïta was disappointing but clearly not fit, and Ox had some good moments. I don't know who got man of the match, but Milner was terrific as ever so it could have been him. However I think my vote would be for Kelleher. I don't know how it looked on TV?
Just a word on MK and the stadium. I've lived in or near Milton Keynes since I moved there for work in 1986, and it's been a great place to bring up a family. When the Dons arrived it was a huge boost for football in the city, and me and my sons have been to watch the Dons probably more than we've been able to see Liverpool in the last 10 years or so. It's a wonderful stadium for any side outside the top flight and it was brilliant to see it pretty much full tonight. The Dons fans are noisy, but when our 7,000 fans really got going we really out-sang the rest of the stadium!!
Tidy result and great night.
Articles published since last Friday, with samples:
Monday September 23rd:
Post-Match Analysis: Chelsea 1 – 2 Liverpool, by Daniel Rhodes.
The biggest concern about the big chances conceded is that in the six games this season we have conceded an average of two per game. That is higher than at any point during the Klopp era, and even higher than under Rodgers. We can't keep winning if we keep conceding two big chances a game, although one could argue that by creating 3.3 big chances ourselves per match, with a BC difference of 1.3, then maybe we can! But we have to accept more basketball style games than the control we exerted so often last season. We have Adrian and Alisson to thank for keeping out the opposition so often, as well as their wastefulness, but it will regress eventually.
Tuesday September 24th:
Liverpool: 6/6, 15/15, 115 out of 132, Plus At Least 8 World-Class Players, by Paul Tomkins.
I find it odd that some Liverpool fans still find things to moan about, even though I know why human craving is to never be satisfied, lest we beat eaten by lions or starve to death because we couldn't be bothered to go and kill another antelope as we ate one last month. Restlessness is in our nature. But really, why do you care if Adam Lallana comes on before Xherdan Shaqiri or Alex Oxlade-Chamberlain? (People on Twitter seemed to.) Or that Liverpool had to ride a bit of luck to beat Chelsea, when the luck went against the Reds just days earlier in a big game in Napoli, which made for a never-easy two big away clashes in five days?
Any time your club is breaking its own 127-year records, as well as national records, things are going about as well as you have any right to expect. And right now it's being achieved without a world-class keeper, with a discarded ex-West Ham reserve proving to be just the latest in a long line of bargains brought to the club in the past handful of years.
Not one of Liverpool's current squad was seen as "world-class" when they arrived at the club; and none were seen as "world-class" when Klopp arrived at the club.
Yet now, how many are being noted as world-class?
19/20 League Cup Preview | 3rd Round | MK Dons | Stadium MK, by Gary Fulcher.
Jürgen Klopp is expected to ring the changes given the intense start to the season the Reds have faced, especially with back-to-back away games against Napoli and Chelsea that preceded this tie, which is followed by a trip to Sheffield Utd on Saturday for a lunch-time kick-off.
A rule of interest:
14.4 In the event of the scores being level at the end of ninety minutes' play in Rounds One, Two, Three, Four and Five no extra time shall be played, and the winners shall be determined by the taking of kicks from the penalty mark in accordance with procedures as approved by IFAB.
Wednesday Sept 25th:
Si Señor! TTT Player Of The Month for August 2019: Roberto Firmino, by Andrew Beasley.
One of the cornerstones of football is the importance of the first goal. The team which gets it wins roughly seven times out of 10. While that proportion may not extend to the side which has the first clear-cut chance – I have no idea if it does or not – Firmino has been doing his best to kick-start Liverpool's creativity in matches this season.
He played a ball through to Mohamed Salah at Wembley for the Reds' first golden opportunity in the Community Shield. The same duo linked up in the opening league game for Liverpool's first CCC (and second goal) against Norwich.
Klopp's team may have only had one big chance at Turf Moor, but it came about when Firmino recovered the ball and played in Mané to score. While technically not creating a clear-cut chance in the official records, Bobby did similarly for Liverpool's first clear-cut chance against Newcastle.