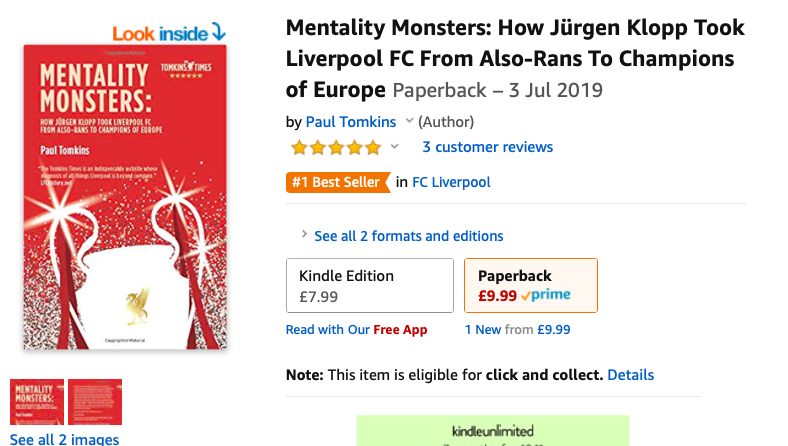 With my new book (Mentality Monsters) out for almost a week now and topping the Liverpool FC chart on Amazon, I thought I'd share a few thoughts on why it would be helpful for people to read the book.
My philosophy – as with this site – is that I'd rather have fewer happy paying readers who appreciate the work than make money from people who just think "well that was a load of crap" because they don't understand it, or it wasn't what they were expecting. Aside from my fiction writing, I don't really write narrative-heavy work – rather, more detailed analysis that hopefully ties together aspects of narrative as part of the overall context. I am not interested in being part of the mainstream, and this is a relatively niche site. We like it that way.
My brief foray back into the murky waters of Twitter to promote the book has proved that so many Liverpool fans still don't seem to understand anything about the club. At times it feels like I'm talking a completely different language.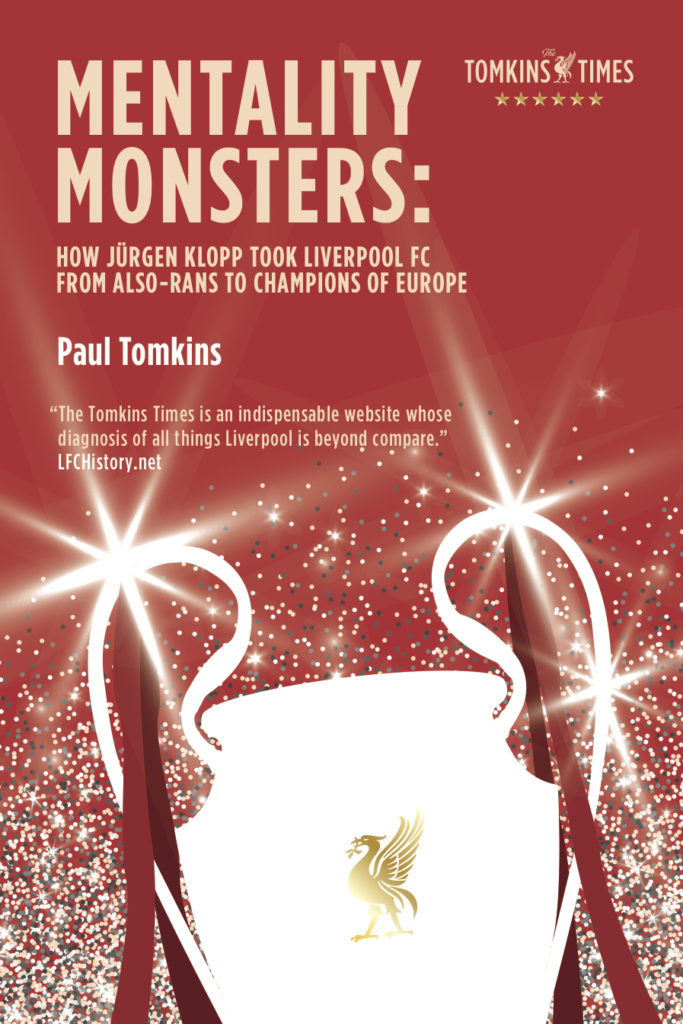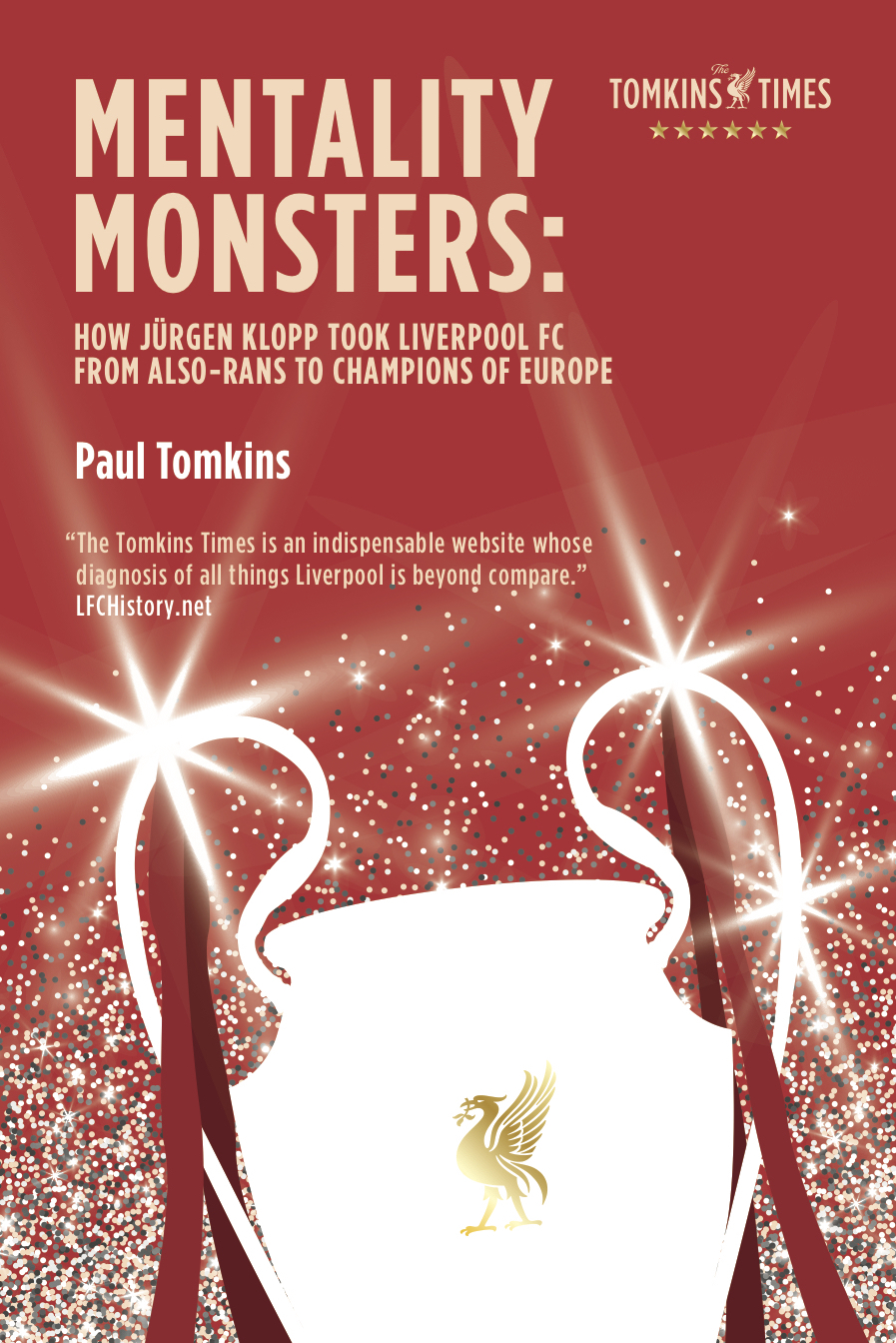 Amongst many other things (including lots of descriptions of the brilliant football of 2018/19), the central chapter of "Mentality Monsters" is 20,000 words on why Liverpool's transfers are utterly transformative these days. I draw on a decade of intensive research into transfer success rates (as co-creator of the Transfer Price Index with Graeme Riley), as well as myriad interviews and articles and statements made by the key men at the club. It covers the science of how Klopp improves players, as well as detailing the scouting process. It also explains why zero signings are often better than bad signings. (This could be called the Alexis Sanchez Effect.)
It's frustrating to try and explain these concepts in a few lines on social media.
People are telling me that now is the time to buy players, but they say that every summer. You must buy when you are strong. But they will also say you must buy when you are weak. And when you are in between. This is football "management" where the transfer window is to be won, and the football is secondary. The whole "announce X" nonsense is symptomatic of a whole raft of football fans who don't understand football.
Limited imaginations can only see improvements via buying players who are already the level they desire. Yet almost everyone Liverpool have bought during the rise to being the top-ranked team in Europe (ELO rankings) has been perceived as being below that level at the time they arrived. A manager can imagine the improvements he can make to a player, in the way a fan cannot.
People want superstar signings, yet not one single signing made on the way to posting 97 league points when winning the Champions League was in that category. Even Virgil van Dijk had only a few Holland caps and a short while in the top flight 18 months ago, and he was questioned at the price Liverpool paid, to a club fighting relegation. Few people were saying he was the best in the world, although those who worked with him said he could become just that.
When I defended signings like Andy Robertson and Gini Wijnaldum I was told I was defending the club buying mediocrity from relegated sides. When I defended the notion of waiting for van Dijk rather than panic-buying a weaker alternative I was told that the club was being reckless and negligent, and I was enabling this malfeasance. Yet Klopp, Michael Edwards and the scouts know what they are doing. They have proved that, beyond doubt. They have earned our trust, if not our blind faith; they have earned actual, eyes-wide-open faith.
I was also told that Sadio Mané wasn't good enough, and that Mo Salah was a Chelsea reject. I defended Jürgen Klopp in October 2017 when his record was no better than Brendan Rodgers' record, when Rodgers himself had done pretty well overall (but based largely on one excellent season; the final 50 league games were increasingly bad, and while I defended him earlier in that run, based on the credit he had in the bank from 2013/14 – having initially been a bit sceptical about him – it became clear to me that he, rather than the much-maligned transfer committee, was the problem. Again, this is discussed in depth in the book).
I wrote on this site at the start of last season about how important it was to get a young, hungry, versatile and talented team together and keep it together; and by the end of last season Klopp came out and basically said that was the plan. To him, keeping the team together and further coaching them was more vital than splashing hundreds of millions of pounds, because a lot of the buying had already been done. Equally, if anyone wants out then you have to consider selling them, no matter who they are, as they can drag the place down if they don't want to be there; but right now everyone wants to be at Liverpool.
Which isn't to say signings cannot add to the mix, but compared to Man City (who had their most successful season ever in terms of trophies won) and Spurs (who had their most successful season ever in terms of European progress) Liverpool were younger, and those two clubs, between them, added just one player last season (Riyad Mahrez), and he was for the bench a lot of the time. Neither club was encumbered by having to throw new players in and adapting on the hoof, at the cost of defeats.
In "Mentality Monsters" I talk about the science of "fit": the right people at the club, and the time they spend together.
For once the club doesn't need a transfer overhaul. In the past it did, but not now.
And transfers aren't always the answer; sometimes buys can present more problems than solutions (look at how both Paul Pogba and Alexis Sanchez went to United as bona-fide sure-fire hits, only to largely stiff). Sanchez, in particular, seemed a signing for the sake of signing: steal a big name from under a rival's nose, then have no idea what to do with him, as the club self-implodes due to his stellar wages and terrible output. Signing Sanchez was greeted like a trophy by some Man United fans, a real coup. In truth they procured a toxic turd, and pay him half a million pounds a week to stink the place out.
Which Liverpool players should be better next season? Unless someone has a sensational first season (Mo Salah), it's often likely that a year of adaptation, adjustment and cohesion within the team will improve performances into the second year, and beyond. It's said that the second season (the sophomore slump/second season syndrome) can be harder, but this is only if the first is hard to live up to.
But even Salah can get better; I'd expect a reversion to somewhere between the 44 goals he got in the first season and the 27 he got last season, although trying to win trophies is all I really care about. And the more tightly marked he gets, the more it frees up others.
Fabinho, like Alex Oxlade-Chamberlain a season earlier, took half a season to settle, but once he had Liverpool became very difficult to beat. Keita had a bumpy ride, with some good performances earlier in the season, and a couple in midseason, but it was only late on that he really started to make a big impact in games. Ditto Xherdan Shaqiri, who was largely unused; then excellent; then largely unused again, partly due to injury, partly due to the team winning every game without him. I would expect Fabinho to continue to improve, and Keita to make a big leap forward this season. Shaqiri remains an excellent option for the squad. Most of this squad is still relatively new to the club.
Alisson has had a year in England to contend with all the quirks of our game, and will find fewer shocks and surprises; and even then, last season was only his second as a regular goalkeeper in European football, after a year on the bench with Roma in 2016/17. Oxlade-Chamberlain is back and will have a full preseason under his belt, to add pace and yard-stealing from midfield. Rhian Brewster is now 19, built more like a 22-year-old, and ready to be unleashed; with skill and the vital component of searing pace, which almost all youngsters will need to break through early in their careers (and which Liverpool need to play the way they do). He's also a really likeable, positive character who fits in with the squad mentality, and who has spent two years being integrated either side of a major injury.
Indeed, anyone who has been at the club, or in the senior squad, for a short period of time has the chance to further adapt to the team's play, wise up to the opposition (and the demands of English football), and grow more familiar with the vital pressing patterns.
I would even say that, now 28, Virgil van Dijk can still get better, just because he's been such a late developer in general, as most centre-backs often are (but his rise has been even later than most). And anyone under the age of 26 should still be improving naturally, adding experience before the legs give way in their 30s.
If they stay fit, the front three can continue to improve, before I'd expect some trailing off around the age of 30 and beyond. (Although Roberto Firmino looks like someone who will just get better and better, as his game is all about intelligence. All three of the attacking triumvirate were late bloomers who did not play a lot of football as teenagers, so their careers could be prolonged as a result.)
Until December 2018, close to the halfway point of the season, Divock Origi was a faded unfulfilled force; a player who once had great potential, and was showing his worth with goals in big games in 2016 and 2017. But 18 months had passed with only signs of a career in stagnation. Then he scored seven goals in about seven-games' worth of minutes, with most of them up there with the most important goals any Liverpool player has scored in recent times, or maybe in the club's history as a whole.
He must have been reporting to preseason training in a far better mental state than after a difficult year on loan at Wolfsburg; he must feel, finally, like he truly belongs. Now 24, he's physically and mentally developed. Of course, he might vanish again for months on end, but it seems that he's taken the next steps in terms of self-belief to become the player so many thought he could become when he arrived aged 19, and what he looked capable of becoming before an Everton player tried to snap his leg in two.
Harry Wilson is back. I know that the club were very eager to see how much he has improved after a year away with Derby and further caps for Wales; at the very worst it seems that he would improve a squad that will lose none of its key components. (Alberto Moreno never played, Daniel Sturridge faded from view. And that's it.) The squad is a bit bigger and better, I believe, than a lot of people realise; but obviously the club will be on the hunt for the dwindling calibre of player who can improve things, now that there's less scope to bring in players at the same or higher level.
Joe Gomez was absolutely outstanding up until his broken leg in December (as with his knee injury, a result of bad luck rather than injury-proneness). Joel Matip was incredible in the run-in, helping the Reds to get to 97 points and get over the line in the Champions League; but the defence's best record last season was when Gomez was centre-back. Either starting the season alongside Virgil van Dijk would be fine with me. Matip adds more in the air, while Gomez adds more pace. Both Matip and Gomez are very good at bringing the ball out of defence, and Gomez adds the option for cover at either full-back position. Fabinho has all the skills to be an outstanding centre-back as he showed against Bayern Munich, so he's an option in an emergency.
Some players have just so much scope to improve. Trent Alexander-Arnold is only 20, and most players make a big leap in their game at the ages of 21 and 22, before – it seems to me – the next big leap in progress, which is mid-20s. He can develop physically, and that alone will help him become a better all-round player.
Players I wouldn't expect to get better are James Milner, Jordan Henderson, Adam Lallana and Dejan Lovren, due to age and time at the club; although of course, no one is ever beyond improvement if they work even harder, and are pushed hard in training that extends them beyond their comfort zones. But you wouldn't expect any of them to suddenly transform into something utterly new and mind-blowing, although Henderson's redeployment further forward in the run-in showed that even he could affect games in ways people thought were beyond him. (And surely James Milner cannot keep improving until he is 59?)
The book therefore covers the Flynn effect, and how all of these players should be better within the confines of an improving team overall. Even if they don't get better as individuals, they are going to be on more beautifully aligned wavelengths, after two/three years together, rather than 12 months together. Klopp tends to initially improve teams with a bump in their confidence, but the main improvements take a few years, with all the fitness, pressing and tactical elements falling into place. As at Dortmund, he makes world-class players, he doesn't buy them ready-made.
This could be a more difficult season because of the extra games: Community Shield, European Super Cup, World Club Championship. But this is a team on the up. So, new signings would be nice, if they are the right fit. But if necessary, the club can still move forward without them, now that the squad has grown organically and cached a ton of high-level experience in a short space of time. The team will naturally move from a below-average average age to an age more commensurate to success. It has grown in self-belief, too.
Anyway, for a more expansive explanation of all this, and a lot more, buy the book and see if the arguments I make – more eloquently and backed up by much more evidence than is possible in an article like this – ring true. (And if you don't like it I'm sure you can get your money back.)
Finally, TTT subscriber "SteveM" left the following comment on the site about the book, and I thought it was worth sharing. The comment was made in reply to my concern that there might not be enough narrative in the book for some people:
"It's like a novel or movie with different levels and hidden sub-plots. Everyone knows Liverpool had a good season, with the Premier League near-thing and winning the Champions League, though some will say they 'blew' a big lead in the domestic league and didn't deserve to win the final of the CL. Some will get that there has been a turn round under Klopp, though others will not see how big that has been and say he took longer than he should have. And then there are the ostensible arguments about big spending, offside goals and soft penalties etc.

What Mentality Monsters does is tell the known story, with passion and humour, but layer under it all of the less-known aspects, whether strategy, tactics, financing, man-management or even 'luck'. That's why I enjoyed it as a complete book of the season (and what went before it). Not just a narrative, as other books will no doubt be, but an overall modern history of the club, with hard-core analysis that supports the real story."
A second book we produced this summer, My Day At The Match 2018/19, was for TTT subscribers only, via preorders, along with a special edition of Mentality Monsters (as a lot of people have asked me where they can get it; the answer is nowhere). Also, unless Amazon choose to distribute Mentality Monsters to other stores, or stores buy the book from Amazon, the book will only be available via Amazon.