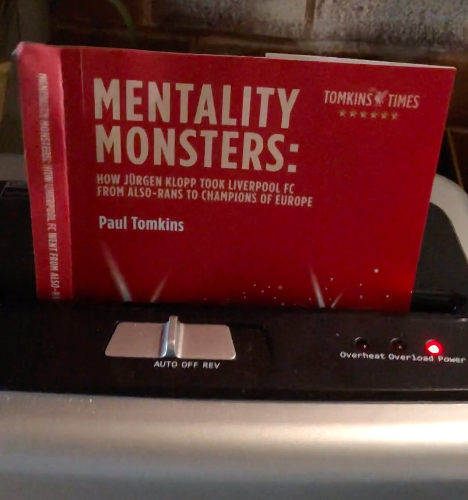 The crushing news came today: I had just written a book that, apparently, was utterly meaningless, because Liverpool had not won the league. I was told to come back when the Reds had won the league, and write a book then.
As such, I have realised the error of my ways. I can no longer stand by my book on the Reds winning the Champions League (for the sixth time, apparently). I now realise that the whole endeavour was utterly pointless. What was I thinking?!
The title, "Mentality Monsters: How Jürgen Klopp Took Liverpool FC From Also-Rans To Champions of Europe" is fake news. The title should be "Mental Bottlers, How Jürgen Klopp Took Liverpool FC From Also-Rans To Not Win The League". Anything seen in Madrid was a dream. The parade through Liverpool was faked, with paid actors playing the roles of the 750,000 crowd. The man who nearly fell off the back of the bus was a Jürgen Klopp doppelgänger. (Look closely at the footage and you will see that his teeth are not quite white enough.)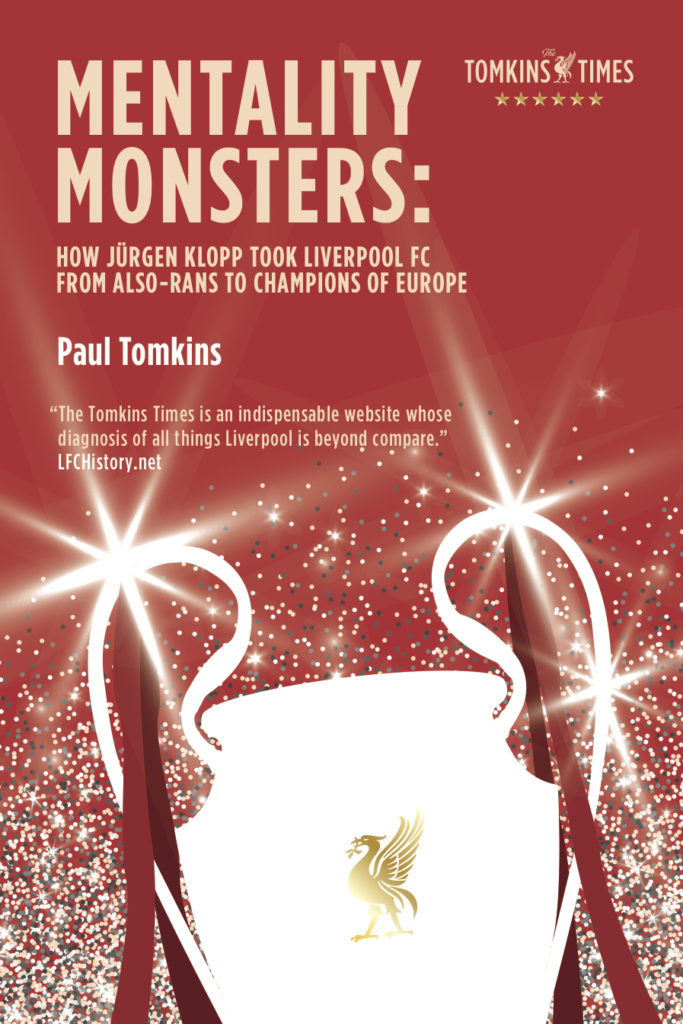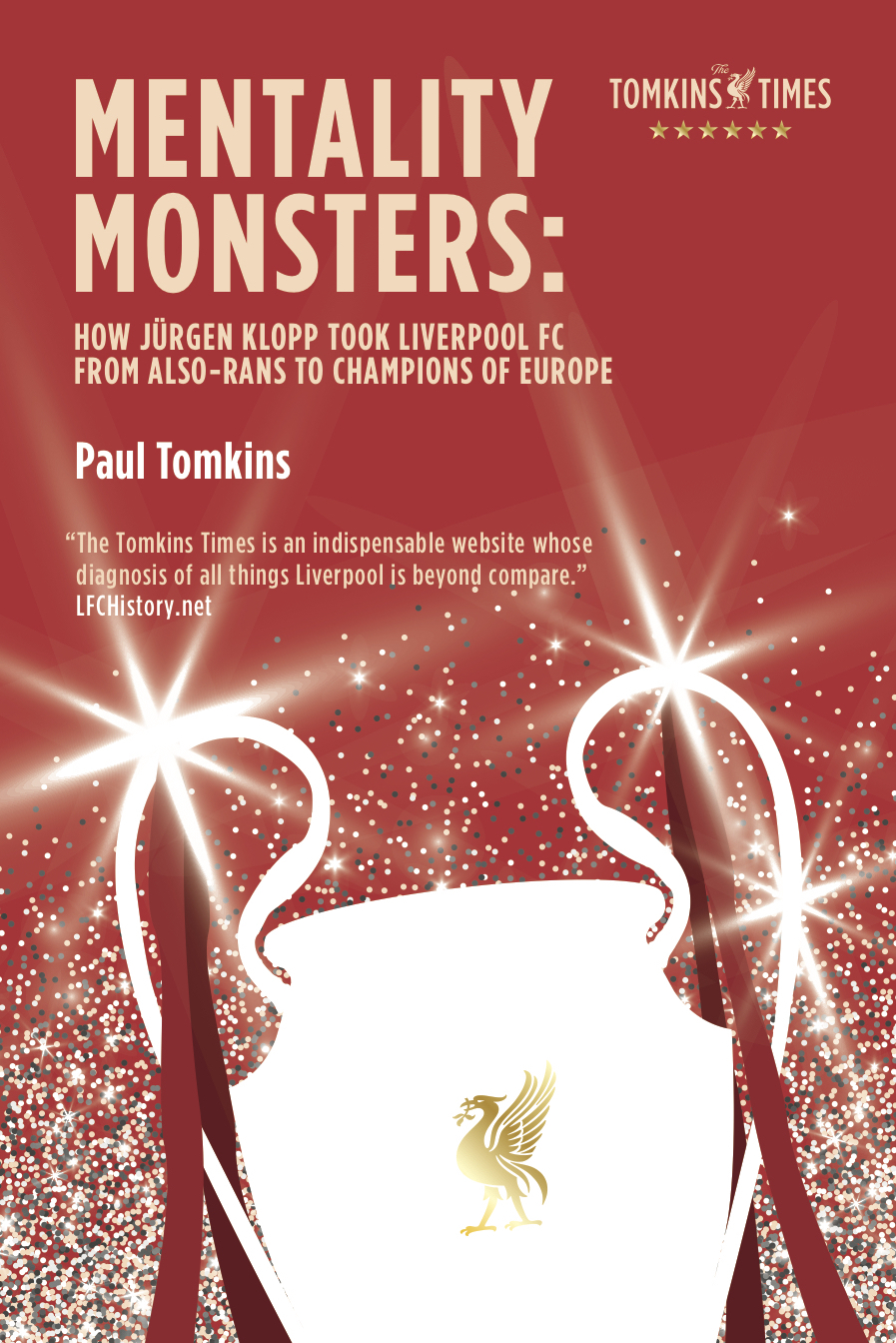 As a result, all copies are to be burned, pulped and shredded. Perhaps if you're quick you may still be able to acquire a copy from Amazon, before their availability shifts to a just few black-market copies traded for food or sex in shady back alleys. If you already own a copy you are advised to keep it well hidden, lest the Thought Police, employed by fans of rival clubs, catch you with a copy.
Non-Fake News
This is the first football book I've written from scratch since this site was launched 10 years ago. It's pushed me beyond my physical limits and affected my health, so now I need to recover. I hope it proves to be worth it! (So far, so good.)
Sales are good, and have exceeded my minimum target for the entirety of 2019, so in a sense I should be able to sit back and anything extra now is a bonus. But it's also hard to stop promoting a new book when you fear it will sink without trace as soon as you do, and part of you will die with it.
More importantly I hope people enjoy the book. I'm used to writing for my usual audience on TTT, so I feel strangely vulnerable putting a fully new book out. And it's daunting to see so many other impressive-looking LFC books being released too.
It also raised the issue of how relevant I am as I get older. I started writing online about Liverpool in my 20s. Now I'm nearly 50. When will my take on football just be too outdated? How long can I retain an audience? And how long can this site continue to exist?
It's always nice to think you will pick up new readers along the way, and to maybe change the way people think about the game. But these days, does anyone change their opinion on anything? And do fewer and fewer people pay for original content?
Do the younger generation care about my work? And should they? Am I not now the Status Quo (if not the status quo) of the football world, ready to be kicked off Radio One as I'm an old fart?
It's also the first fully new LFC book I've released since joining Twitter in late 2009. I find Twitter – which I've been using again this week – generally makes me feel anxious and depressed (and, er, irritable), and at times overwhelmed, so I don't use it much, but it's nice when people are supportive 🙌
I just don't have the energy for the good on Twitter as well as the bad. I don't like ignoring nice people, but it's also impossible to respond to everyone – so often it's easier to say nothing as there's nothing to worry about replying to. As I said, it can be overwhelming. Even the people I follow, who are fighting the good fight, for the best of causes, are fighting. (For now, I'm kinda tired of fighting, but that doesn't mean we shouldn't stand up for what we believe in.)
There's also just so much great football writing around that it can feel easy to get lost in it all. And not just great football writing, but also so many types of football writing.
I also don't spend a lot of time thanking my readers, subscribers and followers, as it can seem phoney, and I also try to avoid outright praise or outright condemnation (unless either has anything enlightening and useful wrapped within). But I'm grateful to anyone who supports my work and my site, which in turn helps me support others. I may do everything as an "independent", but I rely on so many people to do what I do. The notion of the self-made person is bullshit. No man is an island.
I need readers and subscribers, and people to help me with TTT, and who helped with the book. The best part of TTT is the community on the site, and the people who help me to run it. And of course, I learn from other subscribers all the time.
I've been running on adrenaline (and caffeine) since starting the book in December, and my health has finally waved a little white flag. As such, the time has come to return to my cave and lie in the dark. It's time to step away from social media again and let the book sink or swim on its own. Hopefully you will buy a copy, before they are reduced to pulp, or sign up to our site. If not, I will wish you well all the same.
I'll be writing articles for this site as normal, and I'd promised to do a couple of podcast appearances after my holiday, but otherwise I'll be aiming to keep a low profile, and to not mention the book (quite as often…).
As they in Germany, danke!