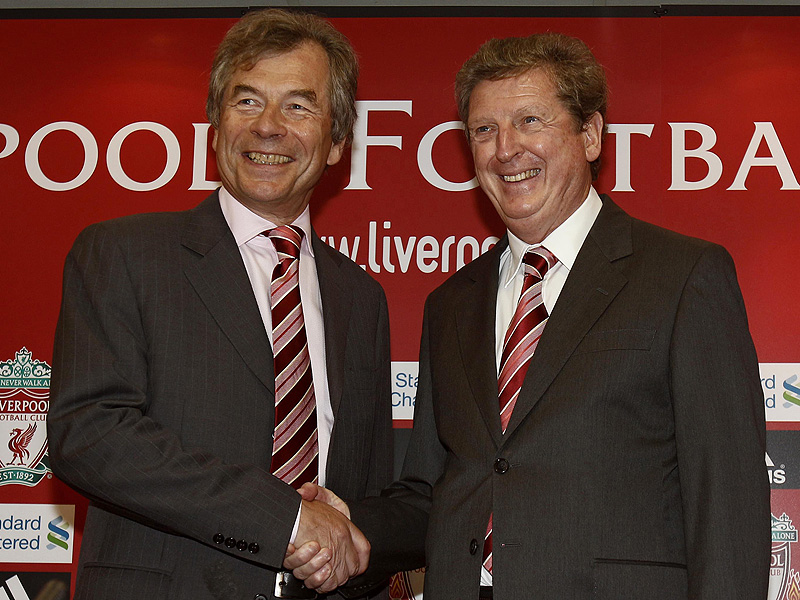 Posts selected by Chris Rowland and Daniel Rhodes.
This week's round-up brings you some of the best comments on the site, together with some samples of the articles we've published.
If you'd like to join our troll-free community and enjoy some intelligent debate about Liverpool FC and the wider world of football, and indeed the wider world generally, see the 'Subscribe' tab at the bottom of the page for details of how to sign up.
1 – Jeff, June 24th:
To me one can put anywhere from 15 to 20 seasons out of the past 27 in a hat and draw out the least worst to the worst worst and make a sound argument for the order. Simply put, there have been too many false dawns. By this I mean a season that showed promise followed by a season of, to put it mildly, mid table Liverpool. To me there have been too many times one sits and and asks the question is Liverpool a major English football club with the funds necessary to compete for the top or a mid table team thankful for a mid table finish. For example, how many players were missed because Liverpool could not afford them and how many players were bought because a club owed Liverpool money or this was all the money that Liverpool had to spend. On this point, one can remember the reality of Aquilani. How often did Liverpool not only hire but keep a manager who showed they were not of the standard needed to be a Liverpool manager? On this point, one can start with Souness and end with Rodgers. I could talk about how under Moores' Liverpool declined from the richest club in England to an also-ran in the wealth department or talk about how Hicks and Gillet destroyed the club.
Why I think this season belongs near the bottom was I believe it showed as I posted above that Brendan Rodgers was in over his head.
2 – Andrew, same subject, June 24th:
It's interesting to compare 10/11 and 12/13. Both started badly with new managers and both ended a bit better with some sense of progress being made. Obviously the main difference is that in 10/11 the new manager was sacked half way through but in 12/13 he was allowed to continue (and I don't remember too many calls for Rodgers to be sacked that season, which was definitely not the case with Hodgson). Why was the attitude different towards Hodgson and Rodgers?
This might partly be down to the lowering of expectations by 12/13. Hodgson came in just a year after we came close to winning the league whereas by 12/13 any prospect of challenging for the league seemed like a distant memory. His greater age and experience might also have counted against Hodgson, whereas Rodgers could be given the benefit of the doubt as an 'up and coming' manager. Most significantly, Rodgers was keen to use the talented young players who were already at the club, particularly Sterling and Suso. Hodgson preferred to sign Konchesky.
I think it's a shrewd move for a new manager who knows it might take a while to build things at a club to play younger players on a regular basis. Klopp also did this in his first season. Even if the results aren't great, supporters will be excited to see young prospects. From early on it looked as though Liverpool might improve under Rodgers because you could see the potential of some of the younger players. That was never the case under Hodgson, which is partly why the whole experience was so depressing.
3 – MCheyne on potential transfer plans for the Reds this summer:
This is close to pure speculation, but from reading the tea leaves I get the feeling there is a chance the biggest deal LFC are working on this window is for a player that would stay at his club for another season and join next summer.
Bayer have sold Julian Brandt to BVB, who operated for them generally centrally as a midfielder, but much more attacking focused than a traditional box to box. They have already brought in Kerem Demirbay and Moussa Diaby, with the former a more traditional #8 and the latter a winger operating on the left, although he's played in a variety of places. Two players making up some of the qualities they're losing in Brandt, with other shifts in the team necessary to account for the extra player (also Diaby could be insurance should they decide to sell Bailey this summer).
They also have been trying to bring in Martin Odegaard, who plays in a lot of different spaces but is somewhere between a right MF/AM and RW. Whether or not they are capable of finalizing the deal for Odegaard, the knowledge they are trying to bring him in gives us a clue as to what they perceive is a need area for them: a right-sided creative, attacking player. It could be they simply see an undervalued asset that would be good to acquire now, but even so at the price they would be paying he wouldn't be brought in to sit the bench. So the question is why is this a need? Partly it is a consequence of Bosz wanting to play with 11 attackers, and partly because their other MFs are aging, so the more the better (though neither of their other MFs are anything like Odegaard). But I suspect it could be that Bayer know that very soon they are going to have a hole to fill in that space, despite their public statements to the contrary, as Kai Havertz is being pursued by the top teams in Europe.
Now Odegaard and Havertz are not equivalent players, and in fact I imagine Bosz will try to find a way to make them function together in the team, but I do think that Odegaard's full potential as a player would be slightly stifled as Havertz would want to take up the same spaces Odegaard has shown he can be successful in. So I think this move would be succession planning.
We also know that Bayer would have very little interest in selling Havertz to Bayern, and if forced to sell because Havertz wants to move on then they'd prefer to send him outside of Germany (assuming the price is similar). Bayern are trying to force the move now, as we saw earlier this month the claims of a massive, nearly 100m € bid. Liverpool have publicly said they aren't bringing in any major signings this summer, and I believe that is probably true, but they've also said they are always monitoring the market to react if they think they can make a good deal. We also know they've pursued a top end player for the AM position, with the Nabil Fekir deal ultimately failing to go through. And finally, we know they'll have massive money to spend if they want, with some of the outgoing players in fees and wages, along with the record revenues brought in over the last two seasons. Could their vague "market opportunistic" statement be a clue to something specific they're working on?
Let's add this all up:
-Bayer are trying to bring in a player that plays in a similar role to Kai Havertz
-Kai Havertz time at Bayer is likely coming to an end in the next year, with an emphasis that Bayer desperately want to keep him for another year
-Bayer would prefer to sell to a team outside Germany, and certainly anyone but Bayern
-Liverpool have monitored Havertz significantly as many reliable journalists have stated, and have wanted to spend big money recently on his position (Fekir)
-Liverpool have money to spend, and have made the statement they'll spend it if they see the opportunity, though they have no plans to bring anyone major in this summer
-Liverpool have made expensive purchase and loan back deals before under the current footballing structure, most significantly with Naby Keita
So… Kai Havertz, welcome to Liverpool (next year)?
4 – Krish also on Liverpool's strategy for the window:
If the Echo is to be believed (which I think most agree it is), we scout our targets 12 months before we get them.
There may be some truth in that we want an additional forward (as an example) and have 5 different targets on the list.
But why would we wait for everyone else to do their business and buy who's left?
I'm certain there are clear priorities (for positions and players for those positions) and if we wanted them we'd go for them.
It's been a slow window in general. As pointed out before, we are halfway through and hardly any business has been done by anyone in the PL.
Its probably more likely that Afcon and Copa America have taken their toll on timings, with 'we can't buy X because selling club haven't secured Y because he's on international duty'
We aren't afraid of spending money when required and we aren't afraid of 'losing' money by letting players go on free transfers (Studge and Moreno most recently, then Origi, Lallana, Matip and Milner next summer as it stands).
I think we have our targets and will get them if and when the deal suits us. Otherwise we will sit tight.
Not very exciting, but I think that's where we stand at the minute.
5 – Denis on the overall transfer policy in recent times:
I think Liverpool have a definite pattern to the order of events when it comes to transfers. While it may not be consecutive, they do seem to follow many of the same steps as time goes by…
1. Internal deals first: complete deals for the players we already have (and that we want to retain, of course), whether that be throughout the year or during the Transfer Window.
Multiple benefit to this – reward players for progress; live up to promises of rewards (important for internal development of kids coming through- we deliver on our promises); secure players having exceptional development / breakout seasons, which rewards them and secures contracts, keeping potential predators at bay before the window even opens. Also alerts us internally is a player will not sign a new contract. All of which allows for more accurate future planning, knowing who will be with the club for the next season.
2. Advance scouting: Investigate potential targets well in advance, allowing us to have time to measure – and reevaluate – physical, technical and personality aspects of a player with plenty of time to develop a thorough picture of the player, and gives LFC time to make yay or nay decisions over potential transfers, without a media circus. If the player passes all criteria, and we still have a need of him, then the transfer can go forward. If circumstances change, and LFC decide otherwise for any reason, no problem.
3. Agreed targets and agreed approach: No desperation last-minute signings to fill a gap, so no getting taken to the cleaners, and no signing bad fits for the team. Instead, we've decided in advance on what players we want, how they will fit into the First XI, matchday squad, wider squad, or youth levels. We've also decided on whether that target is the only one we want (Virgil, Alisson), or one of several targets. If we've decided on a specific target, we'll happily go all-in to get him. If it's a one-from-several, then if the negotiations get too high, we can walk away and go after the #2 choice, etc.
This is the most coherent, focused and professional transfer operation Ive ever seen in Liverpool. Congrats to the owners, to Jurgen and his team, the (apparently world-leading) analytics teams and scouting organisations for all working together smoothly in doing so. Together, they are a model setup, and one that can help us reach for the very highest levels.
6 – JoeP (remember him?) on Andy Carroll (remember him?!):
Always thought Carroll was the worst signing we ever made. Was absolutely gutted when we went for him during the Torres sale. Now to see his TPI figure in black and white it really makes you wince. 121 million in current money. Good god. What were we thinking?!
Articles published this week, with excerpts:
Monday June 24th:
Ranking the Reds' Premier League Seasons, Worst to Best: #25 – 2012/13, by Andrew Beasley, Chris Rowland and Paul Tomkins.
It wouldn't be fair if there was some sort of aesthetic score included in our rankings. The Reds played some dazzling football at times, with Luis Suárez enjoying the first explosive season of his time at Anfield, while Philippe Coutinho and Daniel Sturridge struck up a partnership in the second half of the campaign which had Kopites reminiscing about the Gerrard-Torres axis.
But for all of that, the team achieved very little (beyond – with hindsight – laying the foundations for a title tilt in 2013/14). Out of the League Cup at home to Swansea, Liverpool were later embarrassed in the FA Cup as Oldham dumped them out. Steven Gerrard and Jamie Carragher were pictured scowling on the Boundary Park bench, and every Liverpool supporter knew exactly how they felt.
Rodgers' Reds fared little better in Europe – a definite theme of his tenure – with Zenit St Petersburg ending their Europa League involvement at the first knockout round. Add in that Liverpool only finished seventh in the league, their joint-fourth worst placing in the Premier League era, and it becomes clearer why the 2012/13 vintage are third bottom in our countdown.
Wednesday June 26th:
Ranking the Reds' Premier League Seasons, Worst to Best: #24 – 2010/11, by Andrew Beasley, Chris Rowland and Paul Tomkins.
 Because of the way we calibrate scores for each season, there are three seasons that come out worse than this one.
But from a personal standpoint, no season left me more disillusioned than this. Rafa had gone, but Hicks, Gillett, Purslow and Hodgson were all still there. The football was dire, the players being signed came with a note saying 'abandon hope all ye that enter here', and worst of all the prevailing philosophy was taking us in entirely the wrong direction. Rigid formations, straight lines, nothing between the lines in the holes and spaces, the diametric opposite to the Liverpool of Klopp. The use of Torres akin to using a Porsche or Ferrari as a tractor. Just lump it. The owl face rub. "Hodgson for England". We just don't do that with our managers. Normally.
And those Hodgson comments! The "formidable challenge" of Northampton at home in the League Cup. The praise of an abject derby defeat at Goodison – "the best we've played all season. To win here would be Utopia." And the cringe-inducing "For a team that wants to be in the top half of the table …"
Top 10? Try taking nine off Roy. No Liverpool manager in my lifetime has 'got' Liverpool less.
Attendances slumped. The mood was mutinous. The financial position close to insolvency. The future looked bleak, with no bottom – the capacity to keep sinking seemed infinite.
Then the court case. Martin Broughton, Royal Bank of Scotland, NESV (now FSG), "an epic swindle", Lord Grabiner, Justice Floyd. The double rapture of the sacking of Hodgson and the Return of the King.
In transfer terms, there was that small matter of selling Torres and buying Carroll in the January window, plus the arrival of a certain Uruguayan who did not come or go quietly, but transfixed us while he was here.
Probably the most seismic season for Liverpool Football Club not only since the Premier League began but certainly in my lifetime as a supporter and arguably ever.