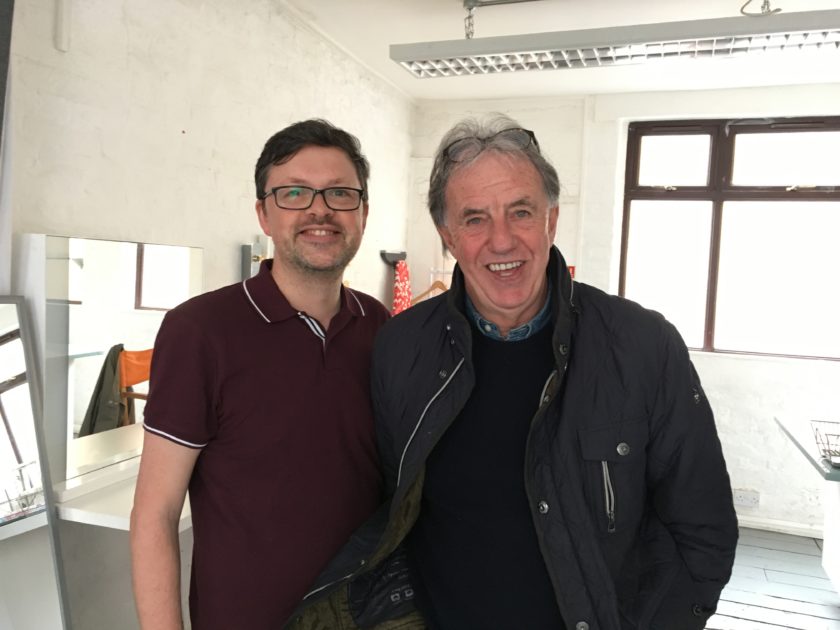 Interview by Andrew Beasley
Working freelance undoubtedly has its pros and cons. One benefit of it is having my finger in a number of pies, which increases my chances of being invited along to various events. One of the companies I write for is Paddy Power, and they offered me a chance to meet former Liverpool defender and everyone's favourite/least favourite pundit/predictor, Mark Lawrenson. Lawro was also doing an 'Ask Me Anything' on Reddit on the same day, which is well worth checking out.
In a 20 minute interview on Monday 29th April, we covered his time at Liverpool, other parts of his football career, and his role as the BBC's king of predictions. But we had to start with the current team.
It was the PFA player of the year awards last night, would Virgil van Dijk have got your vote?
I'd have given him both (PFA and FWA), because he's just made such a massive difference. Take away the fact that he's an outstanding player, he's made a massive difference to them. He really was the last piece of the jigsaw, and you may argue the most important piece of the jigsaw. And while Hendo's obviously the captain, I think everybody also knows that Virgil van Dijk is very much the leader.
Would you have rather played with him or Alan Hansen?
All three, we definitely could've played all three! You're only a player of your time… Hansen, it was absolutely, ridiculously too easy for him. Al played golf, football and squash for Scotland, he was just a natural sportsman. He never got his shorts dirty, to be fair! It's a good question… play all three!
Obviously van Dijk has been the star, but have any of the other three guys – Gomez, Lovren, Matip – impressed you?
Matip, you may argue, at the start of the season was fourth choice central defender. We know about Joe Gomez, how well he's done and hopefully how well he's going to do in the future. They're all fighting for a spot. It's a bit like when Tony Adams was at Arsenal in his pomp, and John Terry was at Chelsea; you could play anybody with them.
But Matip's been great, he's been the one coming out from the back and engaging the opposition midfield players, making it easier for Liverpool's midfield players. It's a real problem for the manager (in terms of who to pick), which is great. You might argue that Lovren is now fourth choice, you wouldn't have thought that at the start of the season or at the end of the World Cup last year.
Liverpool could get 97 points and not win the league, but are arguably one of the best teams ever. Do you see any similarities between the current team and the team you played in during the 1980s?
Yeah, very much so. The only thing is, we went on and sealed the deal. That's not aiming anything at them, it's just the way that it was. I would've said at the start of the season, as good as the team are, I think they had a problem managing games sometimes. They've conquered that now, van Dijk and the goalkeeper have made all the difference. They just need to win something, as they are such a good team. If they're going to be mentioned with all those other great Liverpool teams, they've got to win something.
And a big something?
Well, whatever. You've just got to win something, otherwise it's a difficult argument to have, saying this current team are better than any other Liverpool team before them. They will be if they win two this season!
Moving onto you career, I was watching highlights of the 5-0 win at Goodison….
I scored from 48 yards! Nah, three yards max.
You also scored a goal against Spurs when you clinched the league title…
That was my first one. And on Boxing Day, we got beaten at home by Manchester City, 3-1. We were 13th in the league, we'd bombed. We'd had a few new players come in, the pitch was awful, and we're 13th. Joe Fagan came in after the game, and he went doolally. Real, proper doolally. I'd never seen it before, it was like: 'wow'. And you looked round the room at the old lights like Dalglish, Souness, Thommo… they hadn't seen it many times either.
So Bob changed the team, then we went to Swansea in the FA Cup, who were managed by Toshack and doing well. We beat them 4-0 and we kicked on, we went so many games unbeaten.
Then on that last day, against Tottenham, we knew if we won we'd won the league. I played in midfield that day, and Glenn Hoddle scored a worldie. (I hadn't seen the goal before, but he undoubtedly does). I was as close as anyone to him (Hoddle) and I was thinking "he's going to hit it, he's got no chance". Oh my God. So we were 1-0 down at half time, but we came back in the second half.

As Bob had changed the team at the turn of the year, that would be one of the best leagues that we've won. Generally we'd always be in the top two, but when we were 13th the newspapers were saying "they've gone, they've spent loads of money on these players who aren't good enough". You can imagine Sky Sports, they'd have loved it!
We'd already won the League Cup, but I'd always said I could've gone to Man United, Arsenal or Liverpool on the same day, and I just wanted to go to Liverpool. I just thought, it's like business (winning things). I definitely could've got more money at Man United, and Arsenal offered me less than I was on at Brighton! But I definitely picked the right place.
Bob Paisley has a reputation as a grandfatherly figure in cardigans and slippers…
He was!
You read former players saying he didn't bother with tactics…
We didn't have tactics! Where he was clever, and where the club were clever, they would pick players that they knew would fit into the system that they wanted to play. They were fortunate at the time, because they were successful already and they had the money. Generally, if a player was available, they'd go to Liverpool, as happened with me.
But no, we never did corners for, corners against, free-kicks… they would just say to you, "work it out!". If you were playing at the back the two centre-backs would pick up the two forwards, your best headers picked up their best headers. Simple.
We just didn't do tactics. But in Europe, the clever thing was that Kenny, who was a genius, would drop into midfield and leave Rushy up front on his own. But only because he'd worked it out for himself. No-one said "oh, Kenny, just sit in there", he just worked it out.
The famous story, and it's another true one, is when Graeme Souness signed, he said to Joe Fagan the day before his debut, "how do you want me to play?". Joe just told him to eff off! He said "we've just spent hundreds of thousands on you, if you don't know now, you never will." Just get on with it, you know?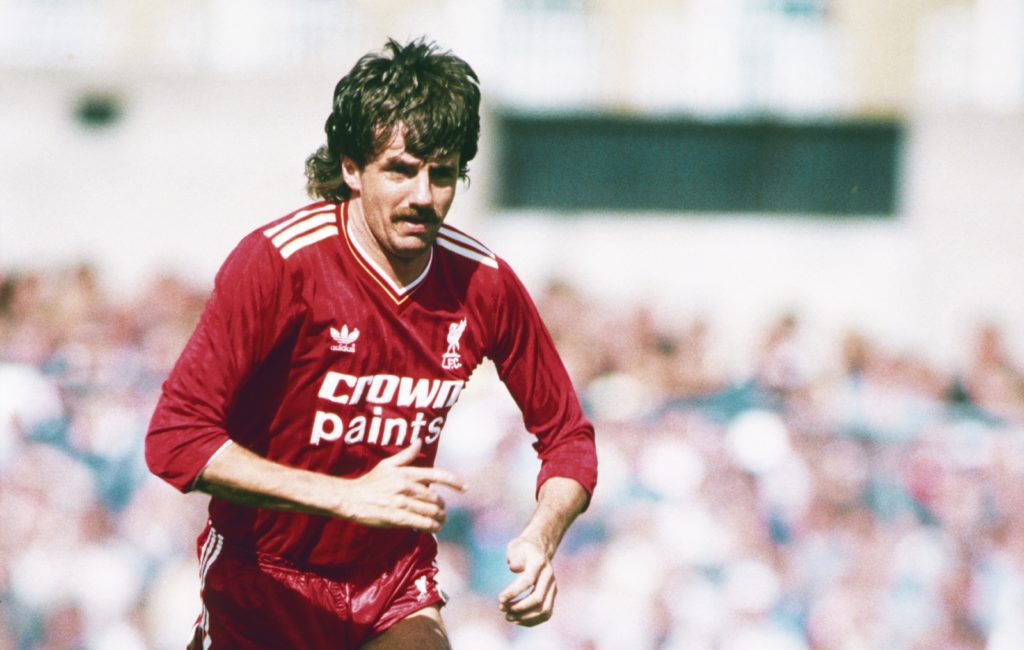 Aside from your well known goals against Spurs and Everton, are there any others people might not know about?
There aren't that many! For Liverpool, no. I remember playing for Brighton, Bolton away, and I was playing centre-back. I went on a mazy run, and I scored from the edge of the box, bent in the far corner. And it was like "wow"! But there were no cameras covering the game. That was probably the best goal I'd ever scored.
I just have to ask, being from Kettering, you were at Corby in the early '90s, what was that like?
Loved it. I'd snapped my Achilles and shouldn't really have been playing. But Elwyn Roberts, the Corby Town manager, said "why don't you come and play". I'd taken Peterborough there, I was managing them, and I played in the game. He said "come and play", so I did, and I loved it. We got promotion in the first year, but then we struggled in the bigger league, and I said "no, I'm definitely done now, definitely." But it was good fun.
I found an article from Match magazine in 1984 (here), and it asked what you'd like do for a career after playing…
I think I know the answer to this.
You said 'football commentator'.
Oh did I! The thing is, I finished at 29, 30, I wasn't planning to finish at that age, so I never really thought much about it. I nearly played professional cricket, but I didn't know what I was going to do. The day I finished, Kevin Maxwell rung me up, to go and manage Oxford. So I said, yeah, let's do it. (Sarcastically) That was fun.
So you weren't thinking about being a commentator in 1984?!
No. Occasionally I go to a ground, and someone has an old Shoot or Match, and they show you answers you've done to loads of questions and you think "oh my god, did I really say that?".
So you did do them, it wasn't a press person at Liverpool filling them in or whatever?
Oh no, I did it. But if there's 20 questions, by the time you get to 10, you're thinking "bloody hell". Say anything to get it done!
In the same interview, you mentioned an interest in American Football, is that still an interest of yours?
No, I went to Tampa to be player/coach, against my better judgement again, with Rodney Marsh. Not better judgement against Rodney, he said to me "you can play on one leg in this league", so I went. And I got to know the Tampa Bay Buccaneers, I did charity work with their quarterback. So I got into NFL a little bit, but I'm not a massive fan.
With the punditry, you always see fans on social media saying "he's biased towards Liverpool"…
Well I am with the predictions!
I was going to ask you about the predictions, is there a system to it?
The system is very much, in capital letters, random. All I ever do, I read the paper at the weekend and I look at all the leagues, so I can tell you where most teams are in most leagues. It's something I've always done.
But predictions wise, I do it on a Thursday morning. There's my league table on there and the real one, I don't even look at them. I'll just remember Leicester winning last weekend or whatever, work out who they're playing against, and just guess. But the Liverpool thing…
Never predicted a loss, I think?
Yeah, it took people 18 months to work that out! And I started doing it, and I thought "no-ones copped onto this at all", so I just kept doing it. Even when sometimes I thought they might get beat, I went 'no, draw'.
It's really funny, there's a number of people who stop me, or on Twitter, and go "you never tipped us to win". Obviously I do. "You've got us at the bottom of the table". Obviously I've not, but it's all good fun. It used to be, not aggravation, but you go… "honestly?".
I remember one day, when we first started doing it, and I did a game for Radio Five at Aston Villa. A really cold, freezing February night. I walked out afterwards, and a fella stopped me. He said "I've lost a lot of money backing your predictions". So I said "oh my god, why are you backing my predictions? I'm guessing, the same as you are. If I could really predict football scores, do you think I'd be talking to you on this freezing cold February night?! I'd be on my yacht in the Bahamas!"
There are websites which track how you get on, somebody looked into it (here) and you would've made a profit backing your predictions.
Yeah, apparently so. And the other week I was on against a super computer, which beat me on the day, but I'm quite a few points ahead over the course of this season. If I beat the computer I'll be delighted, I'm not bothered about beating Idris Elba or whoever, as much as I like him! If I beat the computer… great!
So to finish… Liverpool. League title? Champions League?
Got to go for both. There's a chance they could win both, but a chance they could win neither. I've been at City's last three games, and you just have a feeling… even yesterday, they played like they played on Wednesday at Old Trafford. In the first half, they just played in front of Man United, yesterday they played just in front of Burnley.
It's almost like they get to half time, and the manager goes "come on, we've got to raise it", and that's what they did in both games. For me as an ex-professional, for them to be able to do that is brilliant. Normally, you've got to start high and you can drop down, but to start there and then get up there, it's a completely different skill. It's theirs to lose.
I was at Burnley, had a little bit of hospitality. In the box next door, there were eight Scousers, and they'd bought the box to watch the game, thinking 'maybe Burnley would do Liverpool a favour'. That's where we're at. One of them turned round to me at the end of the second half and said "Crikey, it was like the Alamo".
If Liverpool were to get through in Europe they'd probably be favourites against Tottenham or Ajax?
Yeah, I would say so. I'm amazed at how well Ajax have done. They knocked Madrid out, and I thought it was their Andy Warhol, their 15 minutes of fame. I thought they'd get beat by Juventus, so to go and beat them, and to outplay them over two legs, they're very, very impressive. But Liverpool would be favourites, yeah.
With thanks to Ben Huxley and Amy Jones at Paddy Power for arranging the interview. Mark Lawrenson is a Paddy Power ambassador, to read more go to  news.paddypower.com.