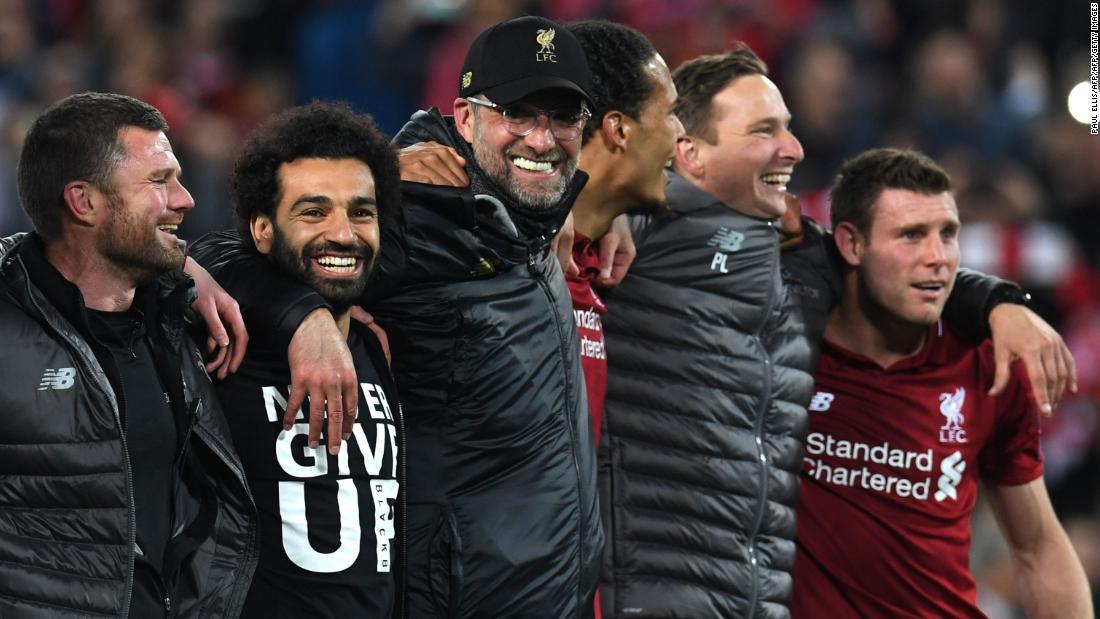 First published in May 2019
No one will ever forget this Liverpool side. I mean, ever. To quote Outkast, I mean ever ever ever ever.
And it feels like nothing is gonna stop this Liverpool side. You can only delay it. 
I left Anfield yesterday not in regret or sadness but suffused with a Reds-red glow of pride in the glorious Merseyside sunshine – at the team, the manager, the backroom staff and executives, and at the Liverpool fans, who were just majestic throughout the game, as they have been on my five recent trips. 
(Unlike the Wolves fans, who were typical of the "let's all laugh at you fucking it up, apparently, when our own team fucked up a 2-0 lead in the only semi-final we've been to in years, despite spending tons more than the team that came back to beat us", and "let's just sing about your team, not ours". This is an increasing trend in visiting teams: singing about Liverpool. Come on, people – sort your own lives out. Support your own team.)
No English team has ever got 97 points – or even close – and reached a European Cup/Champions League final; and even pro-rata with the old points system, I can't even see that it's been done with 40 or 42 games. While the number of points top teams can get may vary from season to season, this is the first time any country has had all four European finalists. So this is not a weak league. This is Liverpool being exceptional at a time when English football is arguably at its most exceptional. This is Liverpool being one of the two best teams in the world right now.
Liverpool got 98 points in 1979, but after exiting Europe early; winning the European Cup in 1977 and 1978, and in 1981 and 1984. The Reds got 90 points in 1988, but with no European football.
In 1999, when Man United did the treble, they racked up just 79 points. They got 87 when winning the Champions League in 2008, and an impressive 90 when reaching the final in 2009, when the Reds managed 86 and made the quarter-finals (the previous best season for the club in the Premier League era). The last time United made the final, in 2011, they racked up just 80 points. Chelsea got just 64 points when Champions of Europe in 2012, and as my research has shown, on average a team reaching the final loses seven points compared against its previous season and its subsequent season; a club on Liverpool's budget (so Liverpool and Arsenal, on four previous occasions) loses an average of 11 points. 
We can see what has happened to Spurs' league form, and they must have lost an absolutely staggering 20 games across all competitions this season. (But they are a still a threat in a one-off game.)
Only two teams have bettered 97 points (or the equivalent pro rata) in the history of English football, and they are both Man City. Yet they never progressed further than the quarter-finals of the Champions League in either campaign. And this year they didn't even face that many good teams: this season, they played the 8th and the 15th-best teams in Germany, the 4th best team in England, the 3rd-best team in France, plus Shakhtar Donetsk. Of all those teams, only Spurs look imposing.  
By contrast, Liverpool racked up 97 points whilst also facing, and beating, PSG, Napoli, Bayern, Porto and Barcelona; the best teams, as things stand, in France, Germany and Spain, and the 2nd-best team in Italy and Portugal (but Porto can still finish top). Liverpool have had an absolutely punishing European schedule. With a smaller squad than City. 
City had far more domestic cup games, admittedly, but again, almost all against very weak opposition. However, Liverpool just added 22 points to their league season whilst also reaching the Champions League final for the second year running, having faced even better teams this season. 
That is insane. 
Liverpool also beat Spurs, Man United, Arsenal and Chelsea this season.
And maybe the only reason Liverpool didn't beat Man City was because a referee from Manchester didn't send the Manchester City captain off in the game in Manchester between Liverpool and Manchester City. (Spot the theme.) Keith Hackett, FIFA referee from 1981-1991, tweeted: "The turning point in the Premier League title was decided in the Man City v Liverpool game. 31st minute when Kompany went in from distance with two feet off the ground on Mo Salah. Anthony Taylor failed to red card the offence! City won 2-1"
That cost Liverpool the title; a 10-point gap could have opened up, instead of it being narrowed to four by two in-off-the-post goals. Kompany is a great player but he has escaped red cards like no other player on the basis that he's a good bloke. 
And none of this is to take away from what City have done; the financial doping aside, which makes it hard to say "fair play" (when it may not indeed be financial fair play), there is little more that any manager could do than what Pep Guardiola has achieved. He has done an immense job, and they play some amazing football. 
Until they were rivals I loved watching them. But is their squad unfairly bolstered by iffy financing? Der Spiegel certainly seem to suggest the evidence is there, from the masses of Football Leaks documents. We shall see if anything comes from the four major investigations into their spending. If it's proven to be shady, then maybe this achievement will be severely tarnished. To have spent money they were not allowed to spend would be a form of cheating; not just financial doping but financial juicing.
Liverpool spent big last summer by selling big the winter before; Jürgen Klopp making a very good player look like an excellent player, and the Reds pocketing £142m in the process. With Kloppian fitness and preparation, Philippe Coutinho was an instant hit in Barcelona, arriving mid-season. But in his second season, without Kloppian fitness, he has bombed and been booed. Meanwhile, players bought by Liverpool from clubs like Southampton, Hoffenheim, Charlton, Lille, Schalke, Stoke (when relegated), Newcastle (when relegated) and Hull City (when relegated), and rejects from bigger clubs – flops who would never make it in England – are at the pinnacle of the European game. Coutinho has his medals, and the Spanish sun; but Coutinho has no joy. Would you rather be Mo Salah or Sadio Mané right now, or Philippe Coutinho? 
If you can't see that the coaching, attention to tactical detail, astonishing fitness work and man-management/motivation isn't a big reason why these players look so good at Liverpool, then you're missing something. 
Look at the supposedly better players – at the time of their transfers – that have rocked up at Man United the past few years. Look at the fees and wages paid, to try and corner the market on proven big names at ripe old ages.  
And if any Man United fans think they can laugh at us – you just had to beat relegated Huddersfield who were losing every single week, but drew, and then lost 2-0 at home to relegated Cardiff. That is fucking shameful. I'd take 2nd, with 97 points and a Champions League final, over not being able to beat two of the worst teams you'll ever see, when attempting to finish higher than 6th. If it's hard to give City full credit given the way they may have financed their success, at least they've spent the money infinitely better than United, with brains rather than braggadocio. Seriously, if you think you can laugh at Liverpool right now, think again. If you think we're crying, think again. 
Jürgen Klopp is the antidote to the modern football fan muppet, and the financially rigged clubs. He could go to Bayern, steal the best players from anyone who comes close, and get silverware. Where's the fun in that? I'm sure he's actually probably already said "where's the fucking fun in that?". Coutinho can go to Barcelona and get trophies, but where's the fucking fun in that?
The love inside Anfield for the 30 minutes after the match will stay with me forever. I wasn't at the Barcelona game, but I can imagine the love in the stadium that night. The scenes around Anfield before the game was like a carnival, even if we all knew City would beat Brighton. Win, lose or draw, it was gonna be a party. Because football should be fun.
As such, I think Klopp is the first Liverpool manager to enter into the club's pantheon of great managers without winning a trophy. Three seasons in Europe, three finals. That is up there with the best achievements in football. Three full seasons in the Premier League, and 97 points in his third full campaign. That is an historically significant landmark. No trophy – but clear, indisputable greatness, particularly when combined with the way the Reds have reached the Champions League final. 
Now, that final is a mere 50-50 shot, with Liverpool's superiority counting for nothing against underdogs as dangerous as Spurs. If Liverpool fail to win it then it will be a great shame, but equally, Spurs have done amazingly well to get to the final, and if you add the national derby element, form goes out the window. 
As it was, Liverpool were outplayed in 2005, but won. They were then the better team in 2007, but AC Milan won. They were the better team for 30 minutes against Real Madrid, until Sergio Ramos set about trying to maim everyone, and sent Mo Salah to the hospital. Finals aren't always about who is the better team, or who wants it more; it can be random, just like Liverpool at Man City, where Kompany should have been sent off with 60 minutes to play, and the ball was 11mm from a goal for the Reds, and went the Reds also hit the post – as did City's two goals. That's how it rolls, sometimes.  
Trophies are great. But thousand separate little joys, added up, can be the equal of, or even better than, trophies. Famous nights are all part of the experience, and this season Liverpool have beaten PSG, Napoli, Bayern, Porto, Barcelona, Arsenal, Chelsea, Spurs and Man United. 
Equally, if Spurs lose to Liverpool in the final, then that won't undermine the amazing work Mauricio Pochettino has done. Because trophies can be random; and the minor trophies (domestic cups, Europa League) are not so hotly contested anyway. Pochettino has done more this season than any League Cup silverware could replicate. 
Seven days ago, but what now feels like a lifetime, I tweeted that whatever happened this season, it had been a success. At the time I thought the Reds were going out of the Champions League, and it looked like City were gonna win the league.
In response I saw the familiar: no one remembers who came 2nd in the league and who reached the Champions League semi-finals or lose the Champions League final. No one remembers the runners-up.
Bullshit. 
This is such a reductionist argument. This is the argument for those who only experience joy of football through the honours list on a club's Wikipedia page; those who just want to trade "we've won more than you" barbs on social media, rather than think about "what do you remember?" We remember things that capture the imagination and stir the heart; trophies, or not. You get dull trophy-winners and you get fantastic runners-up.  
In terms of only remembering the winners, there are hundreds of winners in football that I cannot call to mind. I'd have to go look them up to tell you who they were.
I can call on more than just my usual response of Holland 1974 and 1978, Hungary 1954 and Brazil 1982, who were amongst the greatest an most influential football nations ever – and add South Korea in 2002, and clubs like Monaco of 2004 and 2017; Atlético Madrid in 2014 and 2016, and Klopp's Dortmund in 2013; Leeds in 2001, and yes, Ajax and (if the Reds win in Madrid) Spurs this year. There are many others.
I vividly remember Arsenal in 2006, losing narrowly to Barcelona, more than any of the Gunners' late-Wenger trophies, some of which I didn't even bother to watch, as domestic cups are only treated seriously by about one-third of the clubs who enter. I will always remember Sarri's Napoli last season, with the great football they played, and the staggering achievement of finishing 2nd with … 91 points.   
And Napoli didn't also reach a Champions League semi-final in the very same season, beating Bayern, PSG and, of course, that very team Napoli along the way. (Obviously Napoli couldn't beat themselves.) 
I don't remember the Reds' 2003 League Cup at all fondly, other than beating Man United in the final – because the team was so dreadful in the league that season – but I do think far more fondly about the 2002 team that came 2nd in the league with 80 points and went to the Champions League quarter-finals. 
I don't think particularly fondly of the 2012 League Cup success, when Kenny Dalglish won the Reds' most recent trophy, but I loved every minute of the second half of 2010/11, when Roy Hodgson was finally sent packing and King Kenny put the smiles back on our faces with some free-flowing football. (A League Cup/FA Cup double in 2012 would have been more memorable, but the margins were super-fine in that other final, against Chelsea.) I don't think as fondly of Roy Evans' 1995 team, which won the League Cup, as the 1996 team, which won nothing – but was a much better team.
But so many things about this season, including the win in Bayern, and the 4-0 thumping of Barcelona after being (unfairly) 3-0 down in the first leg, will stay with me forever. And in my last eight visits to Anfield I've seen the Reds score well over 20 goals and not concede once. I may not be a regular anymore, but I've seen some special performances from a special team.
You remember great teams. It's as simple as that. You remember Herculean efforts, and when sport becomes this outstanding and elite – when the air gets so rarified that you're almost 30 points ahead of the nearest other competitors – then people remember the vanquished as well as the victor. This Liverpool team broke the scoring record in the Champions League last season, with so many goals that shitloads is not adequate to describe the quantity, and has now racked up 97 points in the league this season, with another Champions League final to come.
And if people forget this Liverpool team, that's their problem, isn't it?
This is the fatal modern psychological flaw of "compare and despair". Nothing is ever good enough if you cannot find satisfaction in being great because someone else was great too. This is just like Mark Manson's example of how the guy who formed Megadeth, who sold millions and millions of records, but is never happy because he was kicked out of Metallica, who sold even more records. 
No, we are happy, and we are proud. And this is just the start.
Indeed, I have been writing what must be my 8th or 9th book on a Liverpool season, although this one is more about the evolution under Klopp since 2015 than just 2018/19. Many of those books ended with no silverware, and Man United and Everton fans flooded book sites with mocking reviews, but if you chronicle a season you don't know where it will end; just as, in late 2004, I did not know my first book would end with me sprawled on a piece of cardboard outside the airport in Istanbul at 7am, having just had probably the greatest night of my life. (Apologies to any ex-girlfriends reading this, and also, apologies for everything else. I now accept that screaming Jerzy Dudek! during sex is not such a good thing.)
But this book (initially available only to TTT subscribers, in a special boxed edition complete with a second book written by our contributors on the matches they were at) has been the hardest to write. Because, there's just so much to cover. So much keeps happening; too many great moments to document in one book without making it 15,000 pages long. I have to keep rewriting sections, as so much keeps getting better than I ever thought possible. The sections on the really good games have to be edited down, as there are so many fucking awesome games. And this season has been the hardest on my health, as it's just been non-stop must-win games for 10 months.
The book will be finished this summer, and will be released on the back of a Champions League trophy, or on the back of an amazing, amazing season with no silverware. 
The book will end, because you have to draw a line and tie things up – just as the season will end, one way or another, on June 1st. But again, for Liverpool and Klopp, this is only the start…