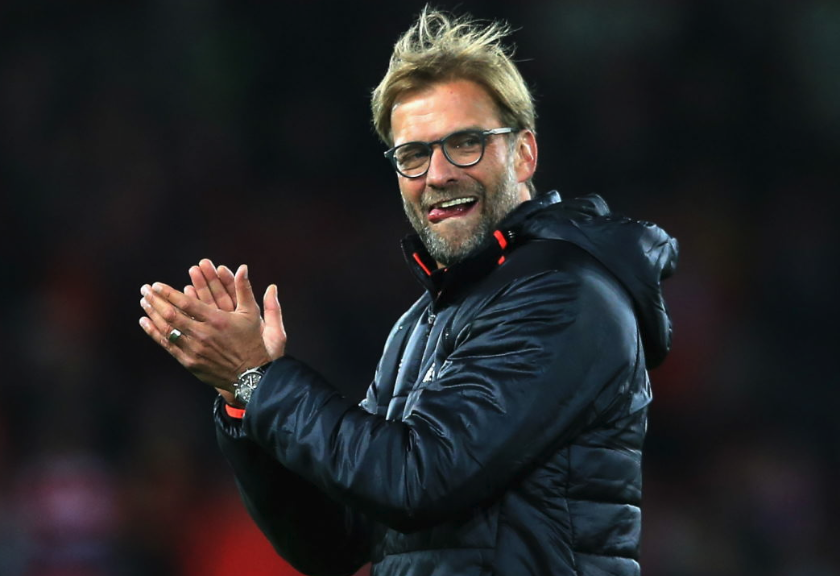 Posts selected by Chris Rowland and Daniel Rhodes.
The idea of this weekly round-up is to give you all some idea of the range of debate on the site and the articles we publish. If you'd like to be part of our troll-free community, there's a 'Subscribe' tab at the very bottom of the page.
1 – Bobbypits valuing process above plastic product:
Spare a thought for poor old Pep he's so used to being the only game in town. Surrounded with natural talent and financial might he's built a career that looks impressive and clearly marks him out as a top class coach. EXCEPT…
Building teams in leagues where financial imbalance and the knock on impact on the distribution of talent, leads to one regular dominant winner should not be regarded as exemplary. This is just badge collecting!!
Pep's the Boy Scout and his sugar daddy's paid for him to fill his sleeve with badges. In a world so dominated by product we fail to recognise the value of process.  Klopp is all about the process – his team has been developing and growing, maturing and perfecting what can only be described as a truly impressive team and squad. This is the best LFC team I've ever seen because of its ability to compete on so many levels against top opposition.
You can keep your Mourinho and Guardiola and the hollow success they've bought – I buy in to something which is simultaneously far more painful, joyous and life affirming.
LFC – its about being a part of the process – other clubs with their plastic products will just never get it. For that they have my pity.
YNWA
2 – Michelle on Utd fans saying they want to lose against City:
I wouldn't take too seriously all this talk about most Utd fans wanting to lose against City so as not to hand the title to Liverpool.
I think it is predictable that Utd fans would talk this way, for the simple reason that they expect to lose against City. When you expect a loss, what do you do? You come up with a consolation and you build it up.
Basically, it's a case of, "Crap, there's no way this overpaid cottage-cheese of a team of ours are getting anything against City. That sucks. Buuuut…our loss is bad for Liverpool, therefore our inevitable loss is a good thing."
If an advantage for Liverpool weren't the consolation but instead something else for Chelsea, Arsenal, or Spurs, then THAT would be the only question the journos would be asking and the only thing Utd fans would be talking about.
It's just like us: before the City v Spurs game in the CL, I was expecting City to win, so was saying to myself, "Good, more fixture congestion for City. The success of our only rival, City, is a GOOD thing." When they actually lost (ha ha), I was saying to myself, "Good, no CL for City. City's loss is the best result."
The natural human reflex to build a consolation into expected failure is strong. When that expected failure turns into success, we embrace the success and forget about the consolation for failure.
Utd fans overwhelmingly expect to lose against City. Therefore they have embraced passionately their consolation (disadvantage for Liverpool) so they can tell themselves that they had desired their team's failure all along.
3 – Jeff on the FA's incompetence in allowing Cardiff to do what they did on Sunday:
Sometimes in the back of my mind I ask the question whether or not the people who run English football whether we are talking about the FA or the Premier League or on and on compete to run a sweet shop? More often than not I come up with the answer to. Cardiff did not produce a pitch up to the standards needed to have a quality football match and they did so deliberately. Cardiff failed to provide personal to retrieve balls that went out of play and they did so deliberately. What Cardiff was trying to do was to was to influence the outcome of the match and at the same time had no qualms about damaging the quality of the game or the integrity of the Premier League by deliberately producing a sub standard pitch. Now, will Cardiff suffer any penalty for its actions? Of course not.
The Premier League is a multi billion pound industry and the refusal of officials to guarantee a quality product whether we are talking about the quality of officiating or allowing Cardiff to produce a sub standard pitch shows that the people who run the Premier League are incapable of doing their job properly and as I noted at the start of this comment incapable of running a sweet shop.
I was already a post graduate student when England won the World Cup in 1966 and to put it bluntly this was the high point of English football in the post-war era and since then England has not won the World Cup nor has it won anything else. Why? To me the answer is the one I gave above and that is the powers that be in English football are not up to running a sweet shop. ( I do not claim credit for the idea that those running English football are not up to running a sweet shop because it is one of the favourite rants of the most distinguished historians of his generation who sadly is a Tottenham supporter.)
4 – rkeast responding to a request for information about how home-grown quotas work in the Premier League and in the Champions League (they're different, of course!)
Chris, there are 2 different types of home grown criteria:
Home Grown Club (HGC) – Spent at least 3 seasons training at the club between the ages of 15-21
Home Grown Nation (HGN) – Spent at least 3 seasons training within the nation between the ages of 15-21
In both cases you have until the end of the season during which the player turns 21 to achieve the 3 years. Players must be actually at the club/nation for 3 years i.e. the time a players spends out on loan doesn't count towards accruing the 3 years (although if they are on loan to another English club it does count towards becoming HGN).
The PL & UCL have different squad registration rules:
PL – In a squad of 25 registered players at least 8 must be HGN. Players under the age of 21 do not need to be registered.
UCL – In a squad of 25 registered players at least 4 must be HGC, and and at least 8 must be HGN (HGC players also count towards the HGN requirement). Players under the age of 21 do not need to be registered.
If you register less than the required home grown players you have to leave gaps in the squad.
Brexit scenarios could be anything ranging from the status quo, to strict limits on the number of non-UK players in each squad. The real Brexit issue will be around work permits. Currently EU based players do not need a work permit, but Non-EU players are more difficult to sign as they need to qualify for a work permit. The rules are fairly complex but essentially they need to be either an international, paid a certain amount in wages or cost a certain amount in transfer fees.
The gist of it is it is significantly harder to sign a South American youngster, than it is a Spanish or German youngster. A hard Brexit could potentially result in ALL non-UK players needing to qualify for a work permit, which would have a big impact on academy recruitment. Another scenario would be they do away with the strict work permit rules altogether and just impose a limit of foreign players, which would make it easier to sign youngsters from outside of Europe.
Hope this helps!
5 – Thundyr on the current context of the title run, and what might happen in the future:
City are obviously still favoured to win this thing. They've won 10 and lost 1 of their 11 fixtures since beating us thanks to the ref from Manchester, while we have four draws in the same period, hence trailing by a point. We only went top after beating Bournemouth in early of December, so one cannot argue that Liverpool have been the better side over the course of the season because City have been top for a longer period even if we have alternated positions for a while now due to the game in hand. But damn me if we haven't given them a run for the money of the kind that nobody expected from anyone, least of all a run from the much-maligned Liverpool. You can tell from the weekly vitriol aimed our way that we've hit a nerve out there – when your rivals are talking about you it's only because you're a genuine threat.
Liverpool sitting on 88 points with three games still to play (two of which are at Anfield and the 3rd is against agent Rafa) is an already incredible achievement for this young squad! I'm sure that Klopp will be urging them to set themselves the target of finishing the season on 97 points to prove to themselves that such heights are achievable, regardless of whether hitting that target comes with a trophy. City are unlikely to drop points from here in, but they still face three potential banana skins that are made bigger by the opportunity for complacency to slide in now that they've dealt with the truly awkward fixtures. Let's not forget – they travel to Burnley after playing midweek fixtures every week for almost two months. Burnley are on a run of three wins and a draw at Chelsea, and while mathematically they should stay up I'm sure they still have some energy left, particularly for a club that appears to pride itself on its performances against the top six in recent seasons. What I'm saying is, there's still some straw to put on this camel's back yet, even though it doesn't look a particularly heavy load.
And besides, Paul's research has shown that to win the EPL title you have to first miss out at least once. Only Henderson and bit-part Sturridge were part of the squad that last lost out in such a title scrap, which was therefore too long ago to still count. We had to come up short all over again – and that will be this season, unless City "slip", of course. 18/19 is another Liverpool stepping stone, reached at a time when our traditional top four rivals appear to have taken a step backwards. In a season where three clubs could conceivably record 26 or more wins (usually the benchmark for the title winners alone), Chelsea, Manchester United and Arsenal are still aiming for the usual top 4 target of 70 points (with Chelsea playing United this weekend). One of them will get there, but the future is much less certain for the other two. By contrast, in the last two seasons one of these clubs were EPL champions, and another came second. With player ages at our non-Spurs rivals reaching melting point seemingly across the board (and a potential mutiny at United), Liverpool are coming of age at the right time.
So, relax and enjoy the ride, no matter this season's destination. Next season, VAR will reveal to everyone just how good Liverpool really are. It will be disappointing to miss out on either or both of the trophies where we are still potential winners, but damn me if I can't wait for next season either! Under Klopp we've aimed at the sky and passed the ceiling already. The anticipation of how high we may still climb is just a little bit breath-taking.
6 – Serpico on the likelihood of Man City dropping points alongside Klopp's Zen:
I honestly don't think it more likely that City drop points to United than it is that they drop points to Burnley or Leicester. United is a team on the ropes, whereas both Burnley and Leicester seem to know what they're about. They'd give anyone a game – though of course it's an uphill for any PL team to play City. We were beaten once this year, and it was by City.
Klopp's calmness comes from his satisfaction that we don't have any regrets. It's true. We played heroically and triumphantly, punched so far well well above our weight, and produced an amazing season that is still en route to culminate in glory of some sort with a big trophy. I honestly can't remember any chances missed – what I remember is points taken, again and again. The United we met, keep in mind, was a very different beast surfing the end of its new manager boost. It's all very slim margins and the slimmest of them all was Mahrez missing that penalty in Anfield. Keep this one in mind, as it might still come back to haunt City.
These are two incredibly strong teams fighting it out. I could only tell you which team is ever so slightly better than the other in about three weeks. Stranger things have happened in football than for a player – a Vardy, an Ashley Barnes, or yes, a Crouchie, to put a goal past a visibly cumbersome Vincent Kompany. Dyche and Rodgers are two managers that are a bit special. As Klopp likes to say of some players by way of a compliment – both Dyche and Rodgers are arrogant. They are too self-important (in the good way) to avoid casting themselves as consequential figures in the dramatic run-up for the PL title. They are never 'on the beach', and they like to keep their players on their toes, as they are prefectionists of sorts.
Don't lose sight of context – and broader context matters more here than narrow context. The reality is not so much that we 'let the advantage slip' with those draws at Everton and United, but rather, that we have, through an incredible campaign, put ourselves in a position we did not dare dream about in August: one point off 1st place, with three relatively manageable games to go.
Our team is so scarily good I would be amazed if we don't get to June with a big trophy. But before that let's toy with Huddersfield a bit!
7 – David – who I've never seen rant in his life – claims to be ranting here when in fact it's his usual articulate quality:
Rant time!
What depresses me is there is not enough discussion out there about £XI relationship to success in winning leagues. Everyone loves it when a minnow wins a cup final and our faith in magic was restored by Leicester's miraculous run, but our every day acceptance of the bloated behemoths who laud it over the rest is Hironimus Bosch grotesque imo. The behemoths are able to get away with it because they say, 'it's not us that make the rules'; and 'we just spent our millions more wisely than the other behemoth over there', but somehow, their self awareness needs to be awakened to the simple truth that the game is not competitive.
This whole business of being able to compete in four competitions is a sick joke when one club basically has 2 elite level football teams to everyone else's one (on a good day if there are not too many injuries).
One of the main reasons this has been such an amazing season points wise has been the incredible performance of the health and fitness staff at both LFC and MCFC. But even here, on a £XI basis our team of health professionals, by keeping our incredible front 3 fit for the majority of a season playing nearly every match has been an off the charts performance compared to City's. That City have been able to rotate far more and have had the elite player resources for their setbacks to scarcely register in terms of results has been the ONE and ONLY reason they've been able to match us.
There is not enough attention given to this discrepancy. Commentators allude to it but there's not enough analysis of what's going on and how unfair it is. If anything, the competition between the top 2 will be seen as a sign of healthy competition rather than the mismatch between Galacticus and the Avengers that more accurately reflects what's going on. But this isn't some contorted vision of the true nature of the universe where there's always a bigger fish – it's a fucking competition! We're supposed to be creating competitive games of football, not indestructible world eating megabots!
The way Pep has been using Sané as an impact sub lately. It is like one of those Hollywood movies when the hero has just fought an epic battle but then an even worse monster appears. Except those are fantasies where the hero pulls off something miraculous. For all the canon fodder in the PL who only have the slightest of chance to compete IF and WHEN their single team of best players are fit at the right moment, the fantasy can live for the odd half hour here and there, but mostly it's a routine procession to the slaughterhouse.
Of course LFC also have had considerable financially assisted advantages over lesser teams this season and the hellfire bitterness of Warnock will always be justified by the inequality but to be honest, I personally would rather we put creatures like him out of their agony by making everything more egalitarian. It's still been one of the most refreshing stories I've heard that the top teams in the Dutch league took pay cuts to feed back to the poorer clubs in order to make the league more competitive. And look at Ajax. It cannot be a coincidence that they've surfaced from a social melting pot that is trying to think outside of the usual moronic dog eat dog charade of a capitalist's version of economic reality.
Although football clubs are clearly like corporations these days and it's the smarter, less stuck in their ways ones that are thriving. Obviously there are people at both Ajax and LFC who are making lots of money. But it's not just about that. There's always a choice. Clubs can subscribe to a basic tribal survival of the fittest ethos or they can take the next step on the evolutionary scale and see themselves as part of a greater whole, who still compete but value and respect the health of their opponents.
With the roots of football being a working class game there was always a solidarity between clubs and supporters of everyone not being too far away from the bottom of the pile. As we sit with our popcorn and snacks and Netflix choices for after the match, it's easy to lose sight of those roots, but idea of a fair fight can never be truly lost. Someone who clearly hasn't is Klopp and I can't help feeling that a big part of our success is built on his sense of fairness which permeates through to the way the team play and how it effects the entire hierarchy down to youth levels. Pep on the other hand turns a bit of a blind eye to the foundations on which his success is built.
Of course it's not all down to individuals and I'm not a fan of personality cults or obsessions with leadership, but you can't ignore that these people (including Colin Wanker!) are the mouthpieces we all listen to the hardest and who articulate ideas. Everyone knows at a basic level what a fair fight consists of. I don't expect football managers to say much but I still think it would help for people like Pep to acknowledge that his team's got an unfair advantage. The corporate guys wield power and make decisions that effect everyone but they are never required to present their moral stance. If they don't face up then imo they are parasites. It's up to us the masses to call them out. It's not good enough to say 'it's the way of the world.' Morality is power. It's the setting of the status quo which in football terms means the setting of the rules by which we play. Pundits should be talking about this all the time. And they are, but there's this massive elephant in the room of unfair advantage due to £XI.
As far as I'm concerned, LFC's achievement this season with our resources means we've already won the league. For City to have played half their season without their best player, KdB, and still to be nearing record points totals is a smoking gun. We have a bout of illness and lose a few players and it results in a few draws. City could afford to do that and still have enough elite players to cope. That's the difference. (There are other factors such as ref decisions, plus a few divine interventions from the weather! but player resources is the one.) And people should be outraged at the unfair advantage gained. Last season's 100 point haul was if anything more of a total fucking scandal. It's all very well complaining that opposition have rolled over to let City win, but they've been morally defeated before a ball was kicked by the wider world's indifference to the flagrant weighting of the scales due to turning a blind eye to financially doped player resources.
I feel pretty angry about it all! Don't piss on me and tell me it's not raining!
The one hope is that you know Dyche and Burnley live off a diet of feeling hard done by because of this very inequality. It fires them up (rather than that embarassing pile of coddled, perfumed, rotting Manure!) But still, hope can go fuck itself! I resent being in this position in the first place.
Really looking forward to the Barca matches though! 🙂