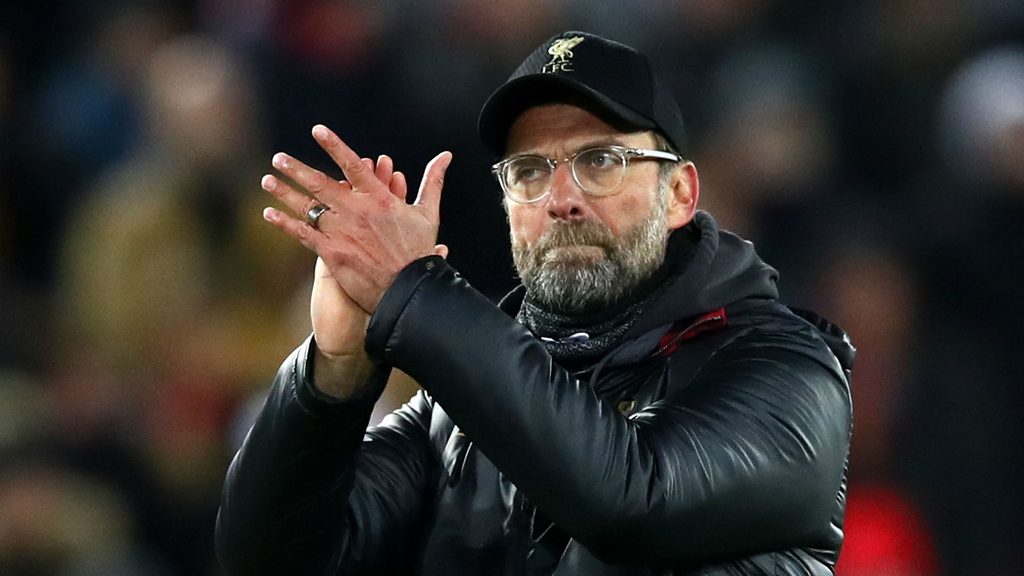 Given Man City's "remarkable" results in the last week or so – a defeat at Newcastle, a victory over injury-ravaged Arsenal and winning their additional game against Everton – it really is amazing how they've managed to claw back the gap. Blink and you might miss that Liverpool have a game in hand, or that City have dropped more points than the Reds since the start of December. As TTT subscriber "Michelle" noted, Liverpool are now in "false 2nd".
Remember, Liverpool still have the 4th best start to a season after 25 games in the entire Premier League era, and still one of the club's three best ever starts since 1992; and if that pace is unsustainable then it may be because it was just too damned amazing.
Keeping the run going hasn't been helped by half a dozen injuries and half a dozen bouts of food poisoning and flu this past fortnight (as well as a bizarrely frozen pitch that proved a leveller against Leicester). The Reds have won 19 of 25 league games and only lost once. Those are elite figures. But City are an elite team too.
If the Reds drop points against Bournemouth then this free piece is there for people to refer back to, if in need of a dose of sanity. Of course, even a draw would put the Reds back on top, with both teams having played 26 games – although you'd expect the Reds to be bang-up for this one.
This could now go one of two ways: the pressure, as favourites, could shift back to Man City, and Liverpool get freed up again; or the Reds suffer a sense of falling, and panic sets in.
Liverpool will either rise to the challenge, or fall under the weight of expectations; but then that's the challenge any Liverpool manager faces – the club has a history that money cannot buy, but unlike other clubs, doesn't have the money to buy a new history.
Equally, Man City have a tough season ahead: Chelsea at the weekend in the league, then again in the League Cup final. They have had the easiest cup fixtures imaginable this season – and their Champions League draw is yet more luck (albeit partly due to winning their admittedly easier group) – but the more cup games they play the more it increases the chances of taking its toll on the older members of the squad and/or those who went a long way in the World Cup, which was twice as many players as the Reds had.
In addition, Man City and Spurs play each other in the final weeks of the season; so if it's still tight, that will mean that one of those teams – and possibly both – will drop points.
(Spurs, meanwhile, have an absolute horror show of a fixture list left, but in fairness to them, they haven't fully fallen away, every time you expect them to – albeit as soon as they get within touching distance of the top they've seemed to drop back, only to inch back up again when the pressure falls away. But they are existing beneath the pressure radar. For all their amazing spirit, you'd expect them to fall short when the games get crazily difficult, especially after six defeats in the league already. But you never know. If so it won't make them "Spursy", just a case of regressing to the mean.)
If City start to go deep into the Champions League then their attentions may turn to that – as that is the one thing that, as a club, they crave – well, the hierarchy, at least – and yet have never succeeded in (while the manager wants another European gong, especially after failing in that regard at Bayern). As well as potentially taking their eye off the Premier League ball, all the extra physical effort the extra games would take could hit a squad with some ageing key players. All four competitions could collide and disrupt them; even if you'd still expect them to land some silverware this season. Given their experience and all the elite talents they've hoovered up over the past decade, they should be expected to win the league.
Liverpool are also the younger team. Indeed, they are on average the 2nd youngest in the Premier League this season – only Everton have been younger on average – and this Liverpool side hasn't peaked yet. Before it got decimated by injuries, Liverpool's record-breaking defence had an average age of a scarcely believable 22.8. That's an U23 team!
Not only are City and Spurs older (yes, Spurs, without any new buys, are on average a year older than last season), but they have only one new player between them this season; so they have greater team "muscle memory", or what academics call "fit".
Sports teams that are together and settled for 3-4 years can be shown to improve, although after four years they often experience a drop off. City are probably at the upper limit of their peak before the slide, although they can afford a load of new players to freshen things up (but then the fit will take time to reestablish).
Equally, Pep Guardiola's teams tend to show a 5-10% drop off every subsequent season, but in part that's due to setting insane standards early on. He then tends to get out of the job fairly quickly; he certainly has never shown the seven years' service Jürgen Klopp gave to his two previous teams, who peaked from years 3-6.
Most of this Liverpool side has been shaped in the last couple of years. As I noted at the start of the season, it's an incredibly "new" side. So the two rival clubs may have better immediate prospects, in terms of team understanding and fit, but worse long-term ones.
For example, someone like Naby Keita occasionally looks sensational, but he's not yet fully settled, and not yet on the same wavelength as all the other players. That can take time. Fabinho only really started influencing games from December.
Conversely, the Reds' new signings, like Fabinho, Xherdan Shaqiri and Keita (who just had his best game for the club, certainly as an attacking force), can take the team to greater levels if they gel. Even Alisson should improve the longer he spends in English football, and gets used to the opposition players, the high balls and what referees let go. City aren't going to get anything new or surprising from Sergio Aguero, Kevin de Bruyne, Vincent Kompany or David Silva.
Those players can pretty much only slide from here, de Bruyne aside. It's not like they don't have any good younger players, but the key core is ageing and, as seen with Kompany against Liverpool (who should have been sent off, and was last seen screaming at Mo Salah "Pussy!" after trying to break his legs as the referee FROM MANCHESTER bottled the decision), the effort can be tough on old, failing bodies.
And so, as with a lot of these positives examples for Liverpool, they could go both ways; you don't know who will stay fit, who will add to their squad next season, which managers will stay in the job. Other clubs will improve, but so could Liverpool, just by allowing the players signed in the last two years another season to gel; just like Spurs and City have this season.
But I think the potential for this Liverpool team to further improve is greater than it is for the City team – it's just that City had a much higher starting point, both this season, and at the points the two managers arrived. Pep inherited Aguero, de Bruyne, David Silva, Kompany, Raheem Sterling and others. Klopp probably didn't inherit a single player who was in that class. [EDIT: I was forgetting Philippe Coutinho, although he was not at that level when Klopp took over – but then nor was Sterling when Pep took over.]
City have bought their entire team for an absolute ton of money over the last seven or eight years (their squad is twice as much as what the Reds' cost after inflation is applied), and the quality shines out. They have an incredible manager, and the resources to give him everything he wants.
I never understood the "fraud" comments about Guardiola that started when he was at Bayern, but equally, like Jose Mourinho post-2004, he has never worked with a limited budget and/or having poor players to start with. Guardiola's teams over the years have played some era-defining football, but he's never done what Klopp did with Dortmund and taken a virtually bankrupted club and, with no money and just a raft of rejects, kids and unknown bargains, won major titles and taken them to a Champions League final.
Adjusted for inflation – which shows the fees paid for players like Sergio Aguero, de Bruyne and David Silva in their current context – the gulf between Man City's £XI and Liverpool's £XI is the same gulf – in terms of hundreds of millions – as the gulf between Liverpool's £XI and Burnley's £XI. In current day money, de Bruyne and Aguero cost well over £100m.
(The term £XI, which I co-created with Graeme Riley as our Transfer Price Index project, refers to the average cost of a team in the Premier League over the course any given season, adjusted for inflation – which, in football, runs around 15 times faster than standard UK inflation. We've used this on this site and in books for a decade now, and it has been referenced in a EU study on transfers and an academic study in association with one of the big Welsh universities. The league title has been won in 13 of the last 14 seasons by one of the top three £XIs; Liverpool currently rank 4th on £XI this season, way behind the Manchester clubs and a reasonable way behind Chelsea.)
And even though Liverpool spent more than City last summer, that was just one transfer window; and Liverpool were spending the money received last January. City haven't suddenly given away all their über-expensive pre-bought assets, nor had to sell them to fund any new buys; and can afford bumper pay rises for their elite assets to keep them tied to the club.
By contrast, Liverpool have just three or four really expensive players – over £60m TPI – with a series of bargains (Andy Robertson, Joe Gomez, Xherdan Shaqiri), free transfers (James Milner and Joel Matip) and homegrown players (Trent Alexander-Arnold).
Compared to Guardiola, Klopp is operating with one hand tied behind his back – because, in an honourable fashion, Liverpool's money is gained by being a well-run club, not by circumnavigating the rules to breach FFP with unlimited oil money and bogusly inflated sponsorship deals (according to several high-end media reports). Liverpool have raised cash to improve the overall squad by doing well in the Champions League and by selling their most bankable asset (at the time) to Barcelona. Before that City had snaffled Sterling at a low-ebb for the Reds.
Clubs like Swansea and Southampton used to be praised for doing things the right way – before they came unstuck by selling too many players and not buying sufficiently good replacements – but Liverpool are getting little or no credit for working within the spirit of the financial rules. FSG never promised to be sugar daddies, as they don't have that kind of money; but the club's financial health is ever-improving, and that has helped the Reds overtake Arsenal on the £XI rankings, and narrow the gap to Chelsea. (The Manchester clubs remain far out in front.)
None of this guarantees that Liverpool go on and win the league this season. I cannot offer such promises; just note that, on about every possible metric, Liverpool are "title-winning quality". But of course, City are no normal team, and have no normal budget and no normal manager.
At times I've worried if I'll be "up" for next season if this season ends in disappointment, but although he's now older, Klopp at Mainz was indefatigable. Never promoted to the Bundesliga in their entire history, and with the smallest budget in the 2nd tier, the tiny club missed promotion by the narrowest of margins not once but twice, but then achieved it at the third attempt. Again, that's something else Klopp has done that a lot of other feted managers haven't. He has staying power, and has shown it at lower divisions and also in winning back-to-back German titles, the second of which was with a record points tally for the Bundesliga, against a very strong Bayern Munich side.
The fact that some neutrals want City to win the league despite their financial doping and the human rights issues attributed to their owners – or just because they hate Scousers – is indicative of the nastier side of modern culture.
But if those people get their wish, so what? Fuck them! Bar a few gripes (Kompany's totally shithousery with Salah, Fernandinho being able to make 15 fouls before he gets booked, etc.), I have no major issues with Man City as a footballing team, but as a club they leave a sour taste in the mouth – just as Chelsea did 15 years ago. If they win the league again it's only as the costliest club in the league, and therefore what you'd expect. (If Spurs were to win the league then that would be a sensational achievement, as it would be if Liverpool were to do so.)
The Reds can't afford the luxury of the depth that City have, and so the recent injuries have taken a bit of a toll. While City have three players out, Liverpool have six out, and several of the Reds who played at West Ham were seriously ill (and only played due to the raft of injuries).
That is one of the major positives of the impending 10-day break – which will also allow the half-dozen Liverpool players affected by illness since the last 10-day break to get well again, and those injured to get fit again. Quick attacking players like Alex Oxlade-Chamberlain and the hugely precocious Rhian Brewster could be fit for the first time this season as the run-in looms; Joe Gomez could be back after months out to add searing pace and composure to the defence, and the Reds will no longer have to rely on the squad players who are pretty good as squad players but obviously not at the same level as the better players they are replacing on a regular basis (which is utterly logical; your reserves can never be as good as your elite players).
Then it's into some really tough games – with the four biggest being Bayern at home, Man United away, Everton away and Bayern away – but then the Reds will have played all but two of their Big Six games (those final two will both be at Anfield), and have completed all their bitter derby battles.
To fail won't have been to "bottle" it, and nor will it make Klopp a fraud. If the Reds fly too close to the sun and get their wings burnt then at least they weren't down on the ground scratching their arse and making snide comments about those who dare to try and get airborne.
It will almost certainly be the 4th successive season of improvement as a club – from mid-table in October 2015 when the German arrived, to Europa League and League Cup finals that season but just 8th in the league; then Champions League qualification; then a Champions League final; and now a genuine title attempt in the same season that the club qualified for the knockout stages of Europe's premier competition. (And who knows, we may just beat Bayern?)
All of those are the kind of benchmarks only seen at Liverpool in the past 30 years during the years 2004-2009, when Rafa Benítez took the club to the top rankings of Europe, reached two Champions League finals and kept the club in the top four every season (with one strong title challenge that fell short to the then-perennial winners from the red half of Manchester).
Liverpool are back at those heady levels, and back there again without having the biggest budget. These are the good times, folks. Anyone who thinks otherwise, go revisit Roy Hodgson's shockingly awful tenure, or the final 15 months of Brendan Rodgers' reign – particularly the 6-1 hammering at Stoke and 3-1 and 3-0 home defeats to mediocre sides around the same time.
That was the club Klopp arrived at. Look at all the players he has had to ship out, because, even after he improved them, they were still nowhere near good enough. Along with Michael Edwards and the transfer team, this has been a total rebuilding job since 2016, while Man City and Spurs have much the same players at their core, several of whom are due to start melting soon. Liverpool only have James Milner who is over 30.
No one can guarantee delivering the major trophies – especially on half the budget of some main rivals – but Liverpool are serious contenders once more, at home and in Europe – for the two biggest prizes – and that's a great deal better than it's been for most of the past three decades. I make no apologies for pointing that out or acknowledging that, as painful as it would be to lose, football only really matters when something is at stake.
This is a free post. Aside from Free Friday, we try to make 90% the articles on TTT for the paid subscribers only, to keep our writers and editors employed, but please feel free to share a link to the article to help spread the word of what we do here. See below how to sign up, and how to order a special boxed edition of our upcoming Liverpool FC book.