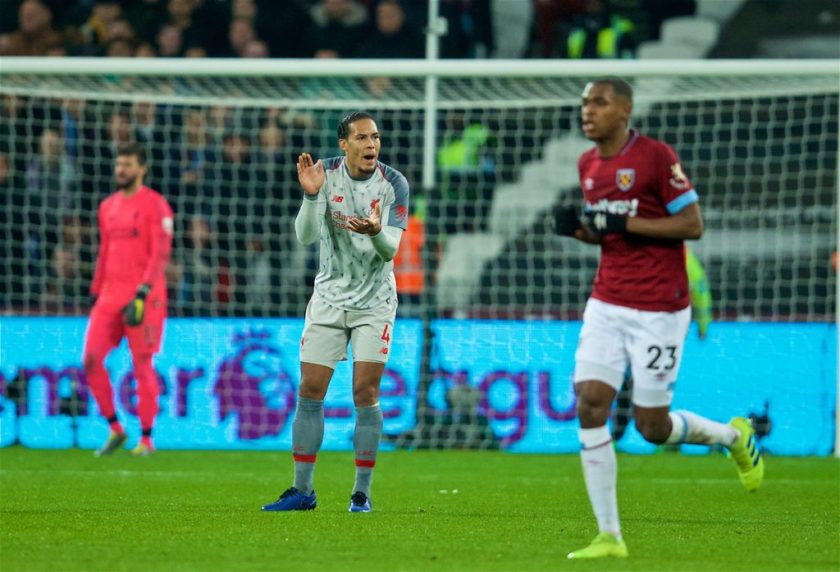 By Tricia Hill (TTT Subscriber TriciaindaHouse).
Fortunately my boss allowed me to leave work early, so I left Westminster at about 5.45, via the Jubilee line, arriving at Stratford about five past 6. I had a bite to eat, then walked to the stadium, arriving in time to watch the warm-ups, although being with the home fans in the opposite end to the away fans, I wasn't close enough to see much of our lads.
The somewhat experimental midfield came as a bit of a surprise, and I suspected we'd miss Gini and Hendo… I wasn't wrong. The West Ham fans around me obviously knew each other and I caught snippets of conversation…"They won't win the league, they haven't got the bottle"…"Curse of Slippy G"…"I'd rather facking City won it"…"We're gonna get battered"…Well, that was all fairish comment, and I just smiled to myself and hoped we would indeed batter them.
Then just before kick-off this bloke arrived behind me. He regaled his mates with the tale of how he'd seen someone wearing a half-and-half scarf. On being asked what he was doing in such an abomination (I paraphrase), the guy had supposedly said that he was a Liverpool fan, at which point the bloke behind me had offered him out, not deterred by the fact that the said Liverpool fan was apparently 65 (more paraphrasing…)
I feel here the need to say that at nearly 54 I have heard all sorts of language and am nobody's idea of a shrinking violet. The relevance of this claim will become evident.
The rest of this article is for Subscribers only. Details on how to sign up are below.
[ttt-subscribe-article]