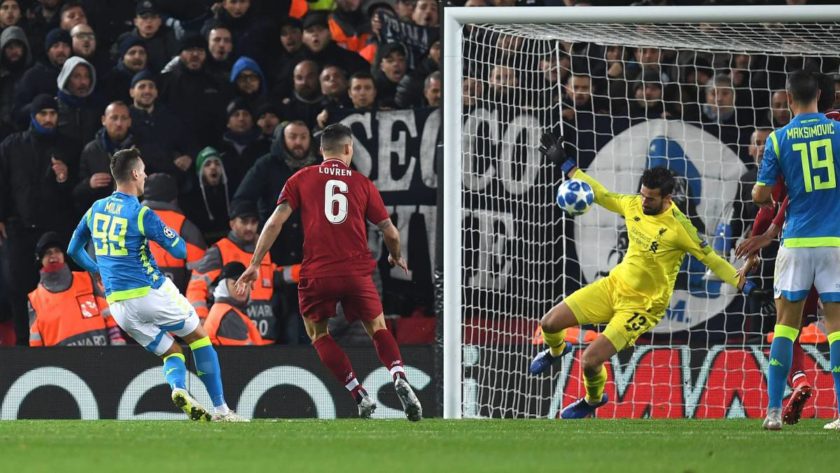 By David Perkins (TTT Subsccriber Stevenson1988).
Just over a year ago, my brother managed to get us tickets for the last of the 2017/18 CL group games at Anfield against Spartak Moscow and, despite major transport problems en route, we were able to enjoy a 7-0 thrashing.  Fast forward 12 months and, yet again, he pulled the rabbit out of the hat – or at least three match day tickets for last night. We set off at 5.00 pm for the 60 mile journey and almost immediately the satnav started predicting traffic delays which we encountered on the M6. What the hell is wrong with this country when we're spending another £2Bn to bail out Crossrail plus £60Bn (and rising) for HS2 so that they can commute into London from a bit further out; yet we can't travel 60 bloody miles along the motorway without it taking nearly two hours? My son met us in the Goodison car park having taken three hours to travel up from near Stoke-on-Trent! Anyway, rant over; we dived into the Chinese chippy for the "match day special" of curry and chips for £6, then through Stanley Park to the ground.
The new main stand still takes your breath away and it's how all grounds should be nowadays, with plenty of toilets, easy access to food and drink and, more importantly, civilised. We get to our seats to soak up the pre-match atmosphere and things are building up nicely. A great rendition of YNWA and team and fans are clearly up for this one. The great thing about the team this season is the level of control that they exert, so that they don't need to rely on the madcap, all-action performance of the front three to the same extent. Having said that, Salah and Mane caused them problems throughout the game. 
This article is for Subscribers only.
[ttt-subscribe-article]