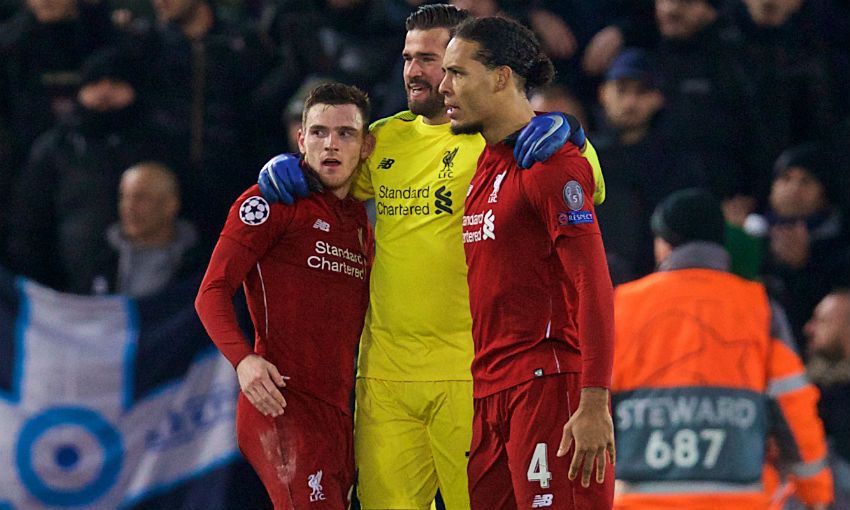 As Sky's excellent analysis of Liverpool's season on Monday Night Football showed, the days of the Reds putting all their effort into the early stages of games to blitz teams into oblivion has largely gone, and with it, the risk of blowing themselves out by sixty minutes. Rather than drop all their bombs at once, it's a more tactical approach, based on a stout rearguard action and picking moments to launch the munitions, rather than a hurried weapons dump. 
This is a more patient, rounded and canny side; but still – as shown last night in dismantling Napoli's defence time and time again – with the ability to press high when the situation suits. It can now play in different formations and be just as successful.
It is a side of leaders – and this from a writer who thinks the need for overt leadership can be overblown. While talkative, I'm not sure Virgil van Dijk, James Milner or Alisson are as rampantly and angrily vocal as Jordan Henderson – whose swearing knows no limits – but all four of them lead by example. Mo Salah leads by grabbing the game by the scruff of the neck in the big moments. Andy Robertson leads from left-back.
Indeed, I was going to write a piece about Liverpool were so good last night that no Anfield miracle was required, although I see that's been done elsewhere. But I'll still focus in this piece on just how special this Liverpool team is, from front to back.
I think this particular Liverpool team wears opponents down to the point of utter submission. The side still works incredibly hard, but in different ways from before. The front line is almost impossible to contain for more than short periods of a match, and the full-backs are outstanding at both ends of the pitch (and have the stamina to do so), which is a rarity. The midfield, despite lacking an elite ball-sprayer, can do various jobs. And the central area of the defence is now a rock, with an additional rock behind them; Alisson being Liverpool's impregnable fortress built on the colossal mass of Alcatraz. 
No midfield presses better – remember that you Henderson Haters – and this means the forwards don't have to do as many hard sprints; because it is in midfield where Liverpool, if lacking the X factor of its world-class frontline and defence, have the greatest interchangeability: the three stamina-beasts of Henderson (The Most Criminally Maligned Player In English Football History™), James Milner (The Most Underrated Player In English Football History™) and Gini Wijnaldum (The Most Underrated Player In Europe™), but also the equally fit and fiery Naby Keita, who adds elite dribbling skills; then the ever-improving Fabinho, who is now settling in very nicely indeed; and the further options of either Roberto Firmino – a forward-thinking midfielder in Germany – or Xherdan Shaqiri as the attacking midfielder. Finally, as a bit of a wildcard these days, the pressing-maniac Adam Lallana, who, when fit, can do a fine job in the middle of the park when he gets his head up, as seen in his cameo at Bournemouth (I'm less keen on him on the wings). 
That's eight midfield options, where Jürgen Klopp has heavily rotated and selected horses for courses. And that's without one of last season's best players, Alex Oxlade-Chamberlain – who will hopefully return for the run-in, to add searing pace and directness from midfield to the transitions.
If the midfield is Liverpool's area of greatest options, where the hard yards are put in, the other areas are where three points seem regularly guaranteed right now.
The remaining three-quarters of this article is for subscribers only. See details below on how to subscribe.
[ttt-subscribe-article]