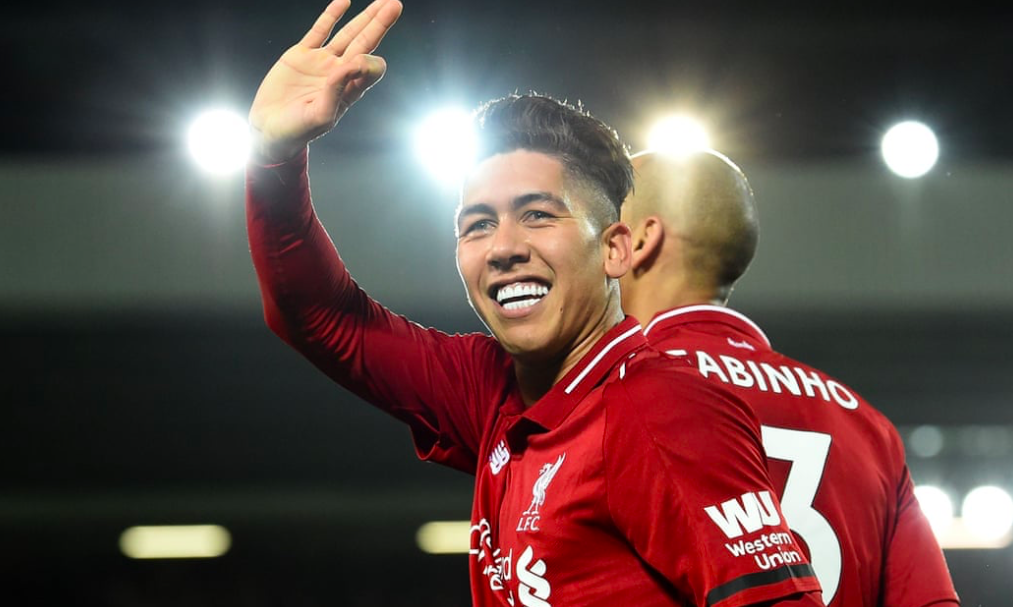 AKA: Arsenal Score Goal Against Liverpool, Arsenal Get Spanked
Just four weeks ago Barry Glendenning stated with a quite remarkable pomposity on the (otherwise very listenable) Guardian podcast that Man City would win the league by 15 points and Arsenal would finish above Liverpool. I felt it was ludicrous at the time, and it's only looking more daft. I'm still laughing. City could still win the league, of course, with their quality and experience; but Arsenal have never looked capable of overtaking Liverpool this season.
This latest outstanding result confirmed Liverpool's best-ever calendar year, in terms of points won; achieved with a Champions League final thrown in (all those extra gruelling games), and progress through an ultra-tough group this time. Liverpool are the real deal, as Arsenal discovered today.
To cap it all, Roberto Firmino channelled his inner Johnny Barnes to makes us believe that, actually, this team is on a par with the great 1987/88 side; the last Liverpool side to go unbeaten across the first 20 league games of a season, although this team has actually won more of its matches. In addition, that team also didn't have Europe to contend with.
(That said, the squads were smaller back then, so there was not the really high win percentages you can get now. And that team finished the job, albeit with tons of league-winning experience. This team has had to come from much further back, mind.) Barnes played like a Brazilian; right now, Liverpool have three actual ones at their core, including a goalkeeper who passes like Xabi Alonso.
This title race had already had almost everything for Liverpool – most notably from the Divock Origi 96th-minute winner gifted to him by the Everton goalkeeper (who'd earlier mocked the Reds' keeper), but also the routing of Manchester United by 36 shots to six, three goals to one. But most of the thrills and spills have been from teams like Wolves, Crystal Palace and Leicester, when taking points from the Reds' rivals. Liverpool are "unconvincing", I've been hearing all season.
Unconvincing! Today the Reds moved past the Chelsea of 2008/09 in being the most parsimonious team in English football history after 20 matches, conceding just eight (Chelsea had conceded nine at this stage).
What we hadn't had was many dramatic comeback wins, not least because Liverpool haven't conceded enough goals to be behind – albeit a brief shock lead to Burnley was overturned at the start of the month. This was the first time in 2018 that an opposition team went ahead in the league at Anfield; the Reds responded with five goals, to give Arsenal their first proper spanking under Unai Emery. The other key moment of the season was Daniel Sturridge's late, late stunner at Chelsea, and rather than have momentum, Liverpool are just an ultra-well drilled team oozing quality, fitness, belief, desire and understanding.
Spurs had "momentum", remember, with 11 goals this week before today. Man City had momentum a few weeks back, until suddenly they didn't. Because momentum counts for nothing; it's being a great team that wins you a lot of games, and keeps you going, week after week (like City last season, but less so this season; I said some weeks ago that, as amazing as they are, there's no way they can be hungrier than Liverpool. Hunger isn't everything – far from it – but at times it makes a lot of difference, perhaps even more so in defending a title. It's natural to want to just put your feet up and rest).
It's been a festive period like no other for Liverpool in a long, long while. After 16 months without one in the league at home, three legitimate penalties arrived for the Reds in three days, like those similar-coloured busses. The Reds' front three were superb yet again, but it's time for me to sing the praises of some of the less-heralded players in this piece, including someone I've spent the last 18 months calling the most underrated player in Europe.
The majority of this article is for subscribers only. See below for details on how to sign up.
[ttt-subscribe-article]