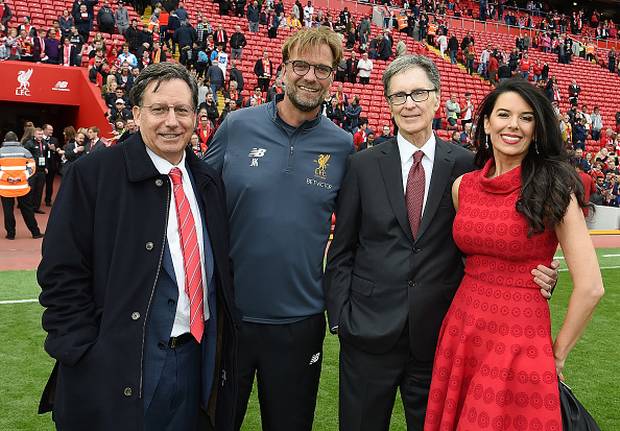 Being a well-run club can be a cyclical thing, as Swansea, Southampton and West Brom have all found lately. You can be a paragon of sense, foresight and über-smart transfer procurement, but nothing lasts forever; a bad judgement call here and there and it can all collapse. People mock the approach when the model eventually fails, but who's to say the alternative would have ever succeeded in the first place? All good things come to an end, after all. 
All football dynasties crumble, at some point. As Alex Ferguson at in the director's box at Anfield yesterday he could have been forgiven for thinking "hang on, isn't this where I came in?". It feels like 1986 all over again. 
Right now, Liverpool are perhaps the shining example of how to run a football club, whilst Manchester United – who got it so right in the 1990s – are a shining example of how not to. Everything Liverpool are in 2018 is everything that United are not.
United have a manager terrified of losing, who puts so much fear into his players that they freeze; Liverpool have the opposite. Man United have owners draining money from the club, and with no apparent desire for success, and little intelligence, sporting or otherwise; Liverpool have the opposite. Man United buy big-name players; Liverpool buy big-game players. Man United buy players with social media presence; Liverpool buy players who have been scouted analytically to the nth degree, and whose characters have been put under the strongest of microscopes. Liverpool play beautiful, attacking football; Man United do just about the polar opposite.
Liverpool have a team unified by respect, trust and bonding, whereas Man United's manager only knows how to build a siege mentality, which may sometimes work, but at others just cause an implosion.
FSG Fumbled For Five Years For A Formula, But Have Made Liverpool Great Again
It's worth taking some time to focus in some detail on how Liverpool got to be top of the league, ahead of the best team, statistically, in modern football history. For five years FSG lurched from inherited crises and inertia to self-inflicted ones – in the way that it's so difficult to turn around a leviathan that is so big it sinks all the quicker when full of holes; albeit doing one thing the same then as they do now: reinvesting money in the team when want-away stars cannot be kept beyond perhaps a year beyond their initial desire to leave. The difference now is that fewer players are rushing for the exit.
But it also needed the stars to align: to find, and procure, the best-suited manager in the world, and for his lack of ego to allow the likes of Michael Edwards, the Sporting Director, and Ian Graham, who heads up analytics and research, the voices that they were denied by the previous manager, and in so doing, unite the club, so that the various departments could all be pulling in the same direction – and thus creating a virtuous circle. 
Brendan Rodgers almost rewarded FSG with the title, but it was a flash in the pan – no build-up to it, and instant collapse, because it was not constructed on anything solid. Still, it was a great season – incredible fun – and one that will live longer in the memory than a lot of mediocre seasons adorned with a domestic cup. 
Indeed, in the last five years Liverpool have come close to winning the league and the Champions League (as well as the Europa League and League Cup). Each time a far, far richer club – or in the case of Sevilla, a far more experienced team – pipped the Reds. There's no shame in any of that; just the achievement of being in the mix.
Klopp also had the charisma – but also the cachet – to then talk to players like Virgil van Dijk, Fabinho, Mo Salah and Alisson, and for them to not end up at Liverpool because they had no other options, but for them to eschew all alternatives and actively avoid moving to other top teams. 
The majority of this article is for subscribers only. See below for details on how to sign up.
[ttt-subscribe-article]