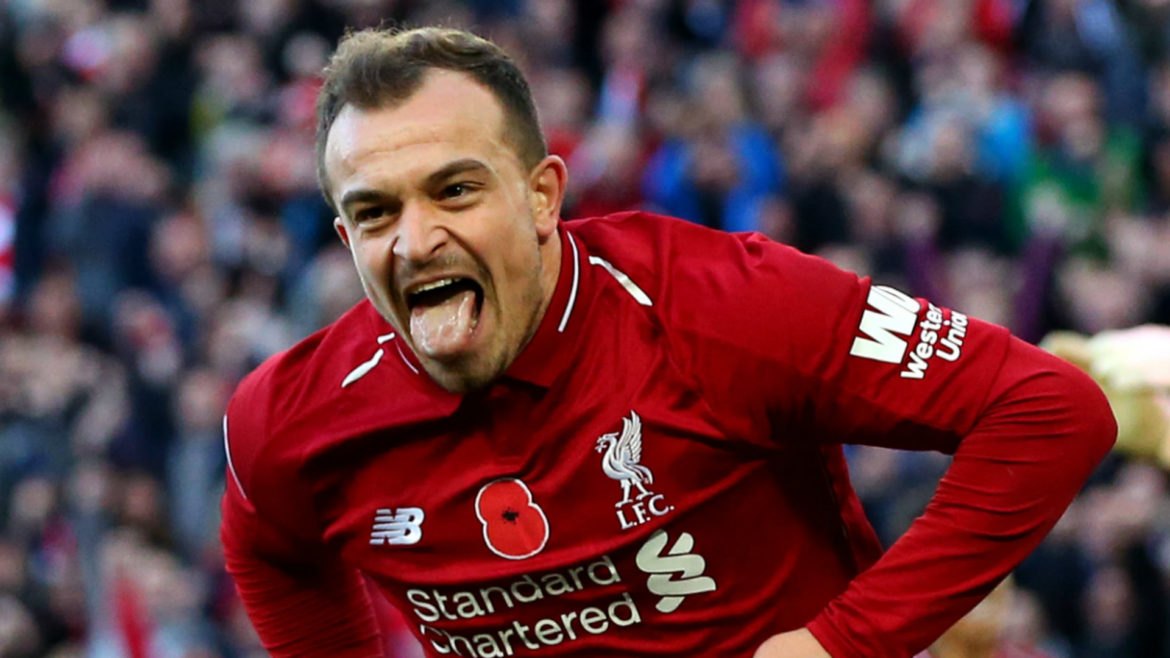 Wow! Six points and a goal difference of +12 over the 2nd-placed team. Who happen to be … Spurs.
The invincible Man City of a few weeks ago are losing game after game, and their goal difference over the Reds – "worth an extra point" – has whittled away to zero in just weeks. City have lost three of the past four league games, although they will be fighting for wounded pride on January 3rd. That will be a humdinger. 
But if Liverpool are now getting penalties at Anfield – this was the first in almost a year and a half – and Dejan Lovren is volleying in spectacular goals, then the footy Gods may be stirring. Had Nathaniel Clyne scored with that late chance then it would have confirmed the world has indeed turned upside down, and all bets would be off.
(Note: if Mo Salah has had enough of having his shoulders grabbed, fair play. Why are defenders' hands and arms always around his neck or across his shoulders, every game? It was a soft penalty, yes – but that was a foul, just as he fouled the Newcastle keeper from an identical type of action.)
Spurs are keeping pace, six points back, although Liverpool are getting their tougher games out of the way over the festive period. Jürgen Klopp's men now have to face Arsenal and Man City in the next two matches, to take their Big Six games to seven; meaning while others have plenty left, the Reds will face just three more.
In January, Spurs and City will be losing players to international competitions, suffering suspensions, as well as the nightmare of navigating two League Cup semifinals (which is always a bastard, as I say every year, if you've got a few injuries. Winning it is no longer worth the effort). Also, both Spurs and City had a lot more players who went deep into the World Cup, which can help at the start of a season – as they have all that residual fitness and confidence – but can hurt later on. While Liverpool have a ton of pressure whenever there's title talk, I'd expect the amazing Spurs season to peter out later on.
Liverpool could lose to Arsenal and Man City and still be top – and with the easiest run-in. Irrespective of what happens at the Etihad, Liverpool will end the day ahead of Pep Guardiola's men. That notion seemed insane just a few weeks ago. Less than a month ago the aim was to be within a few points of City.
This was sensational stuff from Liverpool; it's not often you see teams put four past a Rafa Benítez side.
Simply stunning, from Jürgen Klopp's men, at both ends; seven goals conceded in a half a season is unreal. Meanwhile City are crumbling like a house of cards hit by cow flung by a tornado. I definitely wouldn't write City off, yet, but they are collapsing hard; getting lucky against Everton, too, in their only recent win. (But that did look like Toto flying past in the Kansas swirl.)
And now the goals are flying in at the other end for the Reds, with Mo Salah hotly pursued by … Xherdan Shaqiri for the most prolific attacker at the club this Christmas.
What a buy he has been! Six goals, at just 119 minutes per strike, and that was after a slow start. Even Salah and Sturridge can't get close to him for minutes-per-goal. And vital goals, too. And it's no fluke, as I will come onto.
The vast majority of this in-depth article is for subscribers only. See below for details on how to sign up.
[ttt-subscribe-article]