Anyone goes near the preening cockwad Neymar and he collapses and rolls around, arching his back, screaming, and the UEFA refs run in as fast as they can to offer free-kicks and, you wonder, potential blowjobs. All from a state-funded and underhand UEFA-permitted, dodgy-spending Parisian shell of a team with obscene talent and pace (admittedly) and no real cojones – protected every season at their supersized home by the financially-doped system, by the corruption of obscene money, of oily men, of Qatari bullshit. I bemoan the standard of Premier League refereeing but at least it never seems corrupt.
If you ever want to see a referee who has been either bought off or intimidated, watch this game. Early on Sadio Mané was sandwiched by two PSG players in the most cynical fashion and the ref ignored it. The most blatant penalty you'll ever see for a flying-lunge and the ref gave a corner (and no booking), before it was overturned by the official behind the goal, who presumably didn't get an envelope from Qatar in the post this week – yet another reason VAR is needed is to make any corruption from officials even harder. (This Polish guy tonight will be driving a Ferrari next week.)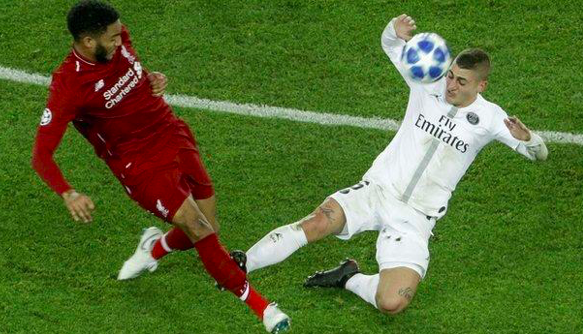 A studs-up assault on Joe Gomez that could have ended his career and an instant yellow card, without pause, when it was a clear red for any ref who was impartial. Mo Salah pulled back on the edge of the box, ignored. By contrast, Neymar fell over when shooting, the ref gives a free-kick; no one even near him! He booked a load of Liverpool players for pulls but not PSG players for identical offences, while Verratti committed about 56 yellow-card fouls and one red and stayed on the pitch. Some of this is classic homer-ref, that you have to expect away in Europe, and which Liverpool sometimes get in Europe at Anfield. But some of this felt dodgy and extremely distasteful. I hate conspiracy theories but after spending £500m on attacking talent, how much do PSG spend on officials?
Liverpool also weren't good enough on the night – and yet they were never going to win with this referee oiling the wheels of PSG's play, and allowing Neymar to basically officiate the game. Liverpool now have to beat Napoli by two goals at Anfield, which is more than possible; we just need to have a whip-round to pay the ref off, just to make sure. (Or is it only petrodollars that count?)
The rest of this angry rant is for subscribers only. 
[ttt-subscribe-article]