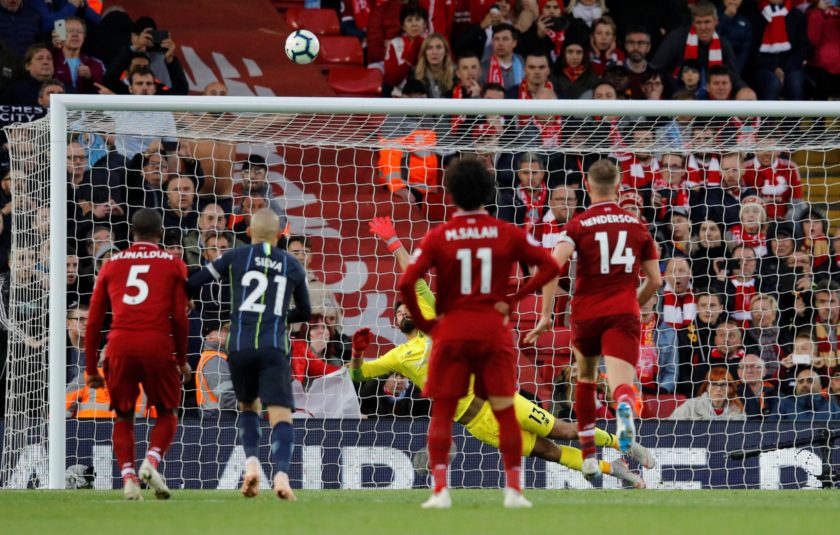 By Benjamin Magnusson.
"They scare me".
Such were the words nervously spoken by Pep Guardiola prior to Manchester City's trip to Anfield last season, where they would seek to overcome Liverpool in the Champions League round of 16. The first seeds of Guardiola's anxiety had been planted three months earlier. By taking 62 points from a possible of 66 points, The Cityzens had taken the Premier League by storm and were on route to rival Arsenal's Invincibles from the 03/04 season. Guardiola had finally silenced his critics by conquering the toughest league in the world – and he did so in class, as his style of play swept all teams aside.
Until he visited Anfield.
Guardiola's persistence in playing it out from the back and progressing through the middle had been one of the main pillars of City's success. However, it was in this strength that Jürgen Klopp found City's Achilles' heel. In spite of this, the first half between Liverpool and City ended 1-1, but just as lightning makes no sound until it strikes, Liverpool's ambush generated speed quietly. And when it struck with devastating and frightening power, the City players were shocked by Klopp's plan. Liverpool's overwhelming and chaotic press forced City into an abundance of mistakes, in what could only be seen as the physical manifestation of fear. As such, it was clear why Guardiola would be anxious about his return to Anfield – and as we all know, these seeds of doubt would later grow into two humbling defeats for Guardiola and his side, giving Klopp the edge over him in the last three competitive games.
This has in turn led many experts to describe Klopp as Guardiola's kryptonite. That Klopp's style of play does seem to trouble Guardiola is also evident in his Champions League record. His Bayern Munich side went out to Real Madrid in 13/14, Barcelona in 14/15 and Atletico Madrid in 15/16. These teams are all exceptional at pressing situations and, in particular, during their attacking transitions. Even the Barcelona side of 14/15 shared several similarities to what you would describe as a 'Klopp side', as Luis Enrique imposed a more direct style of play than his predecessors, Martino, Vilanova and Guardiola himself. The most extreme clash between these two styles took place shortly after Guardiola had left Barcelona; Jupp Heynckes' Bayern Munich dismantled Vilanova's Barcelona 7-0 in the 12/13 season, over the course of a Champions League semi-final. While Vilanova's side was not the same as Guardiola's, it undoubtedly still bore many of his footprints, and this match can therefore be used to illustrate its vulnerability against well-organised, hard-pressing and direct teams, which Bayern Munich certainly exemplified. By committing a lot of players forward, teams that carry Guardiola's blueprint are exceptionally vulnerable to attacking transitions, and it is therefore understandable that it is against teams who master this that Guardiola has suffered the most.
With all these things in mind, Guardiola still stuck to his core principals during all four games versus Liverpool last season. As such, many supporters expected him to do so again – but this would not be the case.
Despite winning the war last season, Guardiola lost three of the four indivdual battles against Klopp, and therefore he made the tactical changes necessary to secure that this trend would not continue. This analysis gives a simplified look into the general philosophy of Pep Guardiola and the main tendencies of his Manchester City side, followed by an analysis of the match where I look at how Liverpool organised their press and how City changed their usual build-up in order to bypass this press.
Afterwards I discuss how both teams prioritised not losing over winning, as evident by Liverpool's build-up and City's defensive organisation during Liverpool's corners. In the end I briefly touch upon the individual situations that gave lead to a nerve-wrecking finale; a refereeing mistake, Gomez's lapse of concentration and Guardiola's faith in Riyad Mahrez (and perhaps the reasoning behind this).
Formations and general organisation
Liverpool's line-up: Alisson, Gomez, Lovren, Van Dijk, Robertson, Milner, Wijnaldum, Henderson, Salah, Firmino, Mané.
Manchester City's line-up: Ederson, Mendy, Laporte, Stones, Walker, Fernandinho, B. Silva, D. Silva, Mahrez, Sterling, Agüero
The surprise from Liverpool fans' point of view, was the exclusion of TAA, who seemed to have had cemented his place as the first choice right back. The change made sense though, as Pep Guardiola had often specifically targeted TAA in previous games, where City would aim to isolate him in a 1v1 with Sané. The inclusion of Gomez gave Liverpool more defensive stability on the right-hand side, while also giving TAA a much needed rest.
The return of Benjamin Mendy was the most important change for City, as it meant Pep Guardiola could go back to his favoured system which he had used in the 2-0 win against Arsenal and in the 6-1 thumping of Huddersfield earlier in the season. It also meant that Sané was left on the bench. This was a result of Guardiola's preference for playing Sterling together with Mendy rather than Sané and Mendy. The reasoning for this is that the first combination offers greater variety, as both players are adept at inverted and 'outverted' runs, while Sané has a greater tendency to always stay wide, which forces Mendy to constantly make underlapping runs, which in turn makes City more predictable.
As many of the top coaches (Arrigo Sacchi, Johan Cruyff, Pep Guardiola, Jürgen Klopp etc.) continue to say, it does not make sense to focus too much on formations and system. What you should instead focus on is the use of space and how each team manipulates it differently in order to suit their own style. Every interpretation has its own positives and negatives, e.g. Liverpool often compress the vertical space in order to initiate a compact pressing situation, which in turn leaves space in behind for the opposition to exploit. The same rings true when they activate their counter press, as the midfielders who are responsible for the second and third pressing waves leaves a lot space in behind, which the opposition can look to exploit if Liverpool fail to coordinate their press properly. During attacking transitions you would first and foremost look to stretch the space vertically and horizontally, as it stretches the opposition defence which in turn creates gaps. Guardiola's teams are masters at stretching the play as a result of his positional play (I will discuss this further), but if they turn over possession in a dangerous position during their attacking phase, the players have a lot of space to cover during their defensive transition. This space is what Liverpool excelled at attacking during last season's games.
Still, formations can give a great overview into the overall organisation of a team, and as such I have listed Liverpool's system below: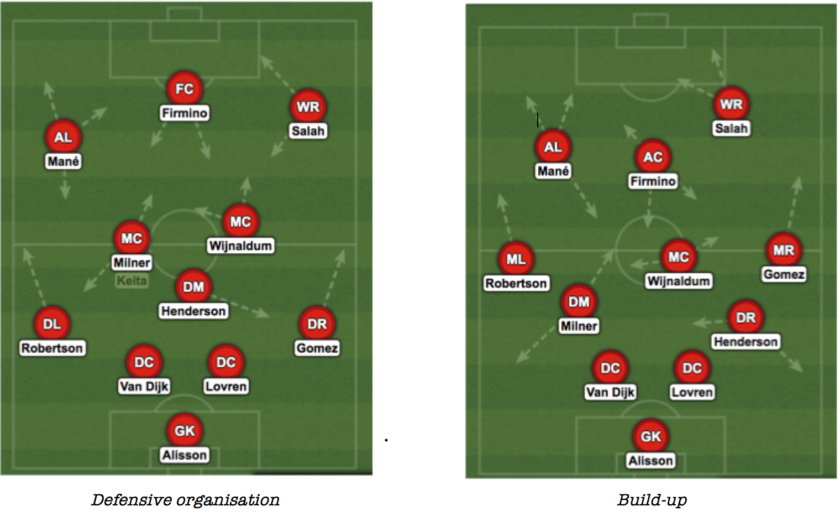 As you can see, they defended in their usual 4-3-3 formation. Mané and Salah would more often than not be tasked with tracking back, while one of the midfielders would support the sides if City overloaded them. While he still tracked back, Salah would often position himself higher than Mané, as he was Liverpool's main focal point during their fast attacking transitions. Firmino would lead Liverpool's press, and would often wait for certain pressing triggers before initiating a very high press. Otherwise their pressing was aimed at controlling City's build-up (which I'll illustrate later). During the build-up, whenever Gomez or Robertson would venture forward, Henderson and Milner would occupy the wide spaces, in order to secure a safe ball-circulation through their numerical superiority. Firmino, and later Sturridge, would drop further back in order to connect the attack and defence. As stated before, Mané and Salah acted as outlets during quick transitions, with Salah being the main focal point.
As you can see from the images below, City defended in a 4-4-1-1/4-4-2 system. During the attacking phase, this often transformed into a fluid 3-1-4-1-1/3-1-4-2 system: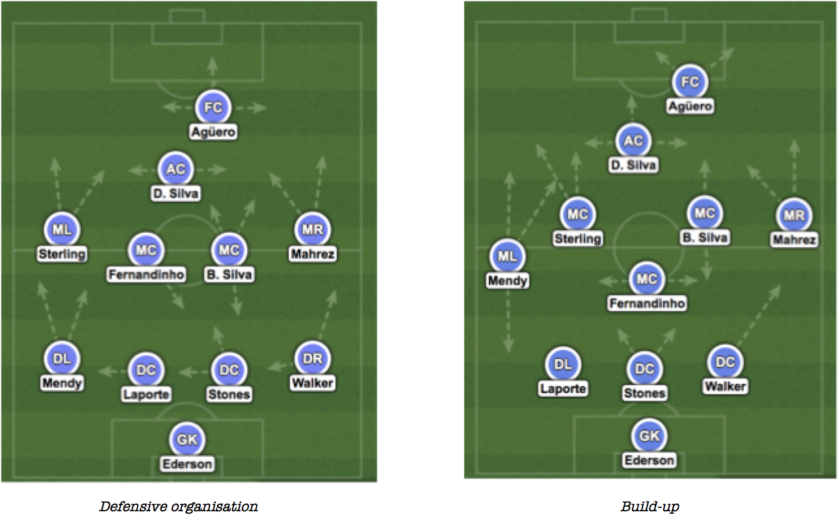 Guardiola was unable to use this system for a large part of last season as a result of Mendy's ACL-rupture, but since his return Guardiola has returned to it again in the opening games of this season. After Mendy was injured recently, Guardiola was once more forced to go back to his usual 4-3-3, but Mendy's return to Sunday's fixture, meant that Guardiola could once again implement it. This system heavily relies on intelligent positional play and powerful runs from both full-backs. The general tendencies were visible during Sunday's game, but not were not as evident as when City played versus Arsenal and Huddersfield. This was because City adopted a more conservative and reactive approach versus Liverpool.
When City have the ball, Mendy pushes forward while Walker tucks in to create a back three, with Stones acting as the central pivot who has often been tasked with bringing the ball out of defence. As a result of Walker's positioning for England as the RCB in a back three, he is more than capable of fulfilling this spot. However, he isn't only tasked with defending. Whenever Mahrez cuts inside into the half-space, he makes surging overlapping runs in order to occupy the wide-space that Mahrez has left. This usually happens during the latter stages of City's build-up, and as a result it does not hinder City's early phase of their build-up. Due to his incredible speed, he is one of the only full-backs who can successfully fulfil this role, and as such he is integral to this system. Mendy's position depends on the movement of Sterling. If Sterling stays wide during the build-up, Mendy is tasked with attacking the half-space through inverted runs. However, if Sterling cuts inside into the half-space, Mendy has to make an overlapping run in order to position himself in the wide-space. Fernandinho's role as an anchor is very crucial to City; as they often commit a lot of men forward he is tasked with breaking up the play through either successful tackles or tactical fouls. B. Silva played further forward than Fernandinho, but he would often drop deep and occupy the same horizontal line as Fernandinho, where they would form a double pivot in order to gain numerical superiority and bypass Liverpool's press. D. Silva played as a second striker, and was generally given license to roam between the lines of Liverpool's defence and midfield. More often than not he would drift to the left, where he would combine with Sterling and Mendy, before eventually attacking through the half-space. In addition to this, he was tasked with leading City's press together with Agüero.
The rest of this analysis is for Subscribers only. To subscribe for content like this, there's a 'Subscribe' tab at the bottom of the page.
[ttt-subscribe-article]