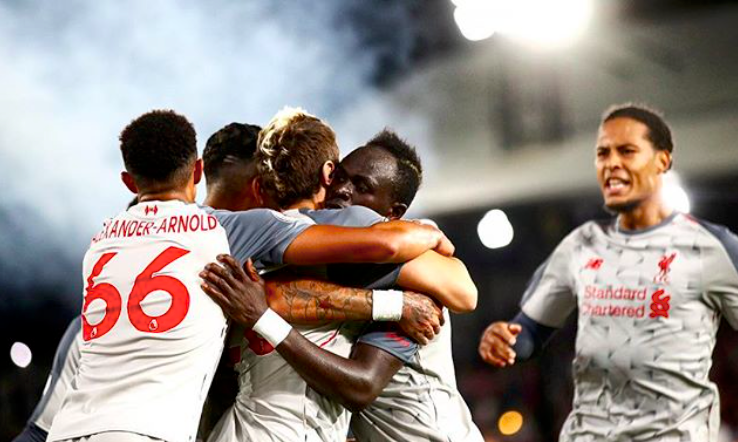 Two outstanding – albeit contrasting – victories for the Reds, without conceding a goal, continues to bode well for the season. 
But before getting onto the joys of what we've seen so far in 2018/19, one thing I've spoken about over recent seasons is how the spreading out of Premier League fixtures across a full – and sometimes long – weekend just adds to the anxiety and madness we all feel as fans. Playing last this week, on a Monday night, only made it worse.
Days before Liverpool had even kicked off their season, the Reds lost when Leicester, despite apparently outplaying Man United, couldn't salvage a point. Another defeat followed, when Chelsea beat Huddersfield 3-0. 
Liverpool lost again, when Spurs beat Newcastle, and once more, when Man City beat Arsenal, hours after the Reds had their an actual victory. This past weekend, Liverpool lost when Man City put six past Huddersfield, and when Chelsea beat Arsenal in a game where Liverpool also managed to win, by the Gunners losing for a second time already (although it's hard to know what Arsenal will be challenging for this season; a bit like Man United right now, too). 
By the time the Reds faced Crystal Palace, it felt like not winning (and even just drawing) would be a disaster, even though Palace are big, strong, quick and well-organised, and backed by the angriest fans around (as TTTer Chris Simpson noted in the match thread last night, "Palace fans sounded as though they had attended a pre-match bear-baiting contest and were going on after the game to a public hanging".) The season is just over a week old, and the pressure is like it used to be during the run-ins. The action comes "thick and fast" as the broadcasters like to say, but actually it can be more like drawn-out water torture.
My aim this season was to pay less attention to the Reds' top six rivals, except when they play each other and therefore either one has two lose, or both drop two points. That's because it's a long, long weekend when you're hoping for them to slip up, game after game after game, from Friday night or Saturday lunchtime, through the Saturday evening game and then two, maybe three more on Sunday, to perhaps Monday evening. Of course, Liverpool got a bonus victory, when Brighton beat Man United, even though I'd told myself I wouldn't watch (but did admittedly switch on at half-time, albeit still had expecting United to snatch a draw). 
It's not so much wanting these rivals to do badly (although obviously pain for Man United and the stench-spewing Jose Mourinho comes with its own schadenfreude), as the sense of needing them to do badly. And any time we need something we lose our shit when those needs aren't met. Needs are unhealthy. Likes are healthy; wants can be problematic, but okay if kept in perspective. But needs feel like everything hinges on them.
Most of these teams will win at least 60% of their games, and maybe a couple will win close to 80%. But it all fuels the must-win mania. Liverpool have never done better than winning two-thirds of their games in the Premier League era, so one third will not be won, even in the best seasons. And yet we know that City will have to drop a few levels for even 90 points to win Liverpool the title. 
(Although I pointed out last week how, actually, based on xG, Liverpool were ranked the 2nd best team in the land last year, while the Bath University academic study on luck in the Premier League had Liverpool ranked as the unluckiest club in the division – something I had frequently noted myself when looking at every Premier League penalty awarded last season. In addition, my own study shows that reaching a Champions League final costs you an average of seven points in the Premier League, and closer to 11 points when you have a smaller squad, as Liverpool did last season. All of these mean that, based on underlying numbers, luck and the extra games, Liverpool were closer to a 90-point team already; although this season City could post 105 points and it wouldn't shock anyone.)
On any given weekend, Liverpool will "lose" three or four times, as it's likely that the other five teams will win more often than they drop points. Weekends where all the rivals drop points will be rare, so there will always be a sense of disappointment from somewhere. When they drop points and Liverpool do so also, it will be a disaster, for not taking advantage; and when Liverpool drop points and others don't, it'll be a disaster for not keeping pace or pulling further ahead. 
And wanting Man City to drop points is not a good mental place to be, as, based on the last 40 league games, they don't drop as many points as all the teams in the history of English football; winning 34 of those matches, which is 85%.
But at Crystal Palace there was more evidence of Liverpool being the team most likely to challenge Pep Guardiola's record-breaking side. And the game had everything I have been asking for, from the players to the referee, who got all the big calls right, and, over a year since he last got one, a penalty was given for a foul on Mo Salah, as well as a sending-off for a last-man hack at him (two clear things that should have happened last season and didn't). In addition, the Reds' underlying numbers were immense (xG says it merited a 3-0 victory), in a game that didn't at any point feel easy. 
And as I will now go on to explain, I think Liverpool – despite buying no clearly established world-class stars – now potentially have five or six in the team.
The remaining two-thirds of this article is for subscribers only.
[ttt-subscribe-article]