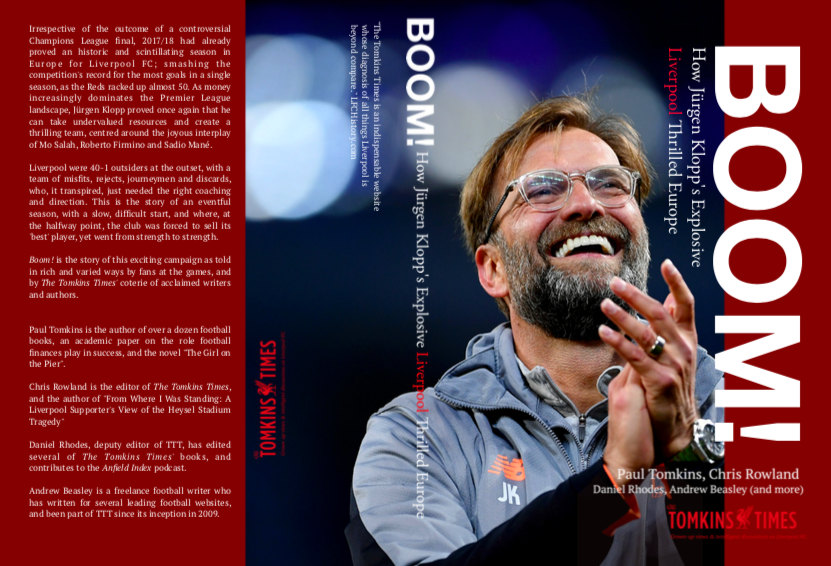 Boom! How Jürgen Klopp's Explosive Liverpool Thrilled Europe
Summary
Irrespective of the outcome of a controversial Champions League final, 2017/18 had already proved an historic and scintillating season in Europe for Liverpool FC; smashing the competition's record for the most goals in a single season, as the Reds racked up almost 50. As money increasingly dominates the Premier League landscape, Jürgen Klopp proved once again that he can take undervalued resources and create a thrilling team, centred around the joyous interplay of Mo Salah, Roberto Firmino and Sadio Mané.
Liverpool were 40-1 outsiders at the outset, with a team of misfits, rejects, journeymen and discards, who, it transpired, just needed the right coaching and direction. This is the story of an eventful season, with a slow, difficult start, and where, at the halfway point, the club was forced to sell its 'best' player, yet went from strength to strength. 
Boom! is the story of this exciting campaign as told in rich and varied ways by fans at the games, and by The Tomkins Times' coterie of acclaimed writers and authors. 
Additional Info 
Boom! is a mix of articles taken from TTT this past season, plus additional 'My Day At The Match' pieces kept back for the book, and new specially-written articles/chapters by Paul Tomkins, Daniel Rhodes, Andrew Beasley and more. So there's plenty of brand new content for existing subscribers.
The book also lists the names of all of TTT's benefactors, by way of thanks.
Boom! is available only from Amazon, in paperback and Kindle formats. Click on the link to buy, or visit your native Amazon store (US, Aus, etc) online.
The Authors
Paul Tomkins is the author of over a dozen football books, an academic paper on the role football finances play in success, and the novel "The Girl on the Pier".
Chris Rowland is the editor of The Tomkins Times, and the author of "From Where I Was Standing: A Liverpool Supporter's View of the Heysel Stadium Tragedy"
Daniel Rhodes, deputy editor of TTT, has edited several of The Tomkins Times' books, and contributes to the Anfield Index podcast.
Andrew Beasley is a freelance football writer who has written for several leading football websites, and been part of TTT since its inception in 2009.
"The Tomkins Times is an indispensable website whose diagnosis of all things Liverpool is beyond compare." LFCHistory.net