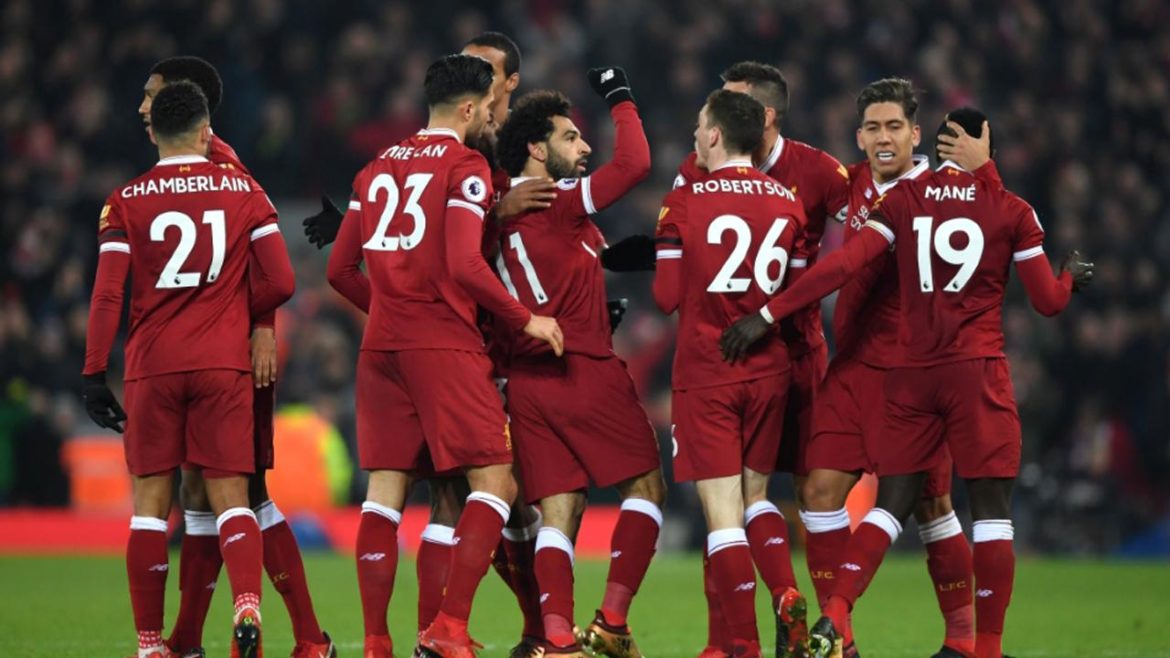 A proper top manager. That's what it looks like. Proper ideas, proper philosophy, proper charisma. City clearly have more quality in a squad that costs almost twice as much, and already had more winning experience, but while they undoubtedly have a world-class manager, so do Liverpool. Make no mistake. And Liverpool have the Kop, too. City are deservedly winning the league but since October Liverpool have clicked into top gear, even with injuries and the departure of Philippe Coutinho.
Why? Jürgen Klopp.
I love it when teams think they know what European nights at Anfield are like based on the league games, and maybe adding 5% in their heads. You haven't got a fucking clue! Perhaps if Anfield could be like this every week the Reds might have won a league or two since 1990, but it's wrong to expect such passion and fervour on a consistent basis; like wishing it was Christmas every day, it would become meaningless. I was going to say that the Kop keep it in reserve, for the big nights, but the whole stadium does; and as I noted after being at the Watford game, the Allez Allez song gives the place a constant hum and buzz. (The booing of every City touch was good for the buzz too.) Anfield on a European night is no myth.
In March 2005 I wrote a piece for Football365 (and also published on RAWK I think) on how Liverpool, as rank outsiders, could win the Champions League. Juventus could be beaten, I felt, and if Chelsea were drawn in the semis, Liverpool could do to them what Chelsea did to the 'Invincible' Arsenal the year before: gatecrash their party. Arsenal in 2004 and Chelsea in 2005 found that being by far the best team in the league is not enough when it comes to European games against English opposition. My hunch was that City could be in for the same, although in 2005 the Reds had the 2nd leg at Anfield. Still, Liverpool could still give them a hell of a fright in the first match.
After a slightly shaky start, Liverpool attacked the living shit out of City in the first-half, and then showed in the second half that the manager knows how to organise a defence. It was a fantastic rearguard action; all the more remarkable considering that Mo Salah went off injured (giving City a boost and harming the Reds' attacking options), to join Emre Can, Adam Lallana, Joel Matip, Joe Gomez and Ragnar Klavan on the treatment table.
With all the context (players out, Salah going off, City being a sensational team in top form), I think it was one of the best all-round displays I've ever seen from a Liverpool side. This wasn't heavy metal football; this was death thrash metal, turned up to 11.
But the tie isn't over. Liverpool missed chances to add a 4th in the first-half, when City were like punch-drunk boxers stumbling around awaiting the bell, and an early goal for City next week can change things, especially if Liverpool get a man sent off like earlier in the season. And Liverpool won't even have eleven players to select at this rate; with injuries not a major problem overall this season, a few are starting to mount up now, made worse by Jordan Henderson suspended for the return. Even if you don't rate Henderson as highly as you should, Liverpool need their senior players available.
And in football you are never more vulnerable than in the moments when you think you've got it won (see Milan, AC, 2005). Thankfully, you feel that Liverpool can score away from home as well, but it probably needs Salah to worry them, and just to give the Reds a sense of belief. City can still get through, so let's not get cocky.
However, let's rejoice in the good. This was another incredible night in Liverpool's history, whatever happens next week (even though throwing it away would obviously tarnish it, it doesn't remove the exhilaration and joy of the first leg) I'll do my best to organise my thoughts into something coherent in the remainder of this piece, and give a review of every player's performance (for subscribers only). Warning:I shall conclude the piece with the words "Fuck yeah!"
[ttt-subscribe-article]