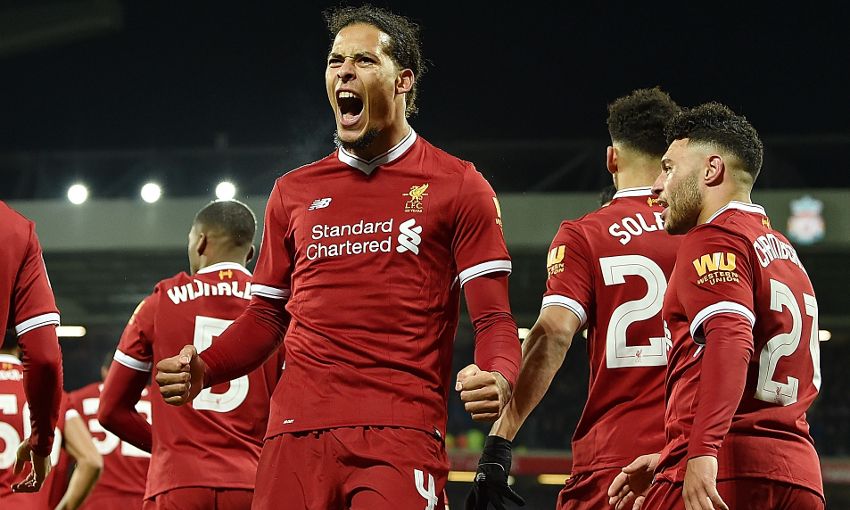 Salah May Be The Star, But Liverpool Have So Many Outstanding Performers
The two youngest teams in the Premier League this season met at Arctic Anfield last night, both managed by Arrigo Sacchi-inspired managers who know what it takes to win a major league with an underdog – not once, but twice each. They also happen to be the best two managers Liverpool have had since Kenny Dalglish first time around (certainly in terms of overall win percentage; Rafa Benítez leads the way but Jürgen Klopp is catching up).
For a young side, Liverpool appear to be maturing nicely, while at the same time retaining a potent youthful vigour.
I'm still laughing at a "pundit" (Paul Merson) who recently said that Jürgen Klopp "hasn't bought very well", when, along with those damned coffee-drinking analysts who breathe fresh, conditioned air while assisting on transfers, the success rate of new arrivals at Liverpool since his arrival is actually quite stunning.
Every new arrival this season has improved the team, with the exception of Dominic Solanke, who arrived aged 19, as a squad player. (And a player I like very much, even without him scoring, although that's because he, like almost every other Liverpool player, will not get a decision from English referees at Anfield – without VAR to shame them into it – especially Kop end. Accidental handball is not an offence. Equally, I've been saying all season that English players win far more penalties than foreign ones, per player – look at a proven diver like Delle Alli and how many he wins – so with Liverpool having an all-foreign attack, I thought that there had to be some kind of assault on them to win a spot-kick, especially at the Kop end, where refs bend over backwards to not be seen as easily swayed. Turns out that even that isn't enough to win a penalty or elicit a red card. The only penalty awarded in English football this season for a foul on Mo Salah was the one via VAR, and you can go back to the Burnley game for him being fouled multiple times in the box. Someone with pace, skill and who is frequently in the box – as seen when scoring 24 league goals – has never been given a Premier League penalty? That's some heavy anti-foreigner bias.)
Anyway, I digressed. The impact of new signings last season was fairly profound too, with Sadio Mané the club's player of the season. This year's player of the season will be Salah, another new buy, and he is one of three players in the running for English football's player of the year. Four 'senior' players (aged between 23 and 26) were bought this season, and all four are now shining in the first team.
But even the one clear flop from last season's buys (from those expected to be in the first team) – Loris Karius – is now in absolutely wonderful form; not having a lot to do, admittedly, but producing amazing saves when called upon, and looking confident, quick and decisive in 2018. The one clear flop from earlier this season – Alex Oxlade-Chamberlain – is also in scintillating form, with another man-of-the-match display this weekend, to go with one last weekend (although in both games there were three or four strong contenders). And whilst looking at AOC, it's worth taking some time to cover the new defensive arrivals as well, and particularly the impact of Virgil van Dijk.
This article is for subscribers only, as are virtually all of our articles for the rest of the season (and perhaps beyond). See below for details of how to subscribe and join an intelligent, respectful community.
[ttt-subscribe-article]