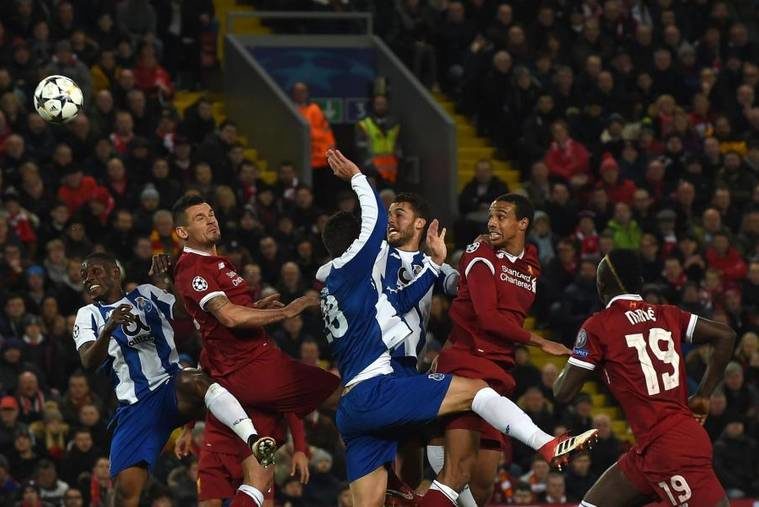 By Jennifer Thomas (TTT Subscriber Jennifer).
First, the back story. My partner comes from Liverpool and has supported LFC for ever, so the rest of us had to follow. We moved around, finally settling in London – as far as anyone settles here – and so now all games are preceded either by long drives up the monstrous M6 or by rammed Virgin Pendolino. I tell you this so that you know and understand that I am not one of the tourists so despised by SOS.
I was due to do a piece on the Newcastle game, got all ready including thermals and several layers, then checked the forecast again and didn't go.  Sat in said thermals and layers for half the day instead just to feel part of the experience.
I tried again for the Porto game. Motorways amazingly clear so all went smoothly, which is unusual, especially if we come on the M6 with its 17 mile stretch of Smart upgrading. Can anyone explain why they can't do it in shorter sections? It may be convenient for them to put all the cones etc out but as it's not due to be finished until next year, it is neither convenient nor smart for the rest of us. In any case, in my experience of smart motorways, the information is out of date most of the time. No-one believes the messages or takes any notice of them, especially the ones that warn of animals in the carriageway.
On the way we talk about the wonder that is Klopp, and about Brexit of course. Long car journeys always mean that. Not quite sure why, because we just repeat the same arguments to each other and we agree about it all anyway, like picking a scab.  Long time to rant all up the M6. We have the usual stash of Mars Bars and water.
We go via the food bank. As well as tins we take tampons and toothpaste. I don't tell you this so you think I am either noble or a braggart, but because it is appalling that this should be part of the Match Day Experience in 2018. Yes, I know that Rees-Mogg thinks it is uplifting but I don't. Nor do I think much of Mr Rees-Mogg.
To get to the food bank van we walk past the phalanx of young lads and lasses, all very glam, in the car park. They all wear black furry hats (very Kremlin-chic) and cheerily call, 'Enjoy the game.' I wish I could write it phonetically as it loses its charm when just flat on the page. Disappointingly, we don't get to hear the live bands that are usually outside at the start and play cover versions. People are being frisked as they start to head towards the Anfield Road turnstiles. No water bottles allowed. Do they think we will chuck the bottles or just the tops on the pitch? It is a bugger as I have had a cough for weeks and carry water everywhere to try to control it. I stuff cough sweets in my jacket, together with hat, tissues, car keys, gloves, ticket, hair brush. This is done to avoid having a bag to be searched. So I am now gargantuan as my coat and pockets bulge. In the car park a little crowd is gathering around a car. This area used to have all the players and their cars. I remember Glen Johnson had a matt black beast of some sort with a personalised number plate. I have no idea who this one is. He seems to be cowering in a VW Golf.
I was invited to give a little of the female perspective and so now will tell you about the ladies' toilets. They have cunning little toilet roll dispensers that are meant to allow you to have a couple of sheets that you pull ever so gently from the hole in the middle of a disc. What invariably happens is that the end gets stuck and so you have to hope that the nice lady in the cubicle next to you will shoot a friendly hand loaded with paper under the partition. I digress.
To the seats. Front row, Upper Kenny Dalglish, almost opposite the players' tunnel. Great views. The same neighbours most weeks. The cheery man across the aisle leaves early at half time and at the end of the game, as he always does. Very odd as he is animated and involved all the time that he is in his seat.  In the row behind there are four guys who obviously work together and have somehow come by these tickets so they are having an evening out. They talk all the way through. They discuss how the software was all upgraded overnight, how good the golf was, how she – whoever she was – had been on an IV drip for two days. Everything but the game or the players. By half time I had tried scowling but to no effect, so resorted to sticking tissue paper in my ears. They left early, to the delight of all those around.
In the Kop I was pleased to see someone had taken the trouble to handwrite a large notice declaring 'Kelvin McKenzie. You are scum." The Porto fans took up their full allocation. A bit of a near cock up when a minute's silence was announced for Davide Astori. It was announced in English but people seemed to think that silence meant applause so that when it was repeated in Portuguese you couldn't hear it with the sound of clapping. That is how I would explain that the silence was broken by a few Porto fans shouting and then being shouted at. Sensibly, the ref cut the silence short and we were off!
It was never going to be a blistering game and from the team sheet, it was obvious Klopp was being pragmatic, bearing in mind the upcoming Manchester United fixture. The first half saw a couple of chances from Mané and Lovren and some good, contained play from Henderson, Can and Milner in the middle. As the game progressed, the Porto fans were in fine voice, jumping, waving flags and chanting. They chant, not sing – and it is very loud. Porto didn't really threaten but seemed intent on avoiding an embarrassing defeat rather than winning the game. They are a technically skilful team and their back four was an object lesson for Wenger.
Casillas moved to the Kop End for the second half and as he took his place, he was warmly applauded by the entire Kop. I note that he commented on how touched he was by this afterwards and said how unusual it is. It is unusual, but it is something I have seen at Anfield before. It is one of the things that makes the club special.
Salah, Ings and Klavan came on as substitutes and the first two had a couple of attempts on goal. So not a show-stopper of a performance, but job done.
The highlight of any trip to Anfield is of course listening to 606 on the way home. Robbie Savage, the Winnie the Pooh of punditry, but without the charm and eloquence, holds forth about anything and everything. That is on Saturdays of course, so we shall have to do without this evening.