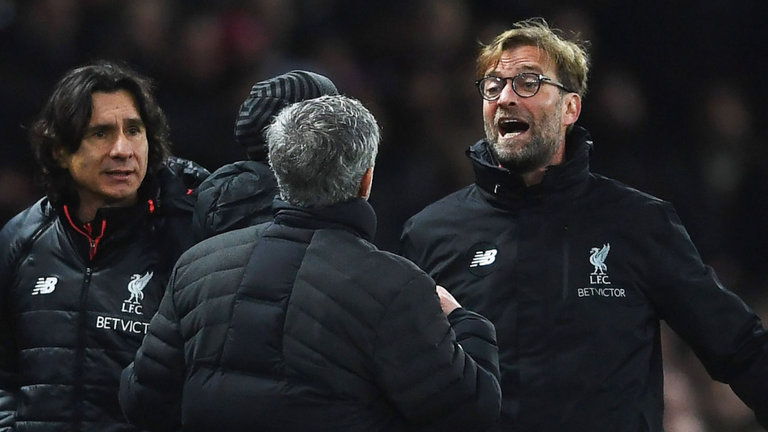 While one XI/squad costing twice as much as another won't make them twice as good (economies of scale apply), it's possibly fair to say that in spending half as much money – to be roughly in the same position in the league and the Champions League – a manager is doing a significantly better job.
It's not as simple as that, of course, particularly as Manchester United have a ton of pressure on them that many clubs do not; but if anything, Liverpool are a club similarly burdened with lofty expectations. Perhaps it's worse at Liverpool in some ways, because expectations have outweighed the finances since the mid-'90s. At least Man United still have the luxury of being the richest club in the world.
There was talk of Jose Mourinho inheriting a weak squad at United in 2016, but that's utter rubbish. You can look at what Jürgen Klopp inherited at Liverpool (with the club in 10th place) and how he managed to change perceptions of many of those players. Liverpool were supposedly awash with deadwood like Dejan Lovren, Adam Lallana, Alberto Moreno and Emre Can, plus an expensive journeyman in Jordan Henderson and a misfit "he can't score goals" in Bobby Firmino. And while a lot of players have left since then, those six have abided and largely improved. And there was some actual deadwood, that is now cut adrift.
And while Klopp has had seven or eight extra months more in the job than his Portuguese rival, it's also true that both managers only really started buying players in the summer of 2016. And of course, Mourinho had spent the previous few years working in the Premier League, which gave him an advantage in knowing the style of play, the refereeing, the opposition players and their managers, and so on.
And you just have to look at all United's "Superstar" signings since he arrived. Henrikh Mkhitaryan, Zlatan Ibrahimović, Nemanja Matić, Romelu Lukaku, Alexis Sánchez and Paul Pogba, amongst others; having inherited England's best young striker, Marcus Rashford (who barely starts these days), and the world's best goalkeeper, as well as Juan Mata, Anthony Martial, Ander Herrera, Matteo Darmian, Daley Blind and other regular internationals for big nations; and including other experienced pros from their title-winning era. Their squad is huge (as are most of their players; the only young player who Mourinho has blooded – and even he's 21 – is a 6'4″ midfielder. Their midfield is taller than most basketball teams, and it's part of the reason why Liverpool had to add a bit more height themselves – to cope with those sides who just "Fellaini it").
And with it all Mourinho has done nothing to stoke the imagination, nothing to make United a team to be feared and feted. They'll still do pretty well, of course, as they spend so much money it's hard not to, when allied to decent organisation; and Mourinho is good at organising a defence, on the whole. But has anyone significantly improved under Mourinho at United? I can think of Jesse Lingard and that's about it (though I'm obviously not an expert on United).
If you said in the summer of 2016 that United were going to sign Mkhitaryan, Ibrahimović, Matić, Lukaku, Sánchez and Pogba – all huge names then, as now – and that City were going to sign Kyle Walker, Bernardo Silva, Aymeric Laporte, Ederson, İlkay Gündoğan, Leroy Sané, John Stones and Gabriel Jesus, you would probably think that United were signing all the sure-fire stars who were gonna tear up the league, and City – with a vastly ageing side at that point – had brought in a mix of top young prospects and, well, not necessarily a lot more than that.
Back in 2016, Wayne Rooney, Michael Carrick and Bastian Schweinsteiger were melting, admittedly, but Joe Hart, Vincent Kompany, Bacary Sagna, Martín Demichelis, Pablo Zabaleta, Aleksandar Kolarov and Yaya Toure meant City had even more melters. Remember, City also had the ageing-or-never-apparently-good-enough batch of Jesus Navas, Eliaquim Mangala, Fabian Delph, Wilfried Bony, Samir Nasri and Gaël Clichy; and even Raheem Sterling was seen as something of a joke figure for the chances he missed, and the bandiness of his legs.
At United, Louis van Gaal had given debuts – and several further games – to Marcus Rashford, Timothy Fosu-Mensah and Jesse Lingard, to make Mourinho's job easier. Graeme Souness' tenure at Liverpool – a bit like van Gaal's in the chronology of a crumbling dynasty – was a nightmare, but at least he blooded Robbie Fowler and gave Steve McManaman his first proper run of games, while signing teenage sensation Rob Jones. To me, it feels like LvG also did much of that tough bit, then Mourinho bottled it.
United won two trophies last season, but it again only serves to highlight the randomness of cups, and how some wins can be easier than others. A year earlier, in finals of the same two competitions, Liverpool faced Man City and perennial Europa Cup winners Sevilla, while United faced Southampton and a highly youthful and inexperienced Ajax side. Liverpool had faced Augsburg (Germany), Dortmund (Germany), Man United (England), Villarreal (Spain) and Sevilla (Spain) in the later rounds; United faced St Etienne, Rostov, and Anderlecht, and only in the semis did they face a team from Spanish, Italian, English or German football (Celta Vigo, who finished 9th in Spain last season). It was a stroll. Liverpool have obviously also had easy draws on the way to winning some of their cup trophies over the years, which is why the success – without that context – isn't always the same. United faced just one tie against a team from Europe's four toughest leagues.
To my (admittedly biased) eyes it's a poor return overall under Mourinho from those superstars – and the exciting younger players he inherited – when compared to what Pep Guardiola is doing with a team that cost a similar amount overall to assemble; and also poor compared to what Klopp is doing at Liverpool, on half the budget. I'd never totally write off Mourinho, as he's wily and experienced, and still a top manager in his way (he can dig out wins and dog-out draws, and may do so again this weekend), but his form of football is like a cold shower compared to the delights on offer across Manchester.
Indeed, to throw in another metaphor, it's like yesterday's junk food leftovers compared to a wondrous tapas-style banquet the Catalan lays on, and the fresh and funky fusion cuisine of Klopp.
The remaining two-thirds of this article is for subscribers only. See below for details on how to sign up.
[ttt-subscribe-article]