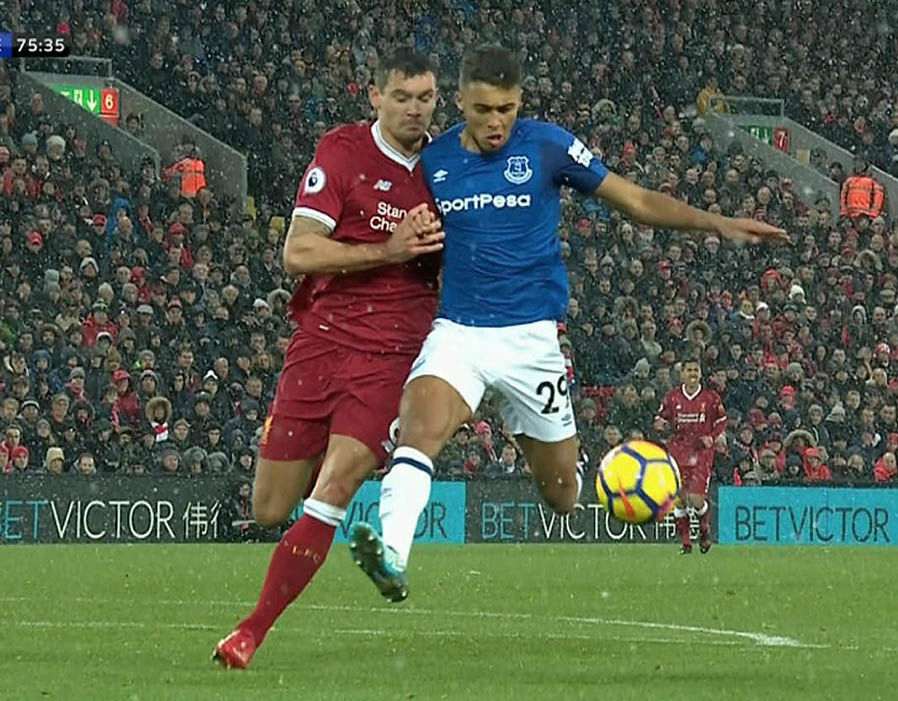 Moaning about the refereeing decisions your team faces is never a good look, and about as convincing as admitting that you sleep at night with your blanky and a dummy, when it comes to a desire to be taken seriously.
But this – a rare free piece on TTT these days, made available to all because of its vital all-club content and the important concerns facing the Reds this season – is not just focusing on why referees shaft teams like Liverpool.
I feel I can show that it's not bias on my part, but theirs.
Later in the piece I'll get onto why, in this particular season, Liverpool have been shafted on so many occasions. The cognitive dissonances and biases shown by referees far outstrips my own bias, I can assure you, even if mine do exist. I have the proof of why so many bad decisions are made.
I accept it's a very difficult job, but it doesn't help when referees (and/or their associations) claim to have c.95% success rates of "99% of penalty box decisions"! I don't think I could do better (I'm not paid to be, either), but I do think that 80% would be an improvement on what I see. Bullshit figures like 99% only damage the credibility of refs when we see so many penalty-area mistakes made by them. It's like claiming Mo Salah scores 99% of his shots. He doesn't. He's human.
On this site we have already debunked the referees' various claims of near-perfection with Daniel Rhodes' superb recent meta-analysis, pulling together a load of research that contradicts where refs (and their associations) claim superhuman success rates – but actually get very human results; and in some cases, are worse than the flip of a coin when it comes to getting big decisions right.
This article will also touch on the pros and cons of VAR, and how the one VAR game Liverpool have had this season actually overturned the biases that referees on the pitch regularly display.
Because something is not right, and it affects far more teams than Liverpool.
Liverpool are the 2nd-best attacking team in England, yet currently have been awarded only half (three) of their average number of Premier League penalties a season (six), when, in all seasons bar 2013/14 (when the Reds had twelve! – including three in one game at Old Trafford), this is the best attacking side Liverpool have had in that time.
But unlike then, there is no Steven Gerrard, Daniel Sturridge and Raheem Sterling; i.e. British players. And that's the worrying fact at the hub of this analysis.
Even allowing for the random nature of penalties, there has to be a reversion to the mean over time, if not the more vague "they all even themselves out" law, which is nonsense. But this season, English referees continue to favour British players. The data doesn't lie.
What I will show here is that penalties are actually predictable in one sense, and that the figure of one particular metric is spot-on in predicting "who" will give those penalties away.
The big shock remains the way that foreign players – most of whom have no personal history of diving – continue to be ignored when it comes to being awarded penalties; and that's a big problem if your front four/three are foreign.
Because, to win penalties it seems you don't need to be a great attacking side – but just have British players. Yes, it's that simple.
So, the first part of this article will apply to all clubs, and the latter will focus on the incidents that have almost certainly cost Liverpool 8-10 points this season (although if you win one game because you are awarded a late penalty you may lose the next game, which in reality you went out and won; but cause and affect is impossible to unravel.)
I will offer some sympathy and understanding to referees, but nail their biases – not against particular clubs, but against particular "types", and in particular venues. The level of the bias is, I believe, strikingly apparent, and a big reason why clubs with foreign attackers get far fewer penalties on a pro rata basis.
The main thing that continues to stand out is how foreign players are still treated as divers, when, in truth, Brits appear to be the worst offenders these days. Perhaps foreigners are subconsciously perceived as divers, but currently certain homegrown players lead the way for number of dives met with a booking.
Route 66: Premier League Penalties This Season
Now, using TTT's Transfer Price Index database – which includes all Premier League players and the games they've played – Graeme Riley went through the entire make-up of the Premier League at the end of December 2017. In a comment on this site he said:
"Of all appearances, 41.5% have been made by players from the British Isles, i.e. England, Scotland, Northern Ireland, Wales and the Republic of Ireland – the latter four contribute relatively few appearances, ca 7%, but have a similar mentality to the game and have overlaps between country of representation due to grand-parentage rules."
To add to Graeme's point, before offending those across the Irish Sea, the Republic of Ireland is not part of Britain, but it is geographically part of the British Isles. And as he says, it's all roughly the same melting pot when it comes to football.
I have used that figure of 41.5% for the basis of this piece, although there may be a minor percentage variation since then – but it's not like teams have changed all their players to Brits since the turn of the year. (NB: I have also included Wilfried Zaha and Victor Moses as British Isles players, as they are a pair of penalty-winners who grew up in England and played all their youth football for England.) Also, all games discussed are Premier League only.
Having gone through the Premier League's own lists (on their website) of who gave away the penalties, and then searched every single BBC match report to find the details behind who won them, I have managed to assemble a list of the 66 awarded so far, only four of which were for handball (ergo no one was being fouled).  I'm 99% certain that these are all the penalties but there may be one rogue one I missed.
So, we'll call it 62 penalties for fouls, although I will revert to using the total of 66 for analysis of venue, etc.
(Figures correct as of Sunday 11th March 2018. See APPENDIX for lists of players winning and conceding penalties, although the BBC didn't always list who won the penalty, so I searched The Guardian if that info was missing. I have copied and pasted a line from those sites to explain what happened with each decision.)
Now, with all this in mind, you would expect that over the massive sample of tens of thousands of minutes of Premier League football so far this season you would see penalties conceded to be 41.5% by British Isles players, and 58.5% overseas players, amongst the 62 penalties awarded.
Now, I think it's fair to say that most penalties are conceded by defenders and goalkeepers, but without looking in detail at the position in the team overseas/Brit players tend to play, you would assume more overseas players to be attacking players than defenders. But that may just be an assumption, and therefore not to be trusted. For the sake of this piece we will assume neutrality, and that it's an even mix of positions played by homegrown and overseas players. (Also, it's not easy working out who is defensive and who is attacking anyway, especially with some midfielders, wingbacks and overlapping full-backs.)
So, as I said, you'd expect 41.5% to be more-or-less the number of penalties conceded by British Isles players, within a small margin of error, seeing as they comprise 41.5% of the players used.
The result? 41%, or within half a percentage point of being spot-on. Freakily accurate, you'll agree. That suggests the calculation is fair and unbiased. It could be a coincidence, but it meets with a logical conclusion, too.
So, the number of penalties awarded to British Isles players should also be c.41%, clearly? It's the same maths, just at the other end of the pitch.
Except this is where it strays into really dodgy territory. You realise that it's not a conspiracy by referees (I believe referees try to be honest, although can be swayed by managers and crowds), but it seems that they just don't trust foreign players as a rule; in other words, xenophobia. Which is odd, given the nationalities of the players most frequently booked for diving (although the only two banned for diving so far this season are foreigners.)
Yet British players win … 56.5% of the penalties. Roughly 40% of the players are winning almost 60% of the penalties.
Which, to me, suggests that a referee, when awarding a penalty against someone pays no heed to who made the challenge (41.5% vs 41% accuracy tie-up = fairness), but pays great attention to the nationality of the person being fouled in the box.
If they are foreign the ref is clearly more likely to wave it away. 
Without micro-analysing every incident – both awarded and waved away (good luck to you if you have a spare year) – the data tells us so.
And it continues to paint a stinking picture the more detail you go into. Refs appear hugely biased in other ways too, and easily influenced.
Bad teams win penalties, good teams don't?
First of all, it's exceptionally odd how frequently the same poor teams win penalties in the Premier League. Everton – a mess this season – lead the way, with eight, then come Crystal Palace (six), Man City (who are the sensational odd ones out here, with six), Brighton (five), Leicester (five), Watford (five), and West Ham (four).
This makes zero sense. That is, until you see the lists of who wins the penalties.
But before that, let's quickly look at who dives. (And believe me, Liverpool have had their share of divers in the past, although I can't recall one ever doing what Dele Alli did at Anfield and diving when no challenge was actually made.)
Players booked for diving since 2015-16: Dele Alli (Tottenham Hotspur) – 3; Wilfried Zaha (Crystal Palace) – 3; Raheem Sterling (Manchester City) – 2; Leroy Sane (Manchester City) – 2; Adam Smith (Bournemouth) – 2; Pedro (Chelsea) – 2 (Source: The Independent, correct up to February 4th.)
So, from that admittedly brief list, British Isles players can be said to dive more frequently than foreign ones, given that they comprise four of the six players with multiple bookings for simulation, whilst the only players to receive three in the past three seasons are England/ex-England internationals. (At least the referees are booking English players, but not often enough.)
I'll get back to analysing the penalties of this season in a moment, but according to Martin Tyler (as quoted by The Daily Star – I know…), in the last five seasons (up to the start of 2018) the 11 top penalty winners were Shane Long, Ryan Fraser, Harry Kane, Aaron Lennon, Eden Hazard, Christian Benteke, Dele Alli, David Silva, Wilfried Zaha, Raheem Sterling and Jamie Vardy.
Or 73% British Isles players.
As you'll note, the list also includes habitual English divers. (Zaha wasn't booked for it, but I felt he clearly dived in the game at home to Manchester City, in the last minute.)
Obviously in the last five years there are foreign players who haven't been in England for all that time, but Ryan Fraser, for example, hasn't been in the top division long either; while Dominic Calvert-Lewin is only one penalty award behind Fraser and Shane Long during this season alone.
This season
Okay, so how do Everton win so many penalties? Well, it helps having that Lionel Messiesque wunderkind – the irrepressibly skilful dribbling machine that the whole of Europe is currently awed by – er, Dominic Calvert-Lewin. He's a one man collapsing sensation.
Four penalties for the tumbling young giant in the league; more on his own than Liverpool have been awarded all season. (Of course, Craig Pawson couldn't see contact on Salah or Mané this weekend, but he could see the slightest of brushes on Calvert-Lewin, which cost the Reds two points. It's all adding up, Craig.)
To be clear, only 10 players have won more than a single league PL penalty this season (Salah has just one, on the opening day; so long ago I tend to forget it). Calvert-Lewin accounts for 7% of all Premier League penalties won this season, yet he accounts for about 0.2% of all players.
I've only seen two of his penalty awards (vs Liverpool, and again Brighton this weekend) and it seems that if you go near him he goes down. Which is fine if that's the rule for everyone, but it's not. It's not even remotely the case.
To don my big Liverpool hat of bias again, Liverpool had arguably the best front four in the league up to the new year, and now have arguably the best front three; at least in terms of goals scored – and all are skilful, tricky players who run with the ball, take players on and get lots of touches in the box.
Yet add all those players together in the league and you get half as many penalties as the one-man toppling machine, Dominic C-L. Salah won one on the opening day, and zero since; one for Firmino; and none for Coutinho (in half a season) or Mané.
Logically, this doesn't smell right. And the overall figures – for all teams – back this up.
Next on the list of penalties won? Raheem Sterling, also on four. So that's Brits in the top two positions.
Now, that makes more sense than Calvert-Lewin, as he's playing in the best side in the league, and unlike the Everton man, is an exceptional dribbler with searing pace and funny legs.
But okay, surely Sergio Aguero is a pretty good dribbler too, who spends a lot of time in the box? And the best dribbler of the lot is Leroy Sané, a sensational flying machine. (There's more on the link between dribbling and penalties further down.)
Kevin De Bruyne does a lot of his work deeper, but still spends time in the box – and unlike Sané and Aguero, he has at least been awarded a penalty this season in the league. That's four to Sterling, one to the combined trio of Aguero, Sané and De Bruyne. Which, again, is odd.
Okay, with 41.5% of the players, there's no way British Isles players – who hold positions 1 and 2 for penalties won – can take the top four spots for penalties won, and be the only four out of hundreds of players to win three or more league penalties this season?
Well, step forward Glenn Murray and Jamie Vardy, your numbers are up; or rather, you won all the penalties.
Vardy you can partly see, as Leicester are a pretty good side and he is quick as hell; but it still makes little sense that Vardy alone has won more PL penalties this season than Salah, Mané, Sané, Aguero, Gabriel Jesus, Coutinho, Pedro, Romelu Lukaku, Anthony Martial, Mesut Ozil, Alexandre Lacazette, Son Heung-min, Christian Eriksen, Álvaro Morata and Eden Hazard combined.
Glenn Murray is an immobile 34-year-old, and obviously the same applies to him.
Ask at the start of the season who is going to win more penalties, Glenn Murray (or you could chose Dominic Calvert-Lewin here) or the combined talents of Salah, Mané, Sané, Aguero, Jesus, Coutinho, Pedro, Lukaku, Martial, Ozil, Lacazette, Son, Eriksen, Morata and Hazard?
Murray every time, obviously, if you are insane. But turns out, it's insane.
And Everton's Aaron Lennon (2) – now at Burnley – won as many as all those amazing attacking talents combined. You can also add Jonjoe Kenny to the list of English penalty winners at Everton. (Their only non-British Isles penalty-winner was later banned for diving.)
Also on two penalties won are Crystal Palace's Wilfried Zaha, and Arsenal's Aaron Ramsey. Indeed, the Welshman has won 66% of Arsenal's league penalties! All those pacy foreign players, and it's Ramsey who wins the spot-kicks.
70% of the players to win two or more league penalties this season are from the British Isles (close to the 73% of players with five or more spot-kicks won in the past five years), yet only 41.5% of players are from these shores.
And 100% of those who have won three or more are from these shores.
The Disparity Across Clubs
To me, it seems that it's not necessarily smaller clubs who benefit more from winning penalty decisions (so it's not like some kind of tax rebate), but those smaller clubs with English attacking players. The same applies to the big clubs.
Weirdly, Man United have won just three penalties this season (the same as Liverpool, Spurs and Chelsea, and Arsenal), yet two have been for handballs. So, Man United have won 50% of the Premier League's handball penalties this season. That's odd, too.
They've also conceded just one penalty (although Chris Kamara on Sky reckoned they should have conceded three just on Saturday alone).
Liverpool have conceded five, and Arsenal six.
Now, neither side is renowned for its defending, but they do spend twice as much time attacking as defending. Yet both are in negative totals on penalty awards; Arsenal -3, Liverpool -2. However, United are +2, as are Spurs; and City are +4.
Are Refs Homers?
In this sample we can look at all 66 penalties, as it's not about who wins them, but where they were won – home or away. Again, I can't say which of the 66 were good decisions or not, just analyse things like whether they were given at home or away.
This season 63.6% of all penalties have been given at home, and 36.4% of all penalties have been away. This is marginally up on the stats of the entire Premier League era:
Penalty Stats 1992-93 to 2017-18

Home Penalties 62.69%

Away Penalties 37.31%

Penalties Scored 83.63%

Penalties Missed 4.01%

Penalties Saved 12.37%
Okay, so it seems that this is a clear advantage of playing at home. (Unless you are Liverpool. Penalties for the Reds at Anfield this season? One. Penalties for Spurs at Anfield this season? Two.)
Now, according to TTT stalwart Andrew 'Beez' Beasley, home teams are nowhere near as dominant as the penalty awards suggest. Across all teams, the average stats are as follows:
Home possession is 51% vs 49% away.
Shot totals are 55.9% home vs 44.1% away
Penalty box touches are 56.5% home vs 43.5% away.
And a reminder: home penalties are 63.6% to 36.4% away.
Ergo, refs give more home penalties than the balance of play, including the balance of play in the penalty boxes, suggests they should.
Unless, perhaps, they are concerned with being perceived as a homer, and being swayed by the Kop, for example; bending over backwards to not give into a 1970s stereotype of the Kop winning penalties on their own.
As I noted in a piece a few months ago, over the last few years Liverpool have got penalties at Anfield four times as frequently in Europe as they do in the Premier League. FOUR TIMES. Mo Salah has only started four European games at Anfield, and he as awarded a clear penalty, yet has none this season in the league – for similar offences.
It seems a badge of honour for English referees to avoid giving Liverpool penalties at Anfield. Foreign refs just get on with the game.
Attacking Intent
Okay, so Man City seem to translate their insane attacking intent into penalties, but as we've seen, only via Raheem Sterling. They lead all the attacking numbers, bar a couple of away metrics (that Liverpool lead on).
But Liverpool and Arsenal are ahead of every other side in terms of touches in the opposition penalty area, big chances created, and shots inside the box (Arsenal are excellent on this at home, but rank 5th away; Man United rank 7th, below Watford, for shots in the box in away games. Ouch).
And the top six generally absolutely batter the rest of the league on all these metrics, yet get far fewer penalties. Spurs aside, they don't have many British Isles attacking players, though, and city rely on Sterling. Shots in the box seems a good metric to judge penalty probability, as, bar rare handballs (shots from distance), you obviously have to be in the box to win a penalty.
With their rank of 8th and 6th for shots in the box (home and away respectively), Watford perhaps do at least "deserve" their five league penalties, which puts them joint-third on the number won. Palace are also above mid-table home and away on shots in the box, although ranking joint-2nd with City for penalties won is still nuts.
But Everton? They rank 16th at home and 17th away for shots in the box; and 11th for touches in the opposition area at home and a diabolical 18th away. Basically, they don't do much; but they've had seven penalties for fouls on English players this season. How? It makes zero sense.
Dribblers
I must also further acknowledge Crystal Palace's ability to win penalties given that they at least have dribblers; three of the Premier League's top seven in terms of quantity attempted per match, in Wilfried Zaha, Ruben Loftus-Cheek and Andros Townsend. That trio have won four of their six penalties. So, that seems pretty fair, even if other teams with foreign dribblers don't get so many penalties.
Dribbling perhaps seems the most logical way to win a penalty, taking it round a defender or a goalkeeper in the box; it means touches in the box, assuming that the dribble takes place there and not further back, and can draw fouls.
But Everton don't have a single player in the top 50 for dribbles attempted. They just happen to have a lot of English players. That's about it.
Liverpool have four in the top 50 dribblers, including Salah at 14th and Mané at 22nd, both ahead of Raheem Sterling, who is 23rd. Leroy Sané hasn't won a penalty despite ranking 5th; nor has Sergio Aguero, in 13th. (Stats via Who Scored.)
Now, these dribbling lists include players running with the ball in deeper areas; so although it's the top 50, it includes players who do most of their dribbling outside the area (wing-backs and central midfielders). But that's not true of Salah, Mané, Sané, Aguero, Zaha and Sterling. Yet the overseas three have won just one penalty between them, and the English/part-English pair mentioned above have won six.
Of the top 50 dribblers, a whopping 62% are non-British Isles players, leaving just 38% who are from these shores (lower than the 41.5% they represent overall, so English players, on average, dribble less than the norm). And yet Brit-players win 56.5% of Premier League penalties.
And, penalties scored aside, almost all of the top scorers in the Premier League are also foreign. Thirteen players have scored 10 or more league goals this season, and if you take away those who are only in double figures thanks to penalties (Rooney, Murray and Vardy), it's 80% overseas. (Álvaro Morata, Eden Hazard, Harry Kane, Mohamed Salah, Raheem Sterling, Riyad Mahrez, Roberto Firmino, Romelu Lukaku, Sergio Agüero and Son Heung-min.)
Perhaps there's an art to winning a penalty; as seen by Calvert-Lewin, just flop under contact or as soon as you go past a player; don't arch your back or roll around or yell. Just quietly tumble.
Don't even think of staying on your feet, even though foreign players will be told they went down too easily or dived – although British pundits will only use the word "dived" about foreign players, who will also be called "cheats". (English players = he maybe went down a bit easily there.)
The situation as a whole is something worth continuing to monitor, but on the data so far this season, foreign attackers aren't getting the number of penalties they surely should be getting. Maybe it's all just bad luck and randomness, but it feels like more than that.
PART TWO: Liverpool and Awful Refereeing
Now, I've used penalties to show that English referees clearly favour British Isle players.
But this is now about perhaps the strangest ever season for Liverpool getting the short end of the stick on decisions; as if a dozen beachballs have rained down onto the pitch.
I don't always think that Liverpool are hard-done by with decisions, but it's odd how some seasons can see so many bad ones.
The title challenges of 2008/09 were built on sendings off for the opposition (2008/09) and penalties for Liverpool (2013/14) – the refereeing generally helped, although there were some unhelpful moments too.
With only half the budget of the mega-clubs, Liverpool are always going to need a bit of good luck to go for the title these days. Liverpool had four times as many penalties four seasons ago as they have this season, but of course, had more British attacking players back then (and Luis Suarez).
This year, Jürgen Klopp has been right royally rogered by referees. It can be no coincidence that the only game where Liverpool got what I'd call universally fair decisions was the great VAR farce at home to West Brom, where only the video ref gave what we can see almost every game: fouls on Mo Salah in the box.
And even then, while the decisions benefited the Reds (the man in Stockley Park could not be swayed by the crowd, or even the TV audience), it killed the flow of the game, with 10 minutes of VAR and injury stoppages in the first half, but only four minutes added; essentially cheating the Reds out of six minutes to score.
That's basic; that's timekeeping. (Just as Marcus Rashford should have been booked for going into the crowd at the weekend. It should be a universal booking, irrespective of the situation. It should need no thought and no common sense applied: just stick to the rules and then it affects everyone the same over the course of a season.)
But at least the video ref saw the foul on Salah. (For me to continue to fully support VAR, the decisions have to take less than two minutes apiece; get them in 20-30 seconds, I'm still onboard.)
As noted, Liverpool in a normal season usually can expect half a dozen penalties; and up to 12 in a good season. To have just three at this point, despite scoring 68 league goals already (and having such dominant stats in all attacking metrics), something feels very wrong. And then there are the crazy instances of fouls that only Liverpool players are punished for, or where officials insert themselves into situations and then celebrate.
In terms of beneficial decisions, there was the clearly lucky incident where Simon Mignolet should have been sent off at Stoke for a wild challenge outside the box.
In the same game, Joe Gomez was also adjudged to have kept the ball in play on the opening goal, but it looked close to going out; although video replays did not prove that the whole ball was over the line. (Ref: Martin Atkinson.) That's a hard one to prove; last year (at Bournemouth I think) Liverpool had a "goal" ruled out by goalline technology, with 9/10ths of the ball over the line. So, it wasn't a goal.
There was also a Liverpool breakaway goal where the ball looked like it might have gone out near the halfway line, but again it wasn't certain, and in none of these instances am I taking the play back 10-20 seconds or more to find a foul or infringement way back in time.
And that's about all I've got. (If I've missed any, please let me know.)
Now, it's human nature not to remember your good fortune as well as you do your bad (the theory of "loss aversion"; losing hurts you more than winning boosts you), but there really haven't been many major decisions that have gone Liverpool's way in this particular season.
I think there was an offside goal in one game (at Brighton?), when the game was already decided, but that's it. Some lucky deflections, yes, but all teams get those.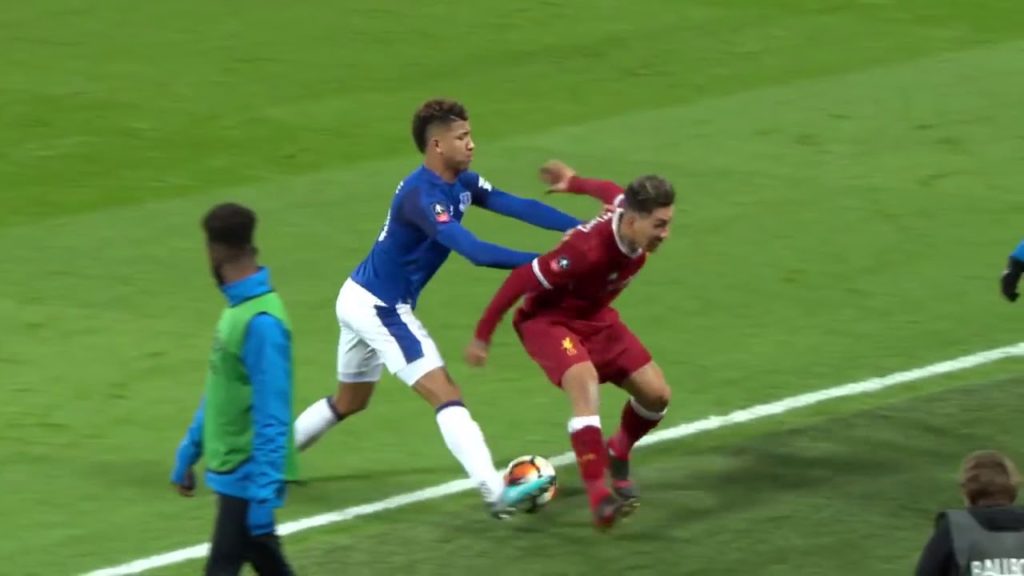 I also haven't included a recent game when Firmino was grabbed around the face and neck in the box, and also the Mason Holgate incident from the FA Cup, where the Liverpool striker was cleared of saying anything to Holgate but where Holgate clearly shoved Firmino towards a concrete stand; a red card offence irrespective of anything that might have been said (but which wasn't said, according to all the witnesses). It was potentially the most dangerous foul of the season, had Firmino hit his head or broken his neck, and endangered the Liverpool supporters too. Punishment? Not even a yellow card. Liverpool did get a soft penalty in that FA Cup game for the foul on … an English player. (Had Mo Salah and not Adam Lallana stopped in his tracks after a slight tug, would he have got the penalty?)
The big issue is that Liverpool's foreign players get little or nothing from English referees, and that other clubs struggle on this front with their imports too.
Anyway, here's the season of poor and downright diabolical decisions so far, hopefully in chronological order.
I'll also start by saying that Liverpool probably got two extra points at Stoke because Mignolet was not sent off, although you can never say for sure what will happen after any given incident; while even winning a penalty is "only" an 80% chance of a goal (or 90% if James Milner is taking it).
Watford A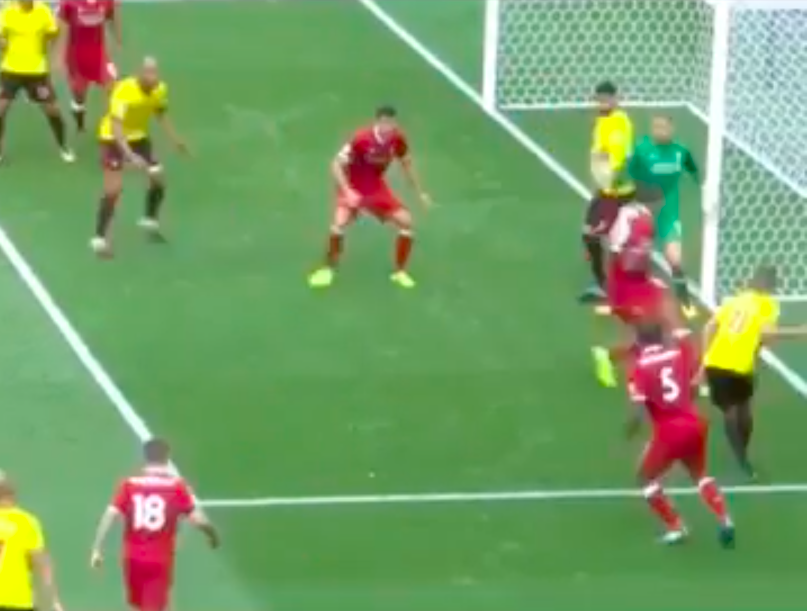 The season started with the opening match being drawn right at the end due to a clear offside, as the Watford player stands on the line, ahead of play, blocks Mignolet and bundles it home to make it 3-3! You can see in the image that the Watford player is a yard offside; he's level with Mignolet and most definitely interfering with him.
Due to being so late in the game, it was a far more certain costing of points than incidents earlier in matches, where cause and effect can still play out and you have to time to overcome bad decisions, albeit with life made harder.
But what's odd is how so many of these big decisions (that I will list) have gone against Liverpool late in games.
Cost – two points.
Man City A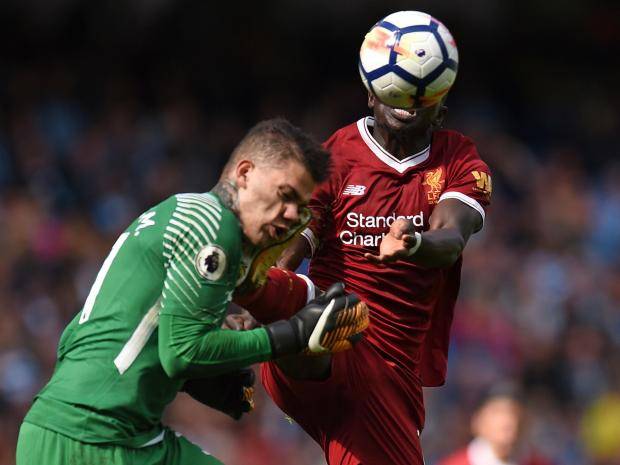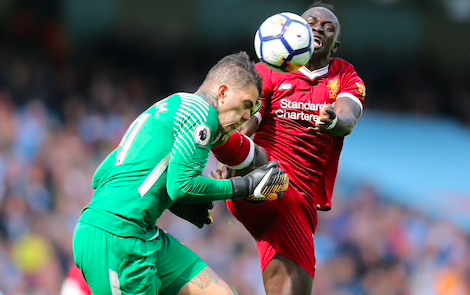 Okay, the first of the one-in-a-billion stuff: how many players have been sent off for a high boot this season? As far as I know, one: Sadio Mané. Yet I've documented several higher boots. Mané was sent off for the injury it caused to the Man City goalkeeper Ederson, who was so quickly out, to the point where Mané didn't necessarily even know he was there (taking the ball down with his foot high in the air like Thierry Henry used to); and Mané was also running at an angle that took him towards the corner flag rather than where he expected the goalkeeper to be, had he been running towards the centre of the box.
If you look at these images, Mané has his eyes on the ball and Ederson is leaning down into what is also clearly a high boot.
If it's a sending off, fine. But send off players for similar incidents, including Antonio Valencia's kung-fu kick at the weekend on … you guessed it, Sadio Mané.
See below for other examples of high boots this season that got either a yellow card or nothing at all, in several cases against Liverpool, too. Also, it includes the first of Antonio Valencia's two inclusions in this piece for boots as high and dangerous as Mané's.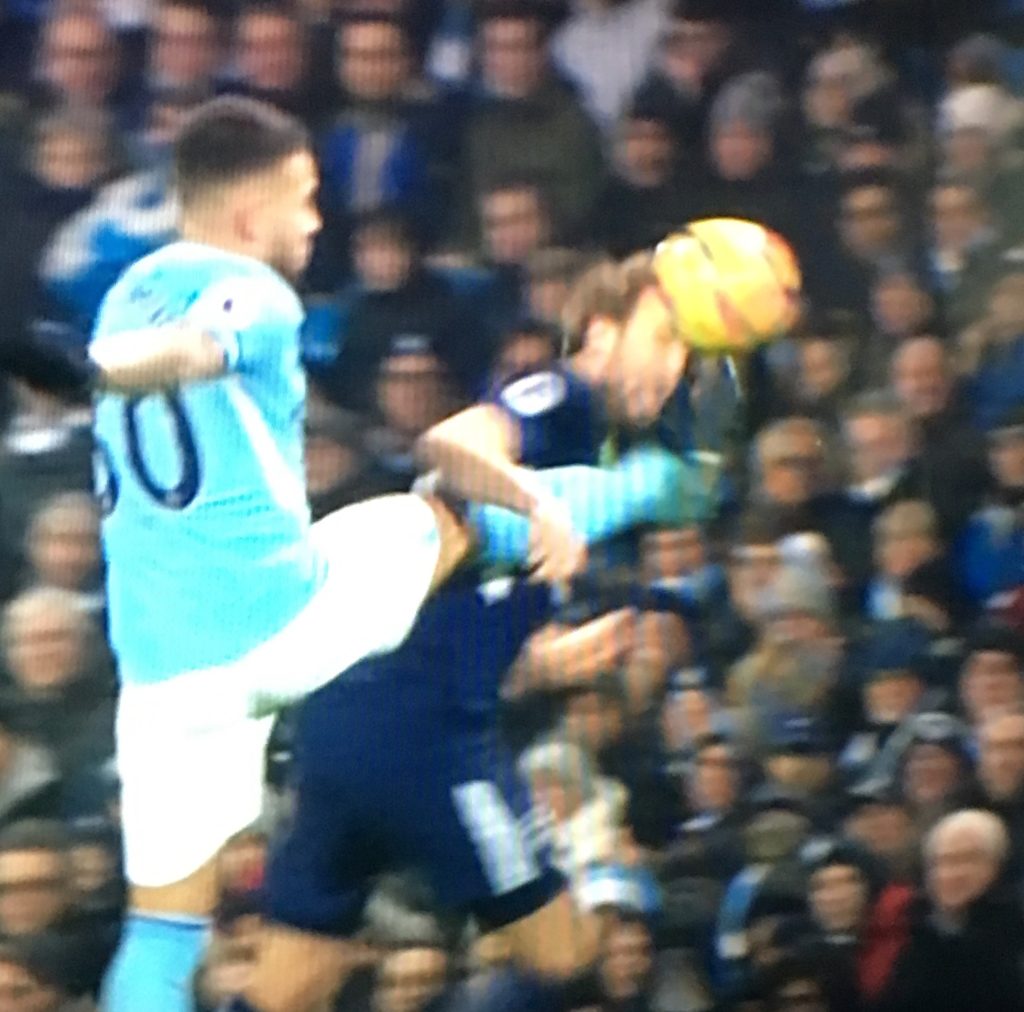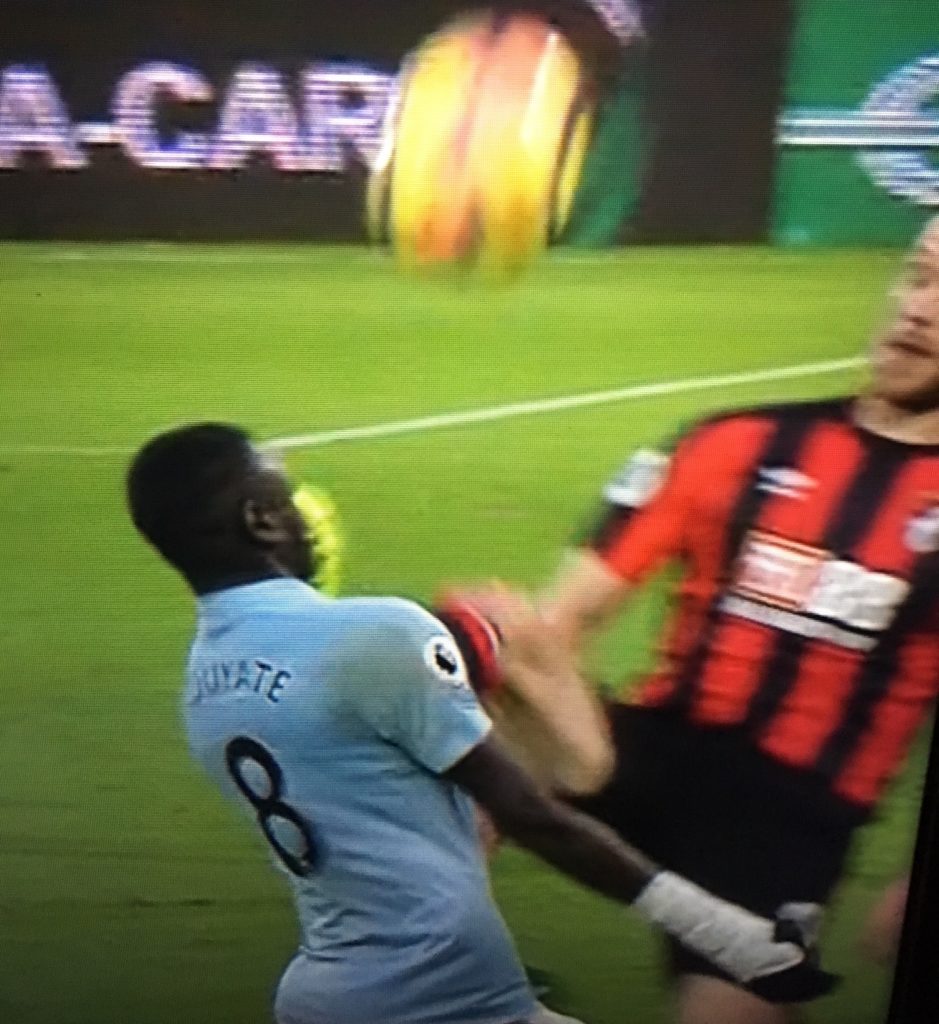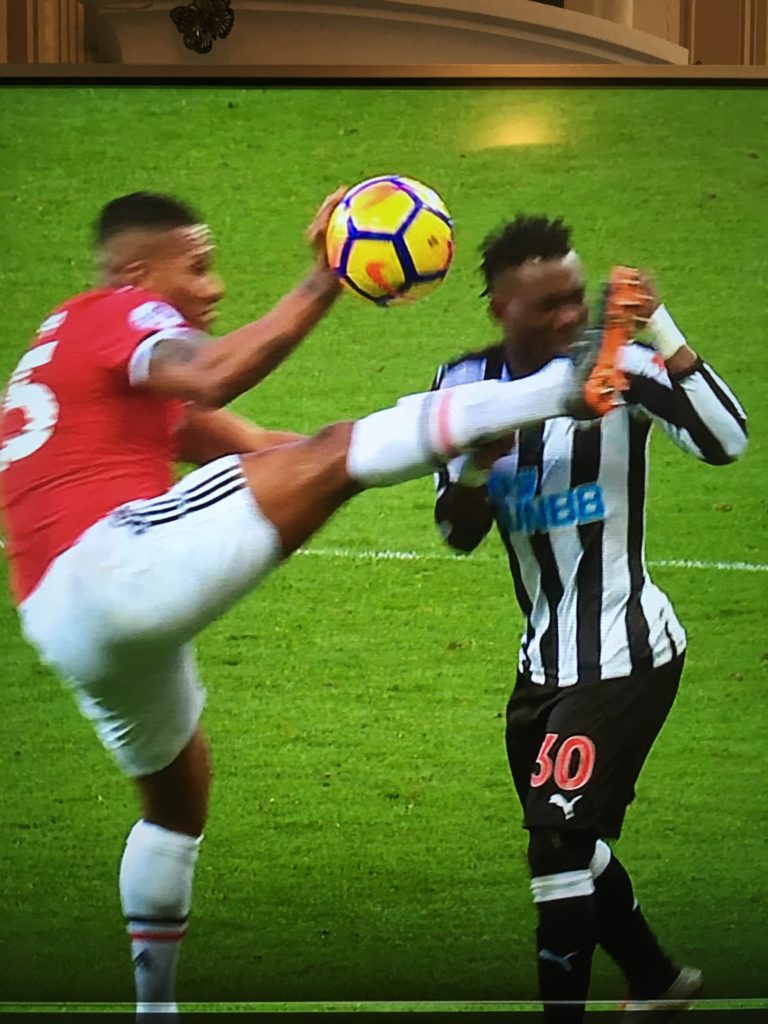 Cost: hard to say, but a big swing in goal difference and the chance of a draw was lost. Perhaps one point, at most, not least as Mané got a three game ban when at the top of his form and that made subsequent games tougher still (a 3.6 game ban if you include the time lost to the card in the City game)
Burnley H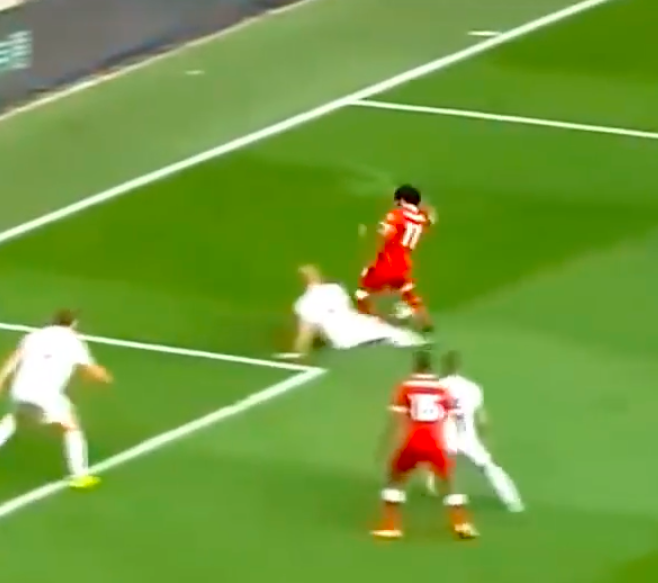 Right at the death, Ben Mee goes right through Salah from behind, getting nowhere near the ball. Utterly blatant, but not given. Maybe the ref allowed the advantage, but it ends with a ball fizzed at Dominic Solanke which he can only divert onto the bar from close range.
While that's a reasonable advantage, it was not as good as having time for a player to compose themselves and have an 80% chance of a goal from the spot.
Cost: 80% chance that it was two points
Leicester City A
Shinji Okazaki grabs Mignolet's arm as he tries to deal with a corner, and Leicester score. A clear foul on the keeper that VAR would have caught, but I don't think officials can see this, as it's the old "crowd scene". So I don't blame them for missing it.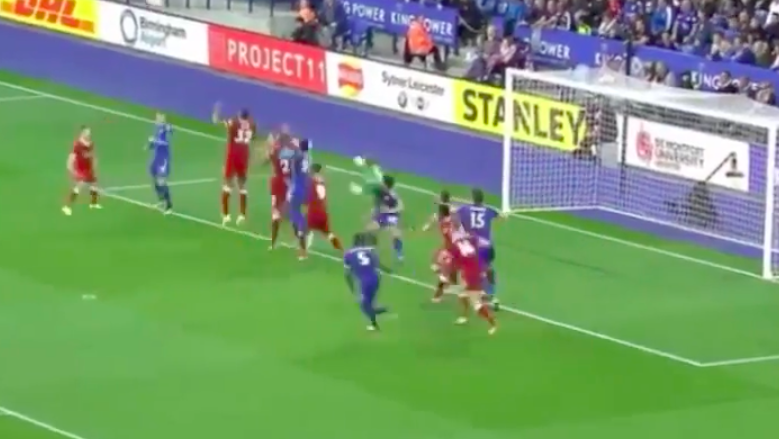 Ultimately it cost Liverpool nothing, but made a comfortable game very edgy. (And it cost me a few quid for a new pair of underpants.)
(Leicester had a goal chalked off when it initially looked onside, but replays showed the previous touch was by an offside player, and Okazaki, the goalscorer, was onside; the linesman had correctly flagged before he got the ball.)
Cost: nothing.
West Brom H
Now, a handball has to be intentional. So when the ball bounced off Solanke's thigh (click link for images) – right at the death – and brushed his arm to go in, that's a goal. Shortly before (a week or so earlier), a German VAR official had judged a similar incident a goal – because if it's not deliberate handball it's allowed to bounce off an arm or a hand and still count.
In this case, as with so many others, I feel the officials didn't actually see it but went on the reaction of the West Brom players. I feel the ref assumed Solanke had deliberately used his hand. Players make life tougher for refs, and this past week I've watched about 5-10 games on TV, and in each looked to see who made the most vociferous call; the officials going with that side almost all of the time.
Again, if it's a handball, then so was the Liverpool call at Man United this weekend – the same kind of arm position, same lack of intent.
But as I noted above, only four penalties have been awarded for handball this season; two to Man United. (I would expect Man United to get more "foul" penalties, mind, although they don't get men in the box as often as the rest of the Big Six.)
Cost: late in the game, two points.
Everton H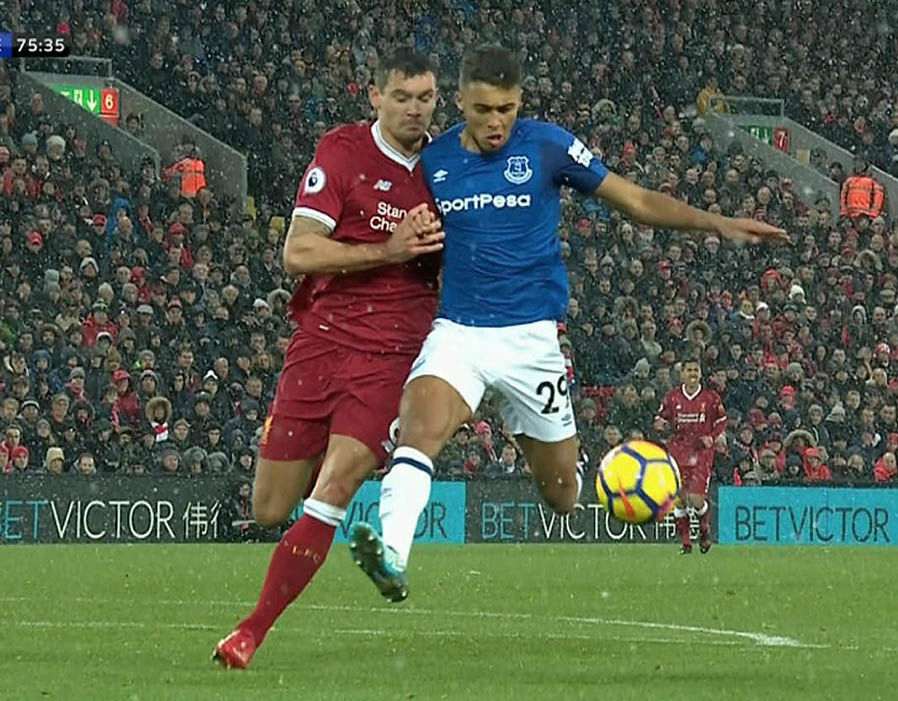 Ah, good old Calvert-Lewin. If nothing else, I hope this article highlights the subtle English divers who seem to go under the refs' radars.
Here, Craig Pawson sees a slight push by Lovren on the Everton striker and gives Everton a late penalty out of nothing, in the most one-sided derby in years (even more so than the recent 4-0). There is contact, but it's so slight. Compare it with the contact on Mo Salah at Old Trafford, where he is fouled twice in the box, but Pawson sees nothing.
Is contact in the box automatically a penalty or not? You see these given maybe once in every fifty calls. It's not just soft, it's super-soft.
Cost: two points
Brighton A
Jordan Henderson is adjudged to have fouled a Brighton player in the box on a corner, yet not a single player, nor the crowd, appealed. The Brighton player goes down in a heap but only after getting away from Henderson. He falls after two or three steps.
One pundit said it was one of the softest penalties he'd ever seen. Compared to what Martin Skrtel used to do in the box, it was incredible. Of course, Liverpool got away with Skrtel's craziness for a few years, but that should not come into the thinking this season.
Cost: nothing, but a nervy moment in the game, and a super-soft penalty.
Leicester H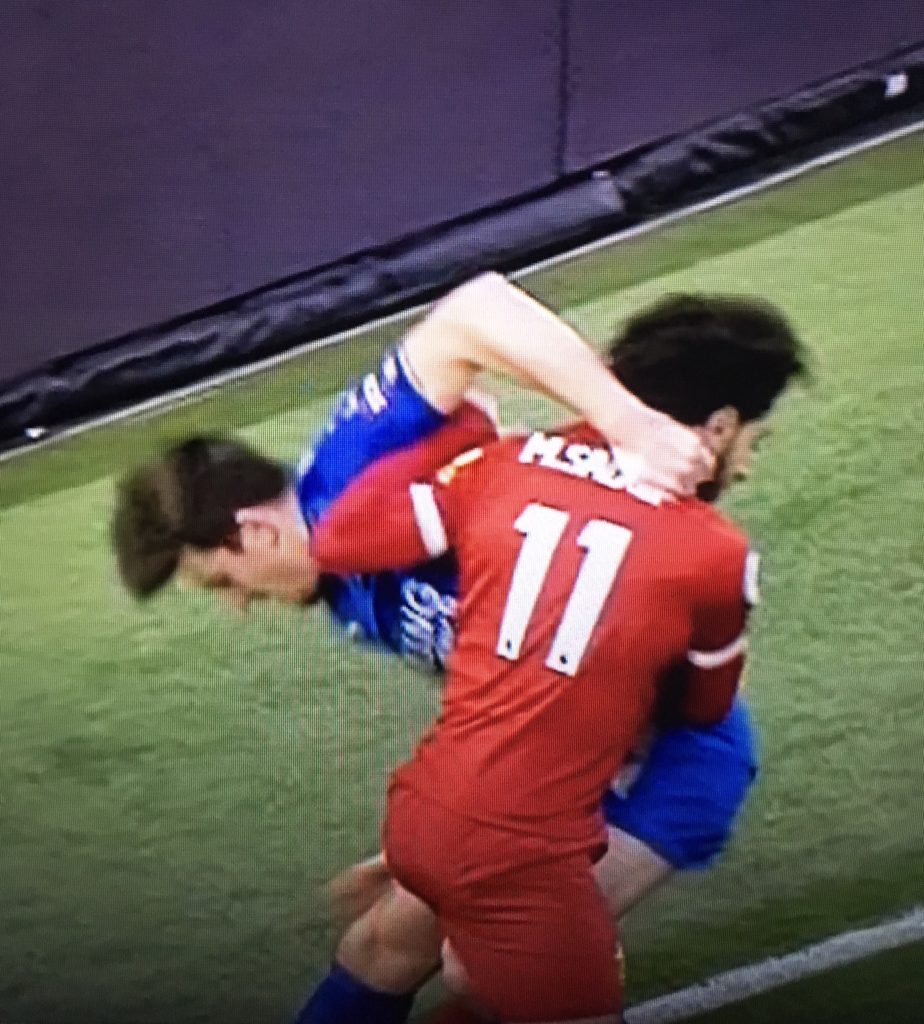 Another foul on Mo Salah in the box. Salah turns Harry Maguire, who grabs him around the neck and bundles him over. The result? A goalkick, obviously.
Salah has his hands on Maguire for protection, while Maguire's arms are in a position only usually seen in WWF wrestling, as the lumbering giant is wrong-footed.
Cost: Nothing, luckily.
Spurs H
Okay, this is an odd one as I agreed with both penalty decisions for Spurs, but vehemently disagree with the offside that led to the first penalty, which Harry Kane missed.
But it's another one of those one-in-a-billion occurrences: the game where the linesman decides (for once!) to not only play a telling role and not just be passive, but where he celebrates the award of the penalty (punching the air!), and where the referee asks him "what the 4th official has seen on the TV" (an acknowledgement that they sometimes illegally refer to TV footage). You will never see all three of these things happen at once again, and the transcript of the discussion with the eager-lino showed that the ref had no idea what was going on. No idea at all.
The penalty for Virgil van Dijk on Lamela was, to me, the correct decision, but odd in that the linesman gave it after the play had gone up the other end. He came across as the most officious linesman in the history of the game, and if all would be like that, fair enough; just one means massive inconsistency.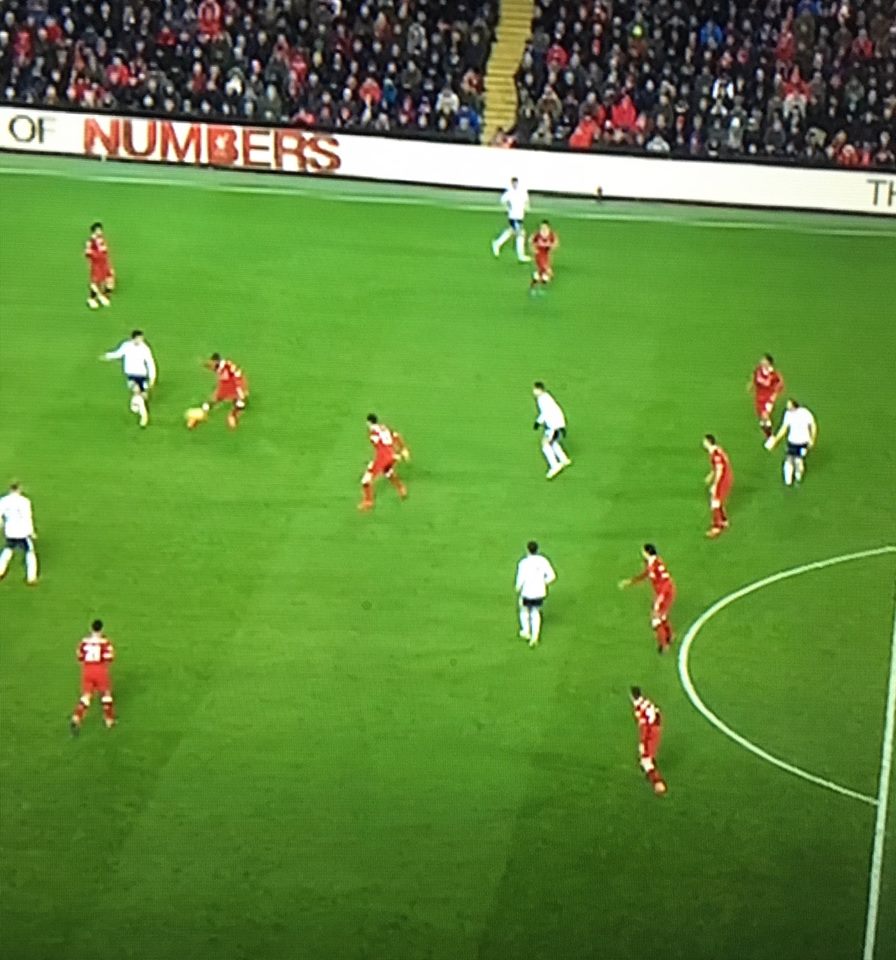 There was also the farce of what constitutes offside. Without doubt, Kane was active and therefore offside before the ball even reached Lovren, and then we don't have to debate whether Kane was offside after Lovren's touch (he can't be). But it's not like a magic wand that makes an actively offside player in the first phase of play onside when an opponent touches the ball. Kane was offside when the original pass was hit to him, and when he made Lovren play the ball. Had he been onside then, then he would have been played on (again) by Lovren's touch (although the debate was whether his touch was deliberate, and mishit back-passes are rarely seen as deliberate, for example.)
Lamela is also offside upon winning the crucial penalty, but it's so slight I wouldn't expect a linesman to spot it – although otherwise he was eagle-eyed. But it's one VAR would have again favoured Liverpool on.
Finally, Dele Alli didn't get a ban for blatantly diving in the box, just a yellow card, as per the rules. But the rules are stupid if a clear dive in the box – when no challenge was even made – only warrants a ban if the referee doesn't see it and/or it leads to a goal. It's the worst dive I've seen all season, from the league's top self-toppler.
Cost: hard to say, but as I think the goals themselves were legitimate I'll say nothing (apart from my trust in referees).
Newcastle H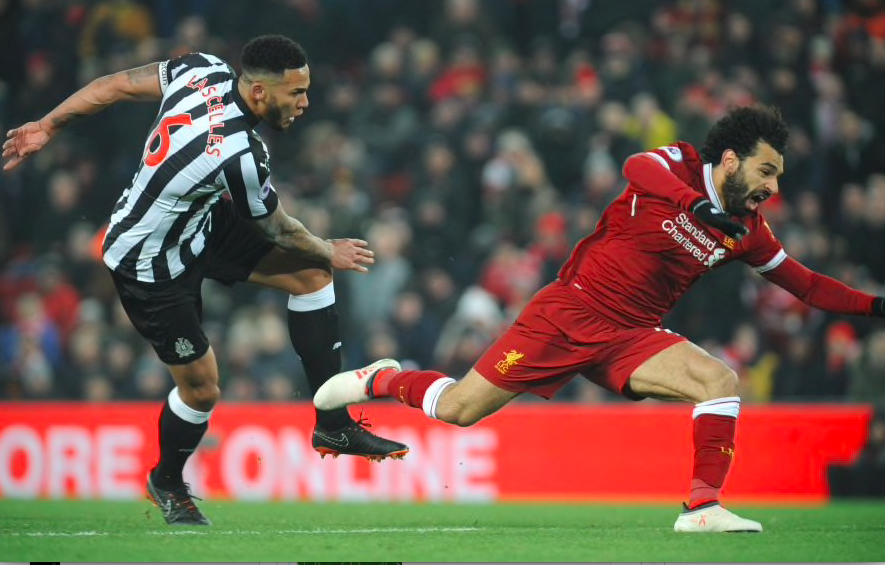 First, Mo Salah was clattered over from behind in the box with about ten minutes to go, with far more contact than seen on the previously discussed Calvert-Lewin penalties. Nothing given; the third or fourth clear penalty on Salah this season since the opening day, all waved away.
But then, one of the greatest bottling of decisions ever seen. Mo Salah is through on goal and Jamaal Lascelles takes him out. He literally boots him.
In this image you can see Lascelles kicking Salah's leg, with the ball nowhere near the Newcastle man – he is not running after him at this point but trying to launch him into the Kop.
The only decision is a free-kick on the edge of the box or a penalty. A clear red card, too; but no, the referee bottles it. He looks to the linesman, who must have been picking his nose or scratching his arse. (Why do linesmen only get involved when you don't want them to, and ignore your clear calls? Where was the chippy little fella from the Spurs game?)
It was also unfair on Southampton, against whom Lascelles got to play. Now, I'd like to see Newcastle stay up for Rafa Benítez's sake, but it's the most blatant and cynical foul I've seen all season, apart from the scandalous Crystal Palace and Cardiff kicks against De Bruyne and Sané around the turn of the year.
(As an aside here, if you pull the shirt of someone breaking away in midfield you get a yellow card, for stopping the play. Yet in those City instances, a yellow card was given even though they merited red cards, but surely at best it should be a double yellow: one for stopping the break, one for the shocking challenge).
Cost: goal difference.
Man United A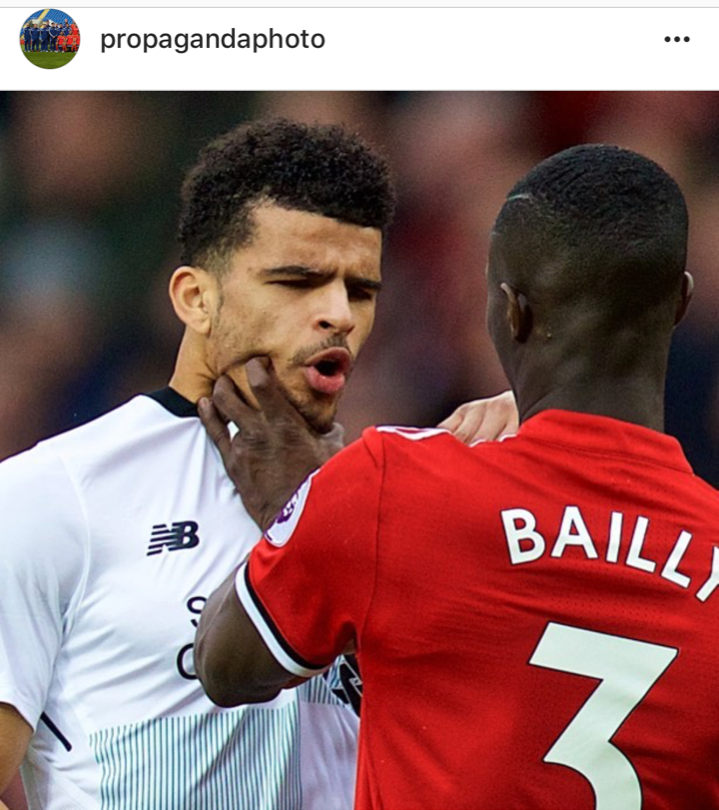 Has a referee ever missed so many things in one game? Luckily Propaganda Photography captured the image (left) at the game, but I've not seen it anywhere else.
Chris Kamara is about as unbiased as they come, and apparently said on Sky's Goals on Sunday that Liverpool should have had three penalties. Other neutrals agreed that it should have been one or two (but some said it was a tactical masterclass by Jose Mourinho even though, at home, he allowed his useless sub to foul a Liverpool player in the box at 2-1. That's luck, not judgement.)
Some pundits laughed away the penalty appeals, even though they agreed with them being penalties, as if, well, thems the breaks. Well, yes, but it would be nice to have those breaks at a key stage of a key game. Instead, it was another late decision that cost Liverpool points (or an 80% chance of scoring with a spot-kick).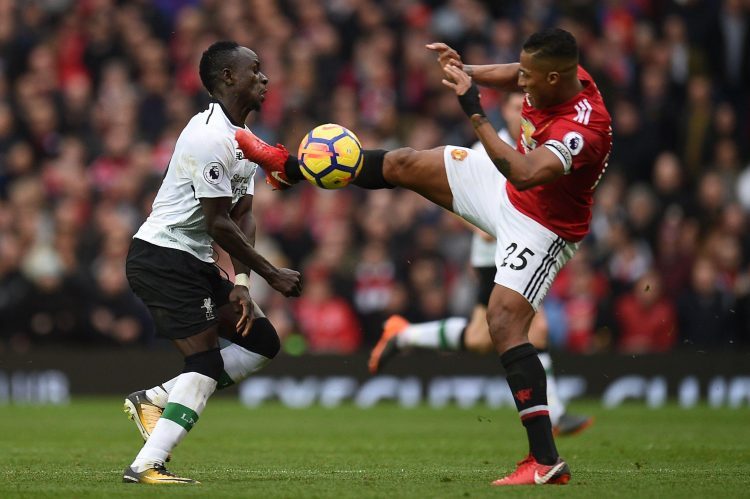 Again, if the linesman can see the foul by van Dijk on Lamela – and that was a foul – then why aren't more penalties awarded for kicking into someone who gets their body in the way? Why didn't the linesman at Old Trafford see the repeated fouls on Mo Salah? Why didn't Liverpool get a penalty when Sadio Mané got his body in front of the ball and Maroune "Fallainied" him?
On the handball, however, I have no real gripe – I'd have been annoyed had such a penalty been given for United, although it did travel a fair distance before striking Valencia's arm. But as I said with the Solanke one, this is an interpretation of the rules that has cost Liverpool more than it's helped the Reds this season. By contrast, Man United have received 50% of all handball penalties awarded this season.
But Valencia should have been red-carded for at least matching the height of Mané's challenge at City (imagine Mané stooping into it like Ederson did when the goalkeeper tried to head the ball), when he totally missed the ball, and Eric Bailly can be seen digging his fingers into Dominic Solanke's face; a blatant act of violent conduct. It felt like a victory for the dark arts, alas.
Cost: Probably between one and three points, depending on the number of penalties given and potential red cards for Rashford (several bookable offences) and Valencia.
Summary
In total, I make that:
+ 2pts (Stoke A)
– 2pts (Watford A)
– 1pt (Man City A)
– 2pts (Burnley H)
– 2pts (Everton H)
– 2pts (West Brom H)
– 1-3pts (Man United A)
In total, that's 11 points dropped by clear and obvious bad refereeing calls and only two gained.
If we say that the City one would have been a defeat anyway, that's still a negative swing of 7-9 points, with Liverpool's rivals also losing points they illicitly gained in those games.
Nothing Liverpool or the officials could have done would have stopped Man City's surge to the title, but Liverpool should have had the chance to be closer to them – although that depends on how many points Man United, Spurs and Chelsea also feel they were done out of by bad officiating. Of course, they may have benefited more than they have been harmed by calls.
I do think refereeing is an incredibly tough job, and that one pair of eyes can't see through players, and assess every bit of contact; but three pairs of eyes haven't helped Liverpool either – only the 4th pair (the VAR) has helped, albeit when killing the flow of the game.
It would be nice if players and managers helped by not cheating in so many ways, with every call of "my ball" when it's a known lie just another form of swaying the ref. It all adds to the pressure and confusion a referee must feel.
But Liverpool's players don't crowd round the referee like some clubs do, or have done in the past. In the last 20 years, I think you'll struggle to find too many charges against Liverpool managers for trying to influence refs before games or to damage their credibility after games; in contrast to some other managers over that time.
Even Klopp, who looks like he's about to explode on the touchline, seems very stoical about all the bad decisions after the match. I don't think he's been sent off in England, and I don't recall any fines or bans.
Maybe Liverpool could look to influence referees some more, but it's never nice to think "if you can't beat 'em, join 'em" and drop your standards of behaviour.
But for me, the biggest worry is that Liverpool have built a great team around a core of attacking foreign players, and yet referees show what I feel is a provable bias against overseas players on penalty issues. The fact that the bias is only clear in penalties when a team is attacking, while conceding penalties is spot-on in terms of expected results, suggests a conscious or subconscious effort to deny non-British Isle players spot-kicks; all part of the nation's longstanding history of not trusting foreigners.
VAR should help, but so far the referees have ended up referring everything to the TV, as if scared to actually referee the game; whereas the VAR himself should be watching the game and immediately interrupting the referee when there's a clear issue.
Aside from my biases on the decisions affecting Liverpool (and it's a shame that the Debatable Decisions league table no longer exists), the unbiased and purely analytical number-crunching of the differences between foreign and homegrown players and the award of penalties should be alarming to everyone … bar Everton and Crystal Palace, I guess.
At the very least, the referees need to discuss this issue, and review all 66 penalties – as well as hundreds not given – to look for the biased pattern, seen only in the bigger picture, in the way they officiate. Game by game it may seem like honest mistakes, but overall it seems to add up to more than that.
APPENDIX
A list of all penalties won in the Premier League so far, not necessarily in order.
| | |
| --- | --- |
| Won by? |  BBC match report details (unless otherwise stated) |
| – | [HANDBALL] That probing should have resulted in the opening goal. Leicester were once again on the back foot in their area before Anthony Martial struck a shot that came off Danny Simpson's arm. Referee Michael Oliver declared it to be deliberate handball. |
| Davis | Dusan Tadic made it 2-0 from the penalty spot after Jose Fonte brought down Steven Davis. |
| Yoshida | But the Hammers conceded a second penalty when Pablo Zabaleta bundled into Maya Yoshida and substitute Austin coolly slotted past Hart |
| Salah | Watford keeper Heurelho Gomes, who conceded the penalty after hauling down Salah, denied Alberto Moreno with a fingertip save. |
| Berahino | Virgil van Dijk, making his first league start since January for Saints, brought down Saido Berahino in the box but his penalty was saved by Fraser Forster. |
| Ramsey | Ramsey bursts down the left, reaches the byline, and runs into the box. He's barged to the ground by Nyom, who has attempting a shoulder charge but hit his man from behind. |
| Vardy | Vardy then earned a penalty when he was brought down by Mignolet, but the Belgian kept out the England striker's spot-kick, which followed his usual tactic of going straight down the middle. |
| – | [HANDBALL] A lot of those fans had already left by the time Martial's penalty, after a Morgan Schneiderlin handball, completed the scoring. |
| King | Andy King won the spot-kick for the Foxes after he was tripped from behind by Chris Lowe inside the box. The subsequent goal was the first that Jonas Lossl has conceded at home in the Premier League this season. |
| Sterling | Raheem Sterling completed the rout from the penalty spot, after he was brought down by Christian Kabasele. |
| Vardy | Courtois' clumsy challenge on Vardy for the penalty handed Craig Shakespeare's men a lifeline, but they could not use the momentum of that goal to claim an equaliser. |
| Townsend | Luka Milivojevic reduced the deficit from the penalty spot after Andros Townsend had been fouled in the box by Angelo Ogbonna. |
| Firmino | …Mohamed Salah's penalty, after Tommy Smith had pulled Firmino to the ground, |
| Silva | A pack of Burnley players protested when Roger East pointed to the spot after visiting keeper Nick Pope tangled with Bernardo Silva as he chased the loose ball after denying Kevin de Bruyne. |
| Afobe | …quickly followed by Junior Stanislas' penalty, awarded after Ryan Shawcross tripped Benik Afobe in the box. |
| Murray | Murray added his second from the penalty spot in the 75th minute after he was fouled by Pablo Zabaleta. |
| Calvert-Lewin | But, with the clock ticking down, Seagulls defender Bruno elbowed Dominic Calvert-Lewin in the area as a free-kick was floated in. |
| Long | Newcastle were denied victory when Gabbiadini, starting for the first time since 9 September, scored from the penalty spot after Florian Lejeune needlessly bundled over Shane Long. |
| Richarlison | The Gunners led through Per Mertesacker's header but the Hornets equalised when Troy Deeney converted from the spot after Hector Bellerin was adjudged to have fouled Richarlison. |
| Sakho | Their big chance came when Everton centre-half Williams brought down Diafra Sakho and referee Michael Oliver awarded a penalty, but Pickford dived to his right to turn away Lanzini's spot-kick. |
| Calvert-Lewin | Individual mistakes, typified by Hart felling Dominic Calvert-Lewin to concede the game's first penalty, then his botched clearance for Rooney's wonder-strike, are making life difficult for the Hammers. |
| Pereyra | Pereyra dances into the United box from the right. His jinking feet confuse Rojo, who clips him over, a lunge from behind. A no-brainer for the referee. |
| Ramsey | …before referee Lee Mason pointed to the spot after defender James Tarkowski pushed Aaron Ramsey. |
| Sterling | Sterling runs into the area again, and goes down again, and this time the referee points to the spot! |
| Niasse | Also in Unsworth's favour was his decision to stand by Niasse. The striker won a penalty and calmly converted for Everton's second equaliser, proving once again he can be an effective outlet for a side looking for any positives they can take. |
| Sterling | Arsenal were aggrieved at the penalty awarded for Nacho Monreal's challenge on Raheem Sterling and both Jesus and David Silva appeared to be offside for the third goal, but the visitors did not deserve to take anything from the game. |
| Lennon | Holebas gave Everton the chance to win the game and possibly turn their season by conceding a late penalty. Aaron Lennon, Unsworth's third substitution, flicked the ball over the left-back and was impeded when Holebas slipped in his path |
| Richarlison | In the 10th of 12 minutes added on for significant injuries to Heurelho Gomes and Christian Kabasele, Watford won a penalty of their own when Jordan Pickford fouled Richarlison. |
| Loftus-Cheek | Palace posed a threat on the break and, after Ruben Loftus-Cheek was brought down by Federico Fernandez, |
| Antonio | But they almost ceded their lead immediately – the Hammers winning a penalty when Michail Antonio was brought down by Ciaran Clark, only for Elliot to save Andre Ayew's low effort. |
| Alli | Kane broke the deadlock at Turf Moor in the sixth minute, scoring from the spot after Spurs were awarded a controversial penalty when Kevin Long was adjudged to have fouled Dele Alli. |
| Kenny | 73 mins: Kenny goes down, this time Olsson doing the challenging. That's a hopeless dive, and he should get a ban for it. The contact was minimal, a brush with a limp hand, and outside the area anyway. (Guardian) |
| Lennon | Roque Mesa brings down Aaron Lennon, and the referee points to the spot! |
| Murray | Murray should have made his side's territory count when he won a penalty against James Tarkowski, but his wild effort flew over the crossbar. |
| Depoitre | However, the visitors added a late fourth as Mooy grabbed his second goal when he converted a penalty after Doucoure fouled Depoitre in the area. |
| Lanzini | This latest defeat, which included a penalty by Mark Noble that Hughes accused West Ham's Manuel Lanzini of diving to win, put Stoke one point and one place above the relegation zone. |
| De Bruyne | Gabriel Jesus struck the post with a penalty after Jan Vertonghen fouled De Bruyne |
| Calvert-Lewin | Everton captain Wayne Rooney equalised from the spot after Pawson ruled Dejan Lovren's push on Dominic Calvert-Lewin was worthy of a penalty. |
| Zaha | Luka Milivojevic, who initially lined up the injury-time spot-kick, buried a penalty awarded for a foul on Wilfried Zaha |
| Moses | Hazard made sure of Chelsea's 10th league win of the season with a penalty after Matt Ritchie fouled Moses in the area. |
| Duffy | …beat Simon Mignolet with a penalty following Jordan Henderson's foul on Shane Duffy. (Referee: Graham Scott) |
| Willian | Willian scored a penalty after he had been fouled by Geoff Cameron, and Zappacosta scored his first Premier League goal from just outside the box late on. |
| – | [HANDBALL] The incident came a day after Southampton defender Maya Yoshida was deemed not to be at fault when he handled the ball against Manchester United, but there was no such good fortune for Chambers. |
| Zaha | But they did just that, with midfielder Milivojevic covering more ground than anyone on the pitch (12.69 km), though that will be of little consolation after his spot-kick – given when Raheem Sterling fouled Wilfried Zaha in the box in the 92nd minute – was saved. |
| Ndidi | Leicester were given a way back into the game with 20 minutes remaining when Rooney conceded a penalty by pulling back Wilfred Ndidi. |
| Kenedy | Kenedy also earned his side a penalty when he lured Phil Bardsley into a crude challenge but Joselu's miss from the spot – a weak effort that Pope saved comfortably – looked costly. |
| March. S | Murray took his season's tally to nine after Wesley Hoedt had brought down Solly March after 14 minutes. The striker also had the honour of scoring Brighton's 200th goal in the top flight. |
| Hernandez | The injury-hit hosts trailed to Christian Benteke's header but drew level from the penalty spot through captain Mark Noble after James Tomkins brought down Javier Hernandez. |
| Can | Mohamed Salah took over penalty-taking duties after Firmino's missed effort in the FA Cup defeat by West Brom and put the outcome beyond doubt after Philip Billing's foul on Can. |
| Vardy | Vardy scored from the penalty spot after he was brought down in the area by Watford defender Molla Wague. |
| Sterling | The Argentina striker claimed City's first goal when he got the faintest of touches to head in from Kevin de Bruyne's goal-bound strike, before he converted a penalty after Javier Manquillo tripped Raheem Sterling. |
| Hazard | Hazard was once again in stellar form – he had six efforts on goal and both won and scored the penalty |
| Murray | Murray opened the scoring from the penalty spot after he was clumsily fouled by Mike van der Hoorn, before combining with Jose Izquierdo for his second. |
| Pritchard | After Pritchard was brought down in the box in stoppage time, Rajiv van la Parra converted from the spot to add further gloss to a vital win. |
| – | [HANDBALL] Luka Milivojevic punished an Ashley Williams handball from the penalty spot, Palace never looked like creating a frantic finish. |
| Jesé | Then, as the game reached the 88th minute, Dale Stephens tussled with Jesé in the box and Bobby Madley pointed to the spot. |
| Deulofeu | Gerard Deulofeu went down easily under keeper Thibaut Courtois' challenge and Troy Deeney scored the penalty. |
| Benteke | But Luka Milivojevic earned Palace a point with a second half penalty after Ciaran Clark was penalised for pulling Christian Benteke's shirt. |
| Kane | In a dramatic finale, Karius saved Kane's penalty after he brought down the strike |
| Lamela | Liverpool had only seconds to survive when referee Jon Moss pointed to the spot after Virgil van Dijk collided with Erik Lamela – allowing Kane, who had missed an earlier penalty, to score his 100th Premier League goal and leave the home fans enraged. |
| Sanchez | Sanchez was then fouled by Huddersfield defender Michael Hefele to win a penalty and the Chilean, a January signing from Arsenal, stepped up to take the spot-kick. |
| Calvert-Lewin | The spot-kick was awarded when Shane Duffy brought down substitute Dominic Calvert-Lewin. |
| King | Back at the other end, Bournemouth continued to put their hosts under pressure and Marc Albrighton clumsily stuck out a leg which Josh King fell over for a penalty. |
| Ayew | before Cheikhou Kouyate tripped Ayew in the box. |
| Mkhitaryan | Arsenal had the lifeline of a penalty, early in the second-half, when Nicolas Otamendi fouled Henrikh Mkhitaryan |
| Pereyra | Ainsley Maitland-Niles on Roberto Pereyra. No complaints. |
*
Penalties Conceded