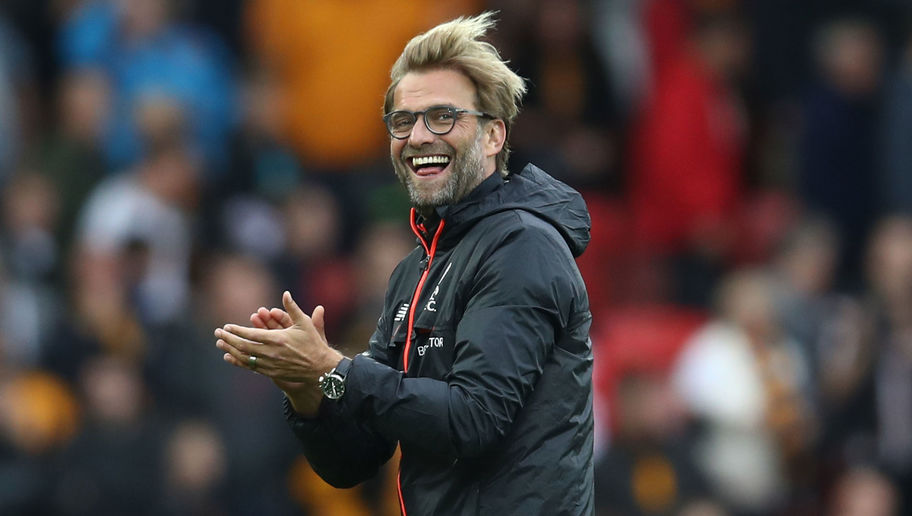 First of all, let's be clear: all managers buy players. No team is ever eleven youth graduates, unless perhaps it's an end of season game and the manager is trying to prove that, yes, he does blood the kids, honestly.
Jürgen Klopp is no different to most managers – he is not relying solely on what he inherited and what is bubbling up from the youth ranks. (Which, though hugely promising, is largely caught in that catch-22 of U23 football not being competitive enough and the need to therefore loan them out, at which point they disappear from your own squad, and cannot be coached in the way you'd ideally prefer.)
Indeed, the German has overseen a sea-change of personnel within two and a half years. But there hasn't been wild spending – it's been a few carefully scouted signings each window. It's been calculated, calm; not scattergun.
For those who want constant big-name, big-money buys, and the giddy rush of new signings – which becomes the semi-grown up version of Christmas and birthdays (once we start getting only socks and yet more socks) – it's not really been an era to deliver; indeed, last season's player of the year, Sadio Mané, was greeted with cries of "too expensive!", even though he wasn't that expensive, and "another from Southampton?!", while Mo Salah was seen by many as a "Chelsea reject", and more quibbling about the price ("He's not worth that much!").
The only seriously big buy has been Virgil van Dijk, a world-record for a defender, unless you take inflation into account (and note that, using our Transfer Price Index football inflation, Rio Ferdinand cost £137m when he joined Manchester United – when he was a British record for any position.)
The players bought since 2015 are going into the first-team and succeeding at an odds-busting rate, at odds-busting prices; there isn't a "buy 10 and see what sticks" policy, which sometimes the Reds have had in the past, and other clubs – particularly Chelsea and Manchester City at their richest – have too. (Indeed, it's very common in the "squad era", in part because you need more players.) There isn't a "pay a fortune for the biggest names" approach at Liverpool.
The targeting of very specific players and not deviating from that is down to Jürgen Klopp's strong beliefs in mental qualities as well as footballing ability. No one who is flaky will not get anywhere near a Melwood medical, let alone lean on the wall with a red scarf.
A few years ago, based on my analysis of over 3,000 Premier League transfers, I concluded that maybe only 40% succeed, and that paying big money increases the odds of success to just 50-60%. The main way that money really made a difference was the early Roman Abramovic model of buying ten expensive players, and five helped win the league, whilst the other five went AWOL, but "who cares, we don't need the money?"; then doing the same again a year later. Manchester City did something similar, albeit not quite as pronounced – but look at how much they've spent on centre-backs in order to get a couple of consistent ones; while Manchester United always had an expensive team under Alex Ferguson, but with the luxury of time – and a longer-term vision – to bed-in new players and promote youngsters. Usually they'd add one or two big buys each season, to freshen it up, and to not upset the squad harmony with too much churn. If any of these three clubs get the right manager, and the right atmosphere at the club, and think smart in the transfer market, then it instantly becomes tougher for the rest.
But Liverpool – like Spurs before them – are quietly going about a kind of revolution, with joined-up thinking and patience put above short-term fixes. The short-term is still important in football, because it can obviously affect the long-term too (you can't sell all your players and promote a bunch of six-year-olds to the first team because in 15 years' time they should be pretty good, by which time you've been relegated down through eight divisions), but at both Spurs and Liverpool there is a culture of incessant hard work, on and off the pitch, and the time for a manager to wait six months for the right player rather than feel it's now or never.
While Chelsea have won two titles in the last few years, they've also crashed and burned in the aftermath, and while we'd all take that after almost three decades without one, it doesn't feel healthy either (and there's no guarantee that you'll get the title, and may instead just end up with the crashing and burning). Meanwhile, at Man United, after two bad appointments, they've gone for the ultimate short-term manager; but even he seems a bit outdated and unremarkable in 2018, despite buying a clutch of superstars thanks, in part, to a shared super-agent. They will continue to throw as much money as they can at the problem, and maybe it will work; perhaps Paul Pogba may break into a jog at some point, in the hope of getting £450,000 a week, like Alexis Sanchez.
With the transfer window closed, and everyone assessing the immediate impact of the new buys at all the big clubs, I thought it was worth writing a piece looking a little further into why Liverpool are buying so well these days, as well as how the squad is developing without a massive churn in the past three windows. Remember, Everton "won the summer transfer window" and Arsenal apparently won the winter one. Fat-headed, hairy-handed Richard Keys said that "Everton will finish above Liverpool this year"; how's that working out? Transfers blind us all to the other factors behind a successful team, some of which I will go on to discuss.
The majority of this article is for subscribers only. Subscribe to enter a world of wonders. No head-hair or hand-hair required.
[ttt-subscribe-article]