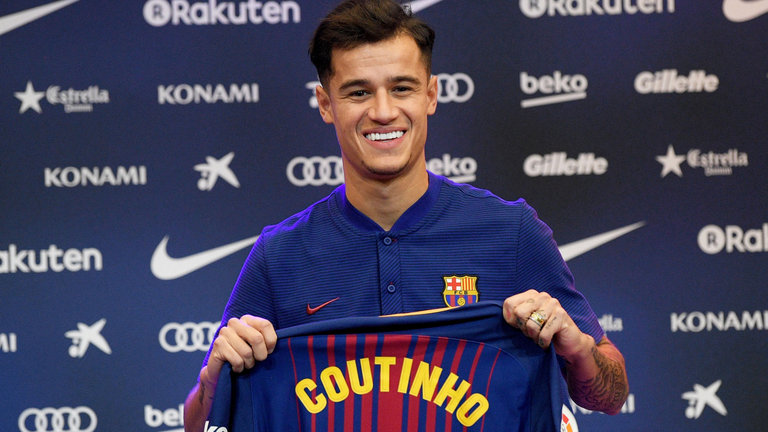 The notion of a "selling club" is a bit of an odd one, given that pretty much all clubs lose players they don't want to lose. The food chain has Real Madrid and Barcelona at its very apex, followed by Bayern, PSG, Manchester United, Manchester City and Chelsea. Liverpool and Arsenal are probably next on the list, just ahead of Juventus; these are certainly the biggest European clubs based on turnover these days. (Pulling power is obviously strengthened or weakened depending on Champions League inclusion.)
Even Barcelona lost a marquee player – one of the world's marquee players – against their wishes in 2017. If Barcelona can be forced to sell Neymar, then any club is a selling club.
All it needs is for the player to want out, for whatever reason. Along with their agitating agents, they can then force through a move – steamroller it into existence – if someone else has the money to fund it. Philippe Coutinho's deal even supposedly involved the politics of a giant corporation, with Nike's apparent interest in getting a key Brazilian at Barcelona in a World Cup year a big driver of the deal.
As I've been saying for a few years, no English Big Six club is (virtually) guaranteed the Champions League anymore, so this stops an elite one or two clubs having it all their own way.
Everyone bar City has fallen out of the top four at least once in the past few seasons. So not only can the Spanish duo (plus Bayern Munich and PSG) pay higher wages, they rule the roost in leagues where there are, at most, one other major rival, and often none. Which leads to greater domestic prize money and, in a virtuous circle, more Champions League money. Players can go to any of these clubs and almost certainly win the league, and be guaranteed Champions League football. It's a strong lure, along with the filthy lucre.
Even Manchester United at their most formidable were a "selling club". Between 2000 and 2009, Manchester United sold Cristiano Ronaldo, David Beckham, Ruud van Nistelrooy and Gabriel Heinze to Real Madrid, and Jaap Stam to Lazio. Some of these players may have been nearing the melt-zone, but they were sold all the same; and in some cases, reluctantly. The could not hold onto Ronaldo, as much as they wanted to.
These were all sold under/by Alex Ferguson, so you could argue that they were selling from a position of strength. But that's actually proving my point: even at their strongest, they couldn't hold on to all of their stars. Not when the Spanish giants came calling. And only paperwork – a broken fax machine – stopped David de Gea joining that list in 2015.
Arsenal sold Nicolas Anelka and Marc Overmars to the Spanish duopoly when the Gunners were winning league titles and reaching domestic cup finals, and Thierry Henry followed suit soon after they reached their first Champions League final. Before that, Patrick Vieira went to Juventus just a year after Arsenal were 'invincible'. Overmars' sale brought in £120m after TPI inflation, Anelka £145m. Their exits led to the arrival of players like Robert Pires and Henry himself, and two more league titles.
Again, Arsenal lost these "vital" players – along with Emmanuel Petit to Chelsea in 2001 – when the club was at or around its peak. Why did Anelka go to Real Madrid? Because he wanted to. Did Arsenal want to sell Henry to Barcelona, rather than keep him? I doubt it. More recently, they lost their best player, Cesc Fabregas, to Barcelona in 2011, so this is not a Liverpool issue. (Giovanni van Bronckhorst also moved to Barcelona, in 2003, though Arsenal may have felt that they weren't losing too much there.)
What's interesting is that, when taking inflation into account, the trio of Man United, Liverpool and Arsenal have each received c.£500m for five or six players sold to the Spanish giants (and to a couple of Italian clubs). The table below shows the sales to overseas apex predators since the year 2000. (The fees are in "2017 money" using TTT's Transfer Price Index, which I co-created with Graeme Riley. But any transfer that took place before this season will need an additional c.20% added, when we calculate "2018 money", which can only be done once this window closes.)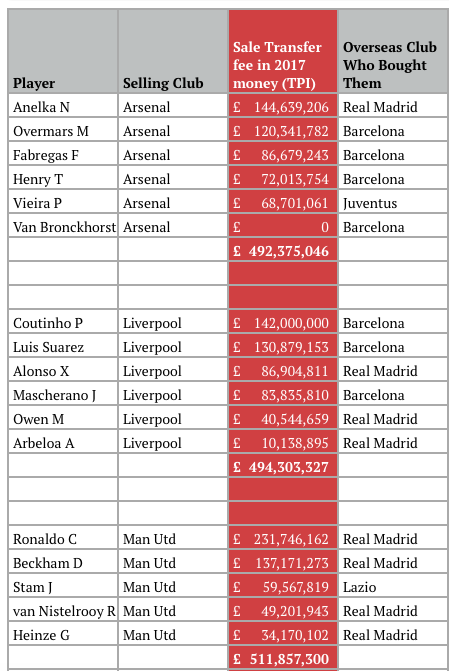 Over the years, Liverpool FC have lost Kevin Keegan, Graeme Souness, Ian Rush, Steve McManaman, Michael Owen, Xabi Alonso, Javier Mascherano and Luis Suarez (amongst less-notable others, such as Alvaro Arbeloa) to continental clubs, either when the Reds were riding high or when at a lower ebb.
None of it made Liverpool a selling club. Complex situations arose, but it usually involved an apex predator. (In McManaman's case, he was "sold" to Barcelona in 1997, for £11m – c.£120m now – but Barca only ever saw him as a back-up to Rivaldo, and McManaman flew to Spain only to find out he was essentially a decoy. McManaman then ran down his Liverpool contract and joined Real Madrid for free.)
The second half of this article is for subscribers only. All articles for the rest of the season will be for subscribers only (although this one has a bit more free content before the paywall kicks in.)
[ttt-subscribe-article]