By Daniel Rhodes.
This is an article originally from July 2017. It's been bumped with the news of Virgil van Dijk's confirmation as a Liverpool play.
There are many puzzling questions that confuse even the greatest minds: the meaning of life, the universe and everything; trees falling silently in the woods; and using data to evaluate centre-backs. While you all ponder the first two questions, I'll focus on the latter…
This article started off looking at a whole range of different centre-backs from around Europe, but the sheer amount of clips required to form any kind of fair judgement on individual defenders meant I narrowed the scope to two players: the Reds' 'number one defensive target' Virgil van Dijk and a player who Jeff (the TTT doyen of naming players to watch out for) regards as "just about the best centre-back in Europe".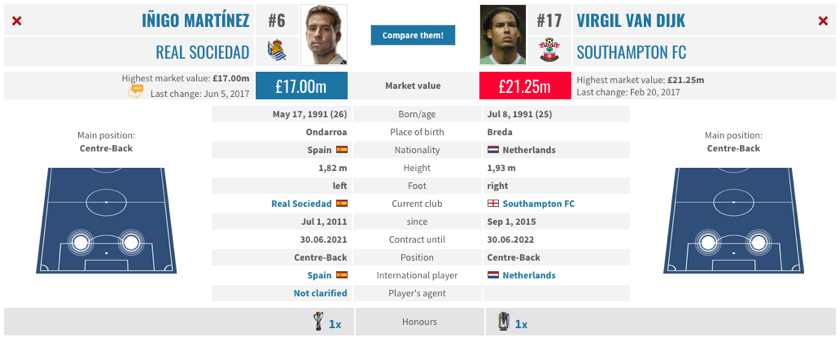 The one thing that stands out immediately as a potential red flag is the difference in height. Paul wrote about Liverpool's need to overcome the 'big brutish bastards of the Premier League' towards the end of last season, and included this table: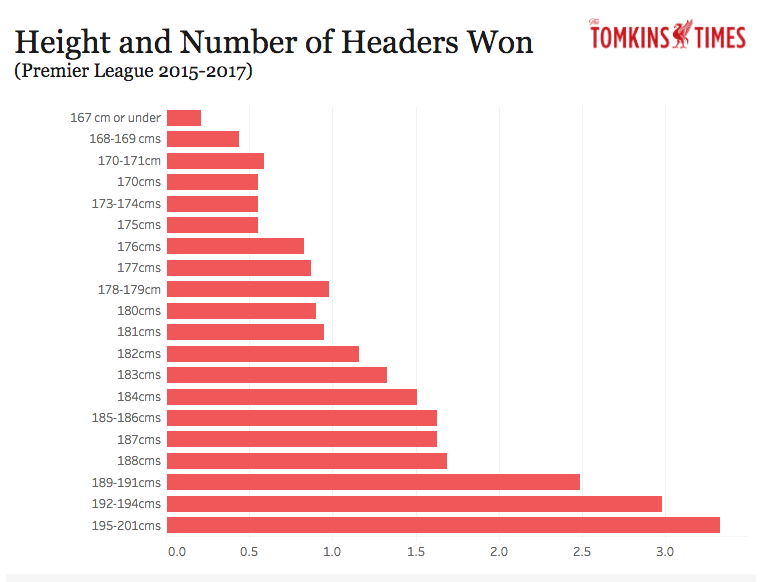 The difference between 182 centre-metres and 193cm is nearly two full aerial duel wins per game. Of course the above table relates to all positions, so we need to dig much deeper into Martinez's ability in the air later in the analysis.
Basic Performance Data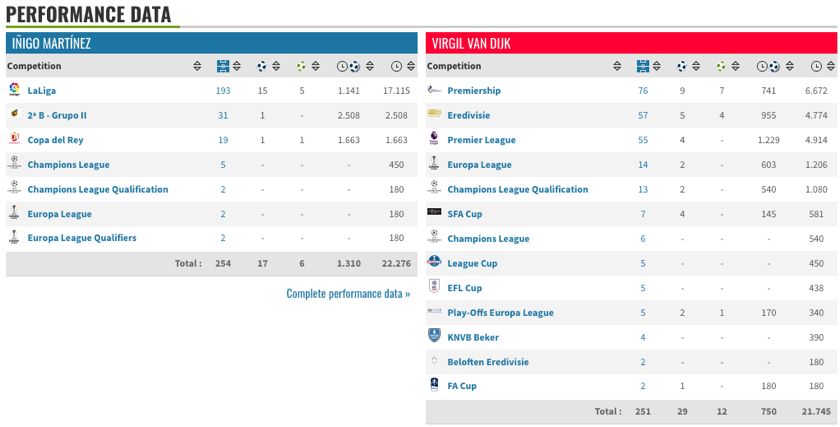 Twenty-two thousand minutes each is a huge sample to judge and evaluate their development. In Van Dijk's case, he's played in three different leagues after starting in Holland, before a switch to Scotland and then moving down to the Premier League with Southampton. Whereas Martinez has only ever featured in Spain, which isn't a criticism because it's the probably the best league in Europe in terms of quality; however, the defensive styles are a world apart to some of the physical up-and-under, get-it-in-mixer, tactics some of the English teams employ (especially against Liverpool). How have they fared at international level?

Bit harsh to draw any conclusions from Martinez's lack of international caps when you consider the two players ahead of him in the team are Sergio Ramos and Gerard Pique. He's played at all youth levels, and has even managed four caps for the Spanish national team. Van Dijk has been first choice now, in a struggling Dutch side, for about 18 months.

Apart from the fact someone needs to inform Southampton that van Dijk is only worth a smidgen over £25m, Martinez's value was higher for a the early stages of their careers. Since 2014, it has been a similar trajectory.
If we apply my TMVA (Transfer Markt Valuation Arsenalgorithm = double it and add £1) to the above figures, we're left with around £44m for van Dijk and £34m for Martinez.
Playing Style Comparison:
Using these as a catch-all definitive outline to a centre-backs' profile and style is reckless at best; however, they are a rough guide. Personally, I'd ignore the weakness listed for Martinez, because the definition Opta use for tackles won or lost is questionable. Plus, how can you 'not dive into tackles' and then class it as a weakness – especially as you'll see in the video section, he clearly can tackle when required.
The rest of this article is for subscribers only, and includes:
Individual match analysis against different styles of team
Each analysis uses these metrics: defensive duels, 1 vs 1 defending, interceptions, blocks, recoveries, tackles, positioning, aerial duels and covering space
[ttt-subscribe-article]