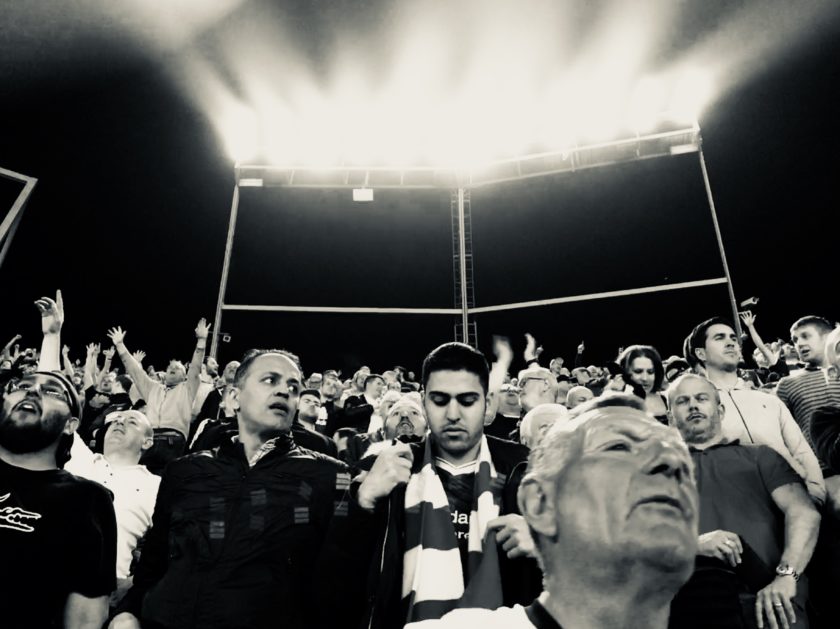 by Paddy Smith (TTT Subscriber Mr. Miyagi).
As soon as the draw was made my oldest son begged and begged 'to do' Sevilla away. I finally agreed on condition we got tickets in the ballot; of course we didn't.
A few weeks before the game I bumped into someone of influence at the club who owed me a favour and managed to bag two tickets. Of course by this time any flights to Malaga or Madrid were £200 each way if available at all. It's amazing the creative travel plans you can come up with when you really need to! After discounting Stansted (where the fuck is it?), London, trains from Manchester £130 each, Leeds, East Midlands et al, someone mentioned the word Dublin…..2 x return flights Manchester Dublin £46, airport hotel £50, Dublin – Malaga £200 all in and we're all booked.
So, Monday night sat in Terminal 3 with my oldest boy who's skipping collage for two days for a different kind of education, that's what I tell his Mum anyway! 10pm take of, delayed by an hour, check into hotel midnight, getting ready for bed and then the lights go out without a switch being touched, power cut so a quick change of room, 1am by the time we're in bed. Before you can say 'top of the morning' our 5.30 alarm is going off. We're up, out and checked out of the hotel and checked in at the airport, a quick bite to eat and then off we go.
We meet up with two mates in Malaga who've been out for a few days and sorted a car, next time we really need something bigger than a Fiat Panda with no AC! A very hot and sweaty two hours later and we're checking into our hotel, showered and ready for what Sevilla has to offer.
How Paddy's trip unfolded is for Subscribers only. If you fancy becoming one, there's a 'Subscribe' tab at the top of the page. 
[ttt-subscribe-article]