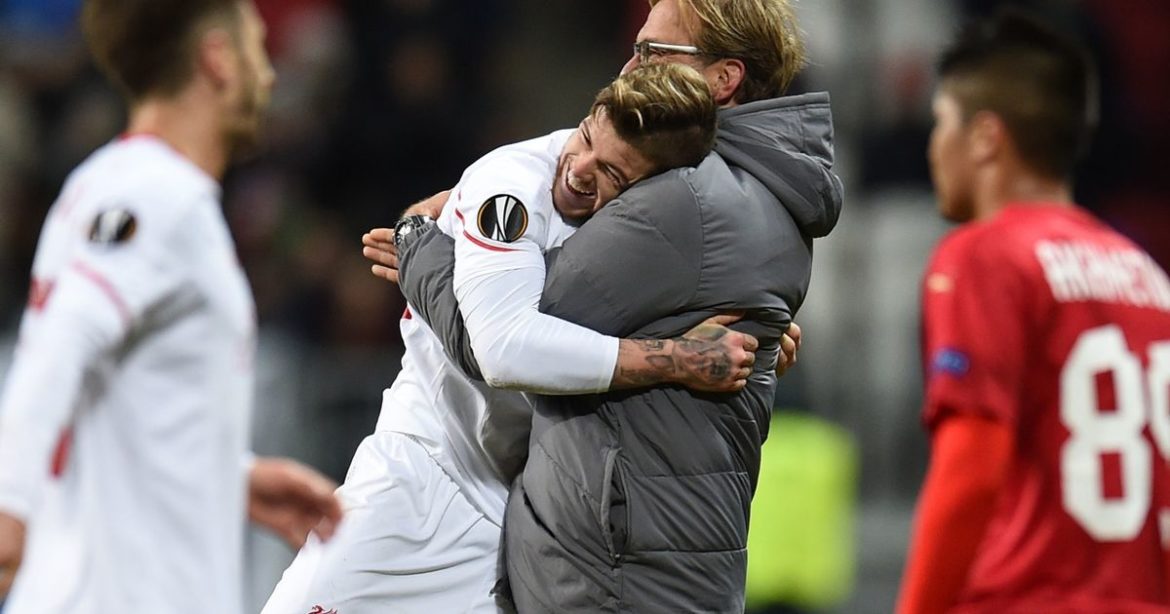 The best thing about a draw that feels like a defeat is the reminder that it was still, after all, a draw. Unlike a defeat, you get to take something from it. It's a bit like thinking you've won £10m on the lottery, only to find out you instead won £1m. Life sucks, eh?
And to come away with a point from Spain, against a team who were 25 games unbeaten at home, is still a good result, even if it sucks the biggest suckable fucking eggs to go from 3-0 to 3-3 in one half of football; 60 seconds from winning a Champions League group to having to go again on the final day. A bummer, but not the end of the world. Or the group. Or the season. Or, anything.
Equally, although it's not the toughest of groups, to get through for the first time since 2009 – as a draw at home to Spartak Moscow would ensure – would represent progress. That's firmly in Liverpool's hands going into the final match, at Anfield, against beatable opposition.
The hardest half-time team-talk is probably when the game feels won, but even at 3-0, no game between two good teams can be said to be over. (And as much as I loved Roberto Firmino's no-look goal, it now feels like needless showboating; next time, save it for the seventh goal!)
It just takes one goal to make it interesting. Good Liverpool sides have squandered 3-0 leads against teams like Newcastle*, Southampton and Crystal Palace over the past 20 years, and we all know the feeling when 3-1 becomes 3-2; was saw it in the eyes of AC Milan's players (a team that had recently won the Champions League and would soon after win the Champions League). We've seen Liverpool need three second half goals against Olympiakos, and grab that vital third late in the day. (* In that case, a last-minute equaliser was overturned by an even later Robbie Fowler header.)
And of course, it's now clear that the Sevilla manager told his players at half-time that he has cancer. You saw their superhuman reaction to it. They had nothing left to lose, and everything to gain – for themselves, and for him.
I also think it fair to point out that Jürgen Klopp, labelled naive by the knee-jerkers, replaced three players with more defensive-minded substitutes, which helped the Reds regain more of a foothold in the game, and almost saw the lead stretched to 4-2 when Emre Can failed to find Sadio Mané with an open goal, and James Milner also rolled the ball across an empty goal-line.
Maybe Klopp could have done this at 3-1, or even at half-time, but that was the XI that had been making Sevilla suffer. And as soon as you go more defensive, you invite on pressure. Sometimes it works, sometimes it doesn't. I often point out the hypocrisy of the post hoc analysis, as sometimes attacking remains the best form of defence. Sometimes it doesn't. Every game is a unique set of circumstances, that can never be repeated. If it goes wrong, you should always have done the opposite thing, even if the opposite thing cost you last time.
However, the nerves of a 93rd-minute corner can plague a lot of teams, especially when a lot is riding on it. Just as Liverpool gained from Sevilla's bad set-piece defending in the first half, the Spaniards saw the ball fall to them in the box. Liverpool were set up nicely in a zone, but no one reacted quickly enough when the ball ran loose.
I've seen it said in a few places that Liverpool need to re-learn how to play in Europe. But this season it's four wins and three draws in Europe, no defeats. (Maribor are substandard, but Hoffenheim aren't.) Liverpool have already played 20 European games under Klopp, won 10 and lost just two. (And two more games have been played away from Anfield than at Anfield.)
These 20 games include six games against German sides, five against Spanish sides and two against Manchester United (where the opposition was English but the two-leg situation European). The only defeat outside of the Europa League final was a last-minute goal away at Villarreal, but the second-leg was won 3-0. And Borussia Dortmund were hardly "naive" in Europe when they ran into the second-half thunderstorm of the Kop after taking an early 2-0 lead, and the same thing happened to Liverpool last night – Dortmund weren't necessarily weak, just blown over in a gale.
Also, Klopp's games have come in the latter stages of the Europa League (often Champions League quality opposition: Dortmund, Man United, Villarreal, Sevilla), and in the Champions League itself.
Winning 10 and losing just two is hardly the substandard fare we saw under Brendan Rodgers in Europe, where, from 22 games – most in the Europa League – just nine were won, and seven were lost, including against Anzhi Makhachkala, Zenit Saint Petersburg, Besiktas and Basel. The only two teams to beat Klopp's Liverpool are Villarreal and Sevilla, and the Reds' European win rate under Klopp is not that far away from Rafa Benítez's, the continental era people are now pining for.
Sevilla's technical skills were impressive, although their inability to stand up when a Liverpool player went near them was comical. They milked every situation to a ludicrous degree, and the ref helped them too; but Liverpool's left-back also helped them along, with a daft push and clumsy trip.
After a Spanish recall, a new baby and a return to his old club all in a week, Alberto Moreno picked a bad day to resume sniffing glue – or just appear that he was, perhaps due to the emotional roller-coaster he's been on. He's allowed a bad game now and then, if he otherwise plays as well as he has been; but the worry obviously becomes the psychological impact on him and the team. You can't ignore ten good games from a player as soon as he has one bad one, and saying he can't defend when he actually mis-crontolled the ball is a misnomer. Any defender who is asked to play out from the back rather than just lump it upfield will have such moments. The same applies to the player who played him the ball in the first place.
The defending at Anfield has been near-perfect in the league and Champions League (bar Sevilla's visit), but the away form across all competitions has seen too many goals conceded. That's a worry. But this is also often not, obviously, Liverpool's first-choice defence. And Liverpool still created more, away at Sevilla, than Sevilla could manage when throwing the kitchen sink at Liverpool. The Reds "won" by a clear goal on xG, but Mo Salah had a rare off-night, which, again, he's entitled to. You can't moan at a new signing because he's now got just 14 goals in 19 games.
However, to me, this is all part of the evolution from a snarling, biting (but not dirty) team that gets in the opponent's faces to a more cultured one. It seems to be making Liverpool a bit easier to play against, in certain ways, which the better teams are taking advantage of, especially when the Reds are away.
Equally, it has its benefits – seen in the first half in Seville and the home demolition of Arsenal – and in time, the maturation of a young team should reap dividends, with more points against the minnows and mid-table sides in the meantime (in part due to the less-snarling Salah, Coutinho and Mané cutting them open with skill and/or pace).
The second half of this article is for subscribers only.
[wcm_nonmember][ttt-subscribe-article][/wcm_nonmember][wcm_restrict]
When Jürgen Klopp inherited a very unbalanced squad just over two years ago, the first thing he clearly changed was the energy, with the hard-pressing style. However, while that hasn't been abandoned, the aim always had to be to ally that aggression and unity to a more expansive style. Teams were going to sit back, low-block. They were going to put eleven men behind it.
You want to see your team evolve, but progress isn't always a linear upwards projection. Indeed, Manchester City's ruthless brilliance this season came after a season of underachievement with a mega-squad and a mega-manager last season, but where lessons were learned. City have the advantage of deeper pockets, which can obviously help speed things up. But they were ahead to start with, too – full of experience and quality. Right now, they are the only Premier League team significantly ahead of the Reds. The rest, right now, are all tightly clustered in the top six.
It's perhaps wrong to judge Liverpool too definitively when barnstorming the living shit out of games, just as it can be wrong when mired in a poor spell. (Obviously I wrote this sentence in a Notes app at half-time, but it remains true.)
Overall it still feels like this is a team heading places; as we expected in the summer, but which was initially held up by injuries, suspensions, transfer unrest and unusual fixture difficulty, and which was – to me, at least – a set of circumstances that distorted the true quality.
Liverpool aren't the best team in England, but the way they've assembled a front four comparable with rivals for a fraction of the price is one of the joys in the side's progress. People are already bored with how good that is, and moan "but what about the defence?". When Klopp took over, the team could not score goals.
Klopp's team doesn't appear to press as much as in the past, but Philippe Coutinho, Mo Salah and Sadio Mané are not lazy forwards. And one key presser, Adam Lallana, still hasn't kicked a ball this season (although he's also one of the aesthetes, but generally not prolific enough – although he was improving in that sense last season).
Roberto Firmino, of course, presses like the lovechild of Speedy Gonzalez and The Road Runner jacked up on crystal meth.
Of course, in some ways he's now flanked by Speedy Gonzalez and The Road Runner, given the fleet of foot of the Reds' two wide-men. They are part of the evolution into something more aggressively offensive, rather than any hard-running defensiveness. They have the skills that, to be honest, you don't normally get for £30m or £40m. Pace and goals, good attitudes and only in their mid-20s, for that money?
The much-maligned transfer process has been far more successful since the talented coach – but poor purchaser – Brendan Rodgers has been ousted, and the club also has a more tangible identity.
The first team is scintillating, the U23s are scintillating, the U18s are scintillating. The average ages of these teams is young, too. There's wonderful joined-up thinking between the senior setup and the junior ones. Klopp knows how to lead a massive club, that's clear. He can carry the weight, but a few things here and there aren't quite right. That can be worked on, and as such, this needs to be seen as a blip in a run of good form, at least until further results tell us whether that's true or, alas, not the case.
And aspects of the defending have improved. Joe Gomez looks set to be an imperious defender, but for now obviously has the odd lapse still in him. The Reds are looking great against the minnows and stubborn teams who come to Anfield to defend, but that wasn't always the case. Tweaks here and there can throw the balance out of whack. But this still feels like a damn good side, but also a fairly young one, that is still gaining experience; a similar age, but a year or two behind Spurs in that sense.
The increased quota of aesthetes perhaps make it harder to dog the life out of the better sides in the way Klopp's sides did in 2015/16 and 2016/17, but the Reds are now turning over the minnows. Crucially, Liverpool are now trying to be upright, walk on two legs, and be more than just terriers. I think we have to grant some leeway, and see where these exciting upright strides take us.
[/wcm_restrict]