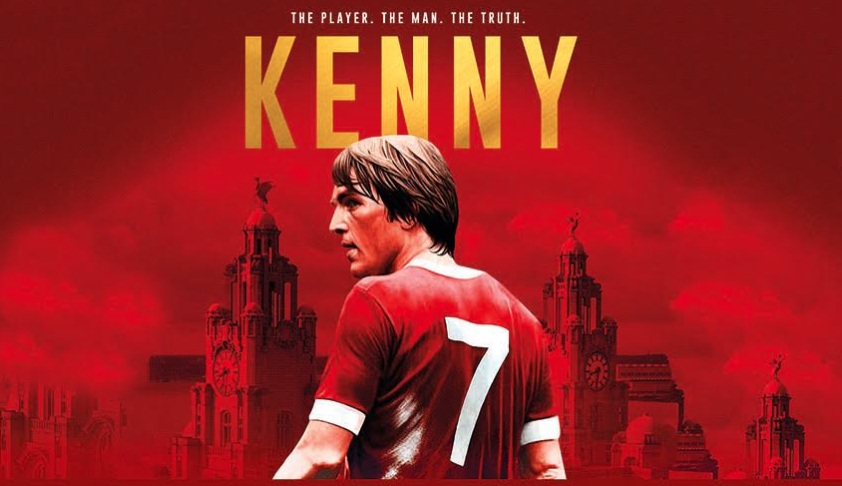 It's hard to know what to expect when working for a so-called 'fansite' allows exclusive access to Liverpool-related content. My first such experience was reviewing 'Being: Liverpool'. You'll understand the caution one might have whenever the next opportunity comes along.
And yet when the email popped up in my inbox last week, from fellow TTT subscriber Jon Rushton – whose job includes publicising the new film 'Kenny' – the excitement was palpable. The reply email was sent quicker than Ian Rush at full pelt running onto a Dalglish throughball. The only obstacle remaining was whether Chris or Paul wanted to go instead! Fingers crossed, the confirmation arrived minutes later. Alongside a special 25 minute question and answer session the day after. Incredible.
Nevertheless, it's difficult to write an article reviewing a film about Kenny Dalglish. It's not like you don't know the story arc, the narrative, the autobiographies and the interviews. The transfers fee from Celtic, the trio of European Cups, the tragedy and the huge tally of goals and assists.
What you get out of it will also depend on whether you saw the man play live, or only read and heard about him afterwards. Many will know a lot of the anecdotes, many will learn a lot they had no idea about, from the mouths of those involved.
The footage is wide-ranging, as well plenty of old video camera clips from the Dalglish family Christmases, capturing his children growing up.
The production and edit is superb. It interlinks the football story with the off field tragedies; constantly referencing Kenny's reaction in his own words or during informal gatherings with those closest to him (players and family). You learn all about his childhood, his early football memories, where he met Marina – and how he wooed her!
There's a clip of him bringing the ball down, pirouetting and laying an inch-perfect pass. Clearly Firmino has seen this too, because it was a carbon copy of what he did against West Ham in our last game. See if you can spot it when you watch.
If it doesn't bring you to tears at times then I reckon you need to go see a doctor and get your heart checked. Incidentally, when all the press folk (and me) left the theatre, Paul Machin of RedMenTV just puffed out a long breath. No words needed to be said. It was the perfect reaction. You'll understand when you watch how it ends.
But by the far the best bits though, and this is mainly down to Kenny's perceived negative persona with the media, is his sense of humour. It permeates all the relationships that matter to him. From mocking Ian Rush when he first arrived from Chester, to meeting up with his son Paul for a 'friendly' game of father and son golf. The put downs, the modesty, the constant use of humour to lighten the mood.
I have seen it, and it was a real privilege to watch an exclusive (and meet the man himself), but I will definitely be buying it. I'll watch it with my son this weekend, and my daughter when she's old enough to understand it. It's a film about The King, it's my responsibility as a parent to promote the real monarchy. As you can see below, I was ever-so-slightly excited …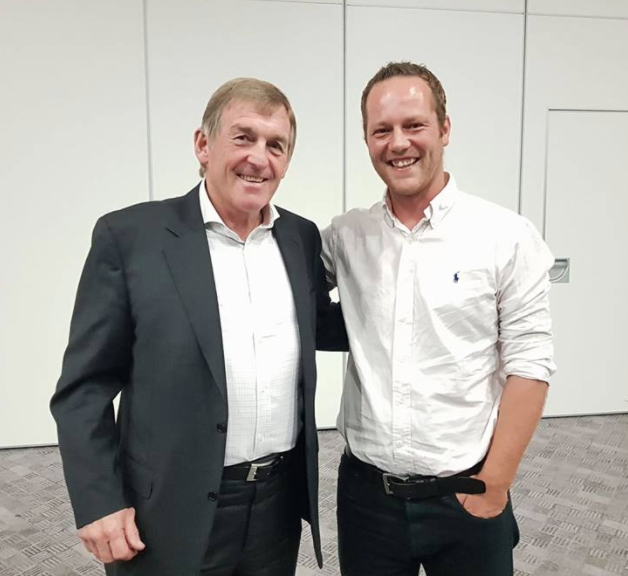 (And yes I did iron my shirt!) 
Transcript from interview:
Was it a tough decision signing for Celtic as a Rangers fan? 
"Easy. Football was more important than who you supported. They were the best team at that time, so it wasn't a problem. They (Rangers) told a guy at the amateur team I was playing for that they were interested, but they never told me."
Liverpool trial: 
"I came down here to Liverpool when I was 15. They used to have trials at Melwood on a Tuesday and Thursday night during the summer. I remember training during the day and playing against Southport B, and 'Shanks' and Reuben Bennett gave me a lift to the YMCA and said, "we'd like you to sign".
"There was an Old Firm game on that night and I wanted to get back to watch it. We got the train from Lime Street and then the scout came up and asked me to sign.
"Liverpool is a long way from Glasgow when you're 15, so I was a bit shy and never signed."
Biggest derby? 
"It depends which one you're playing in! Any derby you play in is a big game.
"I think it's unfair to differentiate between any. If you're not involved in them, it doesn't seem as important as what it does to yourself.
"What I would say is that there's an undercurrent for that game in Glasgow that doesn't apply down here.
"When you're playing in any of those two you don't want to to lose. They were both equally important, because the desire to win was the same."
Playing or managing?
"Playing's the best part of your footballing life, there's no doubt about that.
Gerrard/difficult transition? 
"Steven's not moving directly into the dressing room that he was part of 24 hours before it.
"Steven's brilliant with the kids at the academy, and has a good record as well.
"When you're a player the dressing is brilliant. It's a great place to be – the camaraderie , fun, jokes and stories.
"When you have to come out of that, you sit there thinking, "I wish I was back in there".
"I'd walk into the dressing room and something would be going on, and then there'd be silence. I'd say you've got five minutes and I'll come back, because you know they're telling some story (that you aren't allowed to be part of anymore).
"You don't know what the content is but you've got some idea.
"Getting away from the dressing room was difficult when I stepped into being manager, but the club gave me all the help I could possibly get.
"I had the best administrator in football that there has ever been, Peter Robinson, and Tom Saunders, Roomie Moran and Roy Evans.
"If somebody asked a question you'd confer with them. You were surrounded with help."
Joy of scoring: 
"The satisfaction wasn't personal, the satisfaction was for everybody. 
"When you scored you wanted to share it with everybody – teammates, supporters, the whole lot.
"For me, any goal that meant anything – every goal means something – was only a culmination of fantastic work throughout the whole year, when a lot of other people have contributed.
Easy picking yourself over other players as a player/coach?  
"There would be difficult decisions as player manager, but I wouldn't make them without the guidance of Ronnie, Roy and Tom Saunders.
"Then it was up to me to make the decision.
"It was harder being substitute back then because you could only have one, so when you're watching the game you might as well play, because you're caught up with it on the bench."
On Winning a trophy: 
"I just loved winning. When you win something, you cannot explain it. Some people might say we abused the privilege of winning, but it always felt great.
"I loved winning a trophy when I came back in 2012. I think it's important for the current younger generation of Liverpool fans that they have a story to tell their dad, 
"They must be spewing about dad telling all these stories about European Cup finals and everything else.
"You shouldn't lose sight of how you do in the league, but I wanted supporters to have a story to tell about going to Wembley and winning.
"We had that in the semi-final of the cup when big Andy scored against Everton, I'm sure they have a story to tell about that.
"Unfortunately, they don't have one about Chelsea (in the final), other than Cech making that save at the death.
"It's important to do well in the league as well, but sometimes it's hard to do well in all three.
Would top four have saved his job? 
"I don't know what would've happened, but I'd have swapped the League Cup for the Championship (title)!
Top Four? 
"Arsene Wenger got in the top four for 20 years in a row and gets crucified – you don't get a trophy for getting in the top four.
"So you have to make your mind up, what is a greater achievement? 
"I think getting in the top four and winning the cup are both great achievements, but you don't have a story to tell about a top four finish, even though it is probably more lucrative.
"Maybe it's just the way we were brought up. You want to win." 
"Speaking of winning. How well would the team you created post-Heysel have done in Europe?"
"We'll never know will we. Maybe we were that good because we weren't in Europe? We started in August/September and only had three rounds before Christmas. And then it was March before starting again. Maybe we'll have done alright. *grins*
Irrespective of whether we were in Europe or not, it was a fantastic team. Really entertaining.
The performance against Notts Forest, and the performance against QPR when they were top of the league and we beat them four. Barnsey was toast. He was unbelievable. Scored two. Peter could bang 'em in. All types of goals for the team. Aldo too, the DNA was perfect for him. Loads of crosses. Plenty of touches off. Good goals. I don't know how we'd have done, would have been interesting to see. *grins* We need to get, what do you call it, Playstation, and see how we'd get on!"
"When you were first appointed player/manager, post-Heysel, did you feel realise the size of the task to pick the club back up after such a devastating event?"
"It was a devastating event without a shadow of a doubt. When something like that happens you have the grievance and the anger but as time goes by it can be a good healer. I'm not going to say it helped anyone, but the break between May and August, before coming back pre-season for training in July was a help to some of our boys. It doesn't help the people who lost their families or their loved ones.
But when the you ask a footballing question in footballing parlance I would think it helped being the last game of the season. Having three months or something before getting together again would have been helpful to the players."
"Quite a lot of the film highlights the emotional stress you were under post-Hillsborough. Did you realise at the time the mental health issues you were having, even though it wasn't such a widely accepted issue in those days?"
"I wouldn't say it was mental health, I would say I just wasn't capable of making a decision. I wasnae decisive enough. I think if you've got a mental issue you can't make a decision at all. At least I could make a decision that it wasn't fair on the football club. I don't see the relationship between mental health and that, because I would never of made the decision. For me, it was more disappointment in myself, that I had to go. But I don't think the football club deserved me then."
"Any regrets the club didn't give you a period of time to recuperate?"
"How can they give you a period of time during the season? Everybody has got hindsight. And I knew, what, two months afterwards, that it was a stupid decision *laughs*. But at the time is wasnae stupid. At the time it was correct. For the club. And for me."
"Do you wish you'd have done what Rushie done and come back a year later?"
"Rushie come back to a substitute's role, didn''t he? *laughs*
You cannae wish your life away. How many people have been as fortunate as I've been? Along the way, there's bound to be some hiccups. And you've just got to get over them. I don't think I've been dealt too bad a hand."
"How did the Blackburn title win rank in terms of all the other silverware that you've got?"
"It was a fairytale for Blackburn.
When they first came to speak to us, Donald McKay, they had one point from two games and had been knocked out of the league cup by a lower division team. They came and asked us, and it was in the papers they were buying Archibald … and I'm going "pffff" I don't know where this is coming from.
I got a phone-call, and I thought, oh, I don't know. I don't know.
But we talked, and said talk to me about the club, not about finances. And they did. Jack Walker was… you don't get Jack Walkers nowadays. You don't get them. The ones that are in love with the place and the club. He was really genuine. Thoroughly a Blackburn man.
I was thinking "Jesus, I wonder if he's got that money and is actually that wealthy!". But I'm only trying to think about football. And to be fair, he was as good as his word, and by the time I agreed, Tony Parks was in the caretaker role and had taken them from second bottom to mid-table, so I thought, well, he can stay! He was born and bred Blackburn, so he could stay. Brought Ray Harford in, and we went from there.
In that season we went top and then lost about six games in a row! Got in the play-offs by beating Plymouth 3-1, or was it 3-0? In the last game of the season. Got through the semi-final with Derby and then beat Leicester 1-0 at Wembley. So that was us up and running. And then … we signed Shearer. (Did he take much persuading?) Not in a financial sense, it was more football. And that's good enough for me. If it was about money then I don't we were going to get him. We kicked on from there. We finished fourth, then second and then won it. I'm sure they couldnae believe it. We couldn't believe it! It was a real fairytale in the end.
Aside from what was happening on the pitch, off the field he did all sorts. We didn't even have a training ground when I went there, the lads had to take their kit home. And wash it! Imagine now saying to they had to wash their own kit! Nae training ground, just used a public park or the school grounds. Then Jack bought the training ground, done it up brilliant. The club just took off, and none of this spending was ever out of control. I'm not sure we'll get many now who are local, and take over their own club. It's a romantic story, for Jack."
"We spoke earlier Kenny about if things had played out differently in 2012/13, what were your plans had you stayed that summer?"
"To build on what we'd already got in. That was the only way forward. There's was certainly no obstruction, no conversation about how much we had to spend or who we wanted, the owners were excellent supporting the team financially. Fernando went for fifty, and we signed Big Andy and ended up twenty-million ahead of the game. I thought, "that'll do me". I found them, in the time that I was there, really supportive if you wanted to go and buy someone. Plus, if the money isn't there, it's not right for them to give you it. But if the money was there you could go and get it and they would be more than willing to support you.
In terms of who we would've gone for, I cannae remember exactly, nor would I tell you anyway if I could! Where we were was not the finished product, but it was moving in the right direction. Especially from where we'd been two years before."
"How did you find it coming back two decades later? In the film it speaks about your relationship with the media. But now, it's so intense, and if you google "Kenny Dalglish" today, there's a headline in the newspapers that says "KING KENNY DALGLISH POPS INTO CHELTENHAM PIZZA RESTAURANT"
"It was my grandson's birthday! *laughing shaking his head*
There's a greater demand on the manager's time now, certainly, because of the standing of the Premier League. You don't get the coverage without some penance so the penance is that the managers are expected to be at the beck-and-call most of the time. You do have a responsibility to represent your club properly. And give some time to the media. They are paying the big bucks for the rights and to get the Premier League to the level that it's at as well as giving you money to buy players that lift the level so there is a responsibility. But then you've also got a responsibility to your football club to say what you want to say. Not to say what they want to hear. So, for me, I never shied away from a press conference. They might not have got exactly what they wanted *grins* but I never shied away.
When I left the first time, one of the press boys sent a letter saying I was the most honest manager he'd ever worked with for the press. I thought "that'll do me". I'd rather be honest."
"Have you ever turned down a knighthood?"
It's never been a consideration. Never been offered. 
"Does your friend, who obviously has the Sir Alex Ferguson Stand, ever point out that yours is just "The Kenny Dalglish Stand" and would you like that to be different?"
I would. But he got one, and Bobby Charlton got one. Old Bob never got one. I'm not saying they aren't deserving of it, but why did it not come over to East Lancs for Old Bob? Six championships in nine years. How many European Cups! And he never got one!
(First half of the transcript was done by Matt Ladson of This is Anfield, and the second part by myself. The full RAW audio is below, and was recorded by me. There's some music that blasts out in another room during the interview, so probably best to fast forward that bit!)
Audio from interview:
Huge thanks to Jon Rushton!