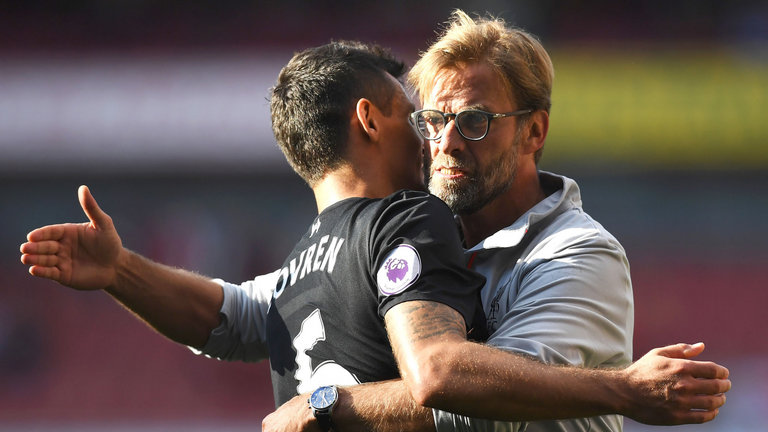 Two-and-a-half years ago, Liverpool lost 6-1 at Stoke. It appears to have hurt less than drawing 3-3 in Seville, or 1-1 against Chelsea. Last night the Reds – or Oranges – won 3-0.
The big difference between the weekend's disappointment and last night's joy and relief was … a bit of luck. I've bemoaned all season that the Reds haven't had much, from all those Salah penalty appeals waved away, to Mané's sending off at Man City, which, though justifiable in some senses, is just one of many high boots this season, and he remains the only player punished. And then, Willian's cross floating in at the weekend.
Joe Gomez, who is growing in stature with every game, kept the ball in play for the Reds' opening goal at Stoke; look where his foot lands and it's easy to see that there wasn't room for the whole ball to cross the line. But Simon Mignolet was lucky to stay on the pitch. To me, that was the first really good bit of luck all season. And while the luck has yet to even itself out (and it rarely ever does so with any accuracy), it's a start.
Liverpool are turning over the "easier" sides in a way that they weren't regularly doing before this season; a change that everyone said was needed. But there's always some give-and-take when you make changes to improve something. The current side is not as doggedly energetic, with Mo Salah, while not lazy, not someone to press like Adam Lallana; plus, the games are every three or four days this season, so it's harder to be as energetic overall. But Salah brings goals and searing pace. He has scored against all levels of opposition, but his goals against the weaker and/or nastier sides is what's helping the Reds to clear victories.
Another aspect is Gomez's height, which, unlike last season, means the Reds have three six-footers in the backline. Suddenly Alberto Moreno's short-arsedness is not as much of an issue. Gomez isn't amazing in the air, but he's 6'2", and like Joel Matip, wins a reasonable amount on size alone; and young defenders rarely bully older forwards. In time, Gomez should become more aggressive, and he should only improve. He's already a superb right-back, and he's only 20, and missed 18 months through injury at a key stage of development. He was part of a Liverpool outfield XI that averaged under the age of 25, which makes the win all the more impressive.
Stoke threw their Land Of The Giants (Plus Two Midgets) against the Reds again, and Emre Can contested a lot of headers, while Matip won a lot of headers. As Daniel notes on the post-match stats roundup, Peter Crouch contested 28 headers!
Dominic Solanke was probably considered, in part, to help defend set-pieces, although his overall game – while a little awkward aesthetically (he's not a "smooth" player) – was excellent.
While Liverpool got lucky with the Mignolet decision, the Reds yet again dominated in terms of xG, and therefore merited the victory; limiting Stoke at one end, creating lots of good chances at the other. While some people are stats-phobic, xG shows the quality of chances created (and conceded), and that's why it's so important. It's not made-up nonsense – it's a detailed look at what you do with the ball in the final third. Liverpool have "won" eleven of the last twelve games on xG, although two (Sevilla and Chelsea) saw a very tight margin of victory. To me, it's all indicative of progress.
And this leads me to try and tie up my theme of the week in the bulk of this article, which is the overall job Jürgen Klopp is doing, when stripped of the emotion and the fog of draws.
This article is for Subscribers only. 
[ttt-subscribe-article]