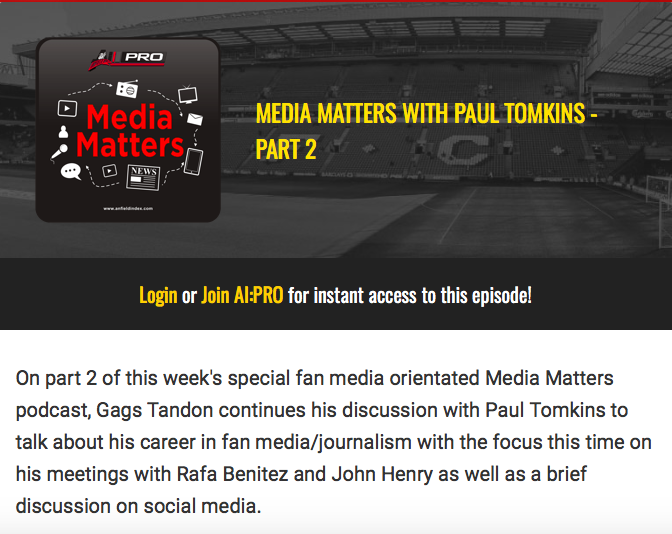 Last week I spent a couple of hours chatting with Gags of Anfield Index over Skype. The results can be heard only through their Anfield Pro subscription podcast, although they have offered TTT a referral fee, so if you sign up via our link we get a little bit of the money. There are a lot of good LFC podcasts out there right now, with Anfield Index and The Anfield Wrap standing out to me as leaders in the field.
I don't usually partake in podcasts, as I find them quite draining, due to my illness (M.E.); although maybe one a year over Skype is okay. This one, spread over two parts, is me talking about things I know the answers to: my life, my journey into sports writing, my time as a semi-pro footballer, TTT, getting to know Rafa Benítez and John Henry, and so on. So, not quite as taxing on my mental energy.
If you want to sign up to listen to it, use the link below. You also get the Under Pressure podcast as part of the service, with TTT stalwarts Dan and Dan (Kennett and Rhodes).
Also, please continue to subscribe to TTT, or sign up if you don't already! In this age of low attention spans (and high-quality audio output), we need people who like good old-fashioned writing.