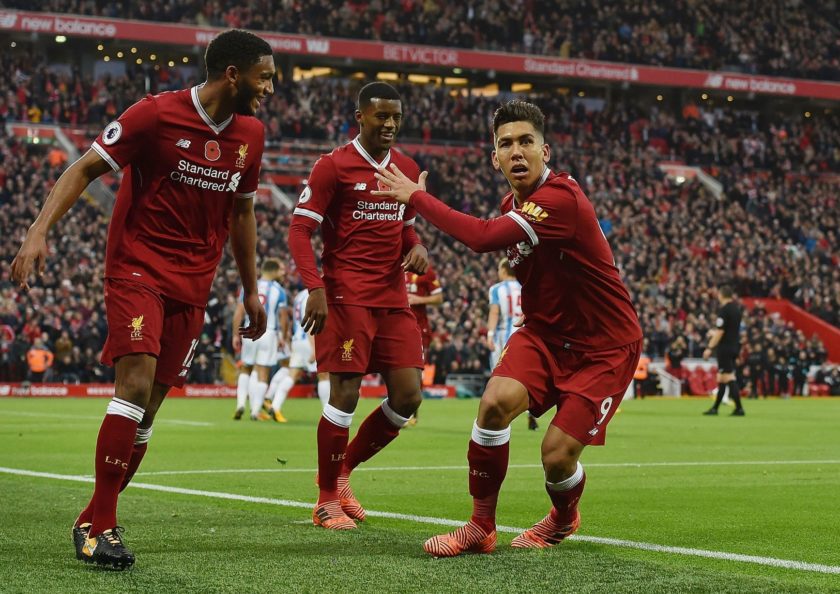 1 – By Chris Rowland:
After last Sunday's horror show, there's one bit of good news. Lime Street station is open again, and it's a Saturday 3pm kick off! At least there'll be no need to set the alarm. Nice and leisurely for the 10.06 from Hebden Bridge to Manchester Victoria. There are likely to be a few Huddersfield fans on it. I'm expecting a good many more at Manchester when I get on board the Lime Street train. I'm also expecting them to be mighty excitable – and not just because they beat Jose's bus crew last weekend. They're playing at Anfield – for the first time in the league since October 23rd 1971. It's their physical confirmation that they're back in the big time. Cue 'where's your famous atmosphere?', 'is this a library?', 'your support is fuckin' shit', the whole repertoire. Sure enough, we get the full set later, and a few more besides.
All goes smoothly for once on the two train journeys, and I'm into the almost fully functioning Limey just after midday. We are meeting at The Globe in Cases Street near Central Station and St John's. The talk is of which of the four goals at Spurs was the worst to concede. 1,2 and 3 are all contenders. One of our bunch, normally a mild-mannered affable laid-back individual, is almost apoplectic about Klopp's failure to do anything about our goalkeeper, our left-back and our centre-back, who everybody knows are not good enough, and have never been good enough, and what has Robertson done wrong to be overlooked and for Moreno to be preferred? And Can-love is in short supply too.
Amongst the many fractions of conversations bouncing around the packed pub (The Globe doesn't take much packing, mind), I hear someone say "Well I wouldn't accept that if Shanks or Paisley said it so I'm not accepting it from Klopp now either". But I don't know what it is! before I can butt in, they've downed their points and left. Fill in your own version if you want … there's definitely a sense of honeymoon over for Klopp though, no more free passes for the man in glasses.
Taxis to the ground, and inside the atmosphere in the Kop is flat, not dead but inert, like an extinct volcano, but one I know can explode back into life. Just not today.
There's a sharp contrast in the away section, which predictably is frothing and bubbling, like an over-excited kid on Christmas Eve. After all, they've got Liverpool at Anfield for the first time in 46 years, we've only got Huddersfield at home – the old saying. We don't even respond when they're goading us about our lack of support. Not even a desultory 'who the fuckin' 'ell are you?' Even when they're 3-0 down, with some of the home support leaving they sing 'is this a fire drill?' Seems they had the stereotypical great day out spoilt only by the match.
There was a time when being in the Kop meant you were actively involved in the match and with the team, actually affecting the outcome, a participant rather than a mute sullen passive observer and critic like now. It detracts considerably from the matchgoing experience, in my opinion. The old sense of the Kop being able to change the course of a match if you didn't like the way it was heading was very empowering and exciting. Just watching is not the same. We used to be part of the cast, not the audience.
At half-time there's virtually no conversation because there' just nothing to say about the first half. There's a bit of criticism for Klopp over Salah taking the penalty, and why didn't Milner? I say maybe because Milner missed his last one against Southampton and isn't likely to feature regularly and so you'd need someone who does play regularly to be your penalty taker so why not somebody who scored a crucial pressure penalty to qualify his country for the World Cup?
'But he missed' seems to be the answer. 'As did Milner with his last one, you're ready to forgive Milner and make him your saviour so why not forgive Salah too?' I ask heatedly. It's the sort of revisionist argument that really riles me. I point out that Firmino was becoming our penalty taker at one point but then he missed against Sevilla.
What we do agree on is that nobody knew why the penalty was given, the gasp of delighted surprise around the ground as people realised the ref had awarded a penalty was something to behold.
The rest of this article is for Subscribers only.
[ttt-subscribe-article]