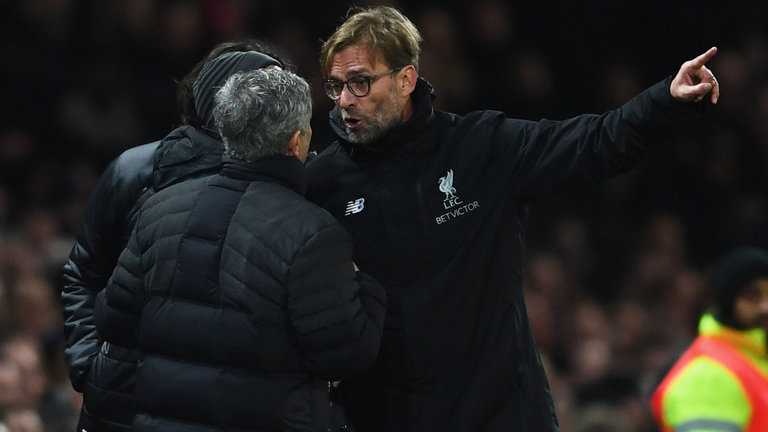 Of course, Jose Mourinho loves a 0-0 at Anfield. He's a genius because he can take a team costing over £500m after inflation and have them play like West Brom. It takes some doing. No normal coach can do that. You have to be special.
And his tactics weren't even that effective, as Liverpool created loads of "moments" in their box, unlike last season, when the Man United boss parked the slightly cheaper double-decker bus. The Reds' finishing remains woefully short of confidence, but Jose Mourinho is a genius because he has the best goalkeeper in the world. And he's a genius because Martin Atkinson didn't give a penalty when Coutinho was fouled in the box, just like Mo Salah (twice) in the last home game. Quite what Liverpool have to do to get a penalty is currently beyond me.
The genius Jose Mourinho may of course still win the league, with his genius of a £500m side. But fucking hell, for the sake of football, if it's not to be Liverpool (and let's face it, it won't happen this year), then please let it be Manchester City. At least Pep Guardiola has a £500m side (after inflation) that can play football.
The genius Jose Mourinho may still win the league, as he has the best flat-track bully in the game in Romelu Lakuku, who, against decent opposition, is rendered a £90m statue. But what a stroke of genius from Mourinho, to spend £90m on an unknown gem of a striker – you have to love the way he has, throughout his career, plucked unknowns from here and there and developed wonderful footballing sides. Yes, he's a fucking genius all right.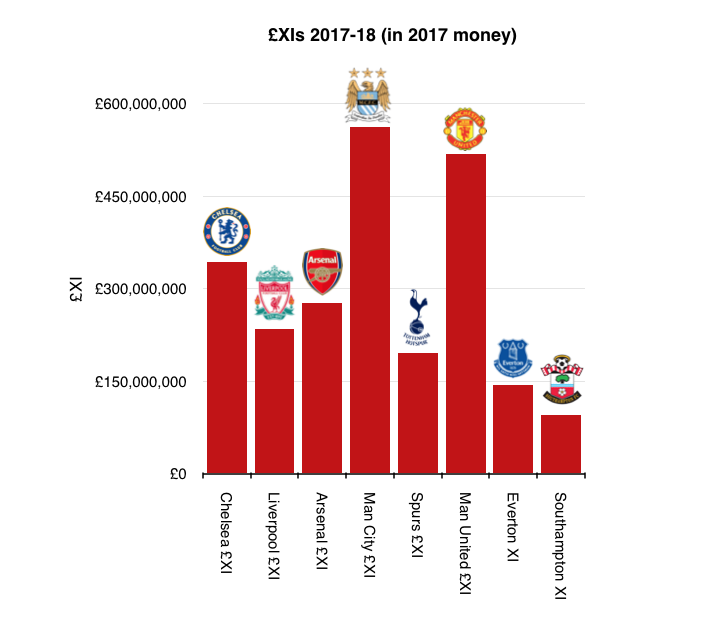 GRAPH: Cost of teams this season after six games, after inflation added. ("£XIs" are the average costs of all starting XIs adjusted for inflation.)
What's The Point?
A point wasn't great for Liverpool, but wasn't bad either, given the pressure the team was under, after a run of draws. Confidence is still a little fragile, but at least the Reds looked like a decent team that created chances. It is a team that has now already played Man City, Arsenal, Man United, Sevilla, Hoffenheim, and Hoffenheim again, and only looked the inferior team once down to ten men at the Etihad.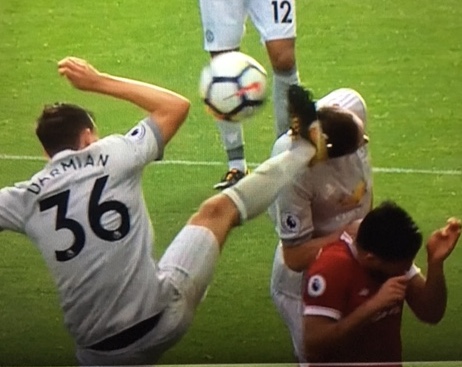 Incidentally, talking of Sadio Mané getting sent off that day, this wasn't even a booking. It's obviously not a high boot and it endangered nobody. I've got this right, right? It's only about 18 inches over Emre Can's head.
While Liverpool didn't win, it was telling that Mourinho set up against the Reds as if he was facing Barcelona; particularly after half-time. Just like West Brom last season at Anfield, Man United defended in numbers and attacked in straight lines, one boring mass of stodgy, uninventive dross. Bravo! (Maybe it's sour grapes on my part, but as the title of this piece says, Mourinho turns wine into water; he wins things, granted, but the taste is rarely pleasant.)
There was an amazing moment in this match, that will be talked about for years to come – grandchildren will be sat on knees and have it recounted by trembling voices – where Manchester United had a shot at goal. (Lukaku will presumably be docked a week's wages.) Oh, the joy. Be still my beating heart.
Mourinho, aka The Genius, is now, without doubt, the best football manager the game has ever seen; he captures the imagination, makes children want go over the park and kick a tree. He takes the game to new levels, like a steamroller that cost £500m and is used to run over Ferraris and Porsches, so that no one can be left with any nice things. He did it away at Southampton, too, just to show that he's happy to crush mid-ranking teams with his destructive powers.
In fairness, Alex Ferguson came to Liverpool a couple of times and did the same, with Rooney out wide in a five-man midfield, but that was when Liverpool were one of the best teams in Europe. And generally, his United teams crossed the halfway line.
But hey, Mourinho is a genius, isn't he? A right ruddy genius! He has taught the world to sing, and sing it does: a Sigue Sigue Sputnik B-side, off tune and out of key. Right now tears of joy are in the eyes of little boys and girls in Brazil, who will rush out onto the beaches to practice booting the ball 70-yards into the ocean. What a time to be alive. It says something when Burnley come to Anfield with more ambition.
But thank you, Jose, for expanding my mind, and giving us back The Beautiful Game. Wankers like Pep Guardiola and Jürgen Klopp are busy trying to ruin it with fast-paced play, creativity, invention, movement, while you turn one of the most expensive sides the world has ever seen into a bunch of hoofers, clearing the ball 60 yards every time (including Phil Jones' first-touch). It's just a shame that neutrals didn't get to see Marouane Scissor-Elbows Fellaini, as the game could have been taken to new heights – literally.
Maybe Liverpool were indeed wasteful with their chances – again – but at least the Reds are creating them. The team is playing well, and the luck has to turn soon – an opposition goalkeeper who doesn't have a worldie (although de Gea is at least genuinely world-class and not just having a one-off); a referee who gives legitimate penalties; the forwards all fit and in form at the same time; and maybe even a mishit shot that deflects in. At the very least, the fixture list gets much easier after Spurs become the 4th of the other five of the 'big six' the Reds will have faced in just nine league games.
But if you want a vision of the future, imagine a steamroller destroying the better things in life – forever.