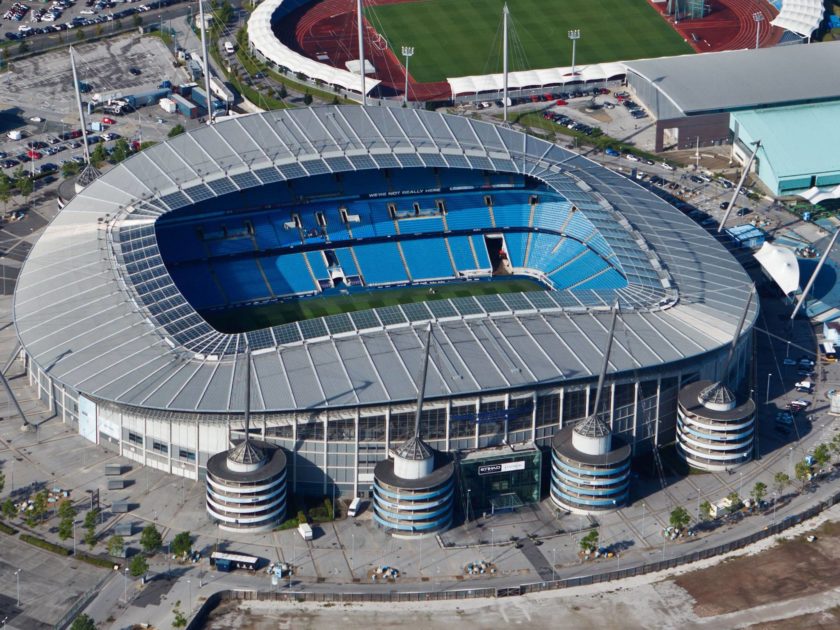 I broke my 'never in Manchester' rule on Saturday by going to a match there.
Let me qualify that – it's not that I NEVER go to Manchester. I go there to the proper Old Trafford to watch a Test Match. I go there for cask beer because it's got shedloads of it and lots of great places to drink it in. I go and see bands there.
I even go through it every home match. But only as a staging post, never a football destination. I've been to the Etihad once, before it was called the Etihad. I've not been to the other Old Trafford since 1999 except to see Liverpool beat Chelsea in the FA Cup semi final.
But this time … well I could say it was because I was so excited by our attacking against Hoffenheim and Arsenal. But the real reason is – I got a ticket! A £20 pensioner's ticket!
"Do you think I'll get away with it?" I joke.
"Oh I should think so" they all reply.
I can't say Manchester isn't handy for me, about 35 minutes away on the train, and as it's about halfway between home and Liverpool, more like a home game than a home game is, distance-wise.
But it is, at least for us, undeniably Bandit Country! 😉 Not a comfortable environment, although our rivalry with City is not quite of the all-consuming intensity as with the other shower.
Of course, it wouldn't be a match day without the kick off time being an issue. Even this close, it's an early start – the 0942 arriving at Victoria at 10.17.
Then it's a 20 minute walk across town towards Piccadilly for our designated meeting place – Mother Mac's pub in Back Piccadilly. There's only time for a couple of quick beers before the eight of us catch a bus with 'Etihad Campus' on the front. It would honestly have been quicker to walk – it crawls through traffic at an average of 5mph, like a double decker narrowboat.
As we walk towards our section, it starts to rain. Then it REALLY starts to rain. Drenched in three seconds kind of rain. And we were. I learn my trainers are absorbent. We have wet socks, sodden jeans, and we have to queue to get in.
You know the rest. Until the sending off, there wasn't much in it, and City didn't look all that. There is concern about why Aguero is left alone for the opening goal. The keeper's save from Salah doesn't disguise the tame finish. And then – THAT incident. On seeing it live, I honestly thought Mane might just get to the ball before the keeper does – a touch either side and he's through on an open goal. and I'm sure that's exactly where Mane's mind was. I'm so unclear as to what happened – and it happened at our end – I even wonder whether the keeper's going to be sent off for impeding a froward who would have been through on goal. But the City fans' reaction and the prone goalkeeper tell a different story. I'm sickened that some of our fans boo the keeper, even when he's stretchered off – though many more applauded.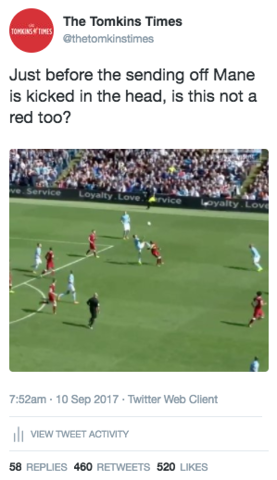 Just to make it worse, this happened just before the sending off – 'inconsistent' and 'ref' in the same sentence?
City then get to rehearse their second goal by having an almost identical one chalked off for offside first.
The half-time talk is incendiary. A few scousers I haven't seen before but obviously known to our contingent launch into Liverpool.
I hear someone rage that we've had years of this problem with our defence and he's sick of it. He says Klopp's had all summer to fix this and didn't, it's not good enough, if he's not up to the job then we need someone who is.
The Van Dijk saga rumbles on – "no plan B. He's the only centre-back in world football that's better than what we've got? Why didn't we get one that improves our defence?" I ask for names. They reply it's not our job to know names, how are we supposed to know the names of every centre back in world football, but it's their (the club's, Klopp's) job to know.
The concern for me hearing all this was not just the content but the people it was coming from – real hard core reds from Liverpool. I find the degree of disquiet – disquieting.
"When we're starting a game with Mignolet, Moreno, and Klavan and a raw teenager (TAA did have a bit of a nightmare, exposed and overloaded frequently with Mendy overlapping) in your back 5, you're bound to struggle" adds Pete.
Mignolet gets some stick – "he's a good shot stopper but that's it, he can't do the rest of it – distribution, decision-making whether to stay or come, making the defence in front feel confident …"
Can also gets some – he's not as good as he thinks he is is the consensus. His release clause has been dropping all the first half, it's now down to £4m they joke.
I say there isn't a team in the PL worse than City to be a man down against, they'll work the space, work us to death, forensically dismember us.
The exchange is what they describe as heated, passionate, and heartfelt. We're hurting. Bob thinks the next goal is the decider, if we get it they'll panic.  The others think it's so obvious who will get the next goal it's not even worth thinking about. Sadly, they're right.
The second half was all about endurance. We had to endure humiliation on the pitch and an endless torrent of derision and abuse off it.
Milner gets booed all round the ground as he comes on. 'Milner Milner what's the score?" they chant. Disappointing, what exactly did Milner do to deserve that after giving them such good service?
We get "You nearly won the league".
"Where's your European Cups?" we respond, holding up five fingers.
We get "You live in the past", 'Raheem Sterling is top of the league" (City were, at that point), and "Sterling left you because you're shit", the obligatory Gerrard slip song (at least it has a relevance to City, unlike most of the other retards who sing it), the depressingly retro "you're not famous anymore" and the depressingly basic 'you're just fucking shit." It's just like being at Old Trafford, I ponder. City fans have turned into their neighbours.
We get the lot, whilst in front us us our team is getting shredded. And this is supposed to be fun. We no longer muster defiance, just simmering mute acceptance.
Soon after 4-0 we decide Manchester's pubs are a better bet than its football and leave to get the Metro before it gets too busy. Amazingly a lot of theirs do too. They, and we, miss the fifth goal. I don't care, but they should.
We start queuing for the tram, and right on cue, after mostly blue sky during the match when we were under cover anyway, still drying out from the pre-match soaking, another biblical downpour re-soaks us as we're stuck in the open again. Rinse and repeat.
We're shoehorned into the tram and get off at St Peter's Square, and head for one of Manchester's finest, the City Arms.
Haven't we had enough bloody City for one day?
The beer is superb though, and the place is quite quiet. We begin the dissection. It ain't pretty. I try to think of other days when football left me feeling this flat. I can only think of a handful – Forest knocking us out of the European Cup in 1978, the defeat to Man Utd in the 1996 FA Cup Final, the Gerrard slip defeat by Chelsea and letting a 3 goal lead slip at Palace, being 5-1 down at half-time at Villa one winter evening in 1976 (though even then we went on to win the title). I can't ever recall being at another 5-0 defeat. Even the 6-1 at Stoke had the mitigation of being an end of season game with nothing resting on it. It is pointed out that we have now conceded eight goals in our two away games so far this season – pro rata that's 76 for the season in away games! A cheery thought as we move on after a few beers, passing a pub full of Utd fans waiting to watch their game at Stoke – neither prospect delights us – before heading our separate ways, me towards Victoria, the others the opposite direction towards Piccadilly for their respective trains to Liverpool and Birmingham.
At Victoria I run into the crowds assembling for the We Are Manchester re-opening concert at the Arena. All about Manchester pride, Manchester defiance, Manchester Manchester Manchester. It's not a word I want to hear right now, and my mood is very much at odds with the celebratory air around me as I weave my sombre way through the crowds to my train home. I can't wait to get out of the bloody place.
Manchester – OK for beer and pubs, cricket and music. A nightmare for football. I should have followed my principle – never in Manchester.