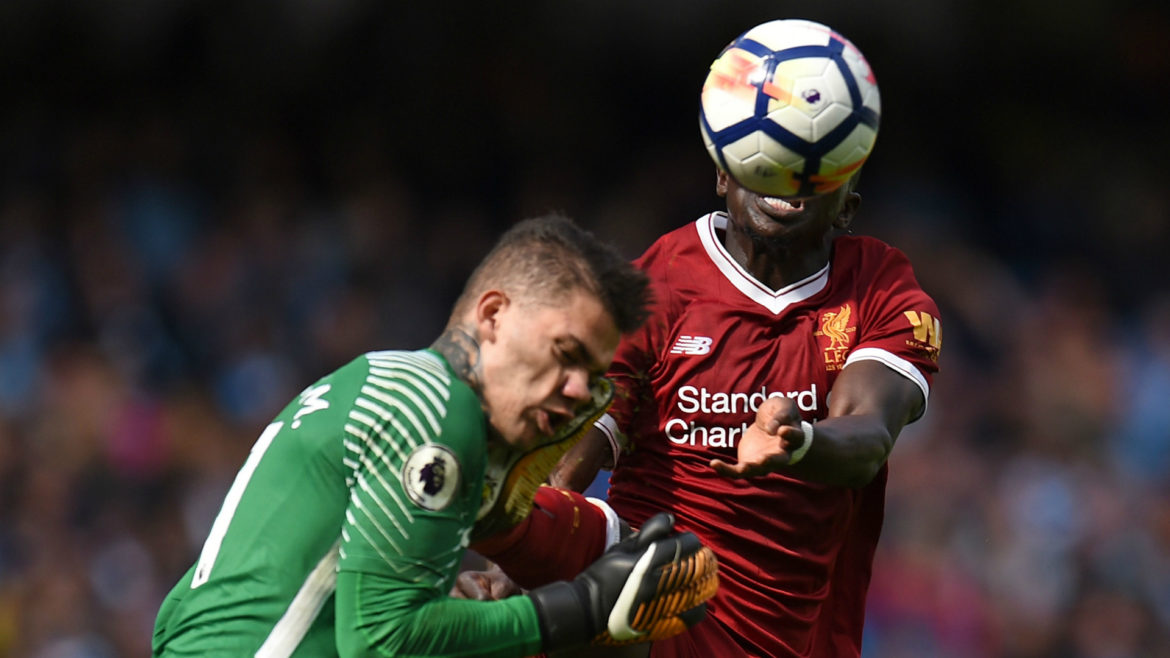 It's hard to take many positives from a 5-0 thrashing, but on the plus side, Liverpool have at least played Arsenal and Man City within the first four games. (Although the Reds usually do well in these fixtures – not that they can therefore be considered "easy". The club's starts seem farcically tough these days, with an away game guaranteed on open day every single year.)
And at least Philippe Coutinho can now come into the no.8 role, where Gini Wijnaldum's excellent influence remains almost exclusively at Anfield, while away from home – aside from the obvious lack of goals – he seems more liable to disappear (although he still puts in a shift).
And at least the Reds were probably the better team at 11 vs 11; at the very least, no worse than City.
Oh, and at least we're not Everton.
But equally, the Reds were poor when down to ten men. That said, the timing of the second goal just before half-time effectively killed all hope of a comeback. The scoreline clearly flattered City too, although by the end they were queuing up to score. Jürgen Klopp had long-since removed players to save them for Wednesday's match, but even so, it was still a very downbeat last fifteen minutes. Alex Oxlade-Chamberlain has a 0-9 aggregate score for his last two Premier League games, although he'll rarely enter the pitch with Liverpool in such an unwelcome position.
The most saddening part of the referee's poor decision to send off Sadio Mané is we didn't get to see what Liverpool are really like. Defending away against Man City with just ten men is not a true test of any team, unless it's one who already planned to have everyone behind the ball and shell it out for a draw. The result matched the same five-goal margin that the Reds lost at Stoke to a few years ago, but at least this has the caveat of so much time spent with a man light, and actually being against a good side. This doesn't feel like the end of an era, obviously, but it's a painful blow to what was looking like a great start to the season.
Days before the Champions League, and days after the return of his players from all across the world, Klopp could do little about the referee's interpretation of the rules, in the first half of such a big match. I'm all for referees not bottling decisions early on in such encounters, but I'm not for them overreacting either. Especially when you consider that Yaya Toure was not sent off for dangerous play in the same fixture last season, where his full-body weight careered into Emre Can, who could have made more of the challenge.
I had a bit of bad feeling about this beforehand, in terms of Liverpool being given a hammering – stating on the site before the game that while it has never happened under Jürgen Klopp, the worry is that if anyone could do that to you, it would be City. Indeed, Liverpool have hammered a few big clubs under Klopp, and never had one in return. It kinda felt due, in a weird and irrational way.
But I still think Jon Moss cost the Reds any chance of getting anything out of the game.
Feet are raised high all the time in English football without even bookings being handed out, and for me, the key issue was that Sadio Mané didn't even know the keeper was there. Yes, it looks bad in certain still images – he did catch the keeper in the face – but for me, the circumstances dictate dangerous play. If you don't think someone is there, then you usually don't get punished.
Mané had his foot up to cushion the ball, and his eyes were only focussed on that task. Not once did he glance across at the keeper, probably because he probably expected him to still be in his box; certainly not right on top of him.
Vitally, Mané was also running at an angle, almost at 45-degrees, that was taking him towards the corner flag (in the same way a striker takes the ball round a keeper), as the ball span in that direction, and not directly at goal, where the keeper would naturally be directly in front. As such, when he lifts his foot it's not towards a player – unless a right-back miraculously appears out of nowhere. Mané knows he's in behind the defence but he doesn't know where the keeper is.
If you look at the still images, you can see that it's Mané's ball. At no point is it ever the "keeper's ball". It's Mané's to try and control. And look how far out of his goal the keeper is.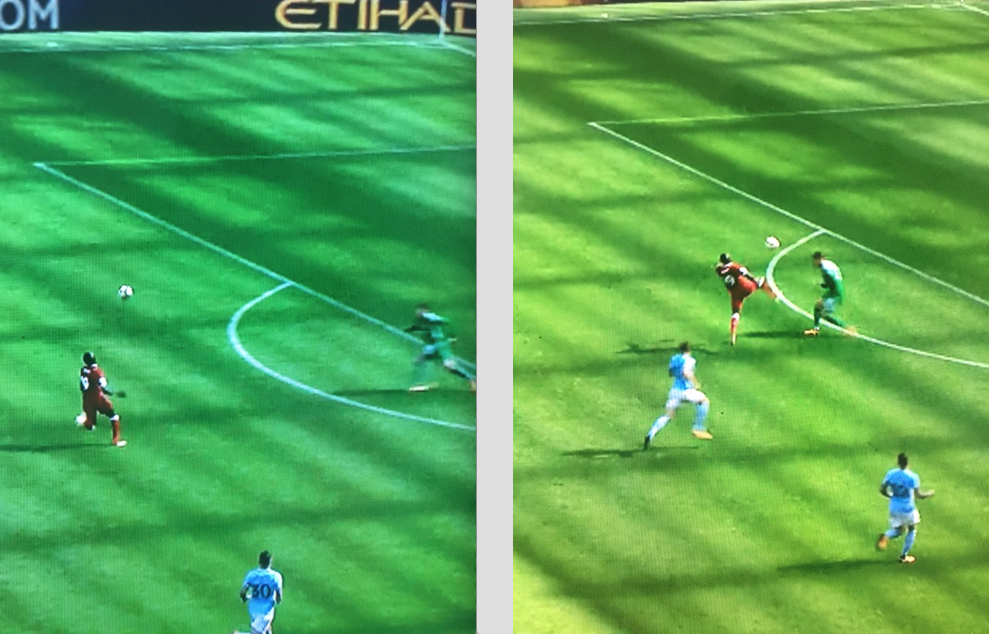 Mané didn't put his foot up into the goalkeeper – he wasn't running at the keeper. The keeper ran out of his box, into the raised foot. So it's a foul by Mané, because the keeper got there a fraction before him and contacted with Mané's high boot. Dangerous play on Mané's part, from a technical point of view. But not serious or reckless foul play. It's like when a full-back, clearing down the line, kicks the bottom of the foot of an attacker running across his line – it looks terrible but it's usually nothing, as players collide on different angles.
It's also like giving a straight red for an overhead kick. It never happens. What Emre Can did at Watford last season saw his foot even higher than Mané's. But no one was hurt. It's dangerous play if it catches someone six feet off the ground, but never a red card when it's an overhead kick or an honest attempt at the ball. Apparently Mark Clattenburg said it should have been a yellow for dangerous play. Which to me is 100% right.
And even if it wasn't as bad a decision as first appeared – if the dangerousness could be accepted – it still split the opinion of most pundits. So it was in no way a clear red card. And if different referees would have adjudicated it differently, you have to feel a bit aggrieved that it was "one of those days". Essentially, the game hinged on a call that could have gone either way.
Then, Mo Salah stayed on his feet when Otamendi fouled him in the box. Strikers simply have to go down in those situations because if they're slowed down even by 1/100th of a second, then the advantage can be lost. Of course, Jon Moss would probably have booked him for diving. But it's not a dive if you are clipped, and Otamendi should have seen red. (Incidentally, James Milner did something similar on Raheem Sterling last season, so in that sense, what goes around comes around.)
Indeed, it'd be nice for a referee to proactively start giving penalties when strikers do stay on their feet (but lose a fraction of balance), as it's such a bottle-job on their part that they don't. If it's a foul, it's a foul.
That said, City's finishing was excellent. As were their crosses. Once they had the advantage of a goal and an extra man, they made the most of it, and then some. City had so much joy last season against the Reds with quick low crosses after getting in behind the Reds' full-backs. However, Liverpool were coping better with them 11 vs 11 this time, but once Mané was sent off it was hard to cover the spaces.
The second half of this article is for subscribers only. Sign up for £5 a month or £55 a year. 
[ttt-subscribe-article]