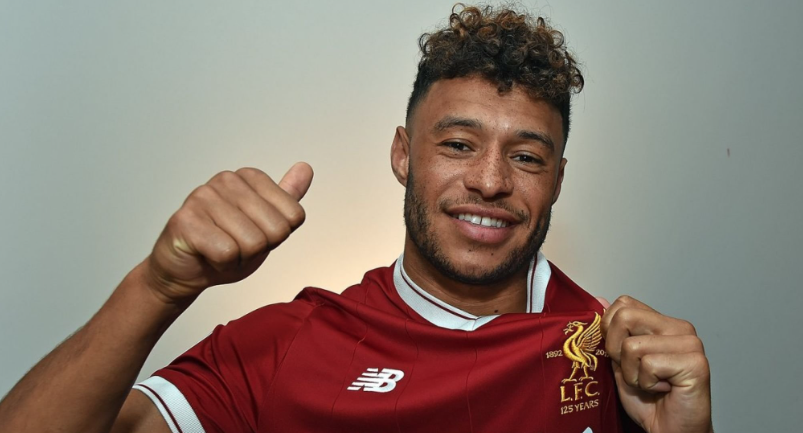 So, it's been quite a week. Ins, outs, and even some shake it all abouts.
The end to the transfer window can obviously feel like Christmas morning, when you've already had your presents, but are still hoping for more. Indeed, I can hear the sound of crying "children" everywhere, who got something amazing a couple of days ago – a genuine world-class talent in Naby Keita – but are having a hissy fit because they have to wait for it, and who have got bored of having a handful of shiny new things already. (Like, Salah – what's he gonna add, eh, seeing as we got him months ago?)
And to some, Alex Oxlade-Chamberlain clearly feels like the well-meaning and eminently sensible present that they needed, but didn't exactly crave.
Liverpool have bid some serious money on some serious players, and also had those in need of offloading on deadline day – plus, the whole Philippe Coutinho saga, where keeping him arguably became a priority beyond any inbound transfer. And while the Spanish transfer window isn't shut, I'd be genuinely shocked if he was sold now that no replacements can be procured.
It's been a weird summer, so why wouldn't it be a weird deadline week? This has been the summer of the big move, albeit only in line with the rise in TV money, as I point out every summer when prices go "crazy"; and more tellingly, of the big denial.
Clubs are holding on, tooth and nail, to their best players. Well, some clubs are, Liverpool included, whilst the Reds have also been one of the thwarted parties. (You can't have it all.)
At the start of the summer, centre-back was a clear priority, but that wasn't successfully addressed, although the attempts to make it happen are now infamous. So the window isn't perfect.
But had we known the full lay of the land in May, a bigger priority would have been keeping Philippe Coutinho, were we told back then that £130m-or-so would be offered for him by Barcelona. That instantly changes the context quite dramatically. (Had Liverpool landed Thomas Lemar this week, then maybe Coutinho would have been sold. That's just a guess on my part.)
Full-back was also in need of addressing, but various solutions have been found, to the point where Liverpool have half-a-dozen full-backs, only one of whom was signed this summer.
As I keep saying, each summer is not just about who you bring in from other clubs, but also, who you bring through.
At the start of the season, to add Mo Salah, Oxlade-Chamberlain, Andy Robertson and Dominic Solanke (whose youth career was outstanding), plus nail-down the amazing Naby Keita for 2018, all while losing only the ageing but lovable Lucas Leiva (and loaning out Divock Origi) from the regular playing squad last season … and all the while holding onto Coutinho, would, to me, constitute a very good summer.
Not perfect, mind, but how many clubs can guarantee that they have perfect transfer windows? So much is up in the air, especially if you can't write oil-backed cheques to make it so much easier. PSG are solving all kinds of problems with their playing staff, only to open up all kinds of problems with FFP; and all with "dodgy" money.
Other centre-backs might have been sought (more on that later in the piece), and admittedly I don't quite get the aspect of loaning Origi out without someone else coming in, as much as I can see his need for first team football. (My only assumptions are that others can play up front in the more fluid style Klopp likes, and Danny Ings is at least considered for a squad place now. Clearly Ings would suit Klopp's style, if he is over his injury woes.)
But the signings, to me, are genuinely exciting. Let's focus on what we have, which has helped towards a great start to the season (even though five internationals are yet to even get a minute of playing time) rather than what might of been.
The trouble is, once we have some things, we soon ignore their worth and want the next new things. Modern society only continues to speed up this process, where being happy with what we have won't give us the happiness we are being constantly sold.
We acclimatise to what we have over time, by way of the 'hedonic treadmill' – the new shoes you bought a few months back, and loved, are now worn in. They're now inherently less interesting than various shiny new pairs out there, even if the ones you have are the most suited to you, and have already shaped themselves around your feet. The new pairs can change your life, make women fall at your feet (and once there, presumably they can admire those shoes even more closely).
And, as I've mentioned many times, it's been shown that we have a disproportionately negative response to things – focusing more on the bad than the good (because, in primitive life, the bad could do us more harm than the good could do us good). So, people are able to ignore all the good done in a transfer window and manage to find crises where none exist.
And while optimism biases exist too, I'm not the one who goes around saying Liverpool will, or should, be winning the league. My predictions for last season were almost spot-on, if not a fraction pessimistic (3rd-5th, 70 points).
If all the players the Reds signed were done on deadline day it would feel utterly amazing, albeit after months of even more unbearable whining. Instead, they happened in stages, spread out across the whole summer. Some fans are now blasé about Salah, as if he hasn't just had one of the very best starts to a career at Liverpool in recent memory. In a weird way, fans want more money to be spent, and almost resent bargains.
Instead, it's all about the next hit, the next high. (And certain social media outlets rely on you constantly clicking for that next high; the transfer window is the epitome of this hitting "refresh" for dopamine.) It's an actual addiction, which stimulates the brain in the same way addictive substances do, and many people seem more hooked on it than they do the actual games. (As I found on one online article, "Researchers at Chicago University studied the effects of social media. They concluded quite quickly that people presented higher levels of addiction to social media than the need to smoke or drink.")
There's no guarantee that Liverpool's excellent early-season form (four wins and a draw) will continue, but these are results without a single minute of football from Coutinho, Adam Lallana, Nathaniel Clyne and new buy Alex Oxlade-Chamberlain. Those are four players to add to the mix. (And, of course, if Danny Ings finally stays on course to get fit, there's another good player for the squad there. In a month or so, as he ups his fitness levels, he should be challenging for a place on the bench.)
Seen as such, the squad is hardly paper-thin, and equally, we probably haven't even seen the best of Liverpool yet this season. Coutinho would obviously elevate the XI, and at worst, the others would massively strengthen the bench. As such, some excellent players won't even make the 18.
And while the Reds are in some ways light at centre-back without the addition of Virgil van Dijk, and the sale of emergency centre-half Lucas, there's the re-emergence of Joe Gomez, and still the possibility of using Emre Can there, even if it's not his ideal position. (Not that you'd ideally want to move him from midfield the way he's playing, but having so many midfielders makes it an option. And, at 23, he's getting close to the age where he's experienced enough to handle that role. Of course, getting his new contract signed has to be a priority.)
While Oxlade-Chamberlain may not be the most exciting signing in the world – at least compared with more exotic names linked to the Reds this summer, several of whom were bid on, and a couple signed – it's instructive that Man City wanted him last season, champions Chelsea bid £40m for him this week (with hefty wages) and Arsenal obviously wanted to keep him, too.
And so that's Pep Guardiola, Antonio Conte, Jürgen Klopp and Arsene Wenger – with about a gazillion trophies between them – all wanting Oxlade-Chamberlain. Which, if nothing else, serves as a rather strong reference to his qualities. Landing him has to be considered a coup, given the quality of clubs and managers interested in the player. Irrespective of some fans' views, the experts at the coal-face rate him highly. He's not some "perfect" player or a cure-all solution to anything. But he's pretty damned good. And his physical strength and direct running will presumably suit Liverpool's football down to the ground.
I don't think this necessarily solves anything in the "who is the bigger club" dickswinging that fans will engage in, not least because there are various factors at work (managers' personalities, playing position, current vibe at the clubs), but it does show that Liverpool retain some pulling power, and that the Reds have gained some ground on their rivals in the past 12 months; and if anything, overtaking Arsenal in many respects – certainly on the field, while Chelsea are struggling to land a fair few targets too. Wenger, for so long a proponent of the beautiful game, looks rather lost, his teams fitful and fanciful. Right now it looks like a fight as to who can get off that particular sinking ship, although their time will surely come again, albeit possibly only after a managerial change.
While Jürgen Klopp demands a work-ethic that would make some iron-man triathletes faint, it still looks like fun to play for Liverpool.
On the downside, AO-C's injury record isn't the best – although 200 games in six years isn't exactly bad, with 115 of those in the past three seasons. And his league goals return is clearly poor.
However, he has an excellent goals return when he plays with England's senior team (6 in 27 at the time of writing), as he had with the U21s (4 in 8), and as he had at Southampton aged 17 (10 in 41).
That suggests that perhaps he hasn't been utilised to the best of his abilities at Arsenal, which may be the fault of Wenger, or just a question of finding the right spot in a team brimming with attacking talent but little grit; which, of late, has meant Oxlade-Chamberlain being stuck out at wing-back. If you're prepared to do any kind of tracking back at Arsenal, you probably get deployed in a more defensive role, as Mesut Ozil smokes a cigar in the a-hole. Granted, AO-C didn't do himself any favours at the weekend, but it was a team drained of any organisation and, well … soul. He's been dragged down by the Gunner malaise.
(Incidentally, Arsenal look exactly like Liverpool did after Brendan Rodgers received his stay of execution following the disastrous end to 2014/15: some token backroom changes, but the same issues remaining, and a kind of phoney amnesty as everyone almost waits to get angry again, and for the axe to finally fall. I was on record for being all for keeping Rodgers, of course, unless someone like Jürgen Klopp came along; change for change's sake is rarely helpful, if you then get stuck with a new unsuitable manager. But by October, Klopp did come along. And as pathetic as some of the criticism of Rodgers' new backroom staff was that summer, it hardly felt like lighting the blue touch paper. Equally, nothing about Arsenal feels fresh and exciting – it seems stale, old, unfocused. And as with Rodgers, the fanbase was always going to jump straight into to "unrest" mode at the first bad results. But I digress…)
Oxlade-Chamberlain turned 24 a couple of weeks ago, so is no longer a "youngster", but equally, he's at a really good age to go up a level or two.
Equally, he's clearly ready to do a job now. And knowing so many of the players from the England camp may help him settle quickly.
While Liverpool haven't really gone for the "old and established" route since Klopp's arrival (signing only one older player, a reserve centre-back), the club also haven't bought that many kids, perhaps in part to show trust in those coming through, but also because it's a fairly young squad overall, with hardly any 30-somethings; and right now, none in the team. Indeed, if you're 28 in this Liverpool side you're an old man. Lucas Leiva has finally gone, leaving just Ragnar Klavan and James Milner, the old outfield men at 31, both of whom are now mere benchers.
There seems to be a happy medium with the signings, with a glut of 24/25-year-olds (at the time of their transfers) like Sadio Mané, Gini Wijnaldum, Joel Matip, Mo Salah and now Oxlade-Chamberlain. No singngs have been in danger of melting, beyond Klavan. Andy Robertson is 23, and only Dominic Solanke is both young and inexperienced – but also, big enough and strong enough to be part of Liverpool's first-team plans, if not an immediate starter. (And he had a season in Dutch football aged 17, so he's not completely raw.)
Virgil van Dijk – perhaps the main target of the summer – has just turned 26, while Naby Keita is just 22, but also, clearly ready (although he has to stay for another year in Germany).
With young players like Trent Alexander-Arnold and Joe Gomez coming through (and Ben Woodburn behind them), and with Marko Grujic still only 21, there's less of a need to buy in the 18-22 age-range right now, where a season or two of growth as a player (and as physical specimens) may still be required. The 18-22 age-range frequently feels to me like the best time in terms of value for money to buy players, as they are often a little under the radar, but you have to be patient, too. If they aren't under the radar, the fees can be huge.
You only have to see what's happening with Kylian Mbappe to observe how a talented 18-year-old can present both mouthwatering potential mixed with a possible 15-17 years of football ahead of him (which either you get, or you sell him to recoup money on) and, as such, command a massive fee; albeit in this case via some nefarious loan. The worry then is giving them too much money too soon, and they lose their hunger. But as noted, Liverpool are not short of younger players. Instead, the signings are youngish, and clearly still hungry. The club is at once, with this summer's spending, planning for its present and its future. Pretty much all of Liverpool's best players are 25 or 26, not 29 or 30.
Interestingly, I was asked in the comments section on this site (which is all behind the paywall) what the £12m Arsenal paid for the 17-year-old Oxlade-Chamberlain would now equate to, using our Transfer Price Index inflation model. The answer? £34.7m. So to pay £35m for him (rising to £40m) seems eerily accurate, if perhaps coincidental, given the different factors at play in 2011 and now. The outrageous potential of a bullish 17-year-old has been lost, but replaced with 190+ games for Arsenal and 27 caps for England up to the point he turned 24. So, instead of pure potential he now has pedigree.
Equally eery is that the transfer record for a fee paid by an English club in the Premier League era is £137.8m, and the fee Barcelona were quoted as offering for Coutinho was, er, £138m.  But these fees are in 2016/17 money, so do not take this summer's inflation into account. This summer's deals will go towards calculating 2018 money, and – as a total guess – the c.£137m (TPI) fees paid for Andriy Shevchenko, Wayne Rooney and Rio Ferdinand over a decade ago could be closer to £160m when put into this market (which feels a bit crazier than others, but that may just be recency bias).
Again, it may all be coincidental. And none of it gets anywhere near the £226m Cristiano was sold for – the highest amount in 2017 money in the Premier League era for ins or outs – back in 2009 (although that again was mirrored in the Neymar fee of around £200m, for a player in his mid-20s).
The £35m-40m Liverpool paid this week for Oxlade-Chamberlain, 24, is far less after inflation than the Reds paid for Stewart Downing, aged 26 in 2011, which works out at £57.8m in 2016/17 money – but could easily be £70m in 2017/18 money. (We'll only calculate the latest inflation once the January window closes.) Downing was older, with far less of the potential the Reds' latest signing offers. This feels like much better business.
Perhaps the Ox (if we must call him that) had gone stale at Arsenal (along with about half a dozen others), and you'd hope that the better fitness levels found at Liverpool – and indeed, Klopp's energy and the team's upward trajectory – would help him to become a stronger, more dominant player. That said, he has to get in the team first. I'm not quite sure where he fits in if everyone is fit and available.
But as with many of Klopp's favoured players, he's versatile. He certainly won't be far from the XI, but may again find himself filling in here and there.
The final part of this article, which includes a look at the other ins and outs, is for subscribers only. See below for details of how to sign up.
[ttt-subscribe-article]