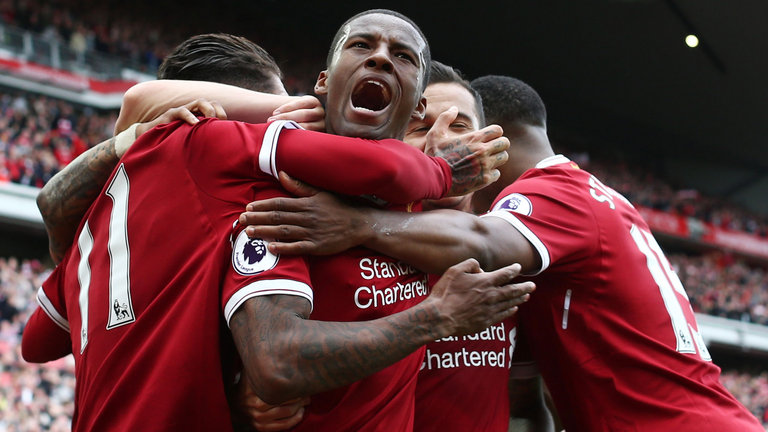 Before panicking about the season – and there's still time left in the window to make more signings (and hold on to Philippe Coutinho) – it's worth remembering this:
Jürgen Klopp, aided by an excellent staff, is an improver of players. Each year he still needs to buy some additional players who suit his style of play, and to work on upgrading a squad, but his career is marked out by improving players and creating unified teams, with a strong tactical identity.
As much as we all like the euphoria of new signings, and the promise they bring, it's worth remembering that, all along, Klopp has stated that there are many ways to do things. If you listen to him speak, you will understand that he's a hugely pragmatic, optimistic character, who will work with what he has (or what he can get).
It seems that he wants to target very specific players, and if they cannot be gained at a sensible price – or even inflated prices – he will not hurriedly rush to alternatives. He will not buy players he does not think better than what he has, just for the sake of it, when he can work on improving what he has. Of course, you can't turn slow or medium-paced attackers into Sadio Mané or Mo Salah, but as Klopp himself has stated, suddenly he has Ryan Kent, a much-improved 20-year-old, and Alberto Moreno, who I will move onto later. If you go through the squad, as I will do, you will see that it's already stronger in several areas. What was planted several years ago is now starting to bear fruit.
What Spurs have done these past few years should be replicable for Liverpool; and even more still, given the club's bigger budget. Klopp and Mauricio Pochettino seem cut from similar cloth, and the dramatic, hitherto unimagined improvements at Spurs – 86 points! – has been achieved with little spending, but a lot of nurturing. Indeed, their late "panic buy" of Moussa Sissoko serves as a warning for buying for the sake of it. (He may still come good, but added nothing last season.)
Mario Balotelli is the ultimate example of adding a player in a panic who only serves to make things worse; the damage it does to the team, when someone doesn't bother to run in certain matches, or pisses about in training, all the while earning more than those grafting for the shirt. He seems a nice guy, but a distraction.
Irrespective of whether or not fans think this is about having tight-fisted owners, the fact is that the Reds have bid a lot of money on Naby Keita, and presumably the money is there to offer to Southampton for Virgil van Dijk, if the earlier cock-up hasn't torpedoed it. Liverpool would not look to embarrass themselves if significant money wasn't there to offer to the south coast club.
And yet it seems that Klopp sees no alternatives worth pushing the boat out for. So if no further signings are made, it's not from lack of funds – it's just about spending on the right players. This of course could be a mistake on Klopp's part, but the way he works is the way he works – we didn't bring in a Harry Redknapp, after all, to spend his days winding down his car window and snapping up the same hoary old pros for about the fifth or sixth time. Spurs did well under Redknapp, but the current model works much better for them.
Alas, transfers these days seem to fit with a grass-is-always-greener solution to life; a constant state of agitation amongst a support driving itself insane. The same was said last summer – Sadio Mané isn't good enough, we haven't signed enough players, etc. Yet still there was a big improvement. There wasn't a lot of churn, and Klopp had specific tactical plans for each signing, which helped them to settle into the team. He didn't just stockpile, like some clubs do.
Klopp, Buvac, Krawietz and Lijnders are improvers of players. It's what they do. They're not wheelers-and-dealers, but proven in the art of making players better. Indeed, Lijnders has a vital role in bringing the right youth team players into the first-team set-up, and helping them to integrate and thrive. There is world-class thinking at the club, in joining everything together. (So when I say Klopp, I am often referring to his team, too.)
Evidence of Klopp's Influence
Normally you'd get a reasonable number of players who thrive under a new manager, but also an equal amount who fade. Some will suit the new man's style, others won't; often, plenty won't get the technical and tactical improvements, just pats on the back and a short-term boost of confidence or that fresh, temporary need to impress the new boss. Then it all regresses to the mean.
Players usually get better with age and experience, if free of injuries and slack attitudes, but Klopp has found extra gears, new levels – indeed, new positions, for the players. It's about planning, thinking, plotting, rather than lobbing bags of cash. At Dortmund, Klopp worked with numerous little-known players and helped turn them into household names. At Liverpool, so many players have blossomed under his guidance.
He has a bit less time, a bit less breathing space, than when he took charge of mid-table Dortmund, with Liverpool a higher profile club with a horrible impatience for the title. But it's up to us to give him the time and the breathing space. It's what I try to do; it's what I did for Rafa Benítez from the start of 2005/06 onwards, as people so quickly lost faith (my email inbox was awash with anger) just a few months after Istanbul.
Who at Liverpool has got worse under Klopp? Daniel Sturridge, but a large part due to injuries, and in some part due to the style of play – to which he would have better suited, if not 100% ideal, before his pace was diminished. Jordan Henderson has improved his overall game, but had a persistent heel injury that has limited his playing time under the German. Christian Benteke didn't really work out, but bar a couple of nice goals he wasn't proving ideal for Liverpool before the German arrived. Jordon Ibe lost his way, although that seems to be an issue with the player, given his failure at Bournemouth. Ditto Lazar Markovic – a bright talent, but like Ibe and even Benteke, a bit casual, a bit peripheral, a bit lost.
Otherwise, rather than players going backwards under him, those who don't play are merely "out of the team". They are not castaways, deadwood, rejects. At any one point a squad will have those who cannot get near the first team, but if that's because existing players have improved, then that's healthy.
Those who have improved? Mignolet, Clyne, Milner, Lallana, Can, Wijnaldum, Firmino, Coutinho, Mané, Matip, Stewart and more – although many of the younger players (18-22) should logically improve anyway, although plenty still regress.
Squad Is Already Bigger
My experience of what fans in the "real world" (i.e. beyond these sane virtual walls) think is often through Twitter. I pop my head in, like a man sticking his head into a septic tank. It terrifies me, the impatience, the rank stupidity, but it's important to remind myself, now and then, what the masses think. Alas, the masses are corrupted by biases and sink to lowest-common-denominator thinking.
"Three in, three out" someone said; I saw talk of the squad being smaller now, not larger.
But this is misleading. It ignores a huge section of the squad, and assumes that one of those who left (Andre Wisdom) was ever really here under Klopp, while Kevin Stewart improved beyond all recognition but was never going to become the answer, as he approached his mid-20s. Lucas Leiva leaving is the only weakening of the squad; the only player from the 18 or even 24 players who would be chosen on match-day.
Now, at this point I'm assuming that Philippe Coutinho is staying, although I would not be surprised to see things get drawn out with Barcelona, just as has happened to Liverpool over Keita and van Dijk, and all three situations could stay as they are now, or get tipped one way or another as the brinkmanship of deadline day approaches. "Not for sale" is never "Seriously, not for sale!" because there's always a price; but I don't see Barcelona matching it based on the offers made so far.
(The question then is whether the Brazilian accepts that and gets on with it. It wouldn't surprise me if he stayed, and it wouldn't shock me if he tried to finagle a move to Spain. Equally, I'm writing this on the assumption that Liverpool will not get Keita and van Dijk, although I think the latter seems the more likely, given he has taken to striking, and the situation right now is not doing Southampton much good. Add either of those and the season preview needs serious alteration – unless it's Keita being signed with the masses of money from the Coutinho sale, should that happen.)
So this is written from the perspective of Coutinho being at Liverpool, and not only that, but being better than last season.
Why? Well, aside from the possible issue of being unsettled or unhappy if he is forced to stay (based on the assumption, which could be true or false, that he would naturally want to go to Barca), he is at a ripe age from improvement – just turned 25. Then, the fact that he missed a couple of months last season and was very poor when he returned too soon from injury, means that improving on last season shouldn't be difficult, if he is relatively injury-free.
Next, there's the new deeper position, and the pacy options ahead of him, ready to be picked out with sumptuous passes, or how their runs – on and off the ball – can create mayhem and carve out spaces into which the little Brazilian can stroll and take advantage.
Finally, his goal output has improved in each of his five seasons at Liverpool. A large number of goalscoring midfielders only really get flying in their mid-20s; indeed, Steven Gerrard only became prolific in his mid-20s, and Frank Lampard's goal returns for Chelsea up until his mid-20s are almost identical to Coutinho's.
(Now, of course, if Coutinho leaves, this piece is semi-redundant. Then, new signings would be absolutely essential. To sell Coutinho and not have replacements lined up would be reckless. While I can see a situation where Coutinho leaves, I cannot see one where it's done before replacements are lined up.)
What seems undoubtedly true is that the squad is better, to the point where Adam Lallana – now injured – is no longer a first-XI pick anyway; ditto Gini Wijnaldum. Both were excellent last season, yet both have become squad players, albeit not distant, fringe squad players, but maybe numbers 12 and 13 in the pecking order – the kind who usually play anyway, because there's usually at least one injury somewhere in the front six. As with so many players Klopp likes, versatility is vital.
Mané is fit again, and there's no African Nations Cup. It's not just his quality as a player, but the key ingredient of pace. However, not just pace for the sake of it. He is not a clueless sprinter, but a two-footed threat on either flank. And he should get even more space now that Salah is on the other flank, because teams cannot look out for just one quick player.
And Jordan Henderson is fit again. With Mané, that's two key players who missed the final months of last season, while of course, Coutinho missed the middle of the season and struggled until the spring upon his return. Emre Can is over the injuries that harmed his performances until the run-in.
There will of course be different players injured this season, but you never know how seriously. Liverpool didn't have a high number of muscle injuries last season (although there was no Europe), but there will always be some. You will always get a knock or two, but the law of averages suggests fewer cruciate injuries is on the cards, not that the law of averages protects anyone from an awkward fall.
This is written without the foresight of who gets injured, and just how vital (or not) those players are. It's written from the perspective of who is fit now. And I see plenty of depth. But once injuries occur, they logically eat away at the perception of that depth. The squad will then look smaller, but you can't say who will be absent – except that it may include Daniel Sturridge, alas. Liverpool now have real depth in all positions, but that doesn't mean improvements can't be made.
I've talked of improvements since Klopp arrived, but who clearly improved last season? Coutinho. Can. Henderson (first half of the season, before injury). Simon Mignolet (a big one!). Gini Wijnaldum, as the season wore on. Roberto Firmino. James Milner as a new full-back, although by mid-season that faded. Nathaniel Clyne, going forward, again until mid-season. And I felt Joel Matip got stronger as the season wore on.
And, vitally, five or six players went from youth football to become genuine first-team squad members.
On the flip side, Divock Origi stagnated a little, in and out of the side, with one prolific spell midway through. Alberto Moreno was a liability in a short team. Dejan Lovren remained hot and cold – no worse, no better; or perhaps, to be fair, more frequently good than in the past, but still likely to self-destruct, such as the home game against Palace. But it's worth recalling how good he was in the battles against the big, brutal long-ball sides away from Anfield in the run-in.
Depth
There is squad depth, without question. Indeed, if Roberto Firmino starts up front, then there's no starting place for Sturridge, Origi and Solanke, who would join Lallana and Wijnaldum as players not quite in the "best XI". Yet these are all players you'd still be happy to see in the XI.
(It's not looking so good for Danny Ings, but if he gets fully fit, who knows?) Any of these strikers could play in a two-man front-line, and Mané can also play more centrally. They are all so different in styles, too. There is versatility.
People are only now realising how good Solanke is, belatedly cottoning on to the fact that he's had a phenomenal youth career, and at 6'3" and aged 19, is big and strong enough to do a job for the first team, with a clear eye for goal.
Of course, over the years we've seen new players score goals in pre-season and then go on to do nothing, but usually these goals came against non-league-level opposition. We've seen someone like Bruno Cheyrou shine against a team as good as Lazio, but it was just one game – a flash in the pan. Solanke has scored three good goals against three top-tier sides, not garbage-goals against some minnows when already 7-0 up.
Perhaps Iago Aspas was the one big flop who failed miserably after a great pre-season, but his goals were against Preston North End, Melbourne Victory, Thailand, Vålerenga and Shamrock Rovers. And he went back to Spain to score goals, so it's possible that he wasn't fully embraced by Brendan Rodgers; or maybe he just wasn't built for the English game. Clearly, Solanke is.
I still expect more from Origi, who has more natural ability than Solanke, I feel, but less aggression, and does not possess the natural positioning the best strikers have. Origi is more of a scorer from out wide, curling in shots (like Thierry Henry), but to get into double figures in both his seasons at the club bodes reasonably well – without looking like he'll become the next Henry (but nor did Henry at 21/22).
And Roberto Firmino has looked stronger, more bullish, in pre-season; a bit more like Luis Suarez in how he uses his body, which is not as lean as when he arrived. Aggression, and use of the body, is often something that comes with age – the confidence and strength to barge people off the ball is not always held by younger players. He has also taken and scored three penalties, and so – as I said last season – he can become a "20-goal-a-season no.9" if he takes and scores the 5-10 spot kicks Liverpool will almost certainly win. (But it would still make no difference if he scored 15 and Milner notched five penalties.)
Most of all, Firmino is a creator of space, and a creator of chances, who will mop up a few goals for himself too. He's almost unique in his style of play. And to have Mo Salah – an expert at coming in from wide to find himself central in the area – as another foil will only logically improve things.
Salah is another who looks physically (and mentally) stronger at 25 than he was at 21. He is yet another player who wasn't quite at it at the start of his 20s, but has become a world-class prolific scorer from out wide: 29 in just 53 games for Egypt (phenomenal), and 43 from 109 games for Roma. That is exceptional from the wing.
On the issue of physicality, Henderson and Emre Can allow Klopp's midfield the kind of height and strength that it needs for the rougher Premier League sides, especially if someone as small and non-physical as Philippe Coutinho is playing at the tip of that particular midfield triangle. But both Henderson and Can are also ball-players; not at the Brazilian's level, of course, but they are not mere stoppers and blockers. Henderson creates chances from through-balls and looping deep crosses, and Can marauds forward with the ball, and can score goals.
Indeed, the squad has grown from those returning from injury, or from loan, and from improvements, as well as those who are simply older (and better, wiser, stronger).
Marko Grujic and Joe Gomez are essentially like new additions. The pair made just five league appearances between them last season. Grujic was always big, but he now seems a bit stronger; a year on the weights, while Gomez had to be taken off the weights as he grew muscle-bound.
Pace
And what about Alberto Moreno? Suddenly he seems to be an option again. As Liverpool get better and better going forward – as Mané and Salah drive defences back – he will have less defending to do. And he has that magic ingredient: pace.
In pre-season, Liverpool displayed breathtaking pace on both flanks, both at full-back and winger/wide-attack, with Trent Alexander-Arnold a clever footballer but one hell of an athlete, shining in the same side as Salah, Mané and Moreno. The more pace, allied to intelligent runs, the more the opposition will struggle to cope.
And if there's a bit more height in midfield (Can and Henderson), and if Virgil van Dijk happens to get signed – plus the occasions when Dominic Solanke plays – then the Reds will have ample tall players. Then, Moreno can be better protected. If the average height of Liverpool's centre-backs ends up at over 6'4", then the opposition's long diagonals to Moreno's side, and crosses to the back post, will have to be far more precise to cut out the giants.
Again, Gomez returning adds another quick player. Unlike Moreno, he's big and strong, so could be the kind of full-back who plays against teams like Watford and Crystal Palace if they continue to put balls into the mixer, while Moreno may be used more in the Champions League, or in games at Anfield where the full-backs have to become quasi-wingers. Gomez is also an option at centre-back, where he generally excelled in pre-season, but also made a few to-be-expected mistakes of a young man in the position. (His pace helped him get back to atone. This is why slow centre-backs often only look the part by their mid-20s, as they can't get themselves out of jail when their inexperience shows.)
Then there's James Milner, still an option in about four positions, including midfield. There will be more games this season, but there seems less chance of him playing to the point of exhaustion, which happened last season. All of these full-backs, and I've not even mentioned Nathaniel Clyne, who has missed all of pre-season, but should be back before too long – a fine, quick defender, but not the best in the final third.
And of course, the signing of Andy Robertson – an unassuming but quick and gifted footballer. He's not quite as quick as Moreno and the speedsters on the wing, but he can still shift. He reminds me of Steve Finnan; and is probably far better than Finnan was at 23, when the Irish full-back was in the third tier with Fulham. Finnan was cheap for Liverpool, too. He was unremarkable in many ways – simply clever and consistent.
Liverpool can now rotate at full-back; something Spurs have done to good effect, and which may be vital given the space these full-backs have to run into when Liverpool play, and the need to get back down the pitch again. And there's a wide range of styles at the club, for horses-for-courses. No two full-back options seem even remotely similar.
And while his fitness doesn't look to be back to its old levels, there's still Jon Flanagan, who defended well in pre-season, without ever looking like he could overlap in the way Brendan Rodgers (and plenty of us fans) initially thought was beyond him, but which he did so well in 2013/14. He's another player who, if he stays, can offer some reliability in emergencies. A fit Jon Flanagan is a decent option.
Emergence
Also, I don't think people realise just how good some of Liverpool's young players are, nor the concept that at that age they often make great strides each year. Physical developments, time spent training with top-class internationals, time spent being guided by top-class coaches, and the massive learning curves of minutes here and there in competitive matches (and even in pre-season), all add up to big improvements in a relatively short space of time. Even U23 football gives them a fairly good education, without being ideal.
Of course, they can get derailed by injuries, or they can get sated by money and instant fame, and lose their hunger. Their lifetime desire to make it as a footballer can be extinguished the moment they make it as a footballer. But that's why Pep Lijnders is so vital; he has sought out only those with the best technical gifts and a suitable mentality.
As much as I've rated Sheyi Ojo since seeing him aged 14, I wonder if he quite has the mentality; although a full year on loan may do him good, and force him to move from boy to man. But Trent Alexander-Arnold and Ben Woodburn are already like the consummate pros. Alexander-Arnold has that drive and determination that took Steven Gerrard and Jamie Carragher to the top and kept them there. Woodburn has that steely, quiet nature and level-headedness that is vital to warding off big-time antics.
I tend to make predictions based on how players are against others at the same age. Or rather than predictions, at least give the benefit of the doubt to players who may not yet be pulling up trees, but who may still be ahead of those who became superstars in terms of development. None of my comparisons are ever meant to weigh a player down, but to get a feel for what's possible.
I often talk of players like Alan Shearer and Thierry Henry, who both only became prolific aged 22, and now Harry Kane, aged 21 when he finally ended a cycle of unremarkable loans to lower league clubs. All had great mentalities, but Kane, in particular, looked destined for fringe football. Gareth Bale was almost given away by Spurs around the age of 20 before his transition to a beast of a man; from skinny speedster to super-strong athlete.
Aged 17, Ben Woodburn is a phenomenon. I can't think of many attacking players who play first-team football aged 17 or 18 for any clubs, let alone big ones, without searing pace; he's nimble, but not especially quick. Usually, pace gets them by in every aspect. And in recent times, it's been rarer for teenagers in English football to get any kind of game time (Marcus Rashford is a rare exception, albeit given a debut by a manager with a big record in youth progression; most don't even bother to try them. But of course, Rashford is a sprinter).
Woodburn is not the quickest, but already he's much stronger than when he made his debut, and scored, aged 16. Physically, he looks ready now. He looks more like a man in terms of his physique. He's grown a bit, become more solid.
Without pace, you have to be really clever. And kids are rarely clever enough – they're too naive and green – hence it's about pace, pace, pace. And to me, Woodburn is clever enough. His turn against Stoke last season and his footwork to score at the weekend were top-notch. In the U23s last season, he stood out by a mile, along with Alexander-Arnold, and Grujic (when he played), plus Harry Wilson, although Grujic and Wilson were 20 at the time. (And Kamil Grabara looks a world-class keeper for his age, just 18.)
Woodburn, who started out as a striker but now plays in midfield, reminds me of Paul Scholes. Scholes was a great player, although he has been exalted to silly heights in some quarters since his retirement, as if he was Pele. However, he first got into the Man United side aged 20. Almost a year older than Robbie Fowler; in 1993 it was Fowler who stole the show at the U18 championships, Scholes often used as a sub. (Fowler had to work his way in as well. Julian Joachim – pace, pace, pace – was the main striker.)
Scholes, who had no U21 games, was 23 before he made his full England debut. Without tons of pace, Scholes was a clever player who took time to ignite; like David Beckham, another youngster who was 20 before getting more than a handful of games for United, pace was never his thing. Ryan Giggs, of course, had pace by the truckload. So he was in at 17, even though, at the time, Ferguson described him as a card player who knows all the tricks but doesn't know how to play cards.
When United went into the 1994/95 season, fans probably weren't banking on the squad being as big as it was, because they didn't know how good Scholes and Beckham were; ditto Gary Neville, who also emerged at the same time. (Alan Hansen famously said you win nothing with kids, although that ignored that half the team was very experienced and near 30. Even so, the kids made huge strides in 1995/96.)
I see plenty of Scholes' movement and finishing ability in Woodburn. I can only imagine that Woodburn is ahead of Scholes at the same age, but that doesn't mean he'll replicate Scholes' achievements. It needs an enduring hunger, and a freedom from injuries. But it means he has the potential to be as good, maybe better.
Liverpool have several genuine prodigies right now. It's hard to say when they'll make the transition from handy squad player to genuine first-team contender, but they've already made the transition from reserve and youth football to genuine handy squad player.
Woodburn, Alexander-Arnold, Ovie Ejaria and Joe Gomez are all likely to get better, unless they hit the Ibe/Markovic wall of indifference. I don't know Ejaria well enough to say either way, but the other three all seem hugely dedicated, with Gomez having to battle hard to overcome serious injuries just to be here. He looked sluggish last season upon returning, and without the pace of old; but he's been taken off the excessive weights and now looks quicker than ever.
Then there's Ryan Kent. I first saw Kent about four years ago, when the hype around Harry Wilson first sprang up. I thought the lad on the opposite flank – Kent – was better, or at least quicker, and more direct. But then he disappeared, had a couple of loans, and I assumed he was destined for the exit. But he's returned from loan beefed up by experience. He was surprisingly good in pre-season. Is he as good as Mané or Salah? No. But he's a genuinely quick option to have in the squad, after a good season on loan in the Championship; someone who could come on for 15 minutes and run at tired defenders, or replicate the pace when the star men are out.
As Klopp said, he's improved so much in just one year. And he seems to work hard off the ball, too – something that Markovic, with more talent, never did. And remember, sometimes young players 'come alive' in better company – it's tougher going to a new level of football, but if they have exceptional team-mates, they can find themselves in more space, or picked out with better passes. This is why too many youngsters at once (such as against Wolves) can be too difficult for them, especially if they're still expected to win. But that was, of course, a game played in serious need of rotation, and even so, it could be used as a tool for learning.
Indeed, working hard something that Salah does too. It's perhaps part of why Klopp is so fussy, and so focused on who can improve this Liverpool side. I was a big fan of Ibe when he was younger, but the incident where he was told to get ready to come on as a sub and then, minutes later, still wasn't ready – and Klopp went mad at him – kinda summed up why he had to go: if you're not eager to get onto the pitch as a youngster, have you lost your hunger? You should be champing at the bit, busting a gut to get on.
And though I thought Markovic a wonderful prospect, there was the talk of his compatriot, when moving to Liverpool, that he has to learn to train harder. If it doesn't come naturally, it can be a problem. While he's a different type of player, you only have to look at Emre Can's drive and spirit to see the intensity Klopp craves. Can has flourished; Markovic floundered.
So, if there are only a small number of players capable of improving Liverpool (and who aren't already locked down at the elite clubs), there are an even smaller number who have the right mentality and work-rate. Bringing in the wrong players is not just a waste of money on that player, but it could be like adding anchovies to ice cream.
Those being brought through the system have it; those who have the talent but aren't quite (yet) making the grade – like Ojo – will either not be brought through, or sent on loan to learn responsibility. Klopp's approach is such that anyone who doesn't press hard becomes the weak link in a chain; and you have to be a remarkable player to get into one of his sides if you're not prepared to chase back.
Just look at Solanke, still only 19. He left Chelsea, where he could have coasted and earned a decent whack, to get game time. In pre-season he chased and harried defenders, and showed how it has to be done to win Klopp's approval. His all-round game is good, if understandably a little raw in places (he looks about 23, so it's easy to overlook how young he is), but he's a real goal threat, and a tall striker when the option is needed (Origi is tall but not great in the air).
Conclusion
I remain very optimistic about the new season (if you can't now, when can you?), but it's clear that Liverpool cannot compete with the Manchester clubs in the transfer market; not even Chelsea seem to be quite at their level of investment anymore.
It's also a difficult start to the season with Hoffenheim a pig of a draw in the Champions League qualifier (the toughest possible), and with City and Arsenal faced early on, plus bogey-team Crystal Palace (although we're due a change of fortune at home to them). It's yet another away game to start the season, and so it may not be a case of flying out of the traps. But Liverpool have more for the long-haul now.
Liverpool look in much better shape, but of course, other clubs do too. That said, the sheer number added by Manchester City means it's a toss-up as to whether it clicks right away or a season later. They look great on paper, but a summer of churn has its own risks. Man United have added the costly Romelu Lukaku, but have lost Zlatan Ibrahimovic and Wayne Rooney, who scored a huge chunk of their goals last season. Arsenal still have the Arsene Wenger issue, where, whenever they lose, there are street protests. Chelsea have to defend their title, which is never easy, and also look set to lose their reliable main goalscorer, while Spurs have to play their home games in a strange venue.
Obviously the Reds' season, as a whole, will be seriously affected by what happens with van Dijk, Keita and Coutinho. My sense is that Liverpool have already worked hard to spend a further £120m on just two players, but cocked up the van Dijk situation by antagonising Southampton, and bid huge amounts on Keita, but whose club have held out for bids in excess of £70m for a player available for £48m in a year's time – something that I don't think many would have foresaw, for all the hindsight bias from those now calling it "obvious" that Leipzig wouldn't sell.
If Coutinho leaves, it has to be with alternatives already in place, and for a huge fee. It could allow three more top-class players to be signed; but integrating too many new players at once is fraught with dangers (the churn City face), although the Reds did it in 1987 – a whole new front four, arriving within a few months of each other. But it backfired when Liverpool sold Suarez and Spurs sold Bale.
And time is running out on procuring other players, albeit with three weeks still to go. If Coutinho is sold and new players arrive, the Reds will become more of an unknown entity; it could go either way. Equally, keeping an unhappy Coutinho (if he is indeed unhappy) may see his levels drop. Or it could inspire him to try even harder, to force it through next year.
But my main point remains the clear increase in squad size, as the youngsters reach the tipping point between promising kids and genuine first-team squad members, and last season's first-XI players fall to the bench as new quality arrives.
Almost all of the squad are either in their peak or approaching their peak, with few past it, or even getting close. As Klopp himself said:
"I'm happy. You can imagine we still work on different things and we will see if it works. I am here to work with this squad and not just always thinking 'but if we don't get this or this'. No."