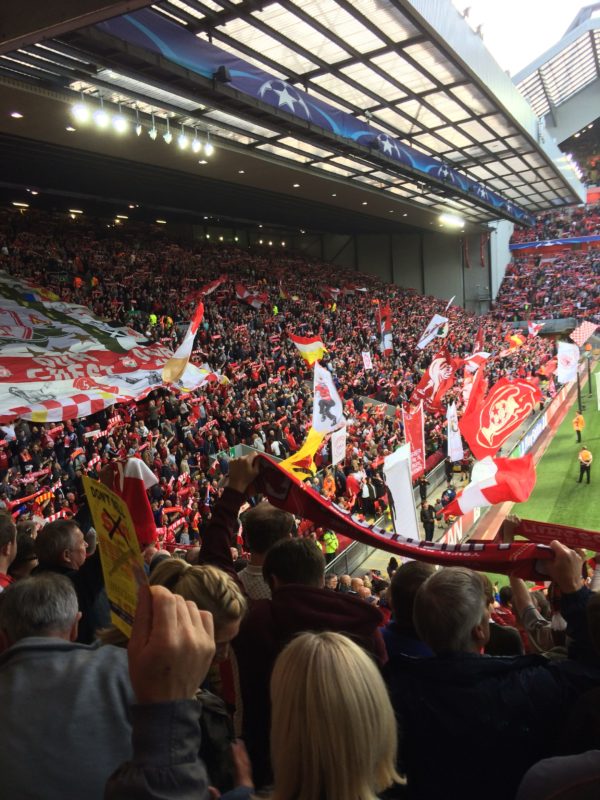 By Andrew Beasley.
I have always held a strong affinity with the number 23. It's my day of birth, and then Fowler and Carragher both wore it with aplomb in my formative football years. Hell, I even once transferred out of a bad job into a better one on the 23rd floor. It just resonates with me, you know?
It's 1pm on the day of the match, and I'm about to get on a train. But not to Liverpool, that would be far too obvious. No, I am bound for Market Harborough.  
Where? Oh yeah, Market Harborough. It's the kind of small town that you'll have been to once, but once only. You'll have a Market Harborough of your own, even if it's not this one.
The train journey passes pleasantly enough, thanks to good music (a playlist of my favourite Beatles songs) and a bad book (a trashy Daniel Craig biography I picked up at the library). As the train zooms through my home town of Kettering at 2pm, I ponder if it'll be another 12 hours until I'm back to stay at my parents' house. Spoiler alert: it was. 
Anyway, Market Harborough is the current home of one Andrew Fanko (a.k.a. TTT's 'arisesirrafa', and author of the site's perennial Should They Stay or Should They Go series). He meets me outside of the train station, and thus begins an epic road trip. Our first stop is made to collect a certain Paul Tomkins. You may have heard of him. He's a strapping 6′ 2″ hunk (or so he told me to put here) and he has the tickets, so unfortunately we had to take him with us. Ah well. 
We pick up Paul in another small Leicestershire town, Enderby. As our journey begins, he asks Andrew and I if we know what important criminal first is related to the town. We draw a blank, so he reveals that Colin Pitchfork, the first person convicted of a crime based on DNA fingerprinting evidence, raped and murdered a girl in Enderby. It's a cheery start to proceedings, and I'm naturally delighted to learn that Pitchfork shares my birthday of 23rd March.
Andrew and I have traveled to matches together in the past, and our standard stupid conversations get an airing, but with added input from PT. What's the best Liverpool team goal you've seen in person, who was that flop Arsenal striker in '98, and whatever happened to Leyton Maxwell? Pretty textbook football chat, basically. 
We also discuss how many Liverpool games we've been to. I'm very much the junior party here; Hoffenheim is my 23rd match (and it's the 23rd of August). Meanwhile, Andrew is at Nelson (111) prior to this match, and Paul is at 200+. Andrew and I may have been to Anfield more recently than Paul, but he put his hard yards in back in the 1990s. It was all back threes and ecru away kits in these parts then, lad. 
Thanks to heavy traffic on the M6 (who would've guessed?), Andrew's sat-nav takes us around the houses. Literally, as we pass his mother-in-law's house on the journey. I wonder if this is why Andrew describes this as "his worst ever journey to a game"? Paul and I decide not to take offence, what with him giving us a lift and all.
It was pretty wretched though; an endless stream of weird roundabout layouts and traffic cones disappearing into the distance. It was enough to outfox even the most elaborate of satellite navigation systems. Paul seems keen to argue with it's suggestions at times; I think he misses Twitter. 
We roll up towards Anfield with less than an hour until kick off, so Andrew drops us off near the ground and goes to park the car. Paul and I take a nosey at the new club shop (from outside; we're not total tourists you know, la) and then we go to find our seats. 
We're in the Centenary Kenny Dalglish stand, level with the goal line at the Kop end. Two thoughts occur to me: 1) I'd have seen from here if Garcia's goal was in (though of course I saw it was in from a pub in London), and 2) bloody hell, the main stand really is massive these days.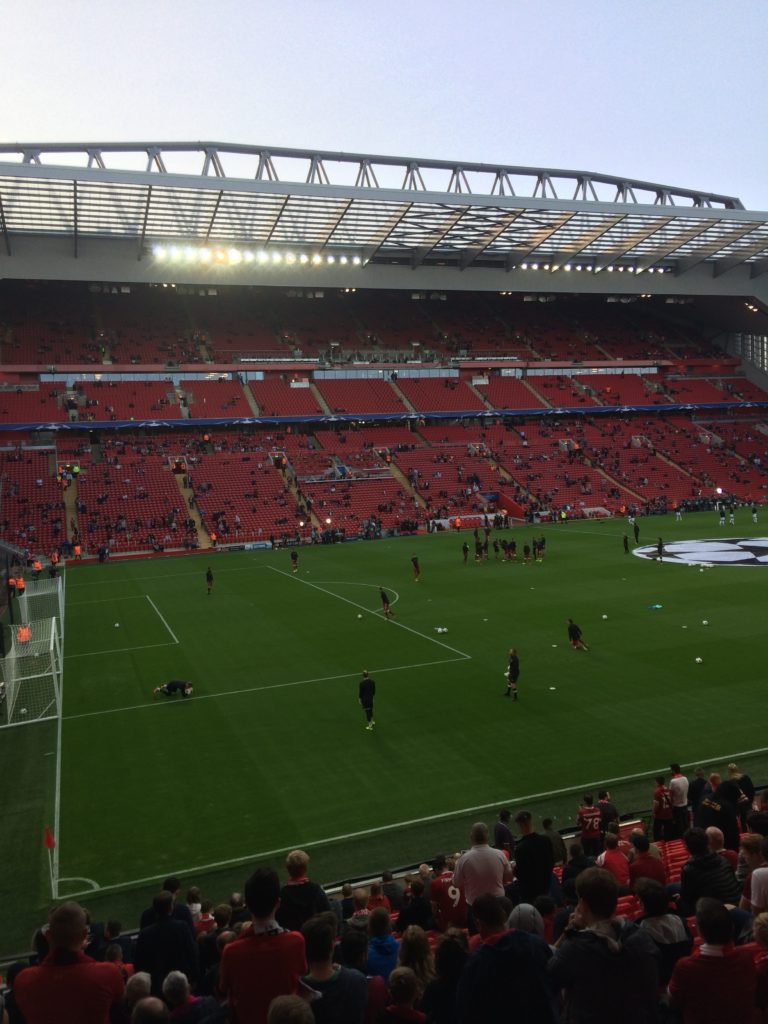 YNWA causes goosebumps, as does Zardok The Priest. I realise then that I'm ticking off another minor personal aim, as I'm at my first Champions League match. Sure, it's only a qualifier, but it's actually more important than most individual group games are, as it's do or die. 
Thankfully, this is very much do. A red blur sweeps across the pitch for 20 minutes and puts the tie firmly beyond Hoffenheim. Liverpool's number 23 scores his first brace for the club, sandwiching a goal from Salah that looked unbelievably offside from where we were. Remember how we'd discussed the best team goal we'd ever seen on our journey? There's a new #1 in town.
https://twitter.com/MrBoywunder/status/900445426985443328
Liverpool are so far ahead of the opposition that ole's break out around the stands as the clock shows that a mere 23 minutes have elapsed. Hoffenheim then got a goal back though, and you can feel the anxiety coursing through Anfield for the rest of the half. And I'm certainly not immune from it, don't get me wrong. But when my rational brain kicks in at half-time and I realise the visitors need a 3-0 win in the second half, I calm down. A lot. Nobody does that in the second half of a Champions League match, right?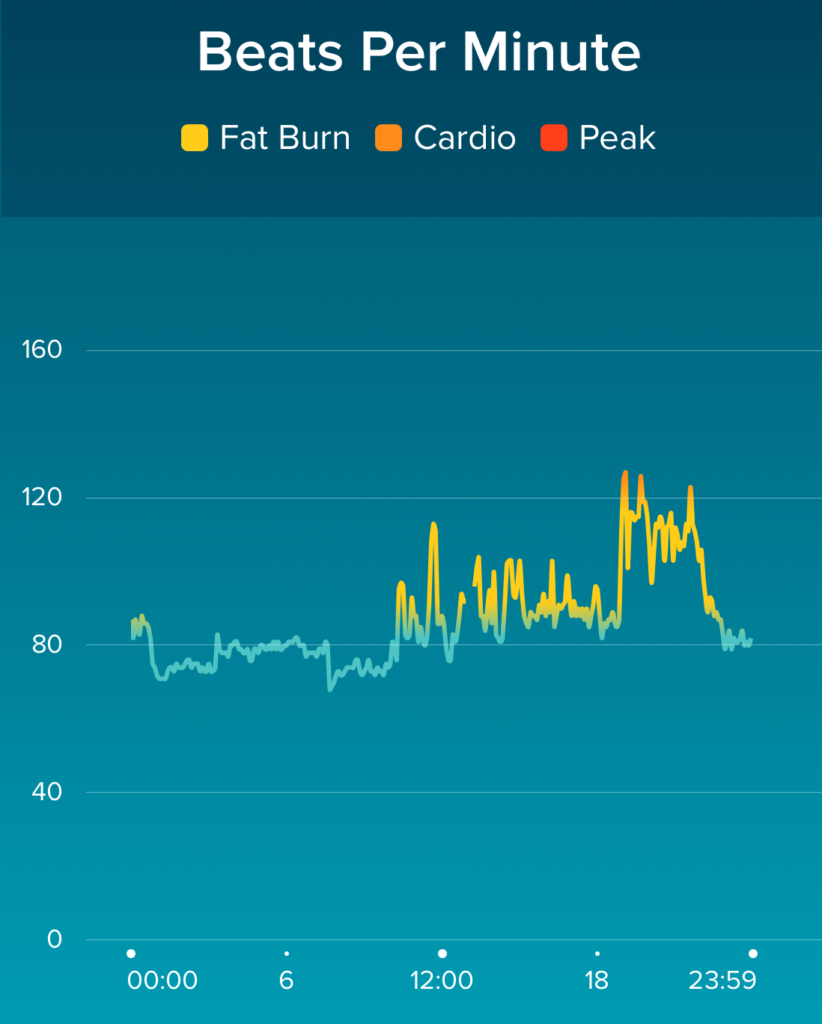 Quick note from PT, before the article continues: at this point, on the subject of stress, I thought I'd drop in my heart-rate from the game, as tracked by my Fitbit. Can you tell when the first half was?! My heart was in "cardio" and briefly, "peak" mode simply by sitting in my seat. (That said, it used to get a lot higher when using Twitter…) 
The Voice of Anfield, George Sephton, keeps the day's Beatles theme ticking over by playing Komm Gib Mir Deine Hand in the interval. Presumably it's an olive branch to our visitors from Hoffenheim? I suppose they might want to hold hands for comfort after their first half mauling. 
The second half isn't anywhere near as much fun as the first, though it was great that Firmino got a deserved goal. Hoffenheim's second is greeted with a chorus of 'fuck's sake, Reds' around us, but it's very much job done at that point. The full time whistle goes, the away side keeper looks devastated, Henderson consoles him and Jürgen salutes the fans. With that, we're off into the night. 
The journey home is much the same as the journey up. Bizarre diversions ensure it takes far longer than it should, but at least we won; that always cures any travel ills to some extent. As we reach Kettering, Andrew remarks that he's only been there once. Ah, I see. It's his Market Harborough.