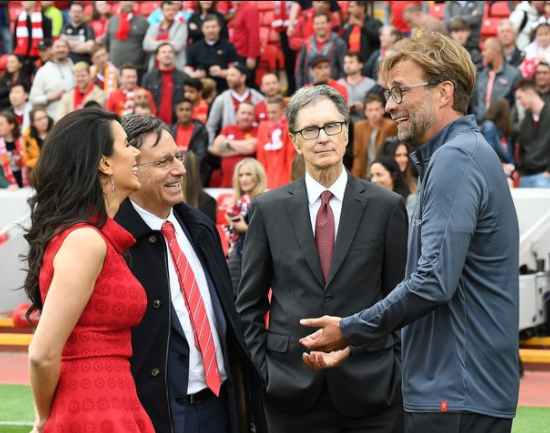 By Alexander Papas (TTTer 'Yiannis') 
(Author's note: this started off as a quick post about generally liking the Ox signing, and turned into a typical yiannis ramble about the transfer window, our business to date, hypotheticals, jokes, film references, a random font change and the odd metaphysical conundrum. You know, a typical Wednesday. Read, enjoy, debate or ignore as the mood takes you)
I like the signing of the Ox, for a variety of reasons. He's got the right physicality for the Klopp press, for a start – not just pace, but also strength to go with it. He seems to have a strong work ethic, as well as decent intelligence on the pitch, and also has pretty good technical skills in every aspect (control, passing and shooting). He's at a good age to be considered immediate first team material while still having plenty of room to grow, and he counts as Home-Grown for both domestic and European purposes, something we always need more of, especially with several of our current Home-Grown players being in the older age brackets (Milner, Sturridge and Lallana). I've always thought that he just needed the right manager giving him the right instructions in the right system to flourish, but Wenger clearly isn't that manager anymore. I have no doubt that Klopp is, though, so I'm really excited to see the Ox under his tutelage.
All that is reason enough to be excited about signing the Ox, but add in the fact that we weaken TWO of our direct rivals in the process and it becomes a no-brainer. Well played, FSG!
Assuming that the Ox doesn't break into pieces the moment our club doctor starts fondling him, our transfer window so far looks something like this:
IN: Salah (£38m), The Ox (£40m), Robertson (£8m), Solanke (Tribunal – est. £5m) – TOTAL SPEND: £91m
OUT: Lucas (£5m), Stewart (£4m), Wisdom (£2m) – TOTAL INCOME: £11m
An £80m net spend so far is an insane amount for us to spend, and this is something that perhaps isn't sinking in for some of the naysayers (both the rational ones on here and the irrational ones elsewhere). Our biggest net spend to date is around the £40m mark, so to double that is impressive, no matter how wild this summer's window has been. I haven't even included Keita in that, as I consider that a signing for next season, but you could arguably include this so-called "premium" we paid as part of this year's budget. I've seen this reported anywhere from £3m to £20m, so if you take the upper figure (because why not?) then our net spend this season is £100m. One hundred million pounds! With £48m more already committed for next season. That's so insane it's fucking bonkers!
Obviously that could all change in the next couple of days, but the thing that's been exciting me about this transfer window – arguably more than our actual signings – has been this new-found steel and ruthlessness we seem to have found.
First of all, the Sakho situation. Klopp had already shown his own ruthlessness with the finality of his expulsion from the team, even when we badly needed a player in that position. That isn't Klopp cutting his nose off to spite his face, that is him doing what he says. Sakho has no place in the team, end of story. However I think the board's position has been equally strong. "Of course he's for sale, and the price is £30m. Not £20m, not £23m, not £25m, and no add-ons or silly clauses. £30m – pay that and he's yours, otherwise here's an instant rejection". Now maybe there's a point where we would be willing to compromise – maybe £28m is enough for the board to sigh and go "alright then" – but it doesn't seem that way to me, so I expect the usual deadline day duo of demand and desperation to kick in and for Palace or some other team to stump up the £30m. If so, again well played FSG!
Now, maybe it doesn't happen and we end up with an expensive U23s player clogging up our wage budget. Even if that's the case, though, I still admire the steel the club are showing and the message it sends out to the wider footballing world. Seeing Sakho rot in our reserves in a World Cup year says to every player out there that this is Klopp's team, and no amount of player power or agent shenanigans in the world will save you if you cross the boss. If there are any players out there that are worried by that, good! Don't come to Liverpool if you think you're more important than the manager, as you've clearly got the wrong mentality for this club. At the same time, though, we're sending a different message to every club out there; even if we are actively looking to sell a player, don't dick us about on price. Don't even think about it, otherwise you don't get your man, just an instant rejection.
Obviously the VVD saga earlier in the transfer window, with the accusations and public apology, is a divisive subject and there are multiple ways of looking at it. However, I choose to look at it as another instant rejection of a club who was dicking us around. This time it wasn't about price, but more about Southampton having a (perhaps understandable) bee in their bonnet about Liverpool signing yet another of their players and deciding to grass us up for breaking one of those "rules" that every club pays lip-service to and EVERY club breaks (full bold/italics/caps on that "every" for maximum possible emphasis, and yes I include Southampton in that as well – underline appeared to come out in the font wash). To be fair it does seem like there were a couple of mistakes on our side and I certainly don't think we're whiter-than-white in this or any other deal (football's a dirty business, and you don't succeed in it by keeping your hands clean – I think FSG have learned that trick by now), but whatever happened in the build-up our response was inst… extremely timely. We backed off, all the way off, leaving Southampton with a very unhappy player stinking up the place just as they're changing both managers and owners.
Southampton haven't had a bad transfer window with some exciting young players coming in, but comparing their incoming – midfielder (Lamina), two centre backs (Hoedt, Bednarek) – to their outgoing – striker (Rodriguez), midfielder (Clasie on loan), centre back (Caceres), right back (Martina) – and they're basically not adding anything to the team beyond the hope that the new players perform better than the ones they replaced. They haven't had the bidding war that they hoped for, as VVD has made it clear that he wants to come to us, and they haven't had VVD available as a player either. So they have no player, no money, no captain and a negative atmosphere at the same time as the biggest possible upheaval a club can have. Unless another club thinks that they can break VVD's resolve about joining Liverpool, Southampton now have to either actively offer him to us, or live with the upheaval for half a season minimum.
Now perhaps Southampton think they can hold on, but our club is showing some serious pulling power at the moment. Leipzig couldn't resist us on Keita. He refused to sign a new deal, made it clear that he wanted to come to us and we made it clear that we wanted him. The best compromise they could achieve was the delayed deal for next season, but either way Liverpool have their man. This has now been followed up by the Ox rejecting the champions to say he'll only sign for us. Again, Liverpool have their man, two for two. VVD is now the only hold-out in the "I really want to join Liverpool and specifically Liverpool only" club, so do Southampton think that if they hold on to him past Thursday's deadline VVD is just going to say "ok no problem then, I'll stay at Southampton for the rest of my career"? The best they can hope for (which is exactly what I would expect to happen) is that he gives it his all as a proper professional until 31st December, and is then back to agitating for a move at 12:01am on 1st January. How long do you think you can fight against that cycle, Southampton? You might be able to survive through January, but come next summer? Not a chance, so why put yourself through the pain? Just accept the inevitable, because right now Liverpool are like the fucking Mounties – we always get our man.
Of course, the big story of the summer so far has been Coutinho, where it seems we have our own cycle to fight against. Enough has already been written about this transfer that hasn't actually happened yet to fill several books, but I like to think of the whole saga (to date) in terms of this imaginary conversation…
BARCELONA: Hey, Liverpool. Yeah we really want to buy Coutinho, so we've told all our mates in the Catelan press and they're printing loads of stories about it.
LIVERPOOL: That's nice, but Coutinho is not for sale.
BARCELONA: Yeah we know. We get that all the time. Thing is, we really want to buy him, and we always get what we want, so here's a nice official bid. About what we gave you for Suarez last time, with a few sweeteners on top, so let's just conclude this nice and amicably, ok?
LIVERPOOL: No, seriously, Coutinho is not for sale. We'll say it to your mates in the press, our mates in the press, everybody's mates. Coutinho is not for sale!
BARCELONA: Ok that's fine. We admire your passion on this point, but like we said, we really, really want to buy him. You see, our little golden boy has just been nicked by those French bastards, and apart from him and Suarez from you guys, we haven't really had the greatest transfer record since Pep left. We actually need this transfer to appease the fans, so we're just going to have to dig out our dirty tricks.
LIVERPOOL: Fine. Do what you like. He's still not for sale.
BARCELONA: Well, if that's how you feel, we've been speaking to his lizard scum of an agent and he's been whispering in Phil's ear, so what's that sound on your computer? Oh yes, that's Coutinho's official written transfer request. Ha! You can't resist now, can you?
LIVERPOOL: Yeah we got the email. Don't care. He's not for sale.
BARCELONA: What?! Fine, in which case he suddenly has a mysterious "injury" and won't play for you then. Now what are you going to do, smarty-pants? Start the season unbeaten without your best player?
LIVERPOOL: Well, now that you mention it… (points towards recent results)
BARCELONA: Oh…
LIVERPOOL: Yeah, not bad, I suppose. Shame that 100% record was spoiled by a linesman not understanding the offside rule, but hey, you don't get everything you want, right?
BARCELONA: Fine. Have it your way. Here's a second bid.
LIVERPOOL: No! How many times do I have to tell you?
BARCELONA: Ok, here's loads of negative stories in the press!
LIVERPOOL: Don't care.
BARCELONA: Here's a third bid. It's really big this time, and we may not come back, so you'd better just accept it now.
LIVERPOOL: No, we'll reject it now, and please don't come back again.
BARCELONA: Look, Dortmund caved in eventually. Seriously, what's it going to take?
LIVERPOOL: You accepting "no" for an answer. We don't care what Dortmund do. We're not Dortmund (nice place though), and we say Coutinho… is… not… for… sale. Would you like us to write it on a sticker for you?
BARCELONA: But we weally weally want him!!! Stop being so unfair!
I think that's about where we've got to at the moment in the transfer window, and the conversation can end one of two ways. Do we cave in to the screaming child in the corner and give them what they want, even though it's against our best interests? A lot of people are worried that we will, and perhaps that's understandable, but to negotiate so strongly for so much of the summer only to fold at the last hurdle on the most important negotiation of them all doesn't really seem like the sort of thing FSG would ever want to do, or even be seen to do. Don't forget that there is a major issue now of public perception in FSG's stance, so unequivocal has it been up until now.
If we hold on to Coutinho until the end of the transfer window (both ones, not just the English one) then in and of itself this would be a huge statement from FSG. As much as some people say that it might make us less attractive to players for "blocking their dream move", to me the statement FSG are making is that WE are a dream move, and if you don't think that don't come here. The question then becomes, how big a statement can FSG make before the end of the window?
I did a little exercise where I laid out every possible permutation of the end of the transfer window, including the potential sales of Coutinho, Sakho and Markovic and the potential purchases of VVD and Lemar, as a way of figuring out what our potential net spend could end up being. I won't list all the permutations here, but with my own vague assumptions on value the end result ended up being anywhere from a £100m profit to a massive £200m splurge. That's a potential swing of £300m in 24 hours, based solely on transfers that we know have had official bids made – no rumours or bullshit. How freaking insane is that?
To be honest, even if we end up with the "doomsday" scenario of no Coutinho and £100m of profit left unspent, I would still consider this a decent transfer window, albeit with major repercussions on our reputation, as just our current signings (assuming the Ox goes through) make us a stronger squad and the team dynamic may actually improve from removing the last "star" from the system. However I could understand why many would be frustrated with that.
However, I don't think that's going to happen. I truly believe that FSG are making a big statement this window and selling Coutinho isn't a part of that statement. It might have been once, if we could have signed Keita this window, but Barcelona have pushed the matter too far and now this seems like a point of principle. If that's the case, forget this nonsense about the Spanish window being open an extra day – Coutinho will still be here in September and October and so forth until FSG decide that they want to sell him.
If keeping Coutinho is our last act in this transfer window after the Ox and things stay as they are now, I think you would have to call that a good transfer window overall. Sure, we got a bit of a bloody nose with our pursuit of VVD, and we had to settle for the points victory over Leipzig, but we landed the knockout blow to the bully boys of Barcelona, gave Arsenal a couple of hefty gut punches, one on the pitch and one in the transfer market, and even got a quick jab at Chelsea in passing. This was all while racking up an impressive and record-breaking £80m net spend, with a further £60m or so already committed for next season, so the majority of complaints about FSG not backing the manager are silenced. We got most of our business done nice and early to give the squad good integration time, and it looks like we could well have our new right winger as signing of the season for the second season running.
Sure, we might still end up with the same problems at the back and that will inevitably boil the blood of some, but at what point do our options for the front six become so good and so varied that it overrides even the worst defensive frailties? If a group comprising Henderson, Milner, Can, Wijnaldum, The Ox, Lallana, Coutinho, Firmino, Mane, Salah and Sturridge, with a backup group of Grujic, Woodburn, Ings, Solanke and Origi (if he isn't loaned out, which it looks like he is) and Keita still to come isn't strong enough to overcome any challenge, then it's getting pretty close.
However, what if we have the dream scenario? What if Southampton's will finally breaks and we sign VVD, and it turns out that it wasn't The Ox or Lemar as first rumoured, and we end up signing the Monaco man too? With Coutinho staying, this would be a £200m window and the biggest statement this club has made in my lifetime. Forget anyone saying we can't possibly do that in a single window – you can do that on a single player now! Even if FFP hasn't completely been neutered, it is still aggregated over a three year period (or maybe five years, I can't remember). This makes our profit last season actually quite important, although I'm not sure that was forward planning so much as the right targets not being available, but either way this club does have the finances in place for a splurge like this – we just can't do it every season. As a one-season statement, though, to put us up there with the big boys and provide the manager with a squad to last several years, £200m is definitely within our spending power.
Even if we don't end up with the mega-ultimate-uber-dream scenario, it still feels as though the club are working to make that happen with a determination I simply haven't seen in our leadership before. As I said, even just keeping Coutinho sends a strong message out for the coming season, and any last-minute surprise mega-deals may well end up sending a message for seasons to come.
My only question is, if Coutinho ends up staying when all transfer windows are shut, does Klopp send the ultimate message and give Coutinho the "Sakho" treatment? I suspect this will depend a great deal on how Coutinho reacts on his return to the club and whether a replacement is signed this window, although I suspect there will probably be some sort of agreement. Then again, Klopp has shown that he can be absolutely ruthless at times, so imagine if we sign Lemar as Coutinho's replacement and drop Coutinho to the U23s in a World Cup year? That isn't just sending a message to players around the world, that's yelling the message in the players' faces like Gerard Butler in 300 (or Samuel L. Jackson in anything if you add the word "motherfucker" every few syllables):
"This is Liverpool Football Club and this is Jurgen Klopp's team. This is a special squad at one of the biggest clubs in the world, and it should be your lifelong dream to play here, because the next few years just might be utterly amazing. If you're good enough and you want to play for us, nothing will stop us from signing you. However, if anyone ever tries to screw with us – whether that's other clubs or our own players – the only people they'll end up screwing is themselves."
That's a hell of a message to send, and I applaud FSG for even the appearance of trying to send it. Maybe we don't get to shout that message as loudly as we like, and maybe Coutinho to the U23s is a step too far (I think it probably is, but it's what Klopp thinks that counts). Who knows, we might even completely bottle it at the very end and have to surf a wave of negativity all season, but whatever happens it's going be a wild day seeing who can shout the loudest. Come on FSG, don't pussy out on me now! Let's go full 300 on this motherfucker!