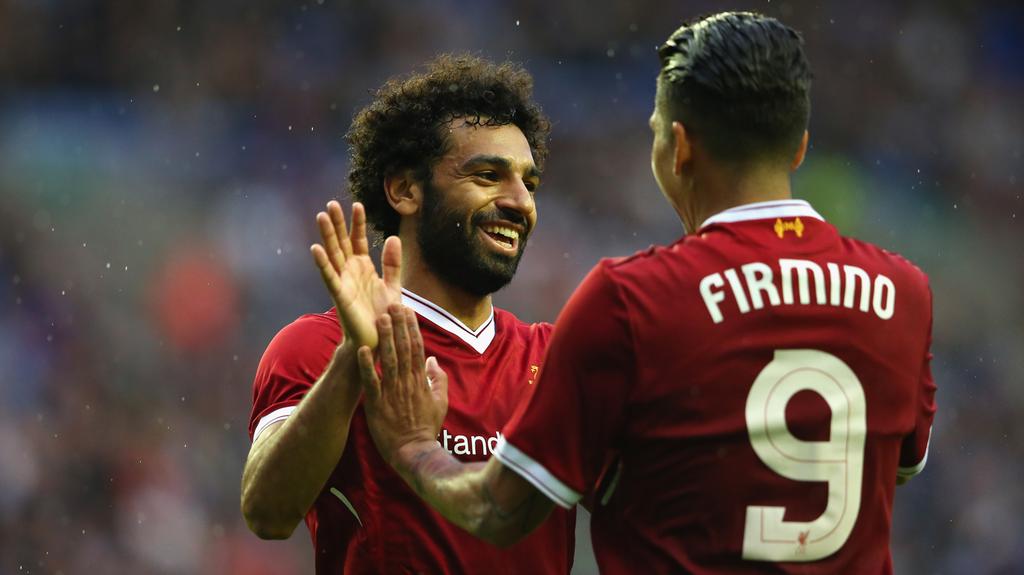 Improvement is never guaranteed in football, but this summer it felt to me – as I stated, over and over – that the club was building steadily and sensibly, with a clear vision.
Instead, the usual tiresome transfer panic overshadowed what Jürgen Klopp actually does: improve players, and improve teams.
The word 'infinite' is perhaps not ideal in this context; and even being 'twice as good' does not get you twice as many points. There's a law of diminishing returns towards the top of the table, but the Reds look capable of beating anyone; and crucially, taking apart deep, packed defences as well as those who leave themselves open. Even the opening day draw against Watford should have been a win, given the late, clearly offside equaliser that came with no time left to overhaul the injustice of officials not understanding the rules.
Already, Liverpool have scored several of the best team goals I've seen the Reds score in a long time. Sadio Mané's goal at Watford was from wonderful interplay against a deep defence, whilst Emre Can's side-footed volley against Hoffenheim came at the end of one of the best counter-attacks you'll ever see. The Reds followed this against Arsenal with three more lightning breaks, two of which were once again beautiful team goals.
Klopp has never been a chequebook manager, but when he has bought, he has – along with those who work with him – targeted very specific players. They go into the side with a very defined role. As such, the transfer hit-rate of the Reds since last summer seems beyond all the usual hit-and-miss ratios I so often talk about. New signings slip in as if at the club for years.
As more time passes, and more new buys effortlessly fit in, I can't believe that this is an accident. Obviously some of the buys are young players for the squad more than the XI (Marko Grujic last season, who got injured anyway, and Dominic Solanke this season), and cannot be judged as successes or failures yet, but already Mo Salah has joined Mané, Matip and Wijnaldum from last season in making a real impact, as a first-teamer, in his debut season. Not only has Klopp improved a perceived flop like Roberto Firmino to the point where he's one of the best unsung players in Europe, but those brought in are having a similar impact.
At times, people think Klopp and co. should be more open-minded on the transfer market: have back-up plans, alternative targets. And maybe that's true (and maybe they do, anyway). But anyone targeted is done so for a very clear reason. Good players who don't do what Klopp wants will not be considered. There simply will be no fudging on that.
And so, with no Philippe Coutinho, no Adam Lallana, and no "recognised" right-back – and apparently about 15 signings too few – the club have kept back-to-back clean sheets in the league, and scored four goals against both Hoffenheim and Arsenal. Four wins and a draw from the first five games, given the transfer request of Coutinho less than 24 hours before the start of the campaign and the squeeze that the Champions League qualifiers puts you under, is fairly remarkable. Both teams this week were despatched with ease, with the score-lines flattering to the visitors to Anfield; whilst just over a week ago, the biggest bogey was buggered, as Palace were finally bested at home (the bastards). Suddenly the impressive preseason form seems like a legitimate predictor of the season.
I was lucky enough to be in my old season ticket seat on Wednesday, and the Reds were scintillating. Hoffenheim were arguably naive, just as Arsenal were half-arsed, but they needed despatching. And it's no coincidence that Liverpool's front three not only do great stuff going forward – with skill, vision and pace – but they harry and win the ball back too. Klopp doesn't compromise on this. He refuses to buy and/or use lazy players. This means that everyone knows where they stand (while Arsenal players seem to know where they stroll).
An obvious reason for improvement this season at Liverpool was the age of the side – only Spurs were younger (and they had the upheaval of Wembley this season to put a spanner in their psychological works). And the fact that this is only the start of Klopp's second full season in charge, and that he only started buying players in the summer of 2016. There were no key players melting, but of course, the Coutinho situation was a huge blow.
To me, as I said in the summer, it seemed reminiscent of the building work done by Gérard Houllier and Rafa Benítez, where a squad was assembled over time, with tactical plans refined, rather than an instant league impact. There was a period of assessment, then very targeted signings. Perhaps Houllier and Benítez saw a greater churn in their early years, and brought in more cheap deadwood to bolster the numbers, but they nailed their key signings in those early years, just like Klopp appears to be doing.
Mo Salah was logically going to give the multiple benefits of goals and pace, and in turn, free up Sadio Mané from the attentions of the opposition's quickest defender. There's nothing worse than a told-you-so article, but I made all these points before the season kicked off. Five or six younger players were clearly going to move from making up the numbers to being valued squad members (based, to me, on the quantum leaps they made in the U23s in the back-end of last season, after getting tasters of first team football); indeed, in the case at right-back, two have become valued first-team players who do far more than just fill in.
It could still go wrong; it's obviously early days. Injuries, loss of form, a Loris Karius overhead-kick own-goal: it could all happen. But Liverpool seem better equipped to deal with whatever is thrown at them. For the first time the squad is big enough for Klopp to make rotations without clearly weakening the side. A big part of that is those two youngsters alternating at right-back. That said, the squad could be bigger still, but there won't be half-arsed solutions.
And while the individual defending may still be iffy at times, the pace of the "reborn" Alberto Moreno has helped push opponents back, along with the unplayable pace of Salah and, of course, the speed of Trent Alexander-Arnold and Joe Gomez.
In "TAA", the Reds have a better attacking full-back than Nathaniel Clyne, and in Joe Gomez, the Reds have another exceptional young player who, absolutely critically, gives Liverpool a third six-footer in the back-line, and while positionally astray at times as he learns the position (he's still only played less than a dozen first-team games there), is probably a better "defender" than Clyne. Indeed, Gomez made several vital blocks and interceptions in the Liverpool box on the rare occasions Arsenal put anything together yesterday.
With Jordan Henderson and Emre Can adding size in the centre of midfield, suddenly Moreno is not a short-arsed liability but an express train on the overlap. Teams just can't put him under the kind of pressure they did before. Now, he can put them under pressure. Meanwhile, Andy Robertson has played just one game but was arguably man of the match.
The second half of this article is for subscribers only. See below for details on how to subscribe.
[ttt-subscribe-article]