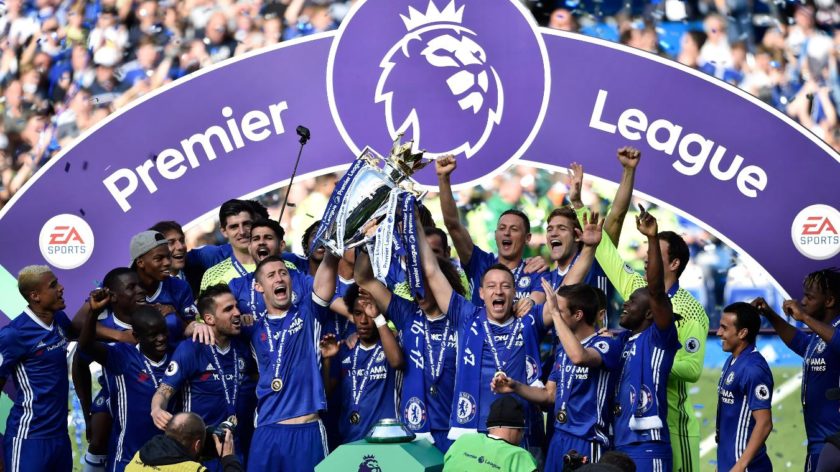 By TTT Subscriber Mark Cohen.
This season is different.
The top six has become so unpredictable that such certainty no longer exists. The only statement I can make with a degree of confidence is this – at least two, but probably three and maybe even four of the following teams are going to be mightily disappointed at the end of the season:
Chelsea
Manchester City
Tottenham
Liverpool
Manchester United
Arsenal
The reason for this is that, in a league awash with money and fans, everybody dreams of success. For three of the above teams, the title is a clear goal, and for the other three it is a clear and realistic hope.
All of these teams expect to end in the top four this season and that is, of course, impossible.
When I see Liverpool, the last of the great 'community' clubs and a club who stood as a bastion against sugar daddy type spending in-spite of its global size, flashing 70 million pounds for this one and 60 million pounds for that, it is not difficult to understand that we have entered a new and definitive era in the Premier League – welcome to the Age of Goliath.
There has never been a time in sporting history when such a large and wealthy collection of entities went head to head for so few prizes, and with such a penalty for even moderate failure.
That there will be blood is certain. The only real question is how much.
You have teams like Everton, West Ham, Stoke, Southampton, Crystal Palace and even Newcastle all with wherewithal, who might not even end in the top half, never mind close to the top four, and that tells you all you need to know about how difficult 17-18 will be.
Consider that, of the top six, only Arsenal won't be playing Champions League football next term and even they, a good knockout team, are in the Europa and will more than likely take it seriously and thus suffer lost league points as a result.
For the rest of the big guns, the Champions League will offer a perennial tightrope – walk it and enjoy its magical nights all the while harming your final Premier League points total. Fall off – and earn the ire of fans and owners who expect nay demand more. There is no middle ground, no grey area of tempered success.
Hard as it is to believe now, you can bet your house that this time next season, at least one, but probably two, of these top six managers will have been handed their hats. This is as certain as the seasons.
There is no real mitigation for spending £150m or more and then not ending in the top four. Mourinho succeeded in bucking that last term, largely due to it being his first season at the helm, and that he also guided them to United's most forgettable European triumph ever. This season, that cannot be repeated. There is no way the Glazers will accept this level of spending without top four.
Wenger has survived too, but only on the basis that this was a one off and first offence in twenty years and will be rectified this coming term, whilst a fall for either Chelsea or City from the top four will precipitate an immediate sacking, save for winning the Champions League.
Spurs might be the only team who would not dispense with their gaffer following a top four failure, but they, in truth, seem one of the likelier to make said top four in any event, although their challenge is not without significant issues.
And Liverpool, so long backed by patient fans who understand that we have the sixth costliest squad, but are trying to end a 27 year wait for a title, are now firmly among the elite, attracting world class talents like Virgil Tap Dijk and Naby Keita to 'project' discussions. As much as we all love Jurgen, and we do, we need to recognise that, unless we come very close to lifting 'Ol Big Ears', a failure to cement our place in the top four will, for better or worse, place our charismatic leader under enormous stress.
Below is a table outlining where we are at presently with each team's expectations for 17-18 and we can then discuss individually:
Note: I have included Everton in the table as I believe they have the potential, if they are not swept up in Europa dramas, to push the teams above them for a top four place if things go well for them. I have not gone into them in detail, but the others need to be aware that there are some quality squads behind them, and a top six finish is not even guaranteed.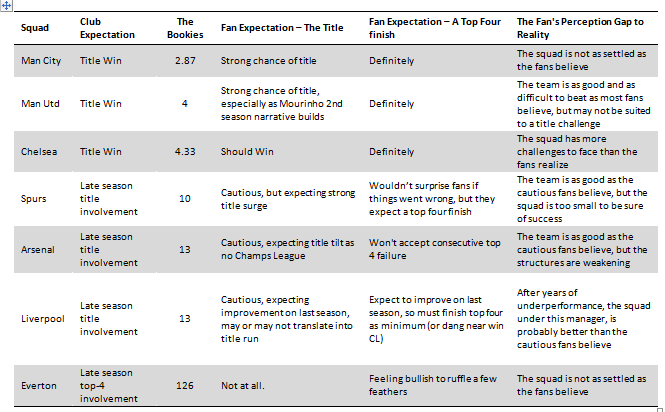 The teams
Chelsea

Your guess is as good as mine. Two years ago, when writing this piece for the 15-16 season, I saw only one ending – a Chelsea repeat title for serial winner Jose. I nailed my colours to that mast, and a few months later, I gleefully clapped and rolled around just like everyone else when he was sacked.
This time, they are under the astute watch of Antonio Conte, and anything can happen.
The positives for the club are obvious. Settled team, great manager, strong squad, lots of funds to strengthen (Morata, Rudiger, Bakayoko and Caballero already signed and significant power to add, reportedly – Ed), good cache for attracting players, some strong new additions, excellence all over the pitch and a will to get better and win some more.
When considering the above, it seems hard to make a case for them failing meaningfully, and it's really about going hell for leather for a repeat title, whilst also seeing how far they can go in Europe.
And here's where it starts.
Firstly, Chelsea made lots of hay while their fixture list shone. No Europe meant that they could avoid meaningful rotation last season and it is not a question whether their league form will be affected but just by how much. Putting a thumb-suck to it, I'd say a strong European showing costs a team anywhere from 7-10 points a season, and a weak showing probably more as this means a team is off form in any event.
Given that the worst team in the Premier League next season is likely to be Burnley (Based on XGdiff from 16-17), then we've got a league about as hard as Roy Keane's forehead considering Dyche's men are far from pushovers on any weekend.
There is no let-up in the league, and teams who were not disrupted by Europe last term will be the most affected as the need to perform consistently is, of course, harder when that need is stretched over another 10 games.
Chelsea had a near perfect season injury wise too and also benefited from extraordinary form from a few players like Hazard and Costa to put them in a position where they had the chasing pack in the distant rear-view mirror, never a position they were likely to relinquish given their great game organisation.
Change any of the following parameters negatively: injuries/form/Europe and you are likely to affect Chelsea's final points total substantially, and in 17-18 they could reasonably face all three at once.
Add to this a fanbase expectation of great things under an admittedly great manager, and you have all the ingredients for a very difficult season, if things don't start as well as they went last season.
There is another fascinating element of 17-18 which might materially affect Chelsea and it is one which I shall keep my eye on.
Conte's masterful application of the 3-4-3 wreaked havoc with the league last season. His skill was not in applying it, but rather that, once he had applied it, he seemed to perfect it from an organisational perspective to afford the perfect blend of attack and defence. A 13 game winning run on the implementation of the system formed the bedrock of the title win and he should be applauded for this foresight.
Trouble is, foresight is only good until it becomes hindsight.
Multiple teams tried a 3-4-3 last season after Conte showed the way and if it is used against them next season, it will hurt them as it results in far too little space been afforded for their talented wingers as they will find three central defenders waiting for them instead of two. It is the type of plan that is reliant on teams playing against you, and where we suffered mostly from the parked-bus in 16-17, Chelsea may find they are the target for such treatment this term.
A parked-bus 3-4-3 functions as a rigid 3-5-1 or 5-3-1 when the team is hemmed in, and this is precisely what Chelsea will want to avoid given the sumptuous and industrious wide men they have on their books. Last term, their 3-4-3 was made to look world beating by Hazard and Costa's form and this is unlikely to be so purple this time, meaning more draws, less points and more pressure.
Furthermore, it was demonstrated by Arsenal in the FA Cup, Spurs, United (at Trafford) and Liverpool that the way to go at a 3-4-3 is to aggressively press it so that the wingers get pinned back into a quasi back-five without much room to break out. Chelsea struggled to impact those fixtures meaningfully, and I have serious doubts that the efficacy of a 3-4-3 will be quite so brilliant in 17-18 given the mix of bus-parkers and teams with ambition one needs to navigate.
It is an interesting formation, first used to maximum prowess by Ajax in the total football days of the 70's, but it leaves fewer available triangles across the pitch than the usual 4-4-2 and far less than Klopp's 4 at the back variant. With time now afforded to managers across the league to dissect it and tackle it, Chelsea will need to improve or they will fail to hit the heights they set last season.
It is almost too difficult to call where Chelsea might finish, given the unknowns and potential season changers they have from last year but I wouldn't rule Conte's ability to fashion a winning team again, especially from such a strong and settled base.
But, if there is one thing I have learned over years of watching us look brilliant at one moment and terrible the next, is that if things start to go wrong, there is really no telling just how rotten they can go.
Manchester City

For years now, Manchester City have existed in a funk. One can see that, come the end of each season, regardless of their league position or cup exploits, their stadium has large swathes of empty seats and a quietness about the ground which would scream 'Meh!' if it weren't so still. Interestingly, it is not like the quietness experienced periodically at Anfield or Trafford which is borne of nerves and not melancholy. There is something disconcerting there, almost like the fans feel guilty for not being able to fully revel in their extreme wealth and eye-catching personnel.
Against this backdrop, City are expected perennially to win it all, and especially to make big waves in the Champions League. After a period of underwhelming efforts there, even in getting to the semis, Pep Guardiola was sounded out and it wouldn't surprise me if he, after spending a year in this strange atmosphere, found himself at an existential cross-roads, such is his deep thinking mindset.
Last season he did quite well to arrest what seemed like a vertical slide down the table to end strongly and show some real promise for this season, but one gets the distinct feeling that, even though he never thought himself a 'messiah', he is now starting to feel that he might just be that 'naughty boy' after all.
Taking Barcelona with that particular clutch of youngsters to the zenith of world football and then producing a few semi-final appearances for Bayern in the Champions League with a team he didn't really build were probably not cause to rate him as the best manager of all time, and I doubt he did, but that didn't stop the world at large from bestowing that honour atop his beautifully shaped head, and the weight of that crown is enormous.
I expect City to be pretty good, but much will depend not on whether they improve this term but on how much they do so relative to their opponents.
[With £220m already spent on a new goalkeeper, three expensive full-backs (Walker, Mendy, Danilo) and an attacking midfielder (Bernardo Silva from Monaco), you'd expect some significant improvement – Ed].
The entire top six are, as a result of being settled with entrenched bosses, getting stronger, and simply being better than last term won't be enough. I am also not convinced that Guardiola knows how to build a team in this league that can keep things consistent enough across the season to get to around the 85 points a team will need to challenge, especially given the need for City to perform well in Europe too.
Last season City started with six wins, and ended with four. Paul has written extensively in the past about performing whilst under pressure and the difference in results when expectations were down or not.
City's 16-17 fitted this to a tee. They started with six wins, a new manager bounce, if you will, and they ended with four wins, which were achieved in swashbuckling style against teams with little to play for. The other 28 games make for damning reading. A record of 13-9-6 and 45 points, extrapolating to just 61 across the season, is a far better indicator of where they are now, especially given that many of those games were played when a title challenge was demanded, so under pressure. City failed the pressure test then, and it remains to be seen if lessons have been learned.
The hardest part for Pep is that he doesn't seem to truly have the belief in his squad, and who can blame him? The quality at his disposal in his previous two gigs would dwarf almost any other at any point in the game's history and even though this City team possess enviable talent, they clearly lack proper on field leadership and aggression.
Their go-to youngsters – the likes of Stones and Sterling – have buckets of skill, but cannot be said to be anything near talismen, the type of players Pep can rely on when the chips are down. They are both fair-weather stars, the players you want when you expect to beat a team 3-0, but they are not the type for a knuckle down fight.
The premier league is choc-full of bar-room brawls though, and if City don't add significant size to a very small in stature squad, then the weekly battle will continue to claim its share of blue scalps and with it, City's title charge.
The other issue for City this term is that Guardiola is still figuring his system out, and even though they will continue to spend massively, he will still need to knit things together quickly in a way which gives consistency, something which is always difficult when incorporating plenty of new faces in and around your first team.
They did improve markedly from mid-January on, losing just once, but it is important to realise that they were out of the title race for this period, and for a squad of this capability, this meant that the pressure was gone, and the players could get on with it. If they stay closer this term, we will see what their mettle is truly made of, and I have grave doubts that this group of players has the balls for a challenge of this magnitude, especially given the lack of feverish, rabid support the likes of the regional Premier League clubs get at home.
It makes an enormous difference, arriving on your field with your fans expecting you to score five times and be nonplussed about it compared with a set of supporters who need their team to win just to stay in the division.
City have been far too professionally constructed over the last half a dozen years to suffer the way United have or we had before that, but sometimes what you really need to succeed is just 'sport'.
Sport, aka passion, must take over and guide the players to greater things. You look at the impressive Etihad, the great changing room, the amazing squad of players, the top manager and the shiny club crest and the first thing you think of is "Wow, almost like the real thing."
I sense I am not alone in thinking this, and many a long-suffering Citizen fan might agree. Not that they'd go back to the old days, but wouldn't it be great if there was something in between?
Being pre-season favourites is not a good thing at all, in a league this tight, and I think this expectation might prove fatal if they don't start well especially given the fervent following any one of Liverpool, United, Chelsea, Spurs or Arsenal will get if they get a sniff of the league title.
Manchester United


Having just said that, last season and the preceding one, were as trying as the man has ever had and at times it really did seem like the façade of endless self-worth etched across his face was slipping. Mourinho is almost the diametric opposite to Guardiola in the sense that, where the former Catalan boss seems to be plagued with a not-so-secret self-doubt, the Specious One feels that the league is one giant oyster just waiting to get shucked.
Luckily though, a streaky League Cup win, coupled with a particularly weak Europa season, culminating in a bizarre 'men against boys' final, which resembled an U20 vs pros game such was the disparity in size of the teams, allowed United and Mourinho to frame the season as a glorious success when in truth much of it was a bore.
In all, the most expensively assembled team in the history of football managed to score three or more times during a match a paltry 7/38 times in the league. Poor, and not the stuff of champions at any stage in history.
What Mourinho does do well, though, is build things for a purpose. His purpose last season turned out to be Champions League qualification, whatever the cost. This season, he will be tasked with the rather more fetching title charge requirement, as well as maintaining some dignity in Europe with a knockout stage exit the minimum.
United's title aspirations will be built on their miserly defence, which conceded just 29 goals all league season in 16-17. Mourinho usually performs better in his second season in charge, and in procuring the likes of Lukaku, he is setting them up to produce more of the stuff they did last season, which featured long unbeaten runs and the fielding of a very obdurate, tough side to break down.
To find where the problems lie, you have to look back to Gerard Houllier's best vintage of 00-01. In that halycon year, Liverpool won three cups and ended the season strongly in the league for a third place finish with 69 points.
It made us feel excited and indeed expectant for future success, and the following year we did well enough – a second place finish to Arsenal, with 80 points and just 30 goals conceded. We thought more was to come, but this was the high-water mark, Houllier struggled from there on in, and never found an extra gear.
This looks to be similar to what United will face, albeit on a larger, richer scale. If you listen to the media or Red Cafe fans of the club, you'd believe that an unbelievable attacking monster is about to be unleashed on the world and that it was all part of a plan where Mourinho first sorted the defence and will now deal with the attack…
This is rubbish. There is no switch for attack and defence. Football is nothing if not balance, and the structuring of this balance the remit of master managers only. It could be said that Mourinho's time as a wielder of such wizardry is past and that today, he is too defensive minded for the present Premier League to win it now.
Indeed, he has had a highly successful mantra which can be reduced to the following for simplicity:
Shut games down to just a few chances for either side by keeping things in a highly regimented order.
Purchase world class forwards so that the team converts more of these few chances than the opposition will.
Win or draw the vast majority of games as a result.
Gain enough points to win the title.
Thus the case against him looks like this:
The current Premier League has such quality spread across it, that if you try and reduce games to few chances of quality for each team, you will have enough off days in shooting to render a title assault void.
United had the enviable record of 25 unbeaten league games last year and ended sixth. The reason simply: too many draws, and far too many of those were games where the opposition needed just a good day for the keeper or a bit of luck for a striker to steal a point.
So, if you have extremely attack minded teams like Liverpool, Arsenal, Spurs and City all going for first place, it is likely that one of them will find enough form and goals to produce a title winning charge. (in 01-02, Arsenal were one of Europe's great balanced attacking teams, whereas we were more of a counter-attacking consideration focused on keeping things tight. They ended first, but we did enough to drop United into 3rd, but they scored 87 times, showing how one attacking side might miss out, but not both…)
This is simple mathematics. If you have four good chances a game and are expected to score at a rate of one in four, you will score roughly 38 times a season. If you are allowing your opponents only two good chances a game, you should concede only half a game, so around 19 a season. But the problem is, you never concede half a goal, its binary – 1 or 0.
Thus, by lowering chances in a league where there is an abundance of striking quality, you are opening yourself to the whims of lady luck far more than an attacking side who creates eight but concedes four good chances. Sure, the attacking side may lose more than you, but they will win more too and a win is worth two points more than a draw. So, across a five game stretch if the attacking team wins three and loses two vs United drawing four and winning one, the attacking side nets nine points, whilst Mourinho only grabs seven.
Unbeaten? Not as important as you might think. This strategy works in a league where there are only two realistic challengers. Any more and the odds of at least one of the others not firing in enough goals dwindles.
Furthermore, the present master exponent of this game-plan is not at Old Trafford, he is at Chelsea, so not only must the attacking teams fail en masse, but United must also make up a 24 point deficit on Chelsea from last term.
Mourinho will have to be better than his very best to deliver United the title next season, and whilst I think they might be close, I don't believe he has the skill set in the current environment to win it.