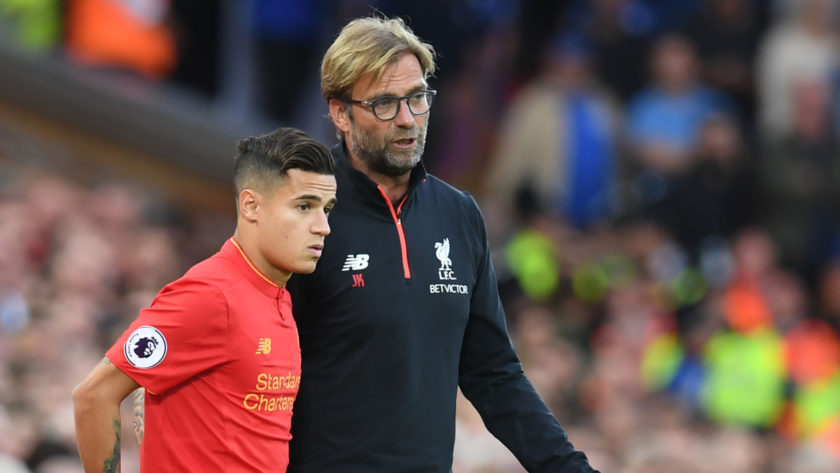 This superb comment was posted on July 26th, just after midnight UK time, by TTT Subscriber Joe Bloggs. It's so good, we made it into a free article.
Alright, so I think I finally just need to spew out a bit of verbal diarrhoea on here over the entire Coutinho situation, in light of news reported tonight by RAC1 (who are supposedly very reliable for Barca news) that Coutinho has agreed a contract with Barcelona. I am already very aware that I need to do my best to remove emotion from any judgements made on this situation, as Paul has been advocating so staunchly recently, and will do my absolute best to voice my opinions (as that is all they are, and no more) in a way that is coherent and has some logical train of thought.
Jürgen Klopp, quoting FSG has firstly stated the following:
"There are absolutely no plans [to sell]. What our owners say is there is the absolute opportunity not to sell anybody if we do not want to. That means we can bring in other players and it is a good situation. We have a stable squad with a good basis."

"If I say he is not for selling, he is not for selling,' he declared. 'There is nothing else to say. It's a club decision, it's my decision. That's how it is."

"I can say 20 times, he is not for sale. If you ask the other question the other way and I say, there has been no assurance, you make the story the other way. There is no story for me. Whatever happens from their side, I say he is not for sale. The answer is — not for sale."
So, pretty clear, right? Jürgen does not want to sell Philippe Coutinho, at the very least, not this summer, and he's hinted that this philosophy and ethos goes beyond this, with the following:
"But a very important message, maybe: we are not a selling club.

"We believe in working together, we believe in development together. We believe in using the basis.

"We want to work together, we want to make the next step together and for this we need to stay together. That's how it is."
So with all of this I feel I have a pretty strong basis to state a few things, and maybe infer a few more, if it is allowed!
1) FSG will not sell Philippe Coutinho (this summer): Yes, words are wind, and every player has his price, but there are a few things to be noted from this: firstly, if Jürgen did not have Philippe in his plans for the future, and even wanted to sell the player for a huge sum to help invest in the squad elsewhere, then the above quotes could have been worded in 101 alternate ways that could prepare the fans for the worst, while letting Barcelona know that this player will not go for cheap. The fact he has not only outright stated that the player will not be sold but used the voice of the owners in this matter makes it clear that this is the opinion of the entire club, from top to bottom. To renege on this would be PR suicide with a fanbase still smarting over the losses of pivotal players every year or two for the past 10+ years.
After having run the club for a while, and understanding the strength of the voice of the fans, I am sure FSG will have thought long and hard over this before making our stance so publicly concrete. Secondly, assuming Klopp and FSG have not outright lied to the entire LFC fanbase, if we are concretely not selling PC this summer, then Barcelona have no right to approach the player over personal terms. I'm not entirely sure how things work in terms of submitting a bid, but I believe a club has to have accepted a bid, or accepted another club approaching a player over personal contractual terms, for it not to constitute tapping a player up.
There has been a lot of talk on this site of Barcelona only submitting a bid if they have agreement from the player that they want to leave, but this would mean PC agreed to this, before even talking to JK or FSG about this, which would firstly be disappointing/surprising, especially given his previous statements about wanting to be a hero in Liverpool rather than another cog at Barca (paraphrasing here). If this was the case, knowing Jürgen and his clear stance on only wanting players who want to play for us, again, he would word himself differently in the above interviews. He not only states that PC is not for sale, but that we are not a 'selling club' (which he will have very bad memories of at Dortmund) and that these pieces need to stay together for his vision. This leads me nicely on to my next point:
2) Sell and reinvest, or retain and develop: Jürgen Klopp is a manager known for being a developer of talent and a builder of long-term projects. In his previous role at Dortmund he would very rarely sell a player that he believed was integral to his project unless it was deemed necessary by the board, or the player themselves forced their way out of the club. These departures were the only 'stain' on his previous tenure, in that these were moves he did not wish to happen and were not conducive to the development of his project.
When joining Liverpool, which Jürgen has stated could well be his last job in football (a reality he would be quite happy with), you can bet your bottom dollar that this would be a part of any contract negotiations with the ownership, and what convinced him to join this club. Klopp wants to be able to rebuild a giant with Liverpool. If anything, the club, along with AC Milan, is probably the largest club that has fallen on tough times in the modern generation of football, which gives it a unique springboard to allowing the reascent to be that much easier than with a Newcastle/Leeds or even Milan.
There is already a huge global fanbase, the club wasn't in a state of complete shambles when he took it over, and Premier League revenues allow it to attract some of the best talent on the continent. Doesn't this sound like the perfect concoction to you for a final project? The piece de resistance for the end of his career? The cherry on the proverbial cake? All the pieces are there, it just requires a captain with the right vision to get the ship back on its previous course, and this is exactly what I believe Jürgen is here to do, and why he took the job.
Given these greater revenue streams, and larger initial standing of the club than when he took the Dortmund job, I believe it is only fair to assume that Klopp will look to implement all the skills and tactics that he has amassed in his previous roles, in terms of scouting/player profiling/tactics and overall coaching methods and management, but with a lesser concern on the artificial constraints of limited revenue.
Of course, it is in his nature, and rightfully so, to pursue players who he is convinced will be good players, no matter if they are 8 million or 80 million GBP. All he is interested in, especially in Liverpool, is the player profile, and not the price. If Naby Keita is seen as being the absolute best midfielder for his system for the next five years, then he will happily pay huge sums (within some reason) to acquire him. At the same time, he is more than happy to pay modest amounts for players that he has faith in to work well within his project, despite a much lesser profile on the world stage, such as Andy Robertson.
While this is all very clear, I believe that if we can infer that money is less of an issue to Klopp, and that his main concern is coaching, and building an incredible squad that can win the Premier League and/or Champions League, then surely keeping a player he considers central/pivotal to his plans is paramount, and even if this did 'free up funds' to go after other players, would be something only done if absolutely necessary. This past summer we have had a net gain in revenues from transfers. This year premier league revenues have sky rocketed once more, while the club has all but guaranteed a position in the champions league. Given the incredibly competitive league we are in, and currently strong position we are in to attract top players, surely this is the summer to put the project into overdrive?
Buying VVD and Keita for a combined 130-150m + 35m for Salah would bring us to 165-185m spent this year, but really, I would view it as 83-93m spent over the space of two years, and given how many pieces we would have in place then, would require very little spend the following summer (worst case realistic scenario could be 20-30m for a top LB if Robertson is not stepping up fast enough and maybe some cheap youth backups here or there, not counting outgoings). If we assume 30m net spend next summer, assuming we bought both VVD and Keita, this brings net spend to 70m per year, which I believe should not be miles beyond the realms of possibility for the club, especially if we are aiming to build a squad that can retain a CL spot.
If this is the case, would it really be that unreasonable to expect Klopp to be able to keep Coutinho, whilst adding our two highest profile signings in this window? I would say not, and that it isn't the choice of one or the other. In fact if anything, Klopp may be see Keita as more of a Can replacement, with his future hanging most in the balance, being on the last year of his contract, rather than a Coutinho replacement.
Also to reiterate what Klopp himself said:
"We want to work together, we want to make the next step together and for this we need to stay together. That's how it is."
This does not read to me like a man who is willing to remove one good player to make way for another. I truly believe Klopp sees the club as being in a position that it doesn't need to take one step back to take two steps forward, with all of his above quotes being synonymous with this. Development needs time, and development needs stability, and whenever you remove a known successful part of a team for a replacement, you are introducing uncertainty. Who's to say Keita would definitely be an upgrade on Coutinho for our system, or even a sideways step, and who's to say that VVD and Keita will be huge successes for the club? It's likely, but not certain. Retaining a guaranteed success in Klopp's system and adding players who are likely to be successes, whilst selling deadwood for reasonable fees, is a much more stable way to progress.
3) Selling club? Stepping stone?: There has also been a lot of talk about how a club needs to be able to let its players go, even its best players, to ensure that other potential young stars can see our club as being a good location to get minutes and prove oneself so that they can move on to a Barca/Real/Bayern.
This being said, allowing too many players to go in this way only creates a conveyor belt situation where the standing of the club remains static, and the final step can't be taken to becoming a true contender on the world stage. Just look at the quality Southampton have attracted and produced with their academy over the years. It is undeniable that they are in a position where they need to be selling a lot of players, and that if they had been more forceful in retaining some of their best prospects that perhaps they would not have attracted Mane or Van Dijk, but I think we are only fooling ourselves if we equate Liverpool's position with that of Southampton's.
We are now in no danger of falling into large debts, we have an ever-expanding multinational fan-base and we are most likely going to be playing in football's most glamorous competition next season. If this is the case, and this is the moment to springboard our club into taking the next step, then surely this is the moment to say we no longer *need* to sell our best players, and that we are no longer a selling club!
I would argue that to attract the best youth prospects you need one of two things:
1) Market yourself as a stepping stone for youth prospects. Promise minutes, a part in the first XI for young but promising players, and with an assurance that you can move on if a big club comes calling.
2) Be one of the biggest clubs in the world. Even if a lot of youth talent gets wasted at top-tier clubs, there still seem to be a lot of youth players who'll try their luck there, simply with a chance of jumping the queue straight to international stardom.
While I believe up until recently we firmly fell into the top clubs of the first bracket, I feel that our signings this summer indicate shift in transfer strategy. No longer are we looking for the best young players under 24 and under 20m pounds, we are simply looking for the best young players in their respective positions that fit our project, with cost being a secondary concern.
What this signifies to me is that we have a new pitch to incoming players. No longer will it be: "Prove yourself with us and you'll be playing for Barca before you know it", but "We have a world class manager, and the pieces are falling into place to make a squad to challenge for top honours in Europe, we've singled you out to be a key piece for the first XI to make that happen, are you interested?".
This will attract a different kind of player, and a different kind of ambition, and I would argue lends ourselves to buying higher profile signings, because we are now building to become league winners and not just youth developers. This is the kind of pitch that will get you the top (young) talent in Europe that has already proven themselves (Salah/VVD/Keita), and not just the top potential talent on the cusp of something greater.
Of course I could be wrong with all of this, but if you just go have a read over the quotes above again, then I feel it all ties together with the narrative I have tried to coherently put together here. Maybe I'm wide of the mark, maybe I'm overenthusiastic, or believe the board is willing to start buying quality without selling quality more than is truly the case, but if I am right, then I think we're going to be seeing a big paradigm shift coming in the next year or two, and that the end result will be truly terrifying to behold!
And finally, I understand maybe my tin-foil hat is on a bit tight tonight, but I think it can also be healthy to engage in a bit of hopeful dreaming every now and again, so long as you know that that's all it is!