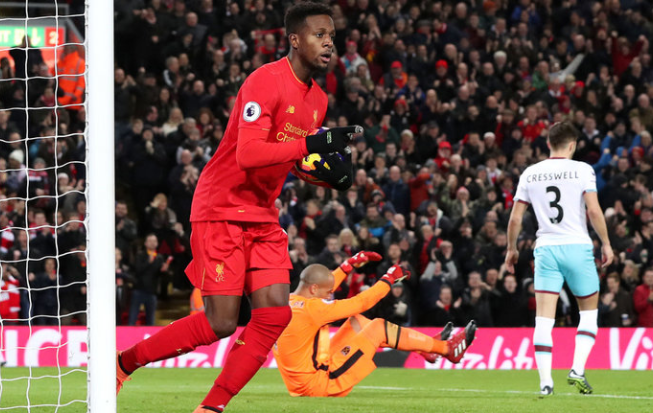 By Daniel Rhodes.
Divock Origi has more pace than Harry Kane.
Divock Origi has more strength than Harry Kane (or at least in 2015/16, now it's closer after the Spurs forward seemed to bulk up a bit).
Divock seems to have all the attributes required to be, at least, a goal-every-other-game type of striker. A player ideal for the counter-attack, and strong enough to face upto the Beast Mode centre-backs he's likely to come up against.
And yet, Divock Origi has really disappointed me this season. And if I was asked to use one word to describe his problem, it would be: movement. Or – more accurately – a distinct lack of clever movement.
That's what my perceptions tell me having watched all of his minutes, especially when watching the team struggle for attacking penetration or threat for large periods of games when Divock was the sole striker.
But anyone who believes their own perceptions these days is so old school, get with it; Because when I started watching a series of video clips, across a variety of different elements of performance, including:
Link up play (40 clips)
Acceleration (9 clips)
Shooting (20 clips)
Off-the-ball movement (37 clips)
My reaction was: "Erm, that wasn't bad at all. In fact that looked very good. Hard to be anyway near as critical as I was during the up and down rollercoaster of the season itself…"
At this point I'm harking back to the Matip article in this series and how easy life was back then. Who should I believe: the eyes that watched every minute of every game, sometimes more than once, forming an opinion slowly over time? Or a series of edited video clips, looking at a variety of attributes, which suggest to me Origi did plenty of good things this season? I'm more inclined to go with the former, so let's build up the evidence again:
Stats profile (per 90):
Minutes: 1570
Non-penalty goals: 0.40
Shots: 2.1
Touches inside the box: 5.43
Key passes: 0.57
Passes into the box: 2.41
Successful dribbles: 1.15
Possession loss: 5.9
Pressing actions: 15 (Firmino is at 22, for context)
Pressing efficiency: 88%
A decent sample of minutes, and although it is a dip on his career record, the non-penalty goals figure is also decent. Nowhere near the elite, but for a 22 year old, absolutely fine. My concern is his volume of shots. It only half that of Sturridge – and fewer than Firmino, Coutinho and virtually every other lone striker in the Premier League's top half. Shot accuracy and conversion rates can fluctuate with the wind and the finishing fairy – but shot volume is usually a very good indicator of long term quality.
Strangely though, he has a similar amount of touches in the box (5.43) to, you guessed it, Harry Kane (5.4). The confusion continues…
Another weakness in the numbers above is chances created, and the distinct lack of them (only 0.57 key passes per 90). Compare this to Firmino's (1.8), coupled with the pressing actions per 90 (15 to 22), and you can see the drop in overall production for the team.
Speaking of his influence on the team's performance, here's Dan Kennett's 'LFC Performance Dashboard':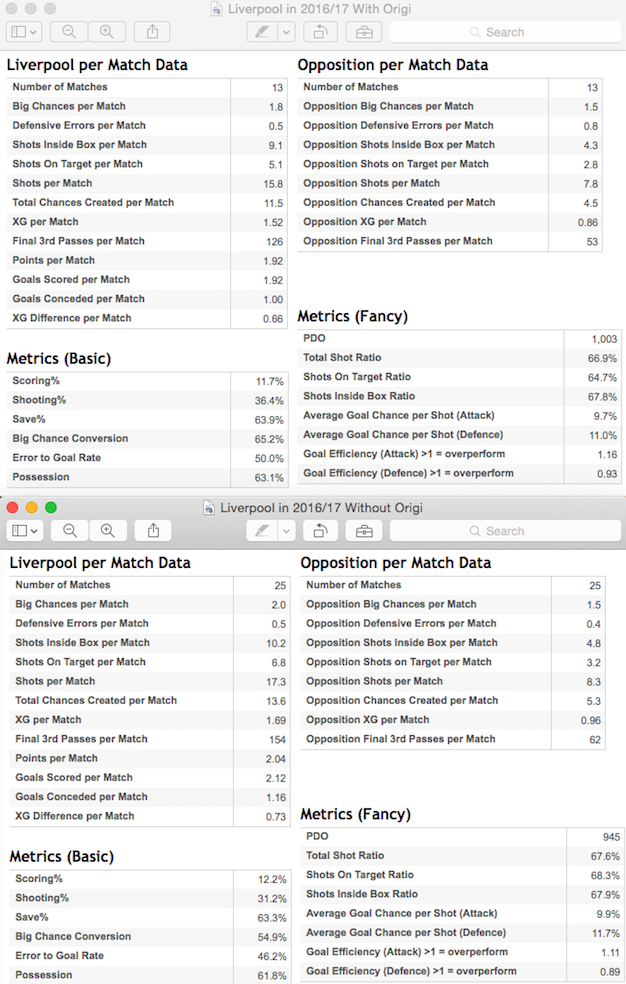 Well that doesn't help much does it? There's a slight increase in big chances created, xG per match and points per game – but the difference is minimal. The figures are weirdly similar across the board. Offensively and defensively.
The only significant difference is the Reds' shots on target per game (5.1 with Origi and 6.8 without). For context, 6.8 is where Spurs were this season, and where Rodgers' Reds were in 2013/14, when we scored over 100 goals. On the flip side, 5.1 shots on target per game is where Everton are this season; where Fulham were in 2011/12 and where Rodgers' Reds were in 2014/15. That is basically the difference between champions and missing out on Europe altogether. Doesn't look much 1.7 shots on target per game, but it most definitely is…
The rest of this article is for subscribers only. 
[ttt-subscribe-article]